This blackberry cobbler is made with a sweet blackberry-lemon filling and topped with sugary buttermilk biscuits. Add ice cream and you've got perfection!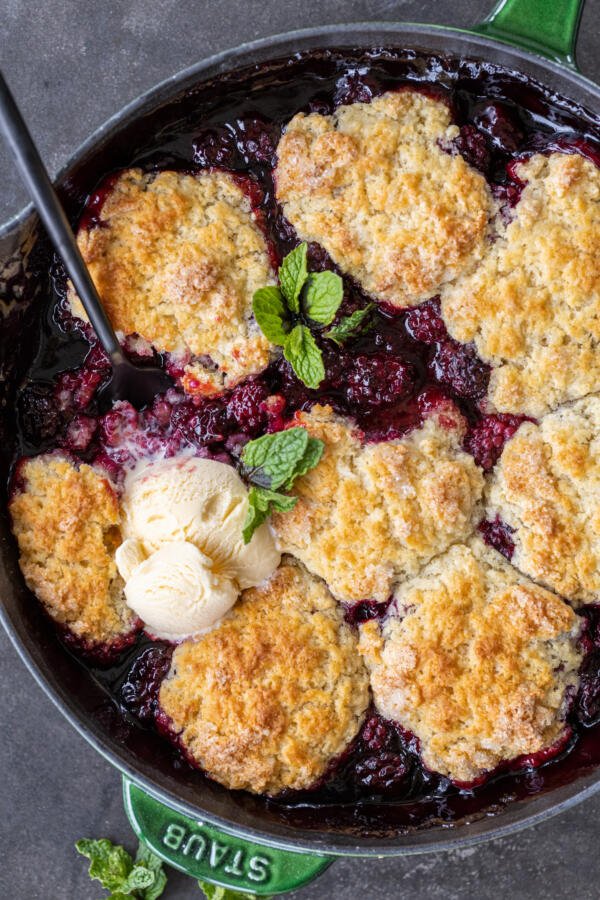 What is Blackberry Cobbler?
Blackberry cobbler is a quick and nearly effortless dessert made with fresh blackberries and topped with a crumbly biscuit topping. It's the perfect way to use up heaps of blackberries. Think of it as a fruit pie or crisp, but easier to prep and bake.
Taste: The filling in blackberry cobbler tastes sweet, similar to a good blackberry jam. The buttery biscuit topping is also sweet and flakey, like a pastry.
Texture: Blackberry cobbler is soft and gooey on the inside and flakey on top. It's the perfect combination!
Time: Blackberry cobbler takes a little over an hour to prep and bake. However, make it ahead of time to save time and have a quick dessert straight out of the oven in only 45 minutes.
Making A Quick Blackberry Cobbler
We're not kidding when we say blackberry cobbler is a quick dessert. Have the ingredients ready to go and chilled (this is very important) before starting the recipe.
Mix the filling: In a medium bowl, combine all of the blackberry filling ingredients.
Whisk the dry ingredients: In a separate large bowl, whisk all of the dry ingredients together.
Cut in the cold butter: Cut (or grate) in the cold butter with the flour. Combine until you notice the mixture starting to resemble coarse crumbles.
Combine wet ingredients: Combine cold buttermilk with vanilla extract. Add it to the flour mixture. Stir until the mixture is lumpy.
Fill the baking dish: Pour the blackberry mixture on the bottom of a baking dish.
Add the topping: Add biscuit topping over the blackberry filling. Sprinkle with a few teaspoons of coarse sugar.
Bake: Bake uncovered until the top is golden brown. Serve hot or warm, topping with cold ice cream or whipped cream.
Cobbler Additions and Substitutions
If you like to experiment a little bit, here are a few great ways to change the flavor of blackberry cobbler up, if desired.
Add/substitute with raspberries: Make it a mixed-berry cobbler by using half raspberries and half blackberries for a fun flavor combination!
Use fresh or frozen blackberries: Fresh blackberries release the best flavor and juice as they bake, but in a pinch, frozen blackberries work well. Stay away from canned blackberries or jam. If using frozen, make sure to thaw the berries first, drain excess liquid, and use enough cornstarch for the best consistency.
Put in more lemon: Feel free to add more lemon juice to the filling. Or, add lemon zest into the berry mixture for an extra citrusy punch.
Change up the topping: For more flavor in the biscuit topping, add lemon zest or a dash of cinnamon.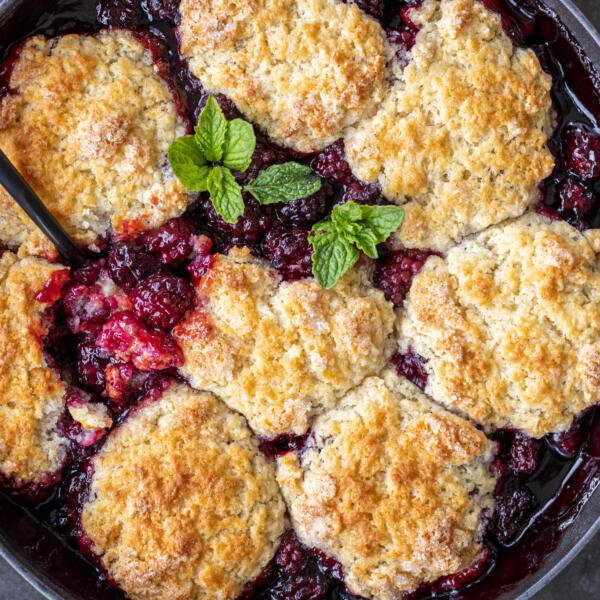 Tips from the Kitchen
To ensure your blackberry cobbler has the best taste and texture (and to prevent any mishaps), follow these simple tips from our kitchen.
Use a large baking pan: Avoid attempting to fit the blackberry cobbler in a smaller dish. Use a large dish or pan (9 or 11 inch round or a 9×13 is best) to fit the filling and topping without overcrowding the biscuit topping. Using a small dish affects baking time and results in an undercooked cobbler (nobody wants that!).
Avoid overcrowding the topping: In addition to using a large baking pan, leave space between spoonfuls of the topping mixture to allow steam to escape the filling when baking. This will allow the filling to caramelize rather than turn into a soggy, too-soft texture.
Cold ingredients are key: For the biscuit batter, cold ingredients are a must because they make the topping flaky. Place the ingredients into the freezer for ten minutes before starting the recipe. Avoid using soft or melted butter, or the topping will not be flaky.
Check temperature for readiness: For a fool-proof method of checking doneness, insert a thermometer into the center of the cobbler. When the filling has reached 200°F, the cobbler is ready.
Make the cobbler ahead of time: Save time and prep the cobbler up to a day ahead of time. Instead of placing it in the oven, refrigerate it until ready to serve. Place it in the oven about one hour prior to serving for a fresh and hot dessert!
Serving the Cobbler
Blackberry cobbler is best enjoyed right out of the oven — of course, let it cool down just a smidge to avoid a burnt tongue (ouch!). Top the cobbler with a scoop of vanilla ice cream or a dollop of whipped cream. The rich and warm cobbler, paired with a cold and sweet topping, makes the perfect duo.
Storing & Reheating
If you get lucky enough to save some leftovers, we have a few storage and reheating tips to save some for later.
Refrigerate: To store for up to three days, place cooled leftover cobbler in an airtight container or wrapped in plastic wrap in the refrigerator.
Reheating: The cobbler can be eaten cold or warmed. To warm the cobbler, reheat it in the oven at 375°F for about 20 minutes or until warmed through. Or, for a quick reheat, zap it in the microwave in 30 second increments until warmed.
Storage tip: Avoid freezing a whole blackberry cobbler (unbaked or baked) as this makes the fruit and cobbler soggy or mushy.
FAQ
Should I remove the seeds from the blackberries for blackberry cobbler?
No, the seeds do not need to be removed from the blackberries to make a scrumptious blackberry cobbler. The seeds are barely noticeable when baked.
What can I do with extra blackberries?
Blackberry cobbler is a great way to use up extra blackberries. If you still have blackberries remaining, freeze them to make into another cobbler later!
More Fruity Desserts
Recipe
This blackberry cobbler is made with a sweet blackberry-lemon filling and topped with sugary buttermilk biscuits. Add ice cream and you've got perfection!
Nutrition Facts
Easy Blackberry Cobbler Recipe
Amount Per Serving
Calories 472
Calories from Fat 162
% Daily Value*
Fat 18g28%
Cholesterol 45mg15%
Sodium 193mg8%
Potassium 401mg11%
Carbohydrates 74g25%
Protein 6g12%
Vitamin A 744IU15%
Vitamin C 21mg25%
Calcium 149mg15%
Iron 2mg11%
* Percent Daily Values are based on a 2000 calorie diet.