These adorable peach cookies are filled with dulce de leche, chopped walnuts, and tender cookie crumbs. So decorative and festive!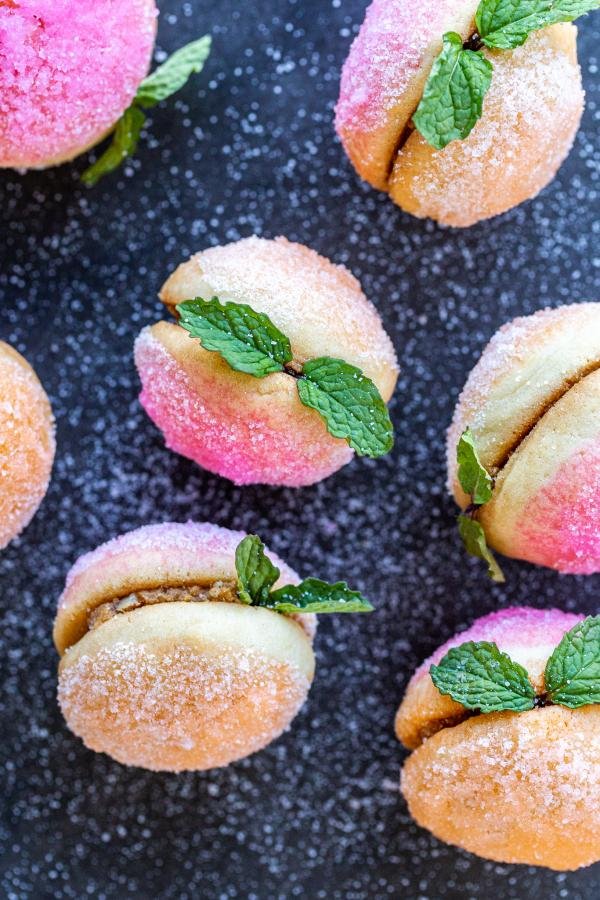 These peach cookies are almost too pretty to eat. They feature buttery cookies filled with creamy dulce de leche, cookie crumbs, and nuts and are perfect for everything from holiday cookie trays to summertime BBQs.
Typically, you'll find these cookies served in bakeries throughout Italy. That being said, they have gained so much popularity throughout the years that they are eaten all throughout Europe. Anytime anyone in my family gets married, you can pretty much guarantee that peach cookies will make a debut.
Note: While these cookies look like peaches, they don't actually have any peach flavor. The cute appearance is simply for decoration! If you're craving a peachy dessert, try my rustic peach galette or peach cobbler to get your fix.
How to Make Peach Cookies
Despite their impressive, delicate appearance, these peach cookies are actually quite simple to prepare. Find a quick rundown of the recipe before you dive in:
Make the Cookie Dough: Using a stand mixer or hand mixer, beat the butter, eggs, sugar, and vanilla together, followed by the flour and baking powder.
Shape the Cookies: Line a baking sheet with parchment paper. Using a cookie scooper, portion out walnut-sized mounds of dough and roll them into balls.
Bake the Cookies: Assemble the cookies on a baking sheet lined with parchment paper and bake them for 15-20 minutes at 350°F. Remove the cookies from the oven and allow them to cool. Using a knife, cut a small hole out of the center of each cookie.
Make the Filling: Mix the dulce de leche with the cookie crumbs and crushed walnuts. Fill each cookie hole with the filling and press two cookies together to create a peach shape.
Dye the Peach Cookies: Fill two bowls with milk and die one pink and the other peach with food coloring. Dunk one side in the pink milk and the other in the peach milk, followed by a dunk of sugar. Place the cookies on a baking sheet lined with parchment and allow them to set at room temperature overnight.
Garnish and Serve: Decorate the cookies with small leaves. Serve and enjoy!
Tips & Tricks
Below, find a handful of tips and tricks to help you nail these European-style peach cookies.
Use a sifter to remove lumps from the dry ingredients. The more sleek the texture of these cookies is, the more they will look like a real-life peach! To remove any lumps from the flour and baking powder, sift the flour and baking soda before incorporating them into the batter.
Portion the cookies out into eve-sized mounds. Since you will be conjoining two cookies to make the peach-shape, you'll want to portion out the dough as evenly as possible. If you're having a hard time eye balling the dough, use a cookie scoop.
Dip the cookies in sugar immediately. To ensure the sugar coating sticks to the cookie, dip the cookie into the sugar bowl immediately after the colored milk.
Storing Peach Cookies
Whether you want to prep the cookies a couple days ahead or freeze them for later, find all the directions you need here.
Refrigerator: If you're preparing for a party, feel free to whip up the cookies 2-3 days in advance. To keep them fresh, store them in an airtight container in the refrigerator until you're ready to serve them. Typically, they will keep for up to two weeks.
Freezer: The best way to freeze peach cookies is to freeze the shells. To do so, line them up on a baking sheet covered with parchment paper and pop the sheet into the freezer uncovered. Once completely frozen, transfer the shells to a freezer-safe bag and the cookie crumbs into another. To thaw them, let them sit on the counter for a couple of hours before you fill and decorate them.
FAQ
Do these cookies have a peach taste?
No, these peach cookies actually don't taste like a peach. They are simply shaped and decorated like peaches.
How long do peach cookies last?
Peach cookies will last up to two weeks before they start to dry out.
How should I store leftover peach cookies?
You should store leftover peach cookies in an airtight container in the refrigerator.
Can I use any different kinds of fillings?
You can use Nutella instead of dulce de leche filling if you prefer.
How do I make the sugar coating?
The sugar coating for peach cookies is made simply out of sugar. No frills at all and it looks just like peach fuzz!
Other Cookies to Try
Recipe
These adorable peach cookies are filled with dulce de leche, chopped walnuts, and tender cookie crumbs. So decorative and festive!
Ingredients
Instructions
Filling
Decorating
Fill two medium-sized bowls with a cup of milk. Dye one bowl of milk pink using pink food coloring. In the other bowl, combine pink food coloring and green food coloring to create a peach color.

Dip one side of the cookie into the pink milk and the other side into the peach milk. Dunk the cookie into a bowl full of sugar and place it on a baking sheet lined with parchment paper. Repeat until you have no more cookies left. Allow the cookies to set at room temperature overnight.
Nutrition Facts
European Peach Cookies
Amount Per Serving
Calories 215
Calories from Fat 99
% Daily Value*
Fat 11g17%
Cholesterol 39mg13%
Sodium 16mg1%
Potassium 67mg2%
Carbohydrates 27g9%
Protein 3g6%
Vitamin A 320IU6%
Vitamin C 1mg1%
Calcium 30mg3%
Iron 1mg6%
* Percent Daily Values are based on a 2000 calorie diet.