Air Fryer Potato Wedges give you all the crispiness of french fries with no need for deep frying. All you need is four ingredients and 20 minutes and you'll have the perfect side dish for everything from roasted chicken to a juicy hamburger.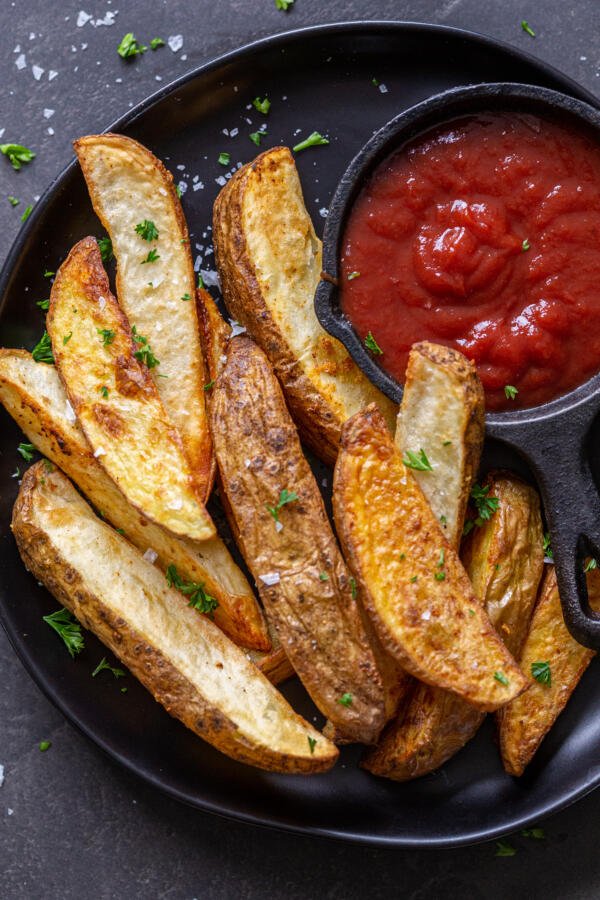 Air fryer potato wedges are a weeknight go-to for our family. Our boys love them with ketchup and Air Fryer Steak Bites. I like serving them with Cast Iron Ribeye and Air Fryer Asparagus. Another mouthwatering option is to serve them with shaved steak sandwiches. From fancy dinners to casual bites, the possibilities are endless with these crispy (and healthy!) spuds.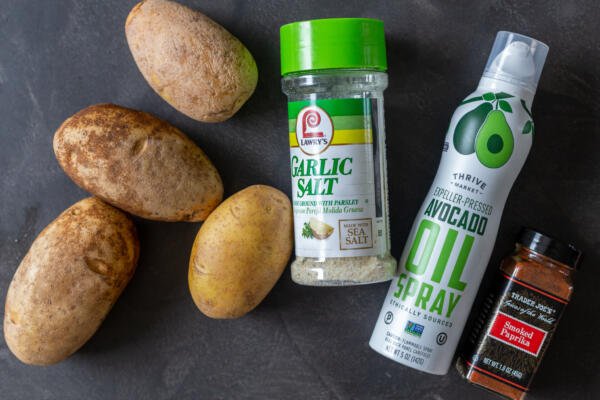 How to Make Air Fryer Potato Wedges
With a fraction of the calories of regular french fries and just a few simple ingredients, Air Fryer Potato Wedges are a no-brainer. Follow these simple steps and get ready to be surprised at how something so good can come with so little guilt:
Cut potatoes into wedges. Soak in cold water in a large bowl. Use a paper towel and pat the wedges dry of any excess liquid.
Season potato wedges to your liking with a little salt and pepper (or try my spice blend listed in the recipe below) and toss them evenly to coat.
Place wedges in an air fryer basket. Air fry at 400°F for about 15 minutes. Halfway though, toss the potatoes to ensure the other side gets some air fryer love. If you skip this step they simply won't be as crispy!
Serve right away with your favorite entrée.
Making Air Fryer Potato Wedges Ahead of Time
Potatoes can be finicky and are prone to becoming soggy when reheated. Since this recipe is so simple and takes only a bit of prep work, it's recommended that you only make as many wedges as you can eat in one sitting.
If you must make fries ahead of time, reheat them in the air fryer to return them to their luscious and crispy state. Typically, this takes about 2-3 minutes on each side at 400°F.
FAQ
Why do you soak potatoes in water before air frying?
Soaking your potatoes before air frying them is the key to ultra-crispy potatoes. The process removes the extra starch from the potatoes and prevents them from sticking together and getting soggy while cooking.
Does an air fryer make things crispy?
The air fryer does indeed make food more crispy. The appliance acts like a convection oven, but at turbo speed and with less reliance on fats like butter or oil to get that signature crispy crunch we have grown to love so much. Air fryers circulate extremely hot air around food, cooking everything from chicken to potatoes to veggies at lightening speed.
How do I cut potatoes into wedges?
With a large, sharp kitchen knife, slice a potato in half. Lay each half flesh side down and slice in half once more. Flip each quarter flesh side up and slice down the ridge carefully to create a perfect wedge. Repeat the process until all your potatoes are sliced.
Which potatoes are the best for wedges?
Russet potatoes and Yukon Golds are the perfect candidates for wedges. Both have flesh that turns perfectly fluffy when fried or air fried, as well as thin skins that don't taste too bitter.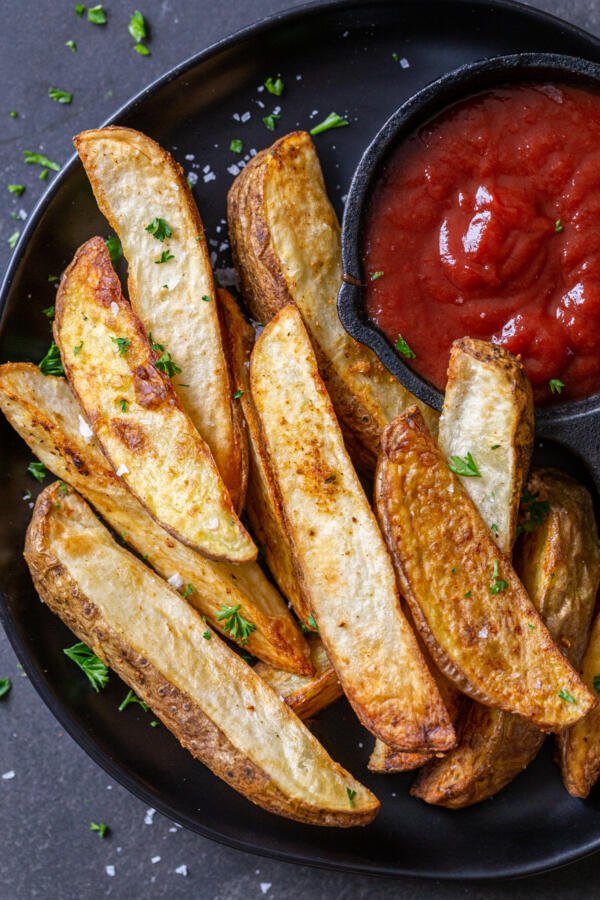 More Air Fryer Recipes
Our Favorite Air Fryer to Use
We love an air fryer with a basket, it makes for the easiest cleaning. I have been using Gourmia 6-Qt and now I got my hands on the COSORI. I recommend both highly if you don't already use a model you love.
Recipe
Air Fryer Potato Wedges give you all the crispiness of french fries with no need for deep frying. All you need is four ingredients and 20 minutes and you'll have the perfect side dish.
Nutrition Facts
Air Fryer Potato Wedges
Amount Per Serving
Calories 184
Calories from Fat 18
% Daily Value*
Fat 2g3%
Sodium 1755mg73%
Potassium 888mg25%
Carbohydrates 39g13%
Protein 5g10%
Vitamin A 62IU1%
Vitamin C 12mg15%
Calcium 28mg3%
Iron 2mg11%
* Percent Daily Values are based on a 2000 calorie diet.