Instant Pot egg bites are incredibly easy to prepare. Packed with protein and melty cheese, they will soon become your new favorite breakfast go-to!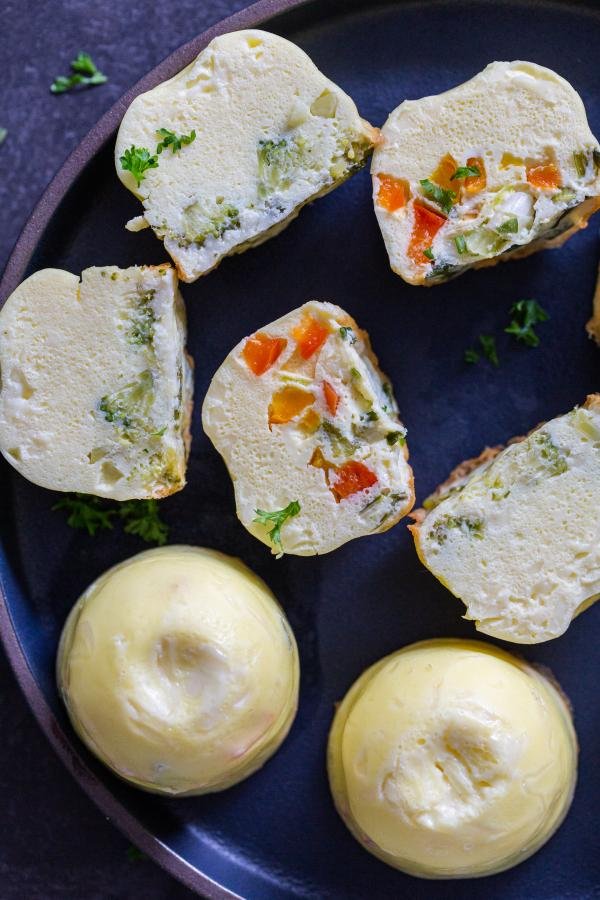 If you're looking for a healthy, no-fuss breakfast on the go, look no further than this Instant Pot egg bites recipe. As a busy mom of two, I lean on these time and time again to ensure my boys (and myself!) get enough protein in the morning. You're going to love how easy they are to prep, batch cook, and freeze!
Note: You need to use a special egg bite mold to make this recipe. I would suggest purchasing this set of two silicone egg bite molds from Amazon. They're designed to be used in the Instant Pot, super easy to clean, and can withstand extremely high heat.
What are Instant Pot Egg Bites?
These Instant Pot egg bites are a copycat of Starbucks' beloved menu item. Instead of making them in the oven, you'll tap into the powers of your pressure cooker to cook them "sous vide-style" (gently steamed in a water bath). Below, find an overview of the flavor, texture, and time it takes to whip up these Starbucks sous vide egg bites.
Flavor: The flavor of these egg bites is a combination of slightly tangy cottage cheese-infused eggs, salty bacon, spicy arugula, and sweet peppers. That said, feel free to mix and match different ingredients to create your very own bite!
Texture: The texture of these sous vide egg bites is melt-in-your-mouth tender and as light as it is fluffy.
Time: From prep to table, this recipe takes just 20 minutes to make.
Variations of Instant Pot Egg Bites
The beauty of egg bites is that you can mix and match different ingredients to customize them just the way you like. Here are some winning combinations:
Greens and Cheese: Spinach or kale pairs well with just about any cheese. We like to use feta, goat cheese or sharp cheddar.
Bacon and Cheese: Bacon and swiss always hits the spot.
Bell Pepper and Cheese: Chop up the colorful bell peppers and add them to the mix.
Broccoli and Mozzarella: Chop broccoli in to small pieces, it will add a nice crunch to the egg bites.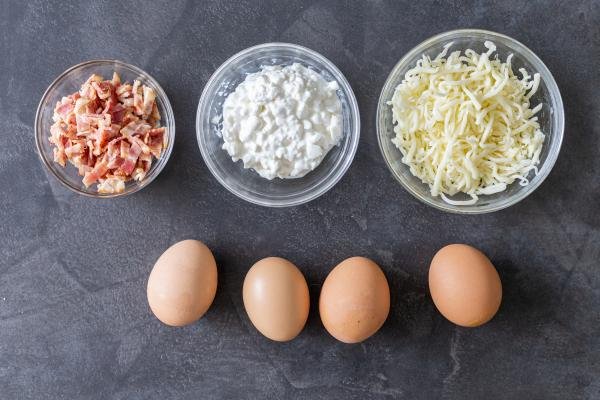 Different Ingredients for Instant Pot Egg Bites
Want to get even more creative? Below find a handful of ingredients to play around with to create your very own egg bite.
Veggies: Onions, bell peppers, mushrooms, green onions, broccoli, zucchini, asparagus, spinach, kale, sautéed garlic, and potatoes
Meats: Bacon, ham, steak, smoked salmon, grilled chicken, turkey, Canadian bacon, and breakfast sausage
Cheeses: Mozzarella cheese, parmesan cheese, swiss cheese, pepper jack cheese, sharp cheddar cheese, feta cheese, goat cheese, and gruyere
Herbs: Cilantro, parsley, basil, and dill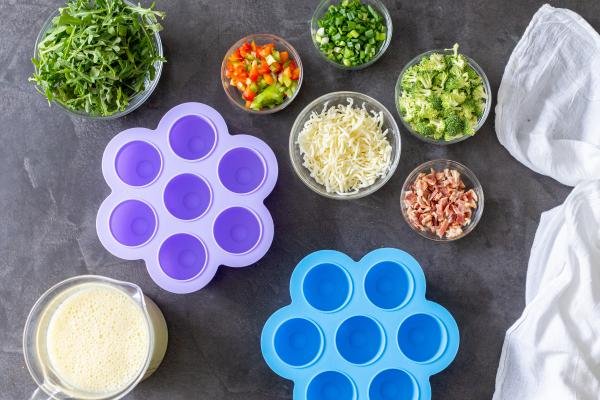 Assembling Your Instant Pot Egg Bites
Assembling these Instant Pot egg bites only requires a handful of wholesome ingredients and some super simple prep. Here's a quick overview of the steps you need to take to make these tasty bites:
Blend the Eggs: Using a blender, combine the eggs and cottage cheese until smooth.
Assemble the Egg Bites: Next, pour the egg mixture into the mold, leaving just a bit of space at the top. Sprinkle each egg mold with veggies, meats, cheeses, and/or herbs and cover the mold with a lid or some foil.
Cook the Egg Bites: Fill the Instant Pot with 1/2 cup of water and pop the mold onto the trivet. Secure the lid, flip the Instant Pot to the sealing position, and set the timer to 10 minutes on steam. Allow the Instant Pot to do a natural release, then flip it to the venting setting to release any leftover pressure. Remove the egg bites and enjoy!
Tips for Making the Tastiest Egg Bites
Here you'll find some top tips to help you make the tastiest egg bites on the planet.
Coat the silicone mold in a little cooking spray. While the silicone molds are non-stick, give yourself an extra layer of protection and coat them with a layer of cooking spray before adding the egg batter (especially if you're adding a lot of different cheeses).
Chop the filling ingredients evenly. To promote even cooking, chop the filling ingredients as evenly as possible.
Drain the wet ingredients before adding them in. If you're adding tomatoes or watery peppers to the egg bites, drain them of excess moisture before popping them into the egg batter. This will help to speed up the cooking time.
Ways to Serve Your Egg Bites
Serve your egg bites as a quick, on-the-go breakfast. If you are craving a more well-rounded meal, pair them with crispy smashed potatoes or our breakfasts in bed casserole. You can also pack them in your work lunch for a healthy, low-carb snack. That's right – you don't have to simply eat them for breakfast!
Freezing and Storing Egg Bites
Egg bites are a meal-preppers best friend! Make a couple of big batches and store them in the fridge or freezer for a quick and healthy breakfast on the run:
Refrigerating: To keep your egg bites on hand for up to a week, place them in an airtight container or a freezer-safe bag. When you are ready to reheat, pop them in the microwave for 30-45 seconds or until warmed through.
Freezing: To keep your egg bites on hand for up to 3 months, allow them to cool completely and place them in a freezer-safe bag in the freezer. When you are ready to reheat, allow them to thaw in the fridge first and pop them in the microwave for 45 seconds to a minute.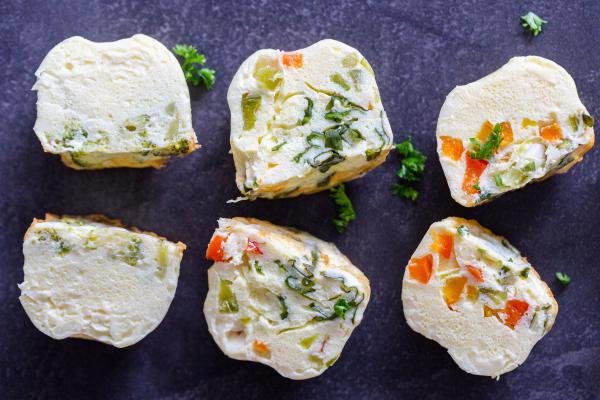 FAQ
Can you stack silicone egg molds in Instant Pot?
Yes, it's perfectly acceptable to stack the silicone egg molds in the Instant Pot. This technique comes in super handy when you're batching cooking the egg bites for meal prep.
Why are Starbucks egg bites so creamy?
Starbucks egg bites are so creamy due to the addition of cottage cheese to the batter. It makes all the difference and gives the morsels their signature texture.
How do you keep egg bites from collapsing?
To keep your egg bites from collapsing as they cool, make sure to allow them to cool a bit in the egg mold before removing them. This will help give them structure and stability as the air pockets collapse and prevent them from completely deflating.
Why are my egg bites rubbery?
Your egg bites turned out rubbery if you cooked them too long at too high of a heat.
More Tasty Egg Recipes
Recipe
These Instant Pot egg bites are the perfect protein-packed way to start your day. Customizable, perfect for meal prepping, and crazy easy!
Ingredients
4

eggs

1/2

cup

cottage cheese

1/2

cup

mozarella cheese

1/3

cup

broccolini

1/3

cup

bacon bits

1/3

cup

arugula

1/3

cup

bell peppers
Nutrition Facts
Instant Pot Egg Bites
Amount Per Serving
Calories 118
Calories from Fat 63
% Daily Value*
Fat 7g11%
Cholesterol 90mg30%
Sodium 301mg13%
Potassium 77mg2%
Carbohydrates 5g2%
Protein 9g18%
Vitamin A 573IU11%
Vitamin C 17mg21%
Calcium 77mg8%
Iron 1mg6%
* Percent Daily Values are based on a 2000 calorie diet.