Instant Pot Sous Vide Egg Bites are incredibly easy to prepare. Packed with protein and melty cheese, they will soon become your new breakfast go-to.
For a well-rounded breakfast, pair your egg bites with our Breakfast in Bed Casserole, potato pancakes or these decadent crepes (seriously, the best EVER!).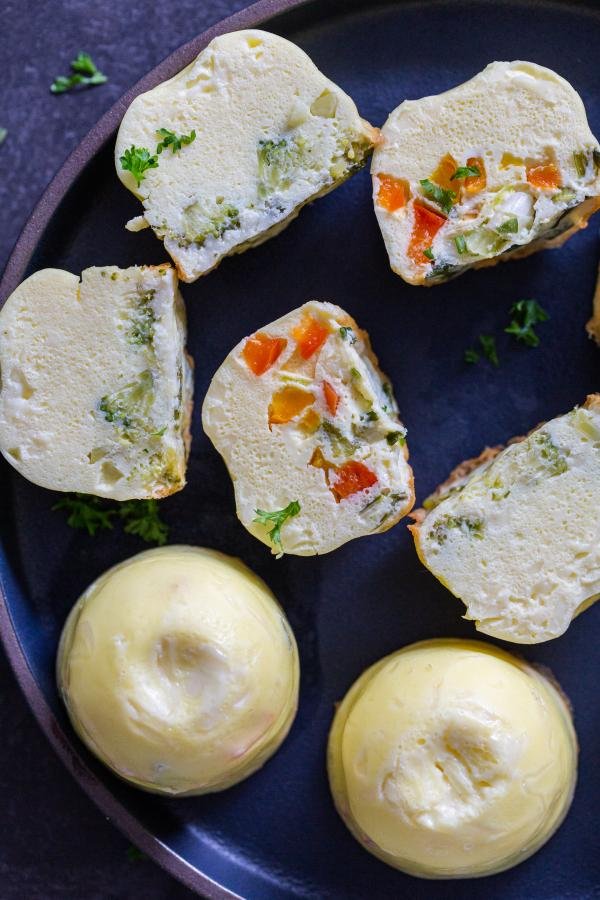 Instant Pot Sous Vide Egg Bites
Starbucks really put the egg bite on the map. However, buying them once or twice a week from the cafe can get so expensive. By making them at home with your pressure cooker, you'll save time and money!
If you don't own an instant pot, you can make our Starbucks Egg Bites in your oven.
Variations of Instant Pot Egg Bites
The beauty of egg bites is that you can mix and match different ingredients to customize them just the way you like. Here are some of our favorites:
Greens and Cheese: Spinach or kale pairs well with just about any cheese. We like to use feta, goat cheese or sharp cheddar.
Bacon and Cheese: Bacon and swiss always hits the spot.
Bell Pepper and Cheese: Chop up the colorful bell peppers and add them to the mix.
Broccoli and Mozzarella: Chop broccoli in to small pieces, it will add a nice crunch to the egg bites.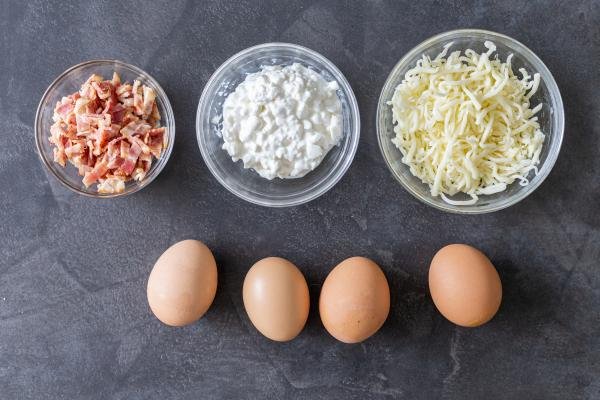 Making Your Own Variations
If you wish to make your own winning combination, here are some ingredients that you can mix and match to make something tasty:
Veggies: Onions, bell peppers, mushrooms, green onions, broccoli, zucchini, asparagus, spinach, kale, potatoes, and any and all types of herbs.
Meats: Bacon, ham, steak, grilled chicken, turkey, Canadian bacon and sausage.
Cheeses: Mozzarella, parmesan, jack cheese, cheddar, feta, goat cheese and pepper jack.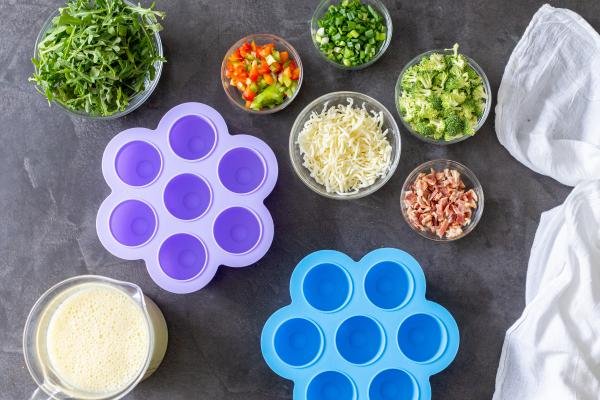 Mold for The Instant Pot Egg Bites
We got a set of two molds because you can make a large batch and save your leftovers for later. I would suggest purchasing this set of two molds from Amazon. These are so awesome because they were designed to be used in the Instant Pot and can withstand extremely high heats.
How to Make Instant Pot Egg Bites
Let's get down to the nitty gritty! Here's a quick overview of the steps you need to take to make these tasty bites:
Add water and your trivet to the Instant Pot.
Add eggs cottage cheese to your blender and blend until smooth.
Pour the egg mixture evenly into the silicone mold compartments,
Add in whatever veggies and meat you choose to the mold. Leave space for eggs to expend. Cover tightly.
Place the mold atop the trivet in the Instant Pot.
Set the vent to sealing. Press the steam bottom and set the timer to 10 minutes.
Once the timer goes off, allow the Instant Pot to natural release for an additional 10 minutes. Carefully release any remaining pressure by switching the valve into the venting setting. Remember that hot steam may still be built up inside, so use a towel to switch the valve to venting and keep your face away from the steam.
Storing Instant Pot Egg Bites
Egg bites are a meal-preppers best friend! Make a couple of big batches and store them in the fridge or freezer for a quick and healthy breakfast on the run:
Freezing: Allow your egg bites to come to room temperature. Remove them from the molds and place them in a freezer-safe bag. Pop them in the freezer and they will keep for up to three months. When you are ready to reheat, pop them in the microwave for 45 seconds to a minute.
Refrigerating: Remove your egg bites from the mold and place them in an airtight container or a freezer-safe bag. Refrigerate for up to a week. When you are ready to reheat, pop them in the microwave for 30-45 seconds or until warmed through.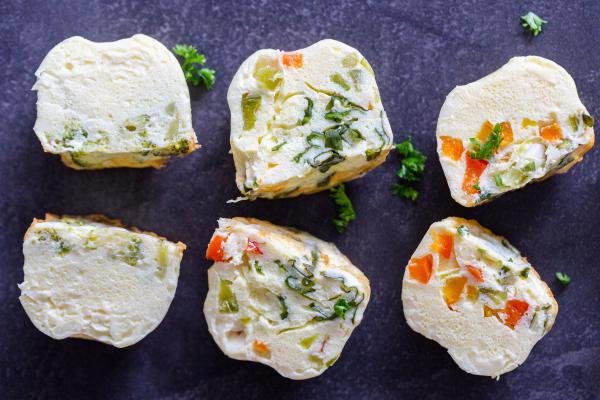 Recipe
These Instant Pot egg bites are the perfect protein-packed way to start your day. Customizable, perfect for meal prepping, and crazy easy!
Ingredients
4

eggs

1/2

cup

cottage cheese

1/2

cup

mozarella cheese

1/3

cup

broccolini

1/3

cup

bacon bits

1/3

cup

arugula

1/3

cup

bell peppers
Nutrition Facts
Instant Pot Egg Bites
Amount Per Serving
Calories 118
Calories from Fat 63
% Daily Value*
Fat 7g11%
Cholesterol 90mg30%
Sodium 301mg13%
Potassium 77mg2%
Carbohydrates 5g2%
Protein 9g18%
Vitamin A 573IU11%
Vitamin C 17mg21%
Calcium 77mg8%
Iron 1mg6%
* Percent Daily Values are based on a 2000 calorie diet.