These hard boiled airfryer eggs are fast, hands-off, and fool-proof! Choose your preferred level of doneness and enjoy them in 15 minutes or less.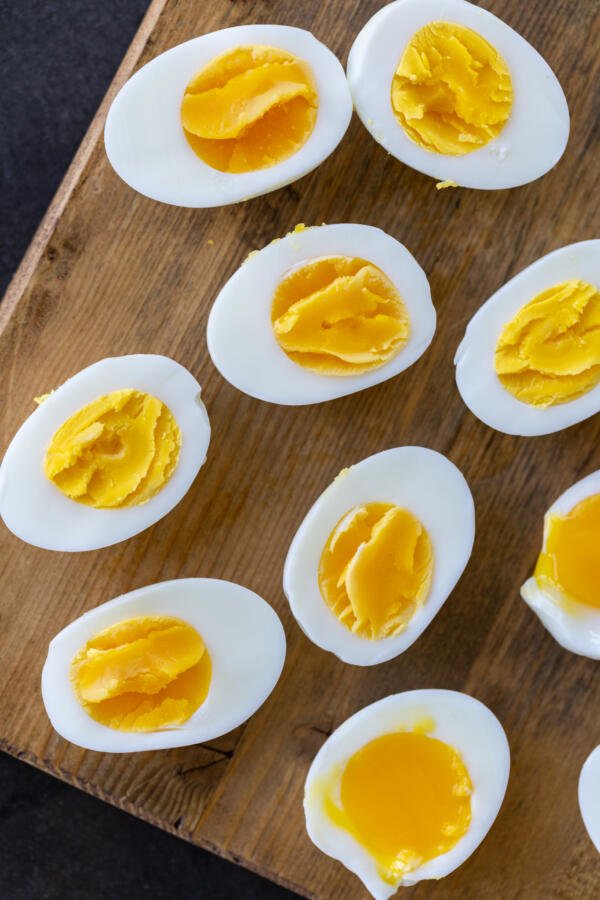 We believe air frying is amazing. It's easy and quick. Hard boiled eggs in the airfryer is one of the easiest and most convenient ways to cook eggs. There's no need to boil water, and it only takes a minute to prepare the eggs and place them into the airfryer. Plus, these cooked eggs become easy-peel, which is amazing! After all, we all know the struggle of eggs that don't peel easily.
Looking for an air fryer? If you are debating which air fryer to buy, we love this one. We've had it for years and have used it innumerable times.
How to Make Air Fryer Hard Boiled Eggs
You'll only need one ingredient (eggs) and an airfryer to make these hard boiled eggs. It can't get any easier than this.
Preheat the airfryer: Preheat the airfryer to 270°F for three minutes.
Add the eggs: Place eggs into the air fryer basket, leaving space between each egg.
Fry: Air fry for 10-15 minutes, depending on desired doneness.
Cool the eggs: Remove the eggs from the airfryer and place into an ice cold water bath. Enjoy once eggs are cooled.
Hot tip: Some air fryers don't go below 300°F. In which case, air fry at 300°F for about two minutes short of the suggested air fry time.
Time Guide for Air Fryer Hard Boiled Eggs
Depending on your desired doneness, decide how long to cook the eggs in the air fryer.
Soft-boiled eggs: For soft or runny eggs, cook for about 10 minutes.
Medium-boiled eggs: For a medium, jammy yolk, cook for 12 minutes.
Hard-boiled eggs: For a hard egg yolk, cook for 14 minutes.
Hot tip: If you don't preheat the air fryer, increase the air fry time by two minutes.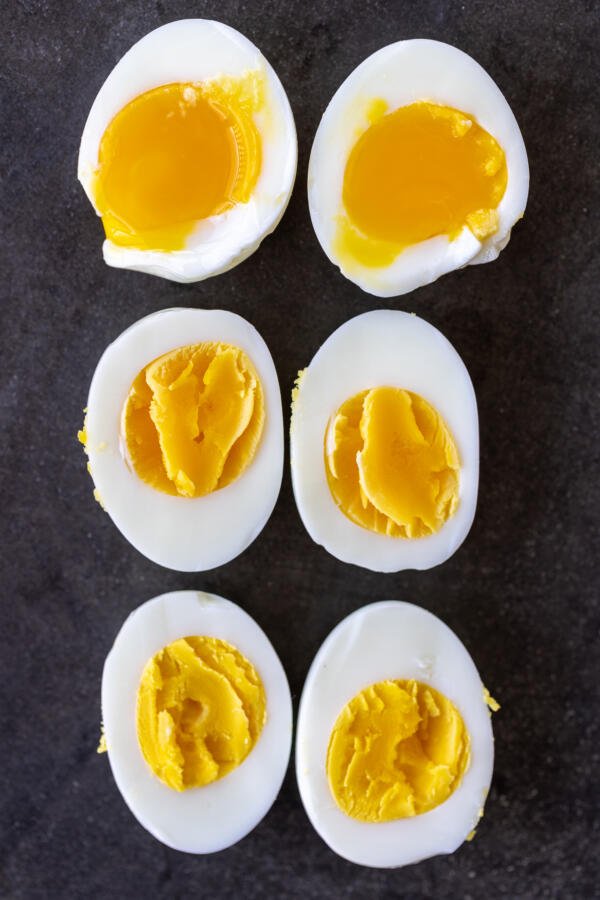 Tips from the Kitchen
Even the simplest recipes benefit from a few tips. Take note for eggs-cellent results!
Use the air fryer rack: Place the eggs onto a wire rack to help lift them out of the basket all at once.
Pick older eggs: Even though air fried eggs peel very easily, consider using older eggs instead of fresh eggs for even easier peeling.
Adjust cooking time: Depending on the air fryer, the eggs may need to cook for a shorter or longer time. Experiment with a few eggs to see how your air fryer does on cooking time.
Use the ice bath: As soon as eggs are finished cooking in the airfryer, place them directly into the bowl of ice water. The ice water bath will stop them from cooking any further.
Ways to Use
Hard boiled eggs are an incredibly versatile protein. Add hard boiled eggs to your breakfast, lunch, or dinner entrees to boost your nutrition! Or, have an egg as a snack throughout the day.
For breakfast, slice the egg and put it on smoked salmon toast or avocado toast. Or for a quick breakfast, simply put a few slices on a piece of toast and sprinkle with bagel seasoning and a little salt/pepper. Use whole or sliced eggs on a breakfast charcuterie board and pair it with air fryer bacon for the perfect combo.
Hard boiled eggs are also great additions to your lunch and dinner. Use them to add extra protein to salads such as cafe rio salad, ultimate garden salad, and caesar salad. Cube the egg and use it to make olivier potato salad or tuna cobb salad. Or, use cubed eggs to make an egg salad sandwich and layer slices in a garlic bread sandwich.
Storage Tips + Reheating
Hard boiled eggs are a great make-ahead and meal prep option. Store peeled hard boiled eggs with a damp paper towel in an airtight container in the fridge. Store unpeeled eggs in the refrigerator in any container, sealed or unsealed. Both types will last in the fridge for up to a week.
FAQ
What are the brown spots on my air fryer hard boiled eggs?
Brown spots on the cooked eggs are most likely from the air fryer being slightly dirty. It should still be safe to eat the eggs if they have brown spots.
Do I put water into the airfryer to hard-boil eggs?
No, water is not needed to hard boil eggs in the airfryer. In fact, water may actually ruin your airfryer.
What's the difference between making hard boiled eggs on the stovetop vs airfryer?
To make stove top boiled eggs, you need a pot, boiling water, and a timer. With airfryer boiled eggs, all you need is the egg and the instant pot. Both methods produce the same result, but the instant pot is more of a hands-off, set-and-forget method.
More Egg Recipes
Recipe
These hard boiled airfryer eggs are fast, hands-off, and fool-proof! Choose your preferred level of doneness and enjoy them in 15 minutes or less.
Instructions
Nutrition Facts
Air Fryer Hard Boiled Eggs
Amount Per Serving
Calories 63
Calories from Fat 36
% Daily Value*
Fat 4g6%
Cholesterol 164mg55%
Sodium 62mg3%
Potassium 61mg2%
Carbohydrates 0.3g0%
Protein 6g12%
Vitamin A 238IU5%
Calcium 25mg3%
Iron 1mg6%
* Percent Daily Values are based on a 2000 calorie diet.