These easy breakfast quesadillas are a simple combination of flour tortillas, scrambled eggs, and shredded cheese. In this recipe, you'll learn a fun technique to cook them super fast and with little to no mess.
Are you a quesadilla addict? Try our recipes for chicken quesadillas, air fryer quesadillas and ground beef quesadillas while you're at it.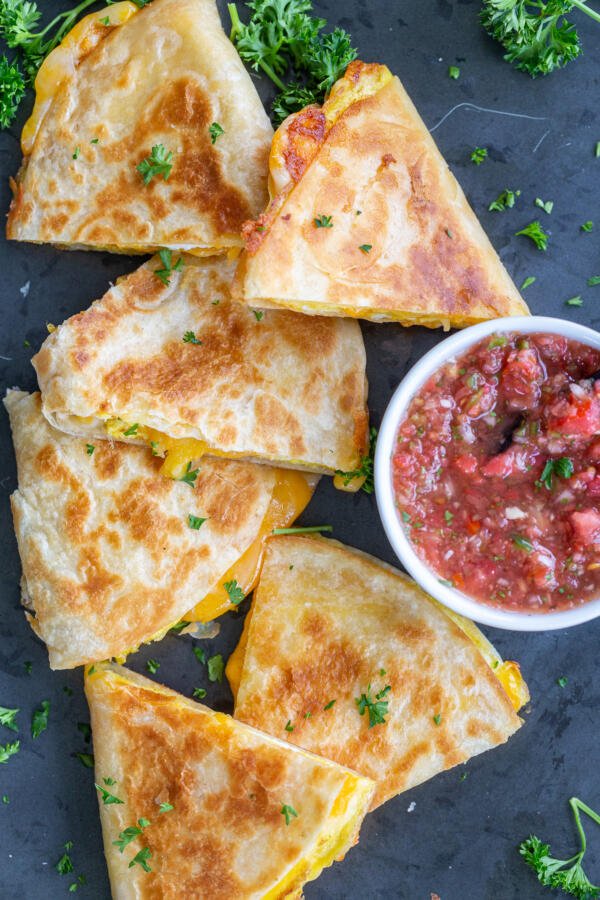 The technique used to make this breakfast quesadilla recipe has gone absolutely viral on TikTok and for good reason. It's fun, fast, and results in the crispiest, meltiest quesadilla on the planet.
Whether you're looking for a quick meal, craving breakfast for dinner, or scrambling (pun intended) to make breakfast for a group of hungry kids, breakfast quesadillas are always a crowd pleaser. Who doesn't like to bite into a golden brown tortilla full of gooey goodness? You're just never too old for melted cheese…
How to Make Breakfast Quesadillas
Making breakfast quesadillas only requires 5 simple ingredients and one medium skillet. Below, find an overview of the recipe.
Prepare the egg mixture. In a large mixing bowl, whisk eggs together with a generous amount of salt and pepper.
Preheat the skillet and make an omelette. Preheat your pan over medium heat with a pat of butter. Pour the egg mixture into the skillet. Cook the eggs until the center is runny and the sides are fully cooked.
Sprinkle on the cheese and cover with the tortilla. Sprinkle on a generous amount of shredded cheese. Place the tortilla directly on top.
Flip it over and add more cheese. Flip the tortilla and egg over, adding cheese to half of the egg on the other side.
Tips for the Best Breakfast Quesadillas
Below, find a couple of tips and tricks that will help you create the absolute best breakfast quesadillas.
Choose the right pan. You'll want the pan to be about the same size of your tortilla for the technique to work. If your egg is mismatched to your tortilla, the quesadilla will come out weirdly shaped.
Always serve your quesadillas fresh. Melted cheese can turn rubbery fast, so plan to serve quesadillas fresh out of the pan.
Sneak a couple veggies in. If you have picky eaters in your life, this is the perfect recipe to sneak some veggies in unnoticed. Pan fry some bell peppers and onions and stuff them inside, because everything is delicious covered in cheese…
Add in some protein for a more filling meal. If you want to make the quesadilla more filling, add in cooked breakfast sausage, air fryer bacon crisps, or even some leftover ribeye steak seasoned with homemade taco seasoning.
Serving Breakfast Quesadillas
Breakfast quesadillas are perfect served morning, noon, and night. Pop a dollop of sour cream on top of them and put out a bowl of salsa or guacamole for dipping. You could even make a batch of breakfast potatoes to serve alongside them for a more well-rounded brunch.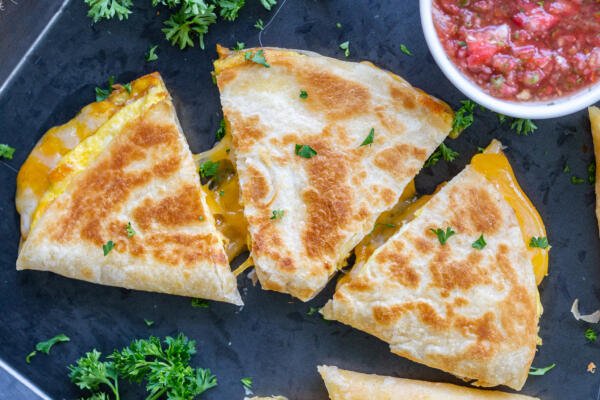 Storing Breakfast Quesadillas
Refrigerating: Store leftover breakfast quesadillas in an airtight container in the fridge. They should stay fresh for up to a week.
Freezing: Freeze leftover breakfast quesadillas by placing them in a single layer on a baking sheet. Pop the entire baking sheet in the freezer. Once completely frozen, transfer quesadillas into plastic freezer bags.
Tips for Reheating Breakfast Quesadillas: To reheat your quesadillas without them turning soggy, use a frying pan with a bit of butter or a panini press if you have one and cook them just until the cheese is melted. Don't use a microwave unless you want them extra soft.
FAQ
What is the best cheese for quesadillas?
The best cheese for quesadillas is a Mexican blend. You could also use sharp or medium cheddar.
How do you make quesadillas crispy?
To take quesadillas crispy, you'll want to fry them in a bit of butter. Use a high-quality European brand like Kerrygold or Pulgra for the best results.
How do you seal the edges of quesadillas?
The edges of the quesadilla will seal naturally with the melted cheese. A little cheese might sneak out, and that's okay. It will fry a bit and turn bubble and delicious.
How do you keep quesadillas from getting too soggy?
To keep quesadillas from turning soggy, only use a bit of butter. Too much butter will turn your tortilla into an oily mess and prevent it from getting that nice crisp.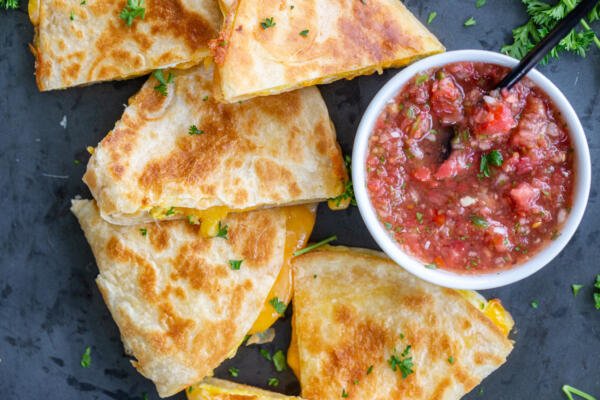 More Breakfast Recipes
Recipe
These easy breakfast quesadillas are a simple combination of flour tortillas, scrambled eggs, and shredded cheese.
Ingredients
1

flour tortilla

2

large eggs

1/2

cup

Mexican blend cheese

1

tbsp

Unsalted Butter

for frying

1/4

tsp

salt

adjust to taste
Nutrition Facts
Breakfast Quesadillas (Only 5 Ingredients)
Amount Per Serving
Calories 517
Calories from Fat 342
% Daily Value*
Fat 38g58%
Cholesterol 411mg137%
Sodium 1402mg58%
Potassium 218mg6%
Carbohydrates 17g6%
Protein 27g54%
Vitamin A 1194IU24%
Calcium 454mg45%
Iron 3mg17%
* Percent Daily Values are based on a 2000 calorie diet.