This easy quiche recipe makes little, handheld quiche that are perfect for a breakfast on the go. Quick puff pastry shortcut included!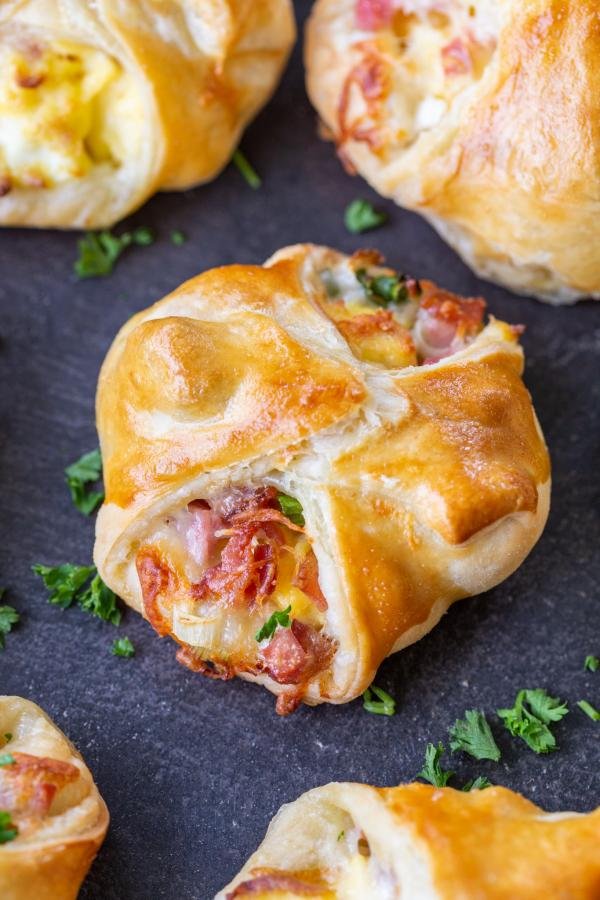 While I love a classic quiche, I'm not always in the mood to whip out my stand mixer and make a pie crust from scratch. That's why I've created this crazy easy recipe for personal-sized quiche. It's perfect for meal prepping weekday breakfasts or for a lazy Sunday brunch with the family. What's better? You can pull out a ton of different toppings from the fridge and let everyone customize their own.
Quick Heads Up: You will need puff pastry for this recipe. Snag some from the freezer aisle at the grocery store, or make it homemade using our simple recipe for puff pastry dough.
What is a Freestyle Quiche?
Unlike traditional quiche, freestyle quiche is made by tucking scrambled eggs and other tasty toppings in a puff pastry envelope. Below, find a quick rundown of the flavor, texture, and time it takes to make this recipe.
Flavor: The flavor of this quiche is super savory. The scrambled eggs are topped with strips of salty ham and a sprinkling of bacon bits, followed by a handful of mozzarella cheese and green onions.
Texture: The texture of this freestyle quiche is much like a pastry pocket or hand pie.
Time: From start to finish, these freestyle quiches take just 30 minutes to make.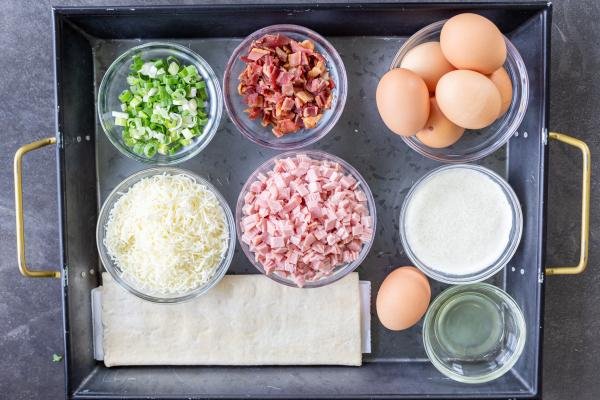 Quiche vs. Frittata: What's the Difference?
Although both egg bakes, quiches and frittatas have one stark difference – crust. While traditional quiches feature eggs and toppings baked into pie crust, frittata are more like cake-sized omelettes or crustless quiche. That said, both are served by the slice and can be easily tweaked with different toppings and ingredients.
Easy Quiche Video
Making this Easy Quiche Recipe
Making this easy quiche recipe requires just under 10 ingredients. Below, find a quick-hitter rundown of the recipe before you dive in.
Scramble the Eggs: In a medium bowl, whisk the eggs and heavy cream together. Pour the egg mixture into a skillet and scramble it until fully cooked.
Assemble the Freestyle Quiche: Roll out the puff pastry and cut it into even-sized squares. Top each square with scrambled eggs, followed by ham strips, bacon bits, cheese, and green onions. Brush the edge of the quiche with egg wash using a pastry brush and fold the sides over to form an envelope shape. Lastly, brush the tops with more whisked eggs.
Bake the Freestyle Quiche: Assemble the freestyle quiche on a baking sheet and bake at 400°F for about 15 minutes or until they turn golden brown. Serve warm and enjoy!
3 Tips for this Easy Quiche Recipe
Here you'll find 3 tips to help you nail this easy quiche recipe.
Pull the puff pastry out only when you're ready to use it. You'll want to work with the quiche cold so that the butter doesn't melt. This will ensure that the quiche fluff up nicely in the oven.
Slice the puff pastry into equal pieces. To promote even baking, slice the puff pasty into similar-sized squares.
Use an egg wash to seal the quiche. To prevent the quiche from falling apart or opening in the oven, seal the edges together with egg wash.
Different Toppings for this Easy Quiche Recipe
To personalize your freestyle quiche, go ahead and experiment with different cheeses, veggies, meats, etc. Below, find some winning ingredients to mix and match and inspire you.
Cheeses: Swiss cheese, cheddar cheese, gruyere cheese, and goat cheese
Meats: Breakfast sausage, prosciutto, pancetta, crab, or smoked salmon
Veggies: Asparagus, tomatoes, broccoli, red onion, and spinach
Herbs: Parsley, basil, and dill
Top Storage Tips Freestyle Quiche
Whether you have a couple of leftover freestyle quiche to store or would like to freeze some for quick breakfasts, find all the top storage tips you need here.
Refrigerator: To keep quiches on hand for up to 5 days, store them in an airtight container in the fridge. This will keep them from turning stale.
Freezer (Raw or Baked): To freeze raw or baked quiche for up to 3 months, assemble the quiche on a baking sheet lined with parchment paper. Next, pop the entire baking sheet into the freezer uncovered. Once completely frozen, transfer the quiche to a freezer-safe plastic bag.
Reheating Tip: If you have an air fryer, it reheats these quiche beautifully. Need a recco? I love the COSORI. If you don't have an air fryer, reheat the quiche in a conventional oven or toaster oven.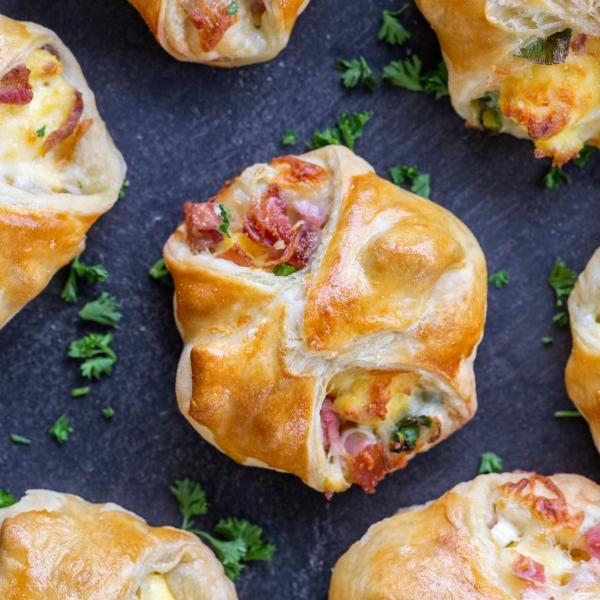 FAQ
Do I have to prebake the crust for quiche?
You do not have to prebake the puff pastry crust for the quiche. All you have to do is assemble them and pop them in the oven.
What is the secret to a good quiche?
The secret to good quiche is putting heavy cream into the eggs. It brings so much texture and makes for a custard-like consistency.
Can I use milk instead of heavy cream for freestyle quiche?
While swapping the heavy cream for milk is acceptable, it's not recommended. The heavy cream really elevates the eggs and makes for such a great texture. If you must use milk, use a full-fat whole milk.
How do I make my freestyle quiche less spongy?
Quiche turns spongy when you overbake the eggs. To prevent this, pull the freestyle quiche out once the puff pastry turns golden brown.
How do you keep freestyle quiche from getting soggy on the bottom?
The key to keeping your freestyle quiche from getting soggy is to scramble the eggs before you bake. This will prevent the liquid from the eggs turning the puff pastry soft.
More Tasty Breakfasts with Eggs
Recipe
This easy quiche recipe makes little, handheld quiche that are perfect for a breakfast on the go. Quick puff pastry shortcut included!
Ingredients
6

eggs

1/2

cup

heavy cream

1

tbsp

oil

for cooking

1/2

cup

bacon

cooked bacon bits

1/2

cup

ham

chopped

1/2

cup

mozzarella cheese

grated

3

green onions

chopped

1

sheet puff pastry dough

1

eggs

for brushing the tops
Nutrition Facts
Crazy Easy Quiche Recipe (Freestyle)
Amount Per Serving
Calories 395
Calories from Fat 279
% Daily Value*
Fat 31g48%
Cholesterol 181mg60%
Sodium 381mg16%
Potassium 158mg5%
Carbohydrates 15g5%
Protein 13g26%
Vitamin A 525IU11%
Vitamin C 1mg1%
Calcium 74mg7%
Iron 2mg11%
* Percent Daily Values are based on a 2000 calorie diet.