Light, fluffy, and flavorful, these easy bacon egg bites are quick to prepare and keto-friendly. They are so easy to make and reheat well! What else is there to ask for?
If you own an Instant Pot, you can make our fluffy Instant Pot Sous Vide Egg Bites using your trivet and silicone molds.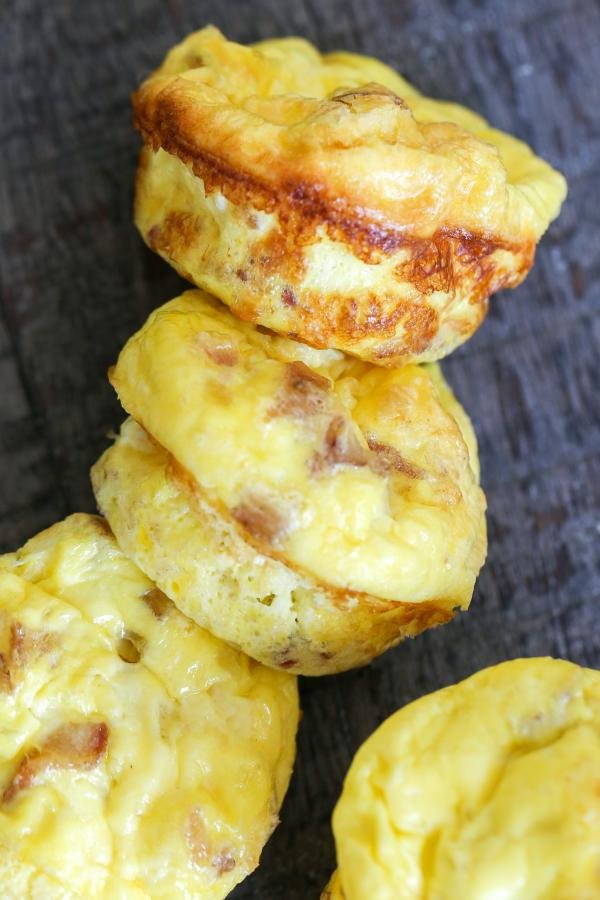 We created this recipe as a replica of the egg bites served at Starbucks. During the low-carb and keto craze of late, egg bites have become a popular food to prep for those trying to watch their waistline. Baked in a muffin tin, they are super simple to whip up and even easier to reheat in the microwave.
Bacon egg bites have been an absolute hit with my boys! In the morning, they pop them in the microwave by themselves (lucky me) and gobble them up as we head out the door to drop them off at school. Sometimes, we even pack them in their school lunches. I can rest assured that they are getting the nutrition they need for breakfast, while also not having to heat up a pan and make them fresh eggs myself. That's what I call a "win-win"!
How to Make Egg Bites
Preparing these easy bacon egg bites only requires a little bit of prep time and a 20-minute bake in the oven.
Prepare the Eggs: Crack the eggs into a large bowl and whisk them with salt and heavy whipping cream.
Add in the Filling: Stir the bacon and cheese into the egg mixture.
Coat the Muffin Tin: Spray a muffin pan with cooking oil. Fill each egg mold with the egg mixture, leaving a small amount of space at the top.
Bake the Egg Bites: Bake the egg bites at 350°F for about 20 minutes or until fully cooked through.
Homemade Egg Bites vs. Starbucks Egg Bites
Starbucks created a knock-out product that people can't get enough of. However, making my recipe for easy bacon egg bites will save you money and allow you to experiment with different egg bite flavor combinations. Here are some great options to add to your egg bites:
Veggies: Onions, bell peppers, mushrooms, green onions, marinated red peppers, broccoli, zucchini, asparagus, spinach, kale, potatoes, and any and all types of herbs.
Meats: Bacon, ham, steak, grilled chicken, turkey, Canadian bacon, and sausage.
Cheeses: Mozzarella, parmesan, monterey jack, feta, goat cheese, pepper jack, cheddar cheese, cottage cheese, and gruyere cheese.
Get creative! Don't feel limited to our recipe. Pretty much any combination you would have in an omelet will work in an egg bite – use whatever veggies, protein, & cheese you like best.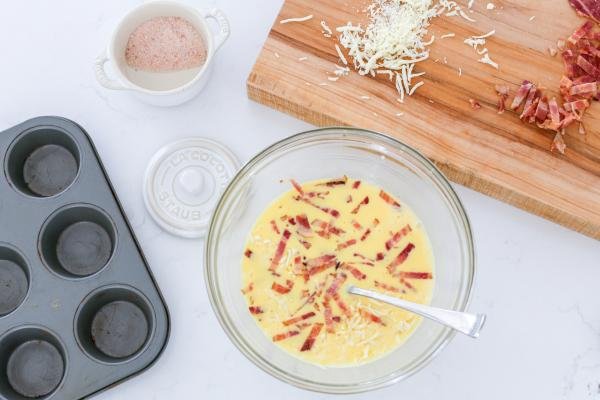 5 Tips for Making Starbucks Copycat Bacon Egg Bites
These 5 tips will help you make perfectly fluffy bacon egg bites each and every single time.
Whisk in the cream before the bacon and cheese. Be sure to whisk your eggs with cream before adding bacon and cheese. This will make for a more uniform egg bite. If you'd like, supercharge the mixing process by using a blender.
Chop your egg bite additions in a similar size. The more even your chopping, the more uniform your egg bites will bake!
Generously coat the muffin tin. Make sure to spray your muffin tin with cooking spray before adding the egg mixture into each egg bite mold. You don't want your bites to stick to the pan!
Transfer the egg batter properly. Use a ladle or a measuring cup to pour the egg mixture into the muffin tin.
Use only egg whites. If you want to lower cholesterol, swap out the whole eggs for only egg whites. Reduce waste and save the yolks for french toast or homemade air fryer chicken tenders.
Serving Suggestions
Pop some slices of sourdough bread in your toaster and pair your egg bites with a side of fruit. My boys like to squish an egg bite between the halves of a toasted English muffin for a quick breakfast sandwich. If you are trying to stay low-carb, top your egg bite with some fresh avocado, pico de gallo, or more cheese. If you're serving them for Sunday brunch, pair them with a potato mushroom breakfast.
Storing Egg Bites
Prepping egg bites ahead of time means a no-fuss breakfast. If you have a large family, I suggest making double or triple batches. Here are my tips and tricks for storing egg bites in the freezer or refrigerator:
Freezing Egg Bites (Long Term)
To freeze your egg bites, first let them cool down completely. Then, wrap each one in plastic wrap and place them in a plastic storage bag. When stored properly, you can keep egg bites frozen for up to three months.
Reheating Tip: When you are ready to reheat, unwrap the egg bites and wrap them in a wet paper towel. Place them on a microwave safe plate and defrost them for 1-3 minutes (depending on the strength of your microwave).
Refrigerating Egg Bites (Short Term)
To keep your eggs bites refrigerated throughout the week, first let your egg muffins cool down completely. Then, place them in an airtight container and store in the refrigerator for up to 5 days.
Reheating Tip: When you are ready to reheat them, place them on a microwave-safe plate and cook them for about a minute.
FAQ
Do you cook the bacon before adding it to bacon egg bites?
Yes, you should always cook the bacon before adding it to bacon egg bites. Cooked bacon brings an awesome texture to the bite and nixes the risk that raw bacon won't cook properly in the baking process.
Can you use bacon bits in bacon egg bites?
You can use bacon bits in bacon egg bites, but it's not recommended to use the ones you'd find in the salad dressing section at the grocery store. Opt for fresh bacon bits for the best results.
Why are my bacon egg bites soggy?
Your egg bites likely turned out soggy for two different reasons. The first is that they have been undercooked and the egg is still raw in the center. The second is that you didn't get the proportion of eggs to heavy whipping cream right.
Can you cook bacon egg bites on the stove?
No, it's not a good idea to cook bacon egg bites on the stove. What makes these special is that perfect golden-brown crust that you can only achieve with the help of an oven.
How do you know if your bacon egg bites are cooked?
You'll know your bacon egg bites are fully-cooked when the tops turn golden brown and the middle of the bite is firm without any jiggle. You can also stick a toothpick into the center of the muffin – if it comes out clean they're ready.
How do you make fluffy bacon egg bites in the oven?
You make fluffy bacon egg bites by adding heavy whipping cream to the raw egg mixture. The inclusion of dairy creates that sought-after, light, and fluffy texture that you're looking for. In a pinch, you can use heavy cream or whole milk.
Other Quick Egg Recipes
Recipe
These tasty bacon egg bites are a meal prepper's dream recipe. Protein and cheese packed, they are lovely for quick breakfasts & perfect for reheating.
Ingredients
12

large eggs

1

cup

mozzarella cheese

grated

1

cup

bacon bits

fully-cooked

1/2

cup

heavy whipping cream

cooking oil spray
Nutrition Facts
Easy Bacon Egg Bites + Video (Starbucks Copycat)
Amount Per Serving
Calories 135
Calories from Fat 99
% Daily Value*
Fat 11g17%
Cholesterol 186mg62%
Sodium 140mg6%
Potassium 80mg2%
Carbohydrates 1g0%
Protein 8g16%
Vitamin A 445IU9%
Calcium 78mg8%
Iron 0.8mg4%
* Percent Daily Values are based on a 2000 calorie diet.