This meatloaf with oatmeal is sure to become a family-favorite. Made with onions, ground beef, and simple spices, it's hearty, wholesome, and so comforting.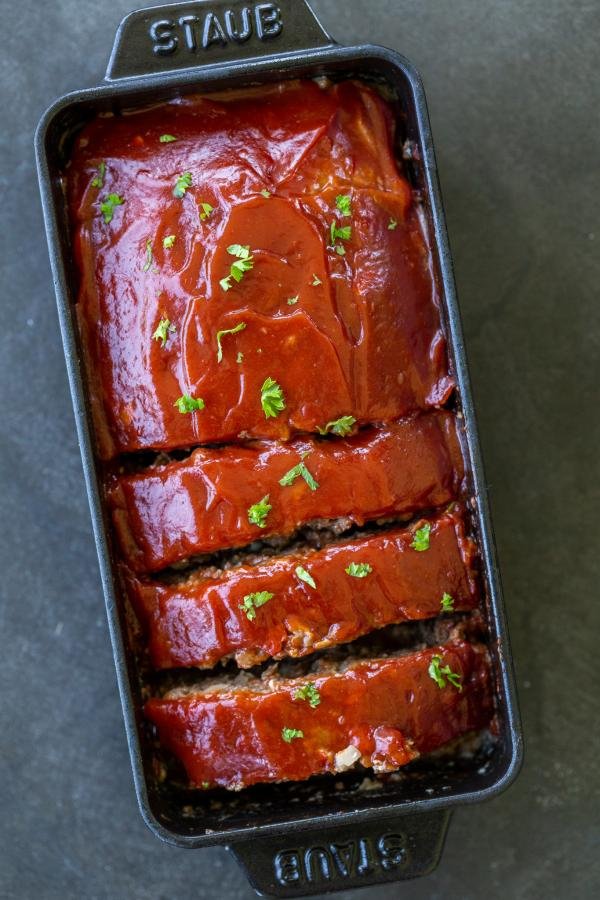 If you've never tried making meatloaf with oatmeal instead of breadcrumbs, you and your whole family are in for a treat. Not only does it up the "health factor" of your loaf with a bit of fiber, but it also creates such a wonderful texture. But don't worry, we've kept in line with tradition when it comes to slathering the top with ketchup…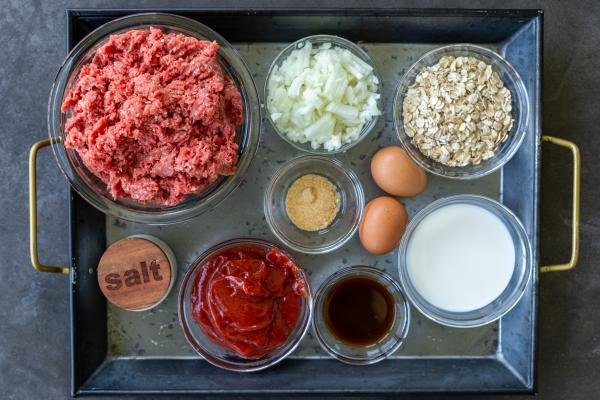 Using Oatmeal to Bind a Meatloaf
In this recipe, you'll use quick-cooking oats instead of breadcrumbs to bind the meatloaf together. But what exactly does oatmeal bring to the table? It keeps the texture of the meatloaf nice and light, while also preventing it from drying out.
How to Prepare Meatloaf with Oatmeal
To make this meatloaf, all you need to do is combine all the ingredients and transfer them to a pan. The oven will do all the heavy lifting from there!
Make the Meat Mixture: In a large bowl, combine the lean ground beef, dice onion, quick oats, milk, eggs, Worcestershire sauce, sea salt, and garlic powder.
Form the Meatloaf: Next, line a loaf pan, baking dish, or baking sheet with foil and transfer the meat mixture into the pan, using your hands to shape it into a loaf. Spread a generous amount of ketchup on top.
Bake the Meatloaf: Bake the meatloaf at 375°F for 45 minutes, or until internal temperature reaches 165°F. Remove the loaf from the pan and enjoy!
Helpful Tips for the Best Meatloaf with Oatmeal
While meatloaf is one of the most straightforward recipes out there, a couple of tips will help you nail it.
Give the meatloaf mixture 10 minutes to marinate. After you mix all the ingredients together, give them about 10 minutes to sit. This will significantly help in developing a nice depth of flavor.
Line the meatloaf pan. To prevent sticking, line the pan with foil. Leave a little bit of the foil free on the edges to help you lift the loaf out of the pan easily.
Allow the meatloaf to rest before slicing into it. Give the meatloaf at least 10 minutes to rest when it comes out of the oven. This will help lock in the juices and make the meatloaf that much more delicious.
Swap in your favorite ground meat. If you're not a huge fan of ground beef, swap in a combination of ground pork, ground turkey, or ground chicken.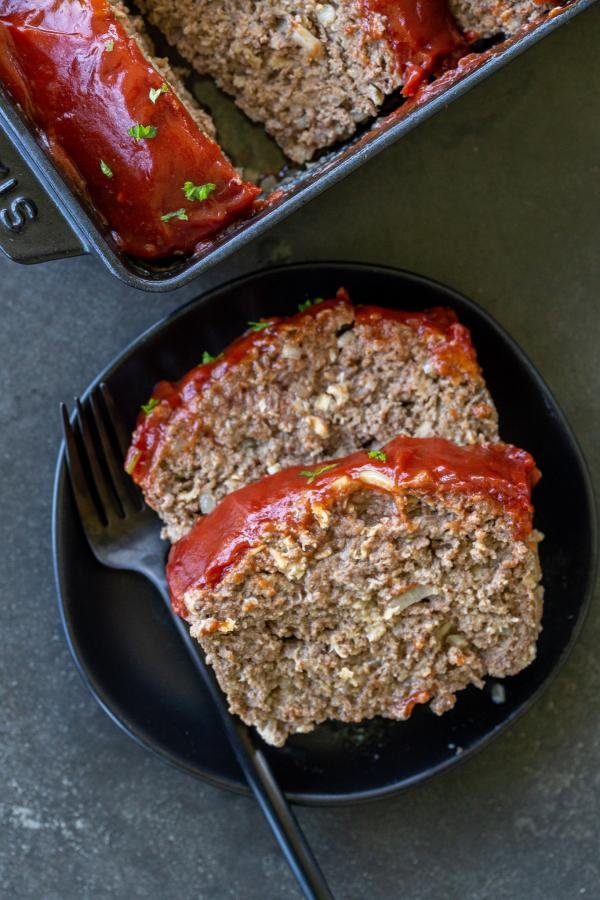 Serving Suggestions
If you wanna keep it classic, serve the meatloaf alongside creamy mashed potatoes, cheesy bread, and green beans or air fryer broccoli. If you're feeling extra decadent, use your leftovers to make meatloaf sandwiches the next day.
Storing, Freezing, & Reheating Meatloaf with Oatmeal
Storing: To keep leftover meatloaf on hand for up to a week, keep it stored in the refrigerator in an airtight container. This will keep the meat and oatmeal from drying out in a colder temperature.
Freezing: To freeze the meatloaf, first allow it to cool down completely first. Next, wrap the meatloaf tightly in plastic wrap and transfer it to a freezer safe storage bag for up to 3 months.
Reheating Tip: The best way to reheat the meatloaf is back in the oven covered with foil. If you'd like to hydrate it a bit more, slather on some more ketchup and remove the foil with a few minutes of baking left.
FAQ
Can you use steel cut oats in meatloaf?
Avoid using steel cut oats for meatloaf, as they add a bit too much texture. Quick cooking oats work best, as they dissolve nicely into the meatloaf as it bakes.
Why is it important to add milk to meatloaf?
Adding milk to meatloaf is a crucial step to keep it nice and moist. Not only does it help soften up the oats or breadcrumbs, but it also creates a subtle creaminess.
How do you prevent meatloaf from turning out too greasy?
To prevent your meatloaf from coming out too greasy, you need to use lean ground meat. Typically, 85% and higher is your best bet.
What else can you bake on top of meatloaf besides ketchup?
If you don't like to slather your meatloaf in ketchup, you can spread BBQ sauce on top instead. Or, you can create your own glaze by combining brown sugar, mustard, tomato sauce, apple cider vinegar, salt, and black pepper in a small bowl and slathering it right on top.
More Meaty Recipes to Try
Recipe
This meatloaf with oatmeal features tender beef seasoned with simple spices. Slathered with ketchup, it's baked to perfection tastes incredible!
Nutrition Facts
Meatloaf Recipe with Oatmeal
Amount Per Serving
Calories 508
Calories from Fat 297
% Daily Value*
Fat 33g51%
Cholesterol 164mg55%
Sodium 955mg40%
Potassium 685mg20%
Carbohydrates 22g7%
Protein 31g62%
Vitamin A 322IU6%
Vitamin C 4mg5%
Calcium 82mg8%
Iron 4mg22%
* Percent Daily Values are based on a 2000 calorie diet.