This cheesy bread recipe is buttery, garlicky, and covered with gooey melted cheese. Super kid-friendly and perfect as an appetizer or a side dish!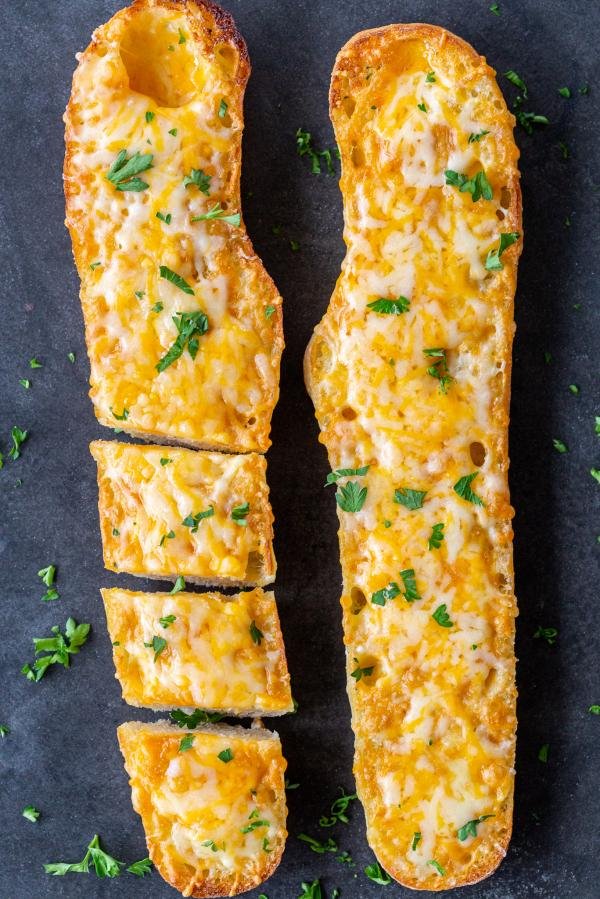 This cheesy bread is one of my favorite recipes to whip up for my boys. They absolutely adore it and I love how simple it is to make. With just 4 simple ingredients and a couple of minutes of prep, you'll wonder why you ever purchased a packaged store-bought version.
Whether your looking for a yummy side or wanting to whip up some easy french bread pizzas, this recipe will be on repeat in your home soon enough. Who doesn't love a slice of bread covered in gooey cheese?! C'mon…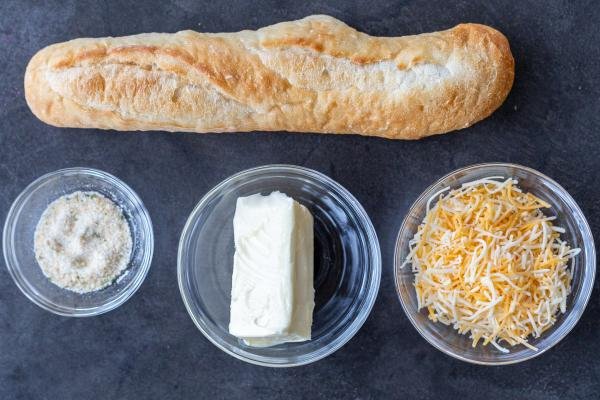 How to Make Cheesy Bread
This bread only requires 4 simple ingredients and a couple of easy steps. Find a quick overview of the recipe below before you dive in.
Slice & Butter the Bread: Using a serrated bread knife, slice the baguette in half lengthwise. Next, spread the softened butter generously on each side.
Sprinkle & Season the Bread: Sprinkle each sides of the baguette with garlic parsley salt and top with cheese.
Bake the Bread: Turn the oven on to a low broil and bake the baguette halves on a baking sheet for 5 minutes, or until the cheese is golden brown and bubbly.
Tips & Tricks
Below, find a handful of tips and tricks to help you make the best cheesy bread possible.
Allow the butter to soften at room temperature. Make your life so much easier by taking the butter out of the fridge 30 minutes before you plan on spreading it.
Use a serrated knife to cut the baguette. To make sure you get a clean cut down the middle of the loaf, use a serrated knife and a slow, sawing motion.
Line the baking sheet with foil or parchment paper. To catch any melted cheese or grease, line the baking sheet with foil or parchment paper and save your self a mess to clean-up. Woo!
Experiment with different cheeses. You can use just about any cheese that melts well. Feel free to use your favorite!
Use a store-bought garlic butter. If you have a favorite store-bought of homemade garlic butter lying around, this is the perfect recipe to use it! You can also add some minced fresh garlic if you're obsessed with garlic.
Swap the baguette out for french bread. If you prefer a thicker slice of garlic bread, swap out the baguette out for french bread. That being said, you can use most types of bread for this recipe – it's super versatile!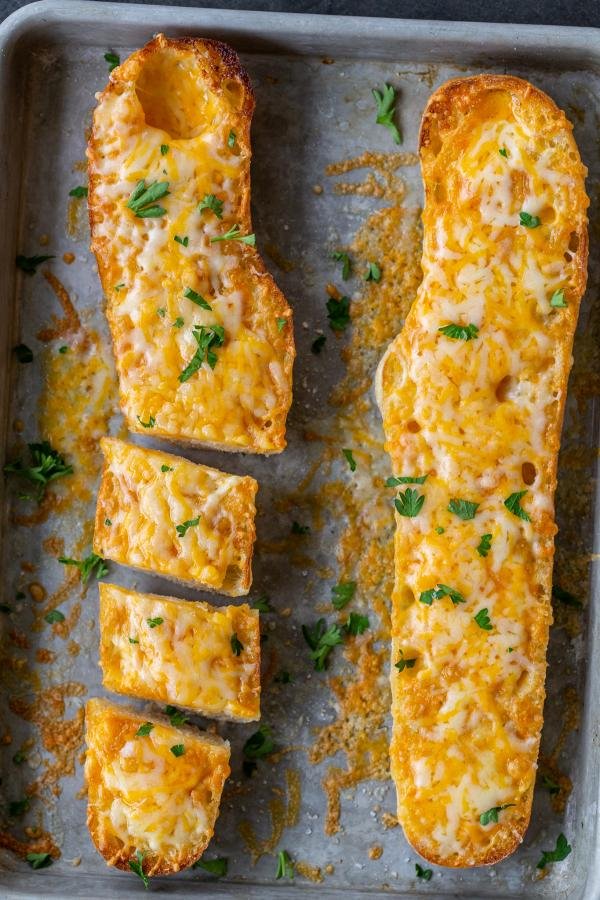 Serving Cheesy Bread
This gooey bread can be served alongside pasta, salads, soups, or even BBQ. Some dishes you can pair it with include creamy shrimp fettuccine alfredo, bolognese, caesar salad, and minestrone soup. You can even dip it into marinara sauce for a fun appetizer!
Storing Leftovers
Whether you have a couple pieces of cheesy bread leftover after pasta night or you'd like to freeze some for a quick meal down the line, find all the best storage tips here.
Refrigerator: Since this bread contains dairy, you'll want to store it in the refrigerator in an airtight container. This will keep it fresh for up to 3 days and prevent it from turning stale super fast.
Freezer: This bread is perfect for meal prepping! Simply assemble the bread and place it on a baking sheet. Next, place the entire baking sheet in the freezer. Once completely frozen, wrap the bread in foil or pop it in a bag and store it for up to 3 months.
FAQ
What is cheesy bread made of?
Cheesy bread consists of baguette covered in butter, shredded cheese, and a bit of garlic parsley salt.
How do you reheat cheesy bread?
The best way to reheat cheesy bread is in an air fryer or conventional oven. Refrain from reheating it in the microwave, as it will turn soggy and greasy.
What cheese is best for cheesy bread?
The best cheese for cheesy bread are kinds that melt very well, such as a shredded mozzarella or Mexican blend.
How long does cheesy bread last?
Cheesy bread will last up to 3 days in the fridge before it starts to turn stale.
Can you eat cheesy bread cold?
Yes, you can eat cheesy bread cold. If you like cold pizza, you will definitely like cold cheesy bread!
Other Cheese Bread Recipes
Recipe
This cheesy bread recipe is buttery, garlicky, and covered with gooey melted cheese. Super kid-friendly and perfect as an appetizer or a side dish!
Ingredients
1

baguette

1/2

cup

Unsalted Butter

softened at room temperature

1

tbsp

garlic parsley salt

1

cup

mozzarella cheese
Nutrition Facts
Cheesy Bread Recipe (Extra Easy)
Amount Per Serving
Calories 228
Calories from Fat 144
% Daily Value*
Fat 16g25%
Cholesterol 42mg14%
Sodium 1253mg52%
Potassium 49mg1%
Carbohydrates 16g5%
Protein 6g12%
Vitamin A 449IU9%
Calcium 99mg10%
Iron 1mg6%
* Percent Daily Values are based on a 2000 calorie diet.