This turkey meatloaf recipe is super moist and covered in a sweet brown sugar and ketchup glaze. Low-calorie and super easy to throw together on hectic weeknights!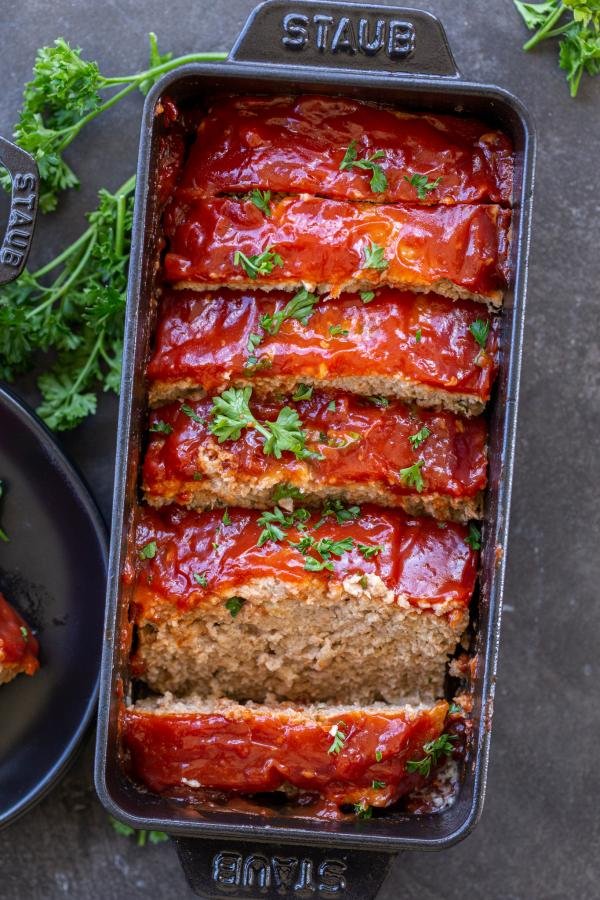 Meatloaf is one of those dishes that wraps around you like a warm blanket. It's so comforting and it always hits the spot! In this recipe for turkey meatloaf, you'll learn how to make a lighter loaf that's low in calories and high in protein, without skimping out on any of that signature flavor you get in ground beef varieties.
The Secret to Keeping Turkey Meatloaf Moist
If you paused at the word "turkey", don't fret about this loaf turning out dry. In this recipe, we use a combination of milk, breadcrumbs, and a little mayo to prevent the delicate ground turkey from turning out too dense or drying out. Hello, juicy goodness…
Making this Turkey Meatloaf from Scratch
Making this turkey meatloaf only requires a little bit of stirring and shaping before the oven works it's magic.
Make the Meatloaf Mix: In a large bowl, combine the ground turkey, onions, panko bread crumbs, milk, mayonnaise, egg, fresh parsley, sea salt, Worcestershire sauce, ketchup, and garlic powder.
Form the Meatloaf: Next, line a loaf pan or baking sheet with foil. Press the meat mixture into the pan to form a loaf.
Make the Glaze: Whisk the ketchup and brown sugar together in a small bowl and spread the glaze over the top.
Bake the Meatloaf: Bake the meatloaf at 375°F for 45 minutes. Remove the loaf and let it sit for 10 minutes before slicing into it. Dig in and enjoy!
Hot Tip: Unsure if your meatloaf is fully-cooked? Stick a meat thermometer into the center to check if the internal temperature has reached 165°F.
Pro Tips for the Juiciest Turkey Meatloaf
Whether you're new to making meatloaf or just looking for some tips to get the best loaf possible, find some of our top pointers here.
Don't over mix the ingredients. Whatever you do, don't over mix the ingredients. This is the top reason why meatloaf comes out too tough and dense. Once the ingredients are just well-combined, you're good to go!
Add in your favorite fresh herbs. We love using Italian parsley, but feel free to add in whatever herbs you love best. Dill, basil, oregano, and chives all work great.
Add a little BBQ sauce to the glaze. Love a smokey meatloaf? Add a little BBQ sauce to the glaze to taste.
Make the loaf spicy. Add a kick of heat to the meatloaf by popping in a couple of shakes of roasted red pepper flakes.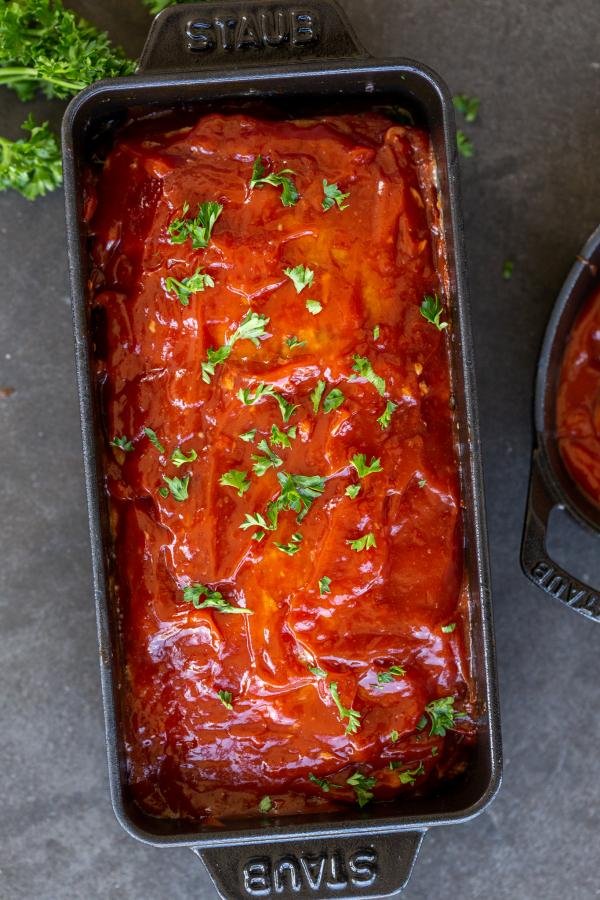 Classic Side Dishes for Turkey Meatloaf
For an all-American dinner, pair the turkey meatloaf with creamy mashed potatoes, boiled corn on the cob, and sourdough bread. If you're watching your carbohydrates, pair the loaf with your favorite grilled veggies, salad, or a cheesy zucchini and squash casserole. Don't forget to use your leftovers to make classic meatloaf sandwiches!
Storing & Freezing Turkey Meatloaf
Storing: To keep the meatloaf on hand for 3-4 days, store it in an airtight container in the fridge. Keeping it airtight is crucial so the meat doesn't dry out and lose all its moisture.
Freezing: To freeze the cooked meatloaf, first let it cool down completely at room temperature out of the pan. Next, wrap it tightly in plastic wrap and pop it into a freezer-safe plastic storage bag for up to 1 month. To thaw, pop it in the fridge for a couple of hours. To reheat, bake it in the oven covered with foil at 350°F until warmed through.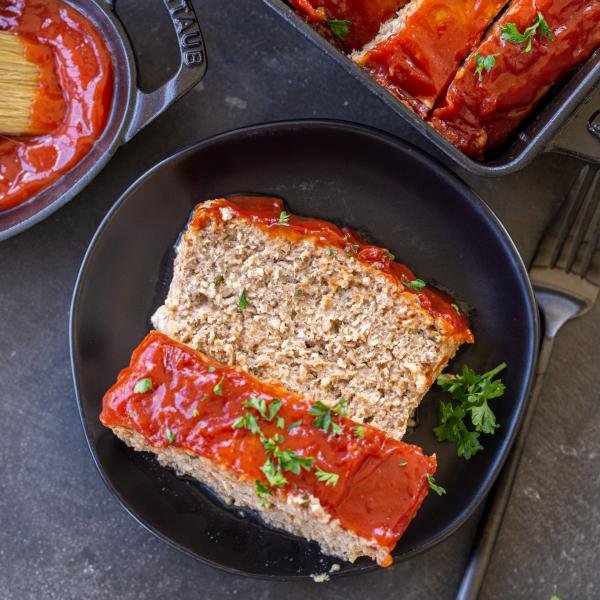 FAQ
Can you make turkey meatloaf without panko breadcrumbs?
Yes, you can make turkey meatloaf without panko breadcrumbs. That said, you'll need to substitute the panko breadcrumbs for oatmeal, traditional breadcrumbs, or crushed crackers because you need some kind of binder to help hold the loaf together.
Can turkey meatloaf be made ahead of time?
Yes, you can prep the turkey meatloaf a day in advance to cut down on day-of labor. Just make sure to keep the raw loaf covered tightly with plastic wrap in the refrigerator.
Can you freeze uncooked turkey meatloaf?
It's best to freeze cooked turkey meatloaf versus frozen turkey meatloaf. Freezing the raw ground meat doesn't yield the same juicy texture once you bake it from frozen.
Should you cover a turkey meatloaf when it's baking?
There's no need to cover a turkey meatloaf while it's baking. If you bake it on the middle rack at 375°F you won't risk burning the top or drying out the meat.
More Meaty Recipes to Dig Into
Recipe
This turkey meatloaf recipe is lighter than traditional beef meatloaf, without skimping on any of the juicy goodness. Best paired with creamy mashed potatoes!
Nutrition Facts
Crazy Good Turkey Meatloaf Recipe
Amount Per Serving
Calories 287
Calories from Fat 54
% Daily Value*
Fat 6g9%
Cholesterol 113mg38%
Sodium 1231mg51%
Potassium 690mg20%
Carbohydrates 22g7%
Protein 38g76%
Vitamin A 456IU9%
Vitamin C 5mg6%
Calcium 50mg5%
Iron 2mg11%
* Percent Daily Values are based on a 2000 calorie diet.