This classic Russian kotleti recipe tastes like it came straight out of grandmother's kitchen. These juicy and tender meat patties are surely going to become your new favorite comfort food!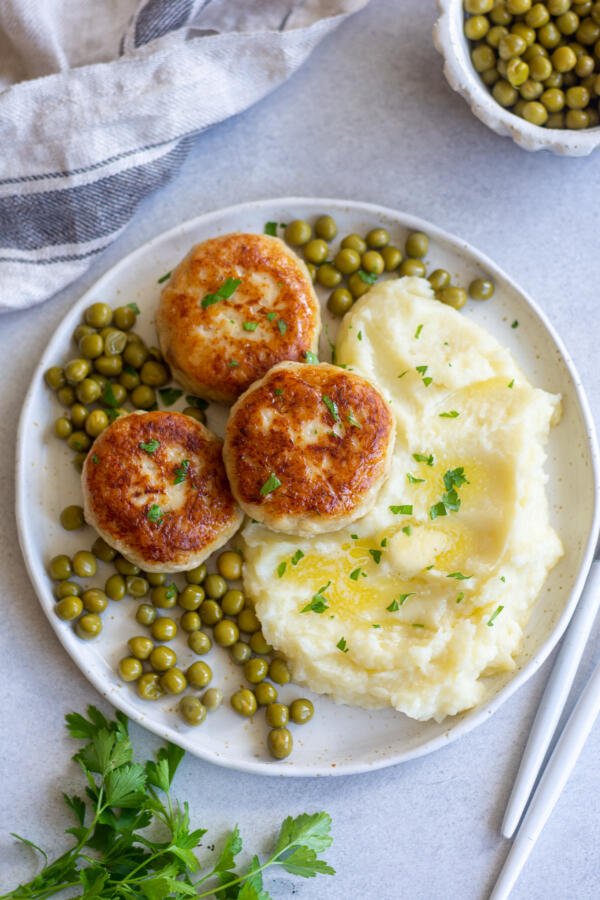 Classic Russian kotleti, also commonly referred to as "katleti", are a lot like American meatballs. The difference is they are fried patties that are shaped and seasoned with a Slavic twist. Straight from my family's recipe book, this kotleti recipe is made with a meat mixture of grated onions and ground chicken and can be served anywhere you would have a filling protein.
Katleti in Russia Are Like Chicken Nuggets in US
In Russia, kids eat kotleti like kids in the United States each chicken nuggets. They're also commonly served in most Slavic cafes alongside marinated veggies, cabbage salads, tender buckwheat, and other staples.
Kotleti are truly the epitome of comfort food (especially when served with a heaping side of creamy mashed potatoes) and can win over even the pickiest of eaters. What's better? They're wholesome and healthy, only requiring a handful of ingredients you likely already have hanging out in your pantry.
How to Make Russian Kotleti
Making kotleti only requires a bit of mixing and a quick pan fry. Below, find a brief overview of the recipe before you dive in.
Soak the Bread: Place the bread slices in milk for at least 10 minutes. Rip the slices into small pieces.
Make the Patty Mixture: In a large mixing bowl, combine the ground chicken, egg, mayonnaise, bread, grated onion, salt, and pepper.
Fry the Kotleti: In a frying pan over medium heat, spoon equal amounts of the meat mixture into the pan to form individual patties. Fry until both sides turn golden brown. Enjoy!
Tips for Making the Best Russian Kotleti
Below, find a collection of tips to help you make the best Russian kotleti on the planet.
Mix and match the ground meat. Although this recipe calls for ground chicken, feel free to mix and match the ground meat you use. You can use any combination of ground beef, ground pork, or ground turkey.
Make sure to soak the bread. Soaking the bread in milk makes the kotleti extra moist. This might go against what you know about bread crumbs and meatballs, but trust and believe it makes all the difference!
Flip the patties only once. Refrain from over-flipping the kotleti as they fry in the pan. This will help them form a nice, crispy crust.
Fry patties over medium heat. If you go too low, the patties won't form a nice crust. If you go too high, they will burn. Medium heat is just right!
Meat Thermometer Hack: If you're unsure if kotleti are cooked thoroughly, use a meat thermometer to check the internal temperature.
Serving Kotleti
The best way to serve Russian Kotleti is with the most traditional sides. Buckwheat, mashed potatoes, cabbage salad, and marinated cucumbers are the usual suspects. You could also bake some fresh baguettes to sop up the juices that come out of the kotleti when you slice into them. Yum!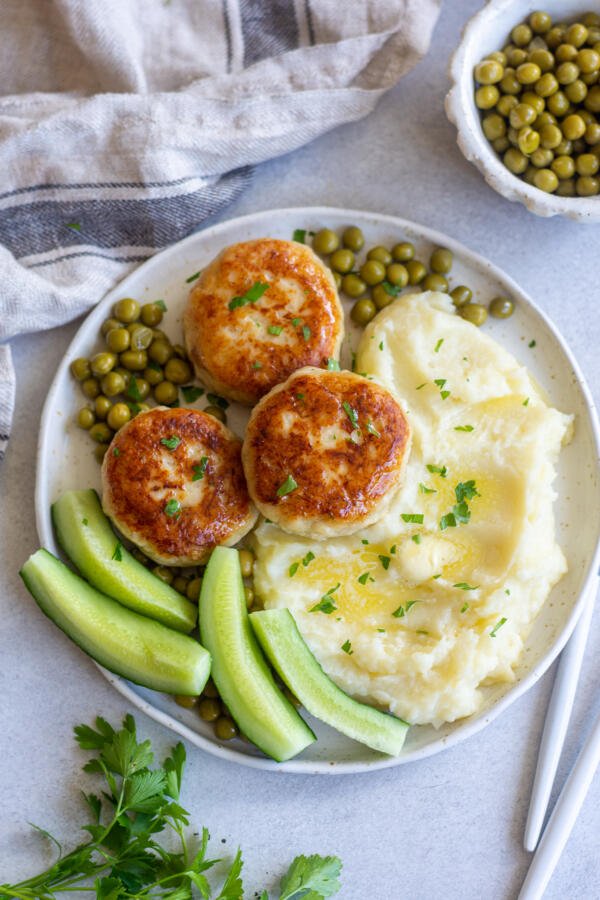 Storing Russian Kotleti
Kotleti are super easy to store and are perfect for meal prep. Below, find instructions on how to serve the meat patties in both the refrigerator and freezer.
Refrigerator: Store leftover kotleti in an airtight container in the refrigerator. It should keep for up to a week.
Freezer: Freeze leftover kotleti by first letting them cool completely. Place them on a baking sheet lined with parchment paper. Pop the baking sheet into the freezer uncovered. Once the patties are completely frozen, transfer them to a freezer-safe bag and store for up to 3 months.
Reheating Tip: You can easily reheat kotleti in the microwave, but if you want them to be extra crispy use the conventional oven or an air fryer (the COSORI XL Air Fryer is my latest obsession if you need a recommendation).
FAQ
What is kotleti?
Kotleti are Russian meat patties made with ground meat, eggs, mayonnaise, soaked bread, milk, and a bit of salt and pepper. They're somewhere in between a sausage patty and a meatball.
How do you make kotleti?
Making kotleti only requires a bit of mixing and frying. With just a couple of steps, it's perfect for a hectic weeknight meal.
What should I serve kotleti with?
You should serve kotleti with mashed potatoes, cooked buckwheat, marinated veggies, and/or cabbage salad. These are the most traditional side dishes for kotleti in Russia! However, feel free to have kotleti anywhere you would serve a filling protein – on top salads, in between bread, or served alongside eggs for a hearty breakfast.
What kind of oil should I fry the kotleti in?
Avocado oil is a great option to fry kotleti in. It has a high smoking point and neutral flavor, making it perfect for pan-frying. You could also use canola oil.
Can I swap out the mayonnaise for something else?
You can swap out the mayonnaise for sour cream. This will make the kotleti just as moist and add a nice tang.
Similar Recipes to Try
Recipe
Love chicken nuggets? Try these classic Russian kotleti. These juicy and tender meat patties will become your new favorite comfort food!
Nutrition Facts
Classic Russian Kotleti (Meatballs)
Amount Per Serving
Calories 312
Calories from Fat 153
% Daily Value*
Fat 17g26%
Cholesterol 189mg63%
Sodium 1062mg44%
Potassium 956mg27%
Carbohydrates 7g2%
Protein 33g66%
Vitamin A 87IU2%
Vitamin C 1mg1%
Calcium 51mg5%
Iron 2mg11%
* Percent Daily Values are based on a 2000 calorie diet.