Chicken roulade is an especially great appetizer to have on hand for get-togethers and holiday celebrations. The perfect make-ahead food!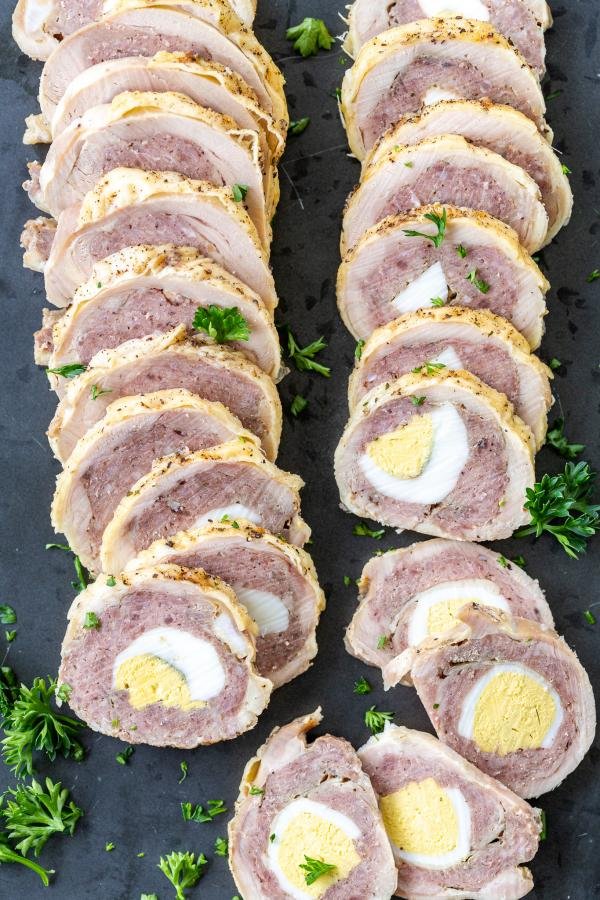 Roulade is a meat lover's dream. In Slavic culture, it's customary to prepare a ton of roulades before the holidays and serve slices of it cold on big, beautiful charcuterie-style platters. Aside from the holidays, I love having them on hand for protein-filled snacking and quick lunches throughout the week. A true grab-and-go wonder. You're going to just love this unique dish!
What is Chicken Roulade?
Chicken roulade consists of chicken that has been pounded out thin, stuffed with an assortment of different ingredients, and rolled into a spiral. In American culture, you'll typically see chicken roulade served hot and smothered in different sauces. In Slavic culture, chicken roulade is baked, chilled, and served in cold slices. Consider it Slavic deli meat! Below, find an overview of the flavor, texture, and time it takes to put this classic appetizer together.
Flavor: The flavor of this roulade can best be described as super savory. The chicken, pork, and beef come together to make the meatiest trifecta of flavor.
Texture: The texture of this roulade is somewhere between a meatloaf and a thick slice of deli meat.
Time: From start to finish, this dish takes about an hour and 15 minutes to make. You'll also want to account for chilling the roulades overnight.
Step-By-Step Guide to Making Chicken Roulade
To kick off the process, first start by hard boiling the eggs in a large pot of water, taking off the shells, and slicing them in half.
Debone the Chicken Thighs: Next, debone the chicken thighs and use a meat mallet to pound them out super thin (about 1/4-inch thickness is recommended).
Make the Meat Filling: In a large bowl, combine the ground beef, pork, and chicken with garlic parsley salt and black pepper.
Assemble the Roulades: Lay the chicken thighs out flat, season them with garlic parsley salt, and cover them in a layer of the ground meat mixture. Next, place two halved hard boiled eggs next to each other at either end of the chicken thigh. Starting with the egg side, roll the thigh up into a spiral. Repeat until you run out of thighs.
Bake the Roulades: Place the chicken rolls on a baking sheet or baking dish seam-side down. Sprinkle with garlic parsley salt and pepper and bake them in the oven at 325°F for 45 minutes.
Chill the Roulades: Drain the excess fat and oil from the pan and allow the roulades to cool down at room temperature. Then, cover them with plastic wrap and chill them in the refrigerator overnight. Slice them up into your desired thickness and enjoy!
Hot Tip: Save the leftover bones from the chicken thighs to make another Slavic classic – Aspic, or "Kholodets".
5 Pro Tips & Tricks for Chicken Roulade
A couple of different tactics will help you nail this traditional Slavic recipe.
Cover the meat with plastic wrap while you tenderize it. To reduce mess, tenderize the meat while it's covered in a layer of plastic wrap.
Use toothpicks to secure the rolls. if your roulades are falling apart, secure them with toothpicks.
Check doneness with a meat thermometer. Invest in an instant-read meat thermometer to help you gauge the doneness of your roulades. Once they read 165°F you can rest assured they are ready.
Use lean ground meat. To prevent your roulades from turning out too greasy, opt for lean ground meat.
Add in some cheese. For a cheesy surprise, add in shredded parmesan cheese, feta cheese, or mozzarella into the meat mixture.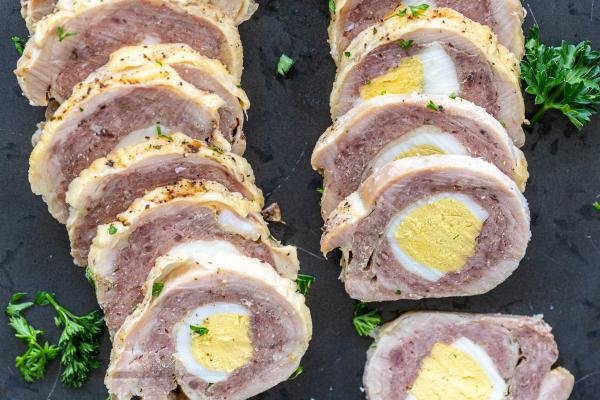 Ideas for Plating Chicken Roulade
Chicken roulade is perfect for large get-togethers. To keep it traditional, grab a big serving platter and assemble cold slices of roulade alongside slices of rye bread and baguette. In addition, include some of your favorite hard and soft cheeses so your guests can make mini sandwiches. Other welcome additions to your platter include marinated tomatoes and pickled mushrooms.
Deli Sandwich Hack: If you aren't making roulade for a party or have leftovers hanging around, use the slices to make a deli sandwich with mayo, mustard, tomatoes, red onion, and lettuce. YUM!
Best Practices for Storing and Freezing
Roulade is truly the perfect "make-ahead" dish. Below, find our top tips for storing and freezing it.
Refrigerator: To keep roulade on hand for up to a week, keep it stored in slices in an airtight container in the fridge. This will prevent it from drying out.
Freezer: It's best to freeze roulades whole. To do so, wrap them in sheets of plastic wrap and pop them into a freezer-safe bag. To thaw, place it in the fridge overnight.
FAQ
Can you use chicken breasts instead of chicken thighs?
Boneless chicken breasts will work as well, although they aren't as fatty and delicious as chicken thighs. Try to find the biggest ones you can and pound them out into super-thin cutlets like you would for chicken parmesan.
How do you debone a chicken for roulade?
To debone a chicken thigh, use swift, scraping movements that cut flush against the bone until it's freed from the flesh. Make sure to always cut away from your fingers!
What is the origin of roulade?
Roulades originated in France and Italy but can be found in all different forms throughout Europe and Russia.
Can you substitute hard-boiled eggs for something else?
If you don't like hard-boiled eggs, swap them out for thick slices of boiled carrot.
Other Tasty Slavic Staples
Recipe
Chicken roulade is a meat spiral that's been chilled and sliced. A tasty holiday appetizer alongside bread, cheese, and pickled veggies!
Nutrition Facts
Chicken Roulade (Make Ahead)
Amount Per Serving
Calories 335
Calories from Fat 225
% Daily Value*
Fat 25g38%
Cholesterol 182mg61%
Sodium 700mg29%
Potassium 446mg13%
Carbohydrates 1g0%
Protein 26g52%
Vitamin A 136IU3%
Vitamin C 1mg1%
Calcium 25mg3%
Iron 2mg11%
* Percent Daily Values are based on a 2000 calorie diet.