This Oven Roasted Potato recipe could not be simpler. Just 3 ingredients and a few steps. The result is both hearty and comforting. It's everything a home cooked meal should be.
Roasted Potatoes perfect for a quick for summer dinner, serve them with Garden Salad Recipe or Marinated Tomatoes.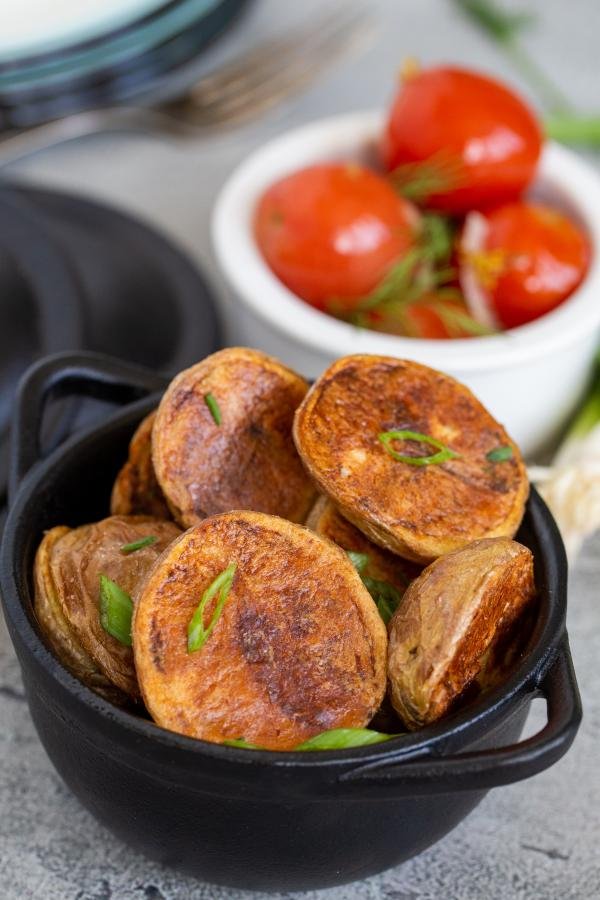 These potatoes can be customized with your favorite seasoning. Sprinkle them with a bit of parmesan cheese or add some freshly pressed garlic. Personally, we found to enjoy these potatoes the most when they're prepared the simplest way.
How to Prepare Oven Roasted Potatoes
Tips for Roasting Potatoes
Wash and pat dry potatoes using a paper towel.
Once the potatoes are dried, generously season them with salt, while tossing together to cover all sides.
Oil the bottom of the baking sheet, no need to add any additional oil. This will help you achieve that golden crust on each potato that's facing down on a baking sheet.
Limit to a single layer of potatoes on a baking sheet, this way each piece has an opportunity to develop the crust.
Serve potatoes right out of the oven.
Which Potatoes are Best for Roasting
Yukon Gold potatoes are the absolute best for roasting. The flavor you achieve from the yellow potatoes and the crispy layer from the bottom of the pan beats everything. Yellow potatoes have that natural sweetness, while the salt adds another layer of goodness. Trust me, there is nothing that beats to the simple combo.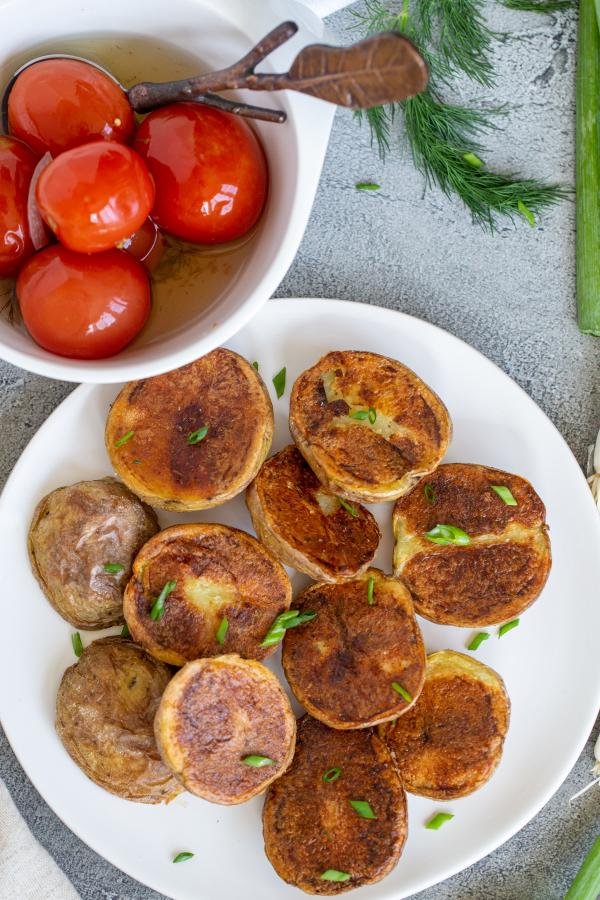 Best way to reheat Roasted Potatoes
Reheating the potatoes may take a bit of effort, but the result will be so amazing, it'll be totally worth it. Preheat the oven to 400F, while placing the potatoes on a baking sheet. Re-roast them until they're fully reheated, about 15 minutes. Serve immediately and enjoy your amazing leftovers.
Other Oven Potato Roasted Potato Dishes
Recipe
These oven-roasted potatoes are the definition of crispy. With just 3 ingredients, they're crispy on the outside and tender on the inside!
Nutrition Facts
3 Ingredient Oven-Roasted Potatoes (Video)
Amount Per Serving
Calories 97
Calories from Fat 36
% Daily Value*
Fat 4g6%
Sodium 883mg37%
Potassium 468mg13%
Carbohydrates 14g5%
Protein 3g6%
Vitamin C 13mg16%
Calcium 34mg3%
Iron 3.7mg21%
* Percent Daily Values are based on a 2000 calorie diet.