This recipe for ranch roasted potatoes is as zesty as it is irresistible. A no-hassle, 3-ingredient recipe that will be on repeat in your kitchen!
Obsessed with potato recipes? Check out our round-up article on 10 Potato Recipes to Make for new, affordable, and exciting ways to use this beloved starch.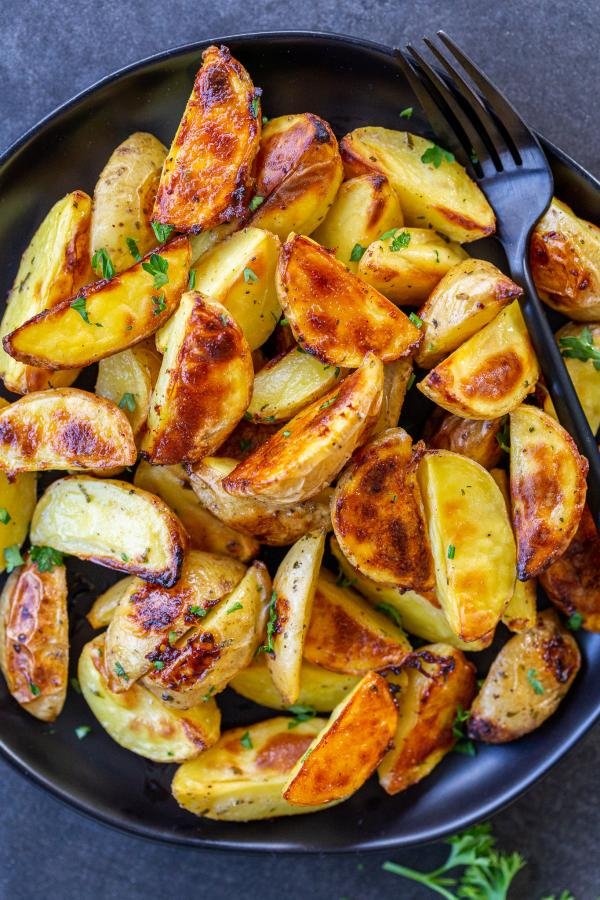 The first time I tried these ranch roasted potatoes was when my friend (who is a professional chef) whipped them up for a weekend lunch get-together. I was incredibly curious about the seasoning she used and couldn't get over how tangy the potatoes were. I couldn't believe that all she used was a dry salad dressing mix! Th result? A dish that's both kid-friendly and adult-friendly and nearly impossible not to binge eat.
What kind of spices are in dry ranch mix? Dry ranch seasoning is comprised of onion powder, dried dill, dried parsley, garlic powder, salt, pepper, and dried chives. If you can't get your hands on a store-bought version, make a homemade ranch seasoning mix by combining a teaspoon of each ingredient in a small bowl.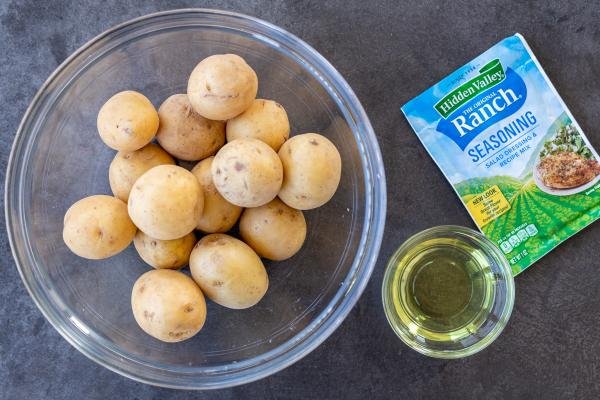 The Right Kind of Potatoes to Use
Hands down, no questions asked Yukon gold potatoes are the best for roasting. They have a beautiful golden color and a natural buttery sweetness to them. On top of this, they are prone to getting super crispy in the oven. If you can't get your hands on them, the next best option is red potatoes.
Preparing Ranch Roasted Potatoes
Prep the Oven & Potatoes: Preheat the oven to 450°F and rinse the potatoes under cold water.
Slice the Potatoes: Cut the potatoes into wedges.
Season the Potatoes: Place potatoes in a gallon-size bag with olive oil. Seal the bag and give it a good shake. Next, add in the ranch seasoning and toss to coat.
Bake the Potatoes: Assemble the seasoning potatoes on a baking pan lined with parchment paper and bake them for 45 minutes. Serve immediately and dig in!
Hot Tip: Elevate your ranch roasted potatoes by topping them with air fryer bacon bits, chives, and a dollop of sour cream.
3 Tips for the Crispiest Roasted Potatoes
Here you'll find our top tips for making the crispiest roasted potatoes on the planet.
Pat the potatoes completely dry before roasting them. After cleaning the potatoes, pat them completely dry of any excess moisture. This will allow the skin and flesh to develop such a nice crust!
Roast the potatoes in a single layer. Avoid stacking or layering the potatoes on the baking sheet. The more surface area you expose to the heat of the oven, the crispier they'll get.
Don't flip the potatoes halfway through. There's absolutely no need to flip the potatoes halfway through. By letting them bake untouched, you'll get a super crispy side on the bottom and lightly crisp flesh all-around. YUM!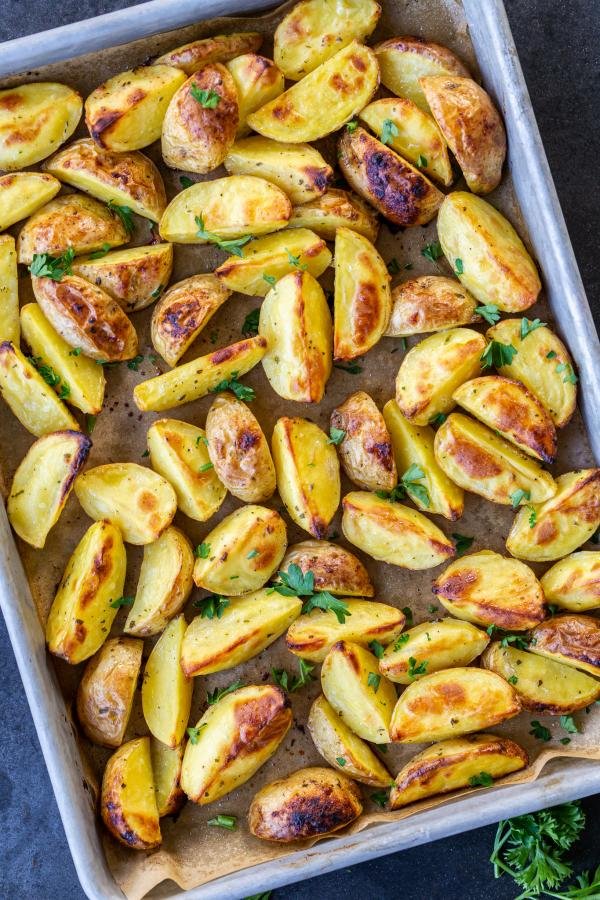 Ways to Serve Your Ranch Roasted Potatoes
Serve these ranch roasted potatoes smothered in Instant Pot chili and cheese for fun at-home junk food. They're also wonderful as breakfast potatoes or served alongside your favorite protein. Pair them with a tender cast-iron ribeye steak or with juicy air fryer pork chops.
Storing Leftovers
To keep ranch roasted potatoes on hand for up to 5 days, store them in an airtight container in the fridge. This will keep them from drying out. Of note, you should never freeze roasted potatoes. They don't tend to thaw well and turn gummy in texture.
Reheating Tip: Reheat leftover potatoes in an air fryer (if you don't have one, I love this model) or bake in the conventional oven until they reach your desired crispiness.
FAQ
Should you soak potatoes in water prior to baking?
No, you should not soak the potatoes in water prior to baking. This trick is useful when you're making french fries (it pulls the starch out and helps them crisp up), but not necessary for baking.
What is the best oil to use for roasting potatoes?
The best oil for roasting potatoes is olive oil. You can also use canola oil or sunflower oil in a pinch.
Should you cover the potatoes during roasting?
There's no need to cover the potatoes during roasting. In fact, this will prevent them from crisping up.
Why did your roasted potatoes turn out soggy?
Your roasted potatoes likely turned out soggy if you didn't pat them dry of excess moisture after washing them or coated them in way too much oil.
What is the best temperature to roast potatoes at?
The best temperature to roast potatoes at is 450°F. This high of a temp helps the potatoes roast and get super crispy.
Other Yummy Potato Recipes
Recipe
These ranch roasted potatoes are cooked until they're irresistibly brown and crisp. Perfect as a kid-friendly side dish with ketchup!
Ingredients
2

lb

yellow potatoes

1/4

cup

olive oil

1

oz

Hidden Valley Ranch Dressing dry packet mix
Nutrition Facts
Ranch Roasted Potatoes (Only 3 Ingredients)
Amount Per Serving
Calories 251
Calories from Fat 126
% Daily Value*
Fat 14g22%
Sodium 23mg1%
Potassium 937mg27%
Carbohydrates 28g9%
Protein 6g12%
Vitamin C 25.8mg31%
Calcium 68mg7%
Iron 7.4mg41%
* Percent Daily Values are based on a 2000 calorie diet.