These carrots and parsnips are oven roasted until crispy on the outside and tender on the inside. They are healthy, crazy simple to make, and full of rich, savory flavor.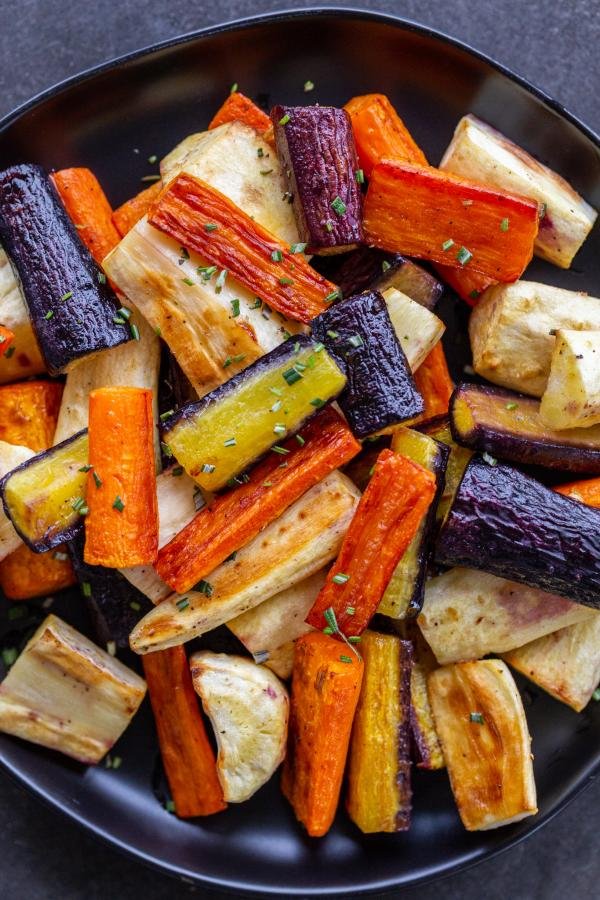 Are you looking for a tasty but simple side dish to pair with your dinner? Oven roasted carrots and parsnips are a perfect option for any meal, but especially as a festive and colorful holiday side, much like our roasted butternut squash. They take only five minutes to prepare, and ten minutes to roast in the oven. They check off all the boxes for the perfect easy side dish.
What Are Oven Roasted Carrots and Parsnips?
Oven roasted carrots and parsnips are exactly what they sound like. They are carrots and parsnips that are cut into equal sized pieces, seasoned, then roasted in the oven until golden.
Carrots and parsnips look very similar in terms of shape, but differ in color and flavor. Parsnips are typically a creamy color. Whereas carrots are sweet, parsnips have a subtle unique spice flavor to them similar to nutmeg and cinnamon. When you combine the two vegetables and roast them in the oven, you have a superb subtle blend of sweet and spicy.
How to Roast Carrots and Parsnips
This entire dish is done in only four simple steps. If only there were more things in life that were that quick! Here's a quick overview to help you quickly get started.
Slice the veggies: While the oven is preheating, clean and slice the veggies by removing the skin (optional) and cutting off the ends of the veggies.
Arrange the veggies: Spread veggies in a single layer on a large rimmed baking sheet, then drizzle with olive oil and seasoning. Alternatively, toss the cut veggies in a bowl with seasonings, then spread in a single layer.
Roast in the oven: Roast at 425°F for 7-10 min or until golden. Flip the vegetables over about halfway through and roast until golden on both sides. If the veggies are cut thickly, they will take longer to roast compared to thinly sliced veggies.
Serve: Garnish with your favorite herbs and serve warm.
Hot tip: For variations in flavor, add red pepper flakes, garlic salt, onion powder, or paprika. For a sweet tang, drizzle a teaspoon of honey, maple syrup, balsamic vinegar, or brown sugar.
3 Ways to Cut the Veggies
There is no "right" or "wrong" way to cut carrots or parsnips. The ultimate choice is up to you as the chef (you're the expert here!). However, make sure to cut all pieces using the same method and with the same thickness to ensure even cooking. Here are some of the most popular ways to cut the parsnips and carrots for this recipe.
Strips: Slice the vegetable in half lengthwise to create two half-rounds. Continue to slice the half-rounds lengthwise to create long sticks of even size. If you prefer, chop the long strips in half to create shorter strips.
Rounds/Discs: For whole rounds, simply begin slicing the veggie at the bottom tip, moving up towards the bigger end. For half-rounds, first slice the veggie in half lengthwise, then begin slicing perpendicular from the bottom tip.
Diagonal Rounds: Diagonal rounds have more surface area, which means more area for the crispy golden roasted exterior. Diagonal rounds also cook the fastest. For diagonal rounds, hold the knife at a 45° angle and begin slicing like for regular rounds.
Hot tip: Make prep even faster by washing and cutting veggies beforehand. Simply keep sliced veggies stored in an airtight container in the refrigerator until ready to roast.
Tips for Great Oven Roasted Carrots and Parsnips
This recipe is loved for its simple ingredients that combine to make a noteworthy side dish. Make the most out of the flavors with these simple tips.
Garnish with herbs: Herbs such as fresh rosemary, thyme leaves, and parsley add a herby flavor and a restaurant-quality appearance to the dish.
Arrange veggies in a single layer: Arrange the carrots and parsnips in a single layer on the baking sheet. This allows the veggies to roast evenly and develop a golden crunchy exterior.
Peel if desired: If your parsnips and carrots have a thick skin, use a peeler to remove the skin. If veggies are young and have thin skin, simply make sure to thoroughly wash each piece.
Avoid overcooking: Parsnips and carrots are ready when they are golden and are fork-tender. Overcooked veggies can turn mushy.
Broil for more crisp: For a crispier exterior, broil the vegetables on low heat for a few minutes after they are cooked through.
Make in advance: Clean and cut the carrots and parsnips in advance, then season and roast right before serving.
Ways to Serve Oven Roasted Carrots and Parsnips
These oven roasted veggies pair well with anything! Make it a weeknight side dish when paired with a protein like grilled chicken thighs and creamy mashed potatoes. Or, if you're building a holiday menu, add these roasted veggies to your roast turkey, no-knead bread, and scalloped potatoes. For feeding a crowd, pair with this pork roast. There's no right or wrong pairing with these veggies.
If you want to save even more time, roast these veggies in the same baking pan as roasted chicken and potatoes. Say yes to one-pan meals!
How to Best Store and Reheat Oven Roasted Veggies
Store roasted carrots and parsnips in an airtight container in the fridge for up to 3-4 days. Alternatively, freeze extra portions in the freezer for up to 6 months.
For best reheating results, reheat the roasted veggies under the broiler until heated through. This will re-produce the exterior crisp that may have disappeared during storage. In a pinch, the microwave can be used to reheat, but the veggies will not be as crispy. If reheating from frozen, thaw the veggies first to reduce the amount of liquid.
FAQ
Is it better to roast carrots and parsnips on high or low temperature?
Vegetables can be roasted at almost any temperature; however, a high temperature helps the veggies cook faster and get a crispier exterior. Roasting at a low temperature takes longer and results in a less crispy exterior.
Can I oven roast frozen carrots and parsnips?
Frozen vegetables can be roasted directly from the freezer; however, the texture will differ compared to fresh vegetables. Frozen vegetables typically have more moisture, which causes the veggies to "steam" more than "roast" in the oven. Using frozen vegetables is not recommended.
Do I need to parboil or blanch veggies before roasting?
Parboiling or blanching the parsnips and carrots can help tenderize and speed up the roasting process. However, doing so can leave you with mushy veggies when boiled for too long. The texture of roasted carrots and parsnips is best when roasted fresh.
More Tasty Roasted Veggie Sides
Recipe
Instructions
Nutrition Facts
Oven Roasted Carrots And Parsnips
Amount Per Serving
Calories 150
Calories from Fat 63
% Daily Value*
Fat 7g11%
Sodium 1223mg51%
Potassium 528mg15%
Carbohydrates 21g7%
Protein 2g4%
Vitamin A 12630IU253%
Vitamin C 17mg21%
Calcium 54mg5%
Iron 1mg6%
* Percent Daily Values are based on a 2000 calorie diet.