These delicious parmesan crusted potatoes are made with only four ingredients — potatoes, butter, cheese, and seasoning. It's the perfect no-fuss side dish!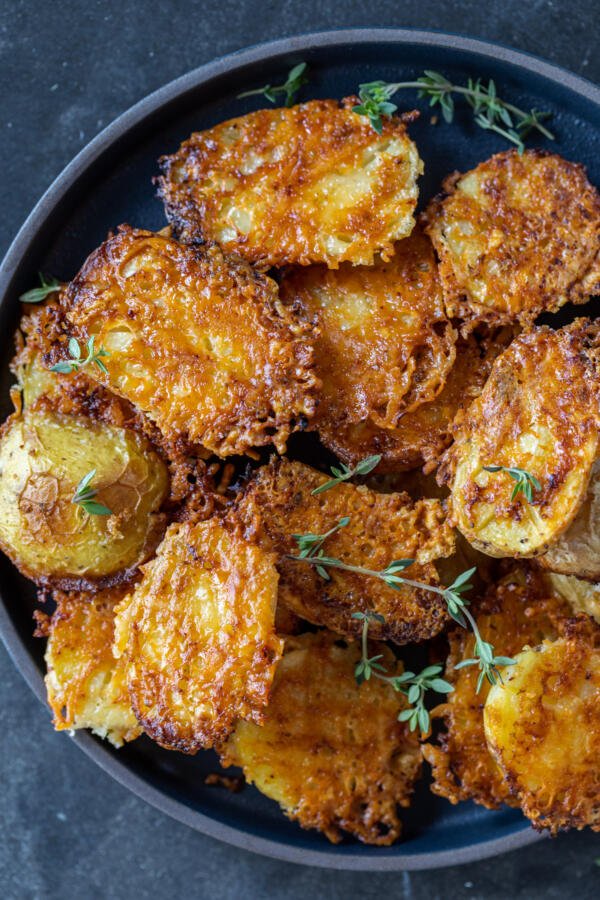 What are Parmesan Crusted Potatoes?
These crispy parmesan potatoes are potato halves scored and topped with a parmesan garlic-butter paste. As the potatoes bake in the oven, an absolutely divine crispy crust develops on the outside layer of the potato that is mouth-wateringly delicious. The potatoes make for an easy side for a weeknight dinner or a fancy addition to a holiday spread.
How to Make Parmesan Crusted Potatoes
Before you get started on making the potatoes, grab a knife, a medium bowl, a silicone spatula, and a baking sheet.
Clean the potatoes: While the oven is preheating to 425°F, clean the potatoes and cut them in half. Score the potato flesh into diamond shapes.
Season the potatoes: Season the scored flesh with garlic parsley salt.
Combine the parmesan mixture: In a bowl, combine the melted butter and parmesan cheese into a paste-like spread.
Spread onto the potatoes: Spread the parmesan mixture to the flesh of the potatoes. Place potatoes cut-side down onto a baking pan.
Bake: Bake potatoes until golden brown and cooked through, about 30 minutes.
Flavor Additions & Substitutions
Despite having only four ingredients, these potatoes don't lack any flavor. However, when you want more flavor variety, here are ideas to get you started.
Add spice: Sprinkle a teaspoon of black pepper, paprika, and/or red pepper flakes along with the parmesan butter mixture.
Make it herby: For a more herby flavor, add a teaspoon of italian herbs. Use a premade italian seasoning, or add a mixture of thyme, oregano, parsley, onion powder, garlic powder, and/or basil.
Replace the butter: When you're out of butter or simply want a healthier option, use olive oil instead.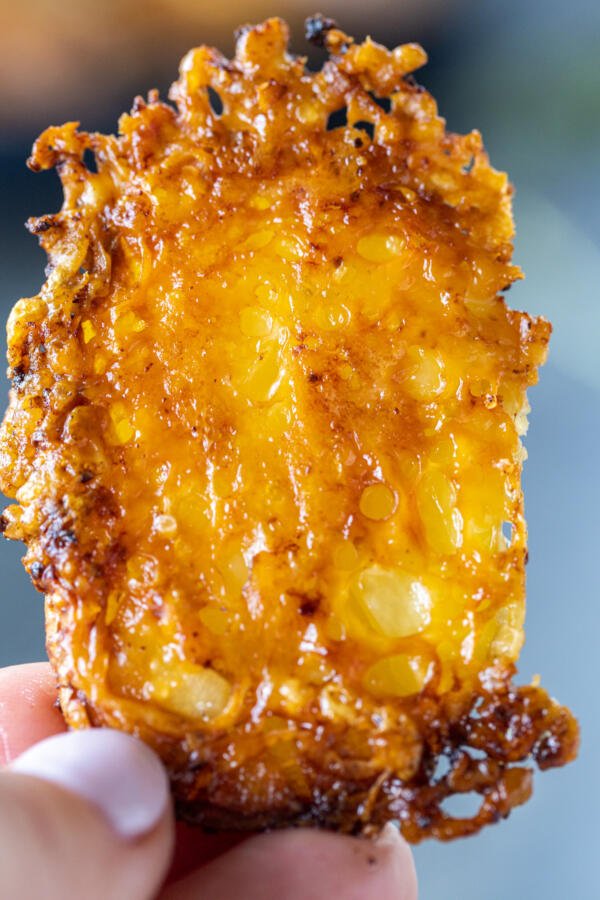 Tips from the Kitchen
It's always nice when a recipe turns out great the first time. Follow these tips to make sure your potatoes are perfect the first time.
Use fresh parmesan: Freshly grated parmesan cheese yields the best flavor. Buy a block of parmesan and grate it yourself.
Adjust the baking time: Depending on the size of the potatoes, adjust the baking time. Check for doneness by piercing with a fork. If it pierces easily, the potatoes are done.
Use a good roasting potato: Yukon Gold potatoes are the best for roasting because of their rich, buttery flavor. The next best options are Russet potatoes, red potatoes, or new potatoes.
Avoid overcrowding: Allow enough space between the potatoes so they crisp up individually instead of steaming together.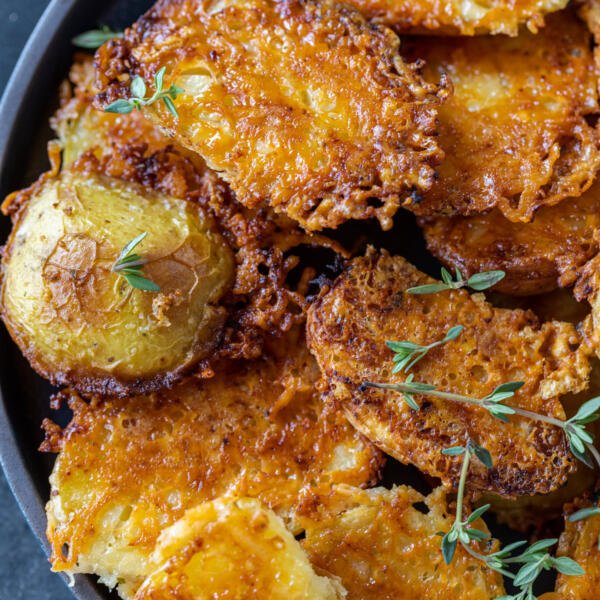 Ways to Serve
Parmesan crusted potatoes are a perfect side dish to virtually any protein. We love to pair these potatoes with instant pot chicken thighs, oven-roasted steak, or pork kabobs. With the carbohydrates and the protein accounted for, serve up a side salad like bacon brussels sprouts salad or caesar salad. If you're looking for a tasty dipping sauce or dressing, place a small bowl of quick tzatziki sauce, creamy tomatillo dressing, or ranch dressing on the table.
Storage Tips + Reheating
We don't blame you if you make more potatoes than you're able to eat in one meal. To store and reheat leftovers, follow these tips.
Refrigerator: To store for up to three days, place potatoes in an airtight container into the fridge.
Reheating: To reheat for the best flavor and crispiness, preheat the oven to 350°F and spread potatoes on a baking sheet. Bake for about ten minutes, or until heated through and crispy again. For a quick reheat (but less crisp), warm in the microwave.
FAQ
Can crispy parmesan roasted potatoes be frozen?
It is best to avoid freezing potatoes. The texture of the potato becomes soggy after thawing.
Should I soak potatoes before baking?
It is not necessary to soak potatoes before baking – however, soaking in cold water can remove excess potato starch from the outside, which helps the potato become crispier in the oven.
How far in advance can I cut potatoes before baking?
It is best to cut the potatoes right before baking, or they may brown. If you want to cut them a few hours ahead of time, keep the cut potatoes submerged in water at room temperature until ready to use.
More Ways to Use Potatoes
Recipe
These delicious parmesan crusted potatoes are made with only four ingredients — potatoes, butter, cheese, and seasoning. It's the perfect no-fuss side dish!
Ingredients
1

lb

Yukon Gold potatoes

halved

1/2

tbsp

garlic parsley salt

4

tbsp

unsalted butter

melted

1 1/2

cup

Parmesan cheese

grated
Note: If your potatoes are larger, they may need more time in the oven. Start at 30 minutes and add more time as needed.
Nutrition Facts
Parmesan Crusted Potatoes (4 Ingredient)
Amount Per Serving
Calories 223
Calories from Fat 126
% Daily Value*
Fat 14g22%
Cholesterol 37mg12%
Sodium 987mg41%
Potassium 344mg10%
Carbohydrates 14g5%
Protein 11g22%
Vitamin A 430IU9%
Vitamin C 15mg18%
Calcium 308mg31%
Iron 1mg6%
* Percent Daily Values are based on a 2000 calorie diet.