Marinated tomatoes are a game-changer. Add them to your favorite pasta salads and sandwiches, or serve them as a snack.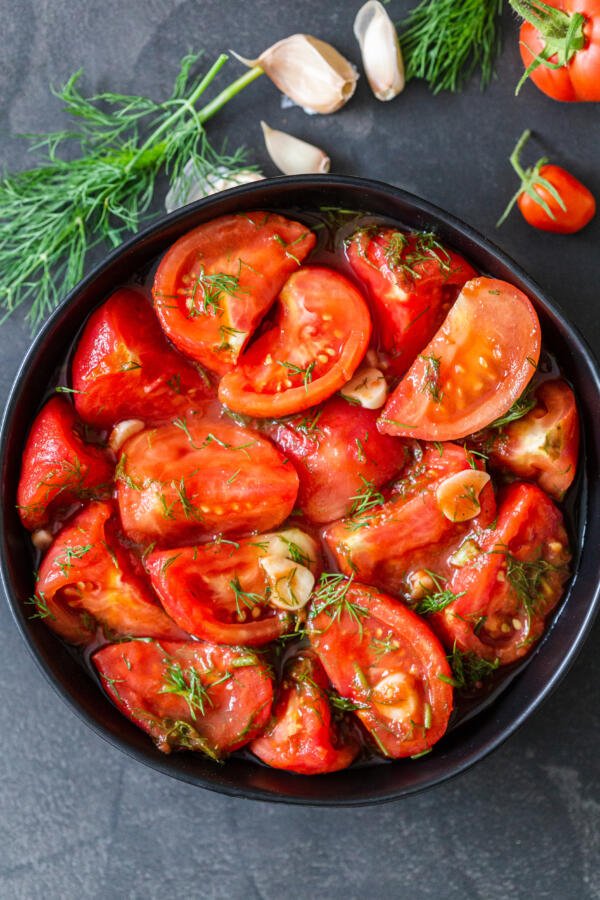 My husband is not a fan of tomatoes, so I usually only purchase a couple for myself on a regular grocery trip. However, this recipe reintroduced tomatoes to him and made him a believer! Both of us ate at least two pounds of these marinated tomatoes…
These tomatoes have a great texture and never turn out mushy like most other pickled tomatoes. Plus, they are skinless — which makes them even more enjoyable to eat right out of the jar!
Best Tomatoes to Use For This Recipe
Truth be told, you can use any firm tomato in this recipe. Typically, Romas work the best. Cherry tomatoes can work well too. Just remember that you will have to peel each tomato before you marinate them. Depending on how long you want to spend peeling, choose wisely!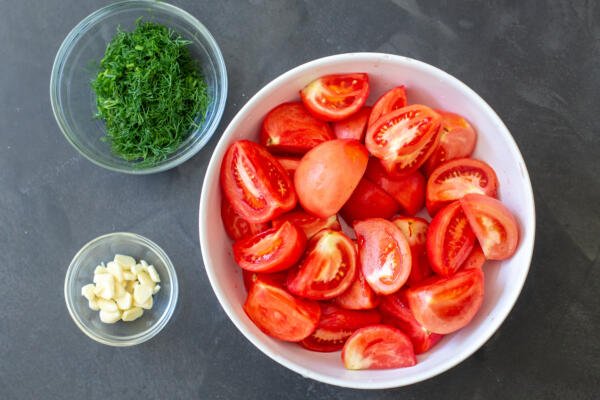 How To Make Marinated Tomatoes
Simple, tasty and healthy, these tomatoes will soon take up permanent real estate in your refrigerator. Follow the below steps to nail the recipe:
Cut crosswise into the skin of each tomato.
Pour boiling water over the tomatoes and let them soak for a couple of minutes. Drain water.
Peel the skin off each tomato and cut into fourths.
Sprinkle dill and garlic over tomatoes.
Mix together the marinade and pour over tomatoes.
Let tomatoes marinate for a day in the fridge.
Serving Marinated Tomatoes
Serve atop mashed potatoes or substitute marinated tomatoes for fresh in your next pasta salad. Or serve them over grilled tilapia for a refreshing pop of flavor. You could also add them to a Cuban sandwich for a hearty weekend lunch. Honestly, it'll be impressive if they make it farther than straight out of the jar…
How Long Marinated Tomatoes Last
Marinated pickles don't have the same shelf life as pickled tomatoes. This means they will stay fresh for up to two weeks when stored in your refrigerator. Keep them in airtight mason jars for the best results.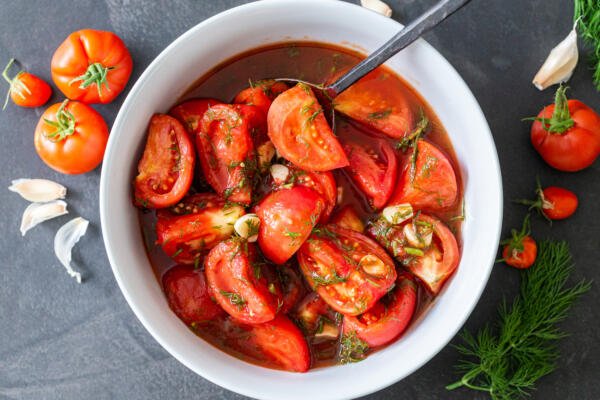 More Tomato Salad Recipes
Classic Garden Salad – Cucumbers and tomatoes are a match made in heaven. Head to the farmer's market and grab all the ingredients you need and enjoy this simple summertime salad.
Corn Tomato Avocado Salad – Eaten on its own or scooped into a burrito, this salad packs a serious punch.
Tomato Arugula Salad – The prefect salad for pasta night.
Canned Green Tomato Salad – Add a heaping scoop right on top of mashed potatoes for a meal that oozes comfort.
Recipe
These tangy marinated tomatoes are perfect for everything from a quick side dish to a snack right out of the jar. You'll soon have a jar on hand at all times!
Nutrition Facts
Quick Marinated Tomatoes
Amount Per Serving
Calories 99
Calories from Fat 9
% Daily Value*
Fat 1g2%
Sodium 1276mg53%
Potassium 721mg21%
Carbohydrates 22g7%
Protein 3g6%
Vitamin A 2561IU51%
Vitamin C 38mg46%
Calcium 47mg5%
Iron 1mg6%
* Percent Daily Values are based on a 2000 calorie diet.