These quick marinated tomatoes are so nice to have on hand and easy to make. Add them to your favorite pasta salads and sandwiches or serve them as a snack!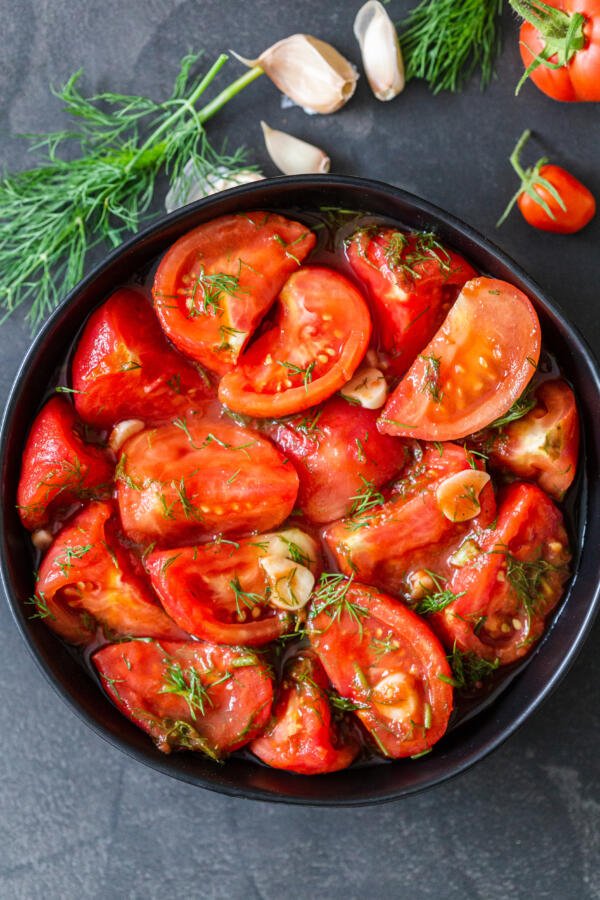 These marinated tomatoes have a great texture and never turn out mushy like most other pickled tomatoes. Plus, they are skinless — which makes them even more enjoyable to eat right out of the jar! You're going to just love the tangy, tomatoey marinade…
Best Tomatoes to Use For This Recipe
Truth be told, you can use any firm tomato for this recipe. Typically, Romas work the best. Cherry tomatoes can work well too. Just remember that you will have to peel each tomato before you marinate them. Depending on how long you want to spend peeling, choose wisely!
How To Make Marinated Tomatoes
Simple, tasty and healthy, these easy tangy tomatoes require minimal ingredients and will soon take up permanent real estate in your refrigerator.
Slice the Tomatoes: First, take a sharp knife to the end of each tomato and slice it crosswise.
Soak the Tomatoes: Next, place the tomatoes into a large bowl and cover them with boiled water. Allow them to soak for a few minutes and drain the water out.
Peel & Slice the Tomatoes: Peel the skins off the tomatoes and cut them into fourths.
Marinate the Tomatoes: Place the tomatoes into a bowl and mix in the dill and fresh garlic cloves. Next, whisk the water, ketchup, salt, and sugar together. Pour the marinade over the tomatoes and let them marinate for at least 24 hours in the refrigerator. Serve and enjoy!
Tips for the Best Marinated Tomatoes
A couple of handy tips will help you make marinated tomatoes better than any store bought jar.
Opt for ripe tomatoes. While you don't have to wait for tomato season to find vine fresh tomatoes, you will want to use the ripest tomatoes you can find for this recipe for the brightest flavor.
Swap in different fresh herbs. Exchange the dill for fresh basil, fresh parsley, or fresh chives.
Keep the tomato slices thick. You'll want to marinate thick slices of tomatoes to prevent them from turning soggy and falling apart.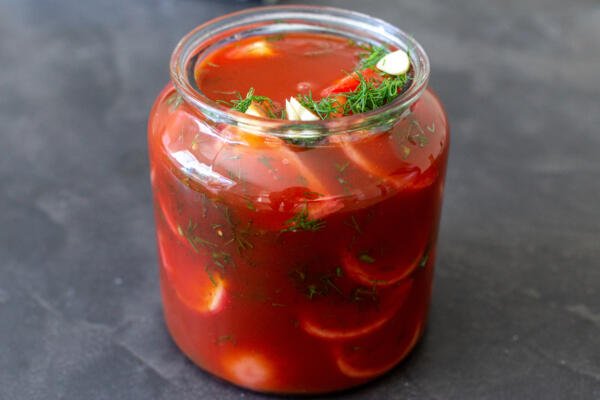 Serving Marinated Tomatoes
​These tangy tomatoes make for an awesome side dish to just about any protein. But, if you're looking for more interesting ways to use them, check out some ideas here.
Storage Best Practices
It's worth noting that these marinated tomatoes don't have the same shelf life as pickled tomatoes. This means they will stay fresh for up to two weeks tops when stored in your fridge. Keep them in airtight canning jars for the best results.
FAQ
Should marinated tomatoes be stored in the refrigerator?
Yes, marinated tomatoes should be refrigerated. Unlike canned tomatoes, they aren't prepared to be stored long-term at room temperature and are perishable.
Can you use tomato paste instead of ketchup for marinated tomatoes?
Yes, you can use tomato paste instead of ketchup for marinated tomatoes. However, the flavor will not be the same and it won't add the same amount of sweetness or tang.
What other kinds of tomatoes are good for marinated tomatoes?
If you don't like Roma tomatoes, you can use cherry tomatoes, grape tomatoes, or heirloom tomatoes. That said, be conscious of the fact that you can't peel cherry or grape tomatoes, so they will be a bit more fibrous to the bite.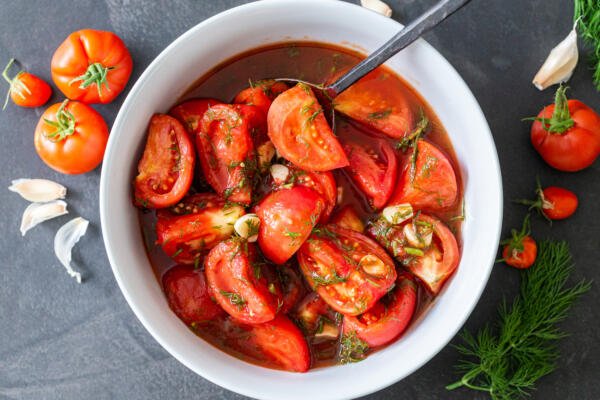 More Tomato Salad Recipes
Recipe
These tangy marinated tomatoes are perfect for everything from a quick side dish to a snack right out of the jar. You'll soon have a jar on hand at all times!
Nutrition Facts
Quick Marinated Tomatoes
Amount Per Serving
Calories 99
Calories from Fat 9
% Daily Value*
Fat 1g2%
Sodium 1276mg53%
Potassium 721mg21%
Carbohydrates 22g7%
Protein 3g6%
Vitamin A 2561IU51%
Vitamin C 38mg46%
Calcium 47mg5%
Iron 1mg6%
* Percent Daily Values are based on a 2000 calorie diet.