These garlic mashed potatoes are made with roasted garlic, potatoes, butter, and cream! They are the deluxe version of the all-time classic side dish.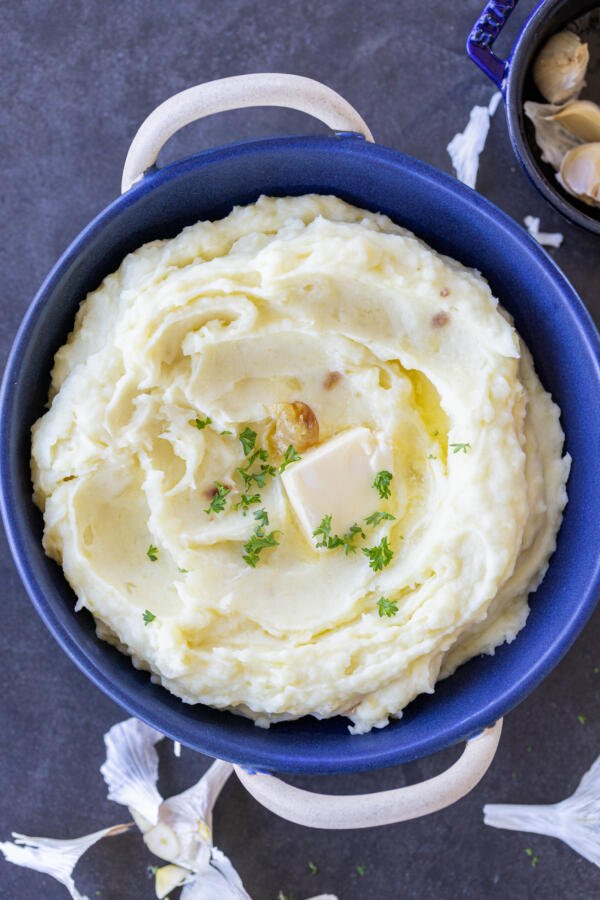 How to Make Garlic Mashed Potatoes
Garlic mashed potatoes are fluffy, creamy, and infused with garlic flavor. They're exactly what a bowl of mashed potatoes should be.
Bake the garlic head: Slice off the top of the garlic head and place it on a sheet of foil. Drizzle it with avocado or olive oil and bake at 400°F until the garlic is soft.
Prepare the potatoes: Peel, rinse, and cut the potatoes into smaller pieces. Place them in a large pot of lightly boiling salted water.
Cook the potatoes: Cook the potatoes until they are tender when pierced with a fork or knife. Drain all the water.
Add the creamy ingredients: Add the melted butter, warmed heavy whipping cream, and squeezed garlic from the hot garlic head to the potatoes.
Mash the potatoes: Mash all of the ingredients in the pot until the potatoes are creamy and fluffy. Serve!
Hot tip: Like it extra creamy? Add in a tablespoon of sour cream or cream cheese to make this dish even more decadent.
Choosing the Best Potatoes
There's a plethora of potato varieties out there to choose from to make mashed potatoes. Here are the three best types.
Yukon Gold: Yukon Gold potatoes are the best for mashed potatoes. They are golden and have a naturally buttery taste. Mashes from this potato are dense, rich, and creamy.
Russet: Russet potatoes have a darker skin and contain more starch, which leads to lighter and fluffier mashes.
Red potato: Red potatoes are waxy, and they have more moisture and less starch. Red potato mashes are smooth and creamy, but become "gluey" faster compared to Yukon Gold or Russet mashes.
Tips From the Kitchen
Mashed potatoes are one of the simplest side dishes to make, but there's always a few methods to make the dish even easier and better.
Bake the garlic in advance: If you are using the oven to bake a separate dish, pop the head of garlic in and bake it in advance. Warm up the garlic just before adding to the mashed potatoes.
Cut potatoes evenly: To ensure the potatoes cook evenly, cut them into similar-sized, small pieces.
Cook the potatoes thoroughly: Check that the potatoes are cooked through by inserting a fork or knife into the potato. If it slides through easily, the potatoes are cooked. Fully cooked potatoes are the easiest to mash and yield a smoother mashed potato dish.
Adjust the seasoning: Adjust the saltiness of the dish by using unsalted butter, then adding more salt as needed. Add pepper for extra spice if preferred.
Add bacon bits: For extra protein and flavor, add bacon bits to the potatoes.
Peel the potatoes ahead of time: To help save time, peel the potatoes up to five hours ahead of time and keep them submerged in cold water to prevent browning.
Mash the potatoes minimally: Whether using a potato ricer, potato masher, or a hand or stand mixer, avoid mashing the potatoes too much. Mash just enough to reach your desired consistency. Over-mashing leads to overly stretchy or gummy mashed potatoes.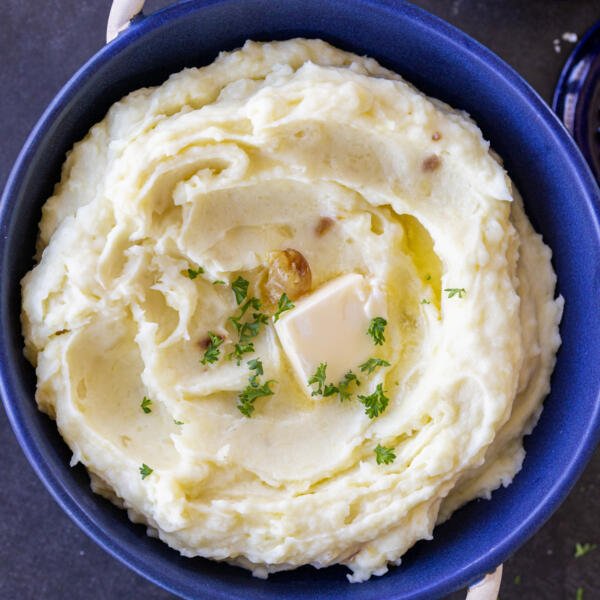 What Foods to Serve With Garlic Mashed Potatoes
Garlic mashed potatoes are the ultimate side dish — they pair with any protein and vegetable dish! Here are our favorites.
Protein: For a simple protein option, pair the potatoes with baked chicken legs, ribeye steak, braised lamb shanks, or instant pot ribs. If you're serving a fancier dinner spread for a party or holiday, serve the mashed potatoes alongside grilled lamb chops, baked duck, spatchcock roast turkey, or lamb loin chops.
Salad: Mashed potatoes are loaded with carbohydrates, so balance them out with a salad full of fiber like brussels sprouts salad, broccoli cucumber and tomato salad, or a simple garden salad.
Vegetable: Add a side of single-vegetable dishes like air fryer asparagus, marinated tomatoes, marinated cucumbers, or air fryer broccoli.
What to Do With Leftover Mashed Potatoes
Garlic mashed potatoes taste the absolute best when enjoyed straight away; however, if you have leftovers, don't throw them out! Follow these storage and reheating tips to enjoy the potatoes again.
Storing
To store for up to a week, place mashed potatoes in an airtight container in the refrigerator. Avoid freezing as the taste and texture do not keep well in the freezer.
Reheating
Mashed potatoes can be reheated in a multitude of ways. The best way to choose between the methods is depending on how much potatoes you're reheating and how long they need to stay warm.
Microwave: To reheat in the microwave, add a splash of heavy cream to your potatoes and zap them for five minutes or until fully heated through.
Oven: Reheat the garlic potatoes by transferring them into an oven-safe baking dish. Heat the potatoes at 350˚F for 20-30 minutes. Spread extra slices of butter throughout the potatoes to melt into the potatoes as they bake for added moisture and add shredded cheese for a crispy topping.
Crock Pot: To reheat potatoes and keep them warm for a longer period of time, use a crock pot. Place potatoes on low heat a few hours before serving and switch to the warming setting once heated through.
FAQ
Can I mix cream cheese into mashed potatoes?
Yes, cream cheese can be used as a substitute for milk or an addition to make creamier mashed potatoes. The result will be a thicker and richer mashed potato.
What's the key to the fluffiest garlic mashed potatoes?
The key to the fluffiest mashed potatoes is using the right variety of potatoes (Yukon Gold is best), cooking the potatoes well, and adding the creamy ingredients (melted butter, whipping cream, garlic) slowly when they are still warm.
Why are my garlic mashed potatoes gummy?
Mashed potatoes can turn gummy if they are not mashed right away. Mash the potatoes as soon as they are cooked and hot to prevent this from happening.
More Easy Potato Recipes
Recipe
These garlic mashed potatoes are made with roasted garlic, potatoes, butter, and cream! They are the deluxe version of the all-time classic side dish.
Nutrition Facts
Garlic Mashed Potatoes
Amount Per Serving
Calories 223
Calories from Fat 216
% Daily Value*
Fat 24g37%
Cholesterol 65mg22%
Sodium 1175mg49%
Potassium 42mg1%
Carbohydrates 1g0%
Protein 1g2%
Vitamin A 816IU16%
Vitamin C 0.4mg0%
Calcium 30mg3%
Iron 0.1mg1%
* Percent Daily Values are based on a 2000 calorie diet.