This parmesan crusted chicken recipe features tender, butterflied chicken breaded in nutty parmesan and breadcrumbs. Crispy without the need to deep fry!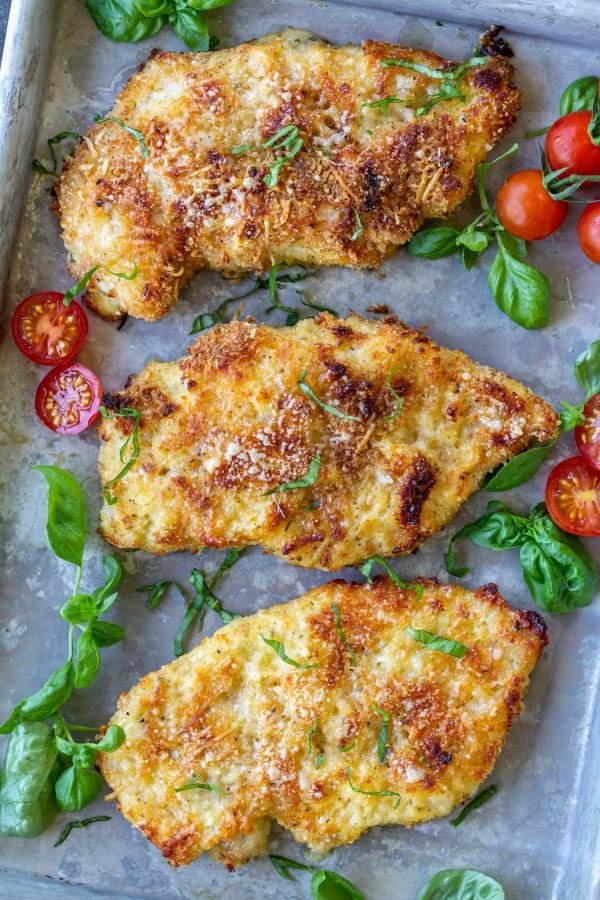 Obsessed with crispy fried chicken but don't want to deal with splattering oil or extra calories? This oven-baked parmesan crusted chicken will satiate even the strongest craving for the fried stuff, but with a fraction of the fat and cholesterol and no compromise on the crunch. You'll love the nutty, herby crust! If you prefer seafood, try our parmesan crusted tilapia.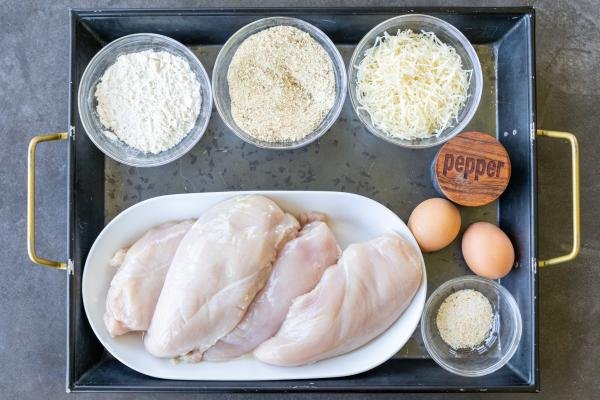 Making Oven-Baked Parmesan Crusted Chicken
Preparing this oven-baked chicken only requires a few simple ingredients and a meat tenderizer.
Butterfly the Chicken: First, butterfly the boneless skinless chicken breasts. Using a meat tenderizer, pound it out super flat.
Prepare the Flour Breading: In a shallow dish, whisk the flour, garlic parsley salt, and black pepper together.
Prepare the Egg Wash: Next, whisk the eggs together in another shallow bowl.
Make the Parmesan Breadcrumbs: In a third bowl, stir the breadcrumbs and parmesan cheese together.
Bread the Chicken: Next, dredge the chicken by dipping it into the flour mixture, followed by the egg mixture and the breadcrumb mixture.
Broil the Chicken: Assemble the chicken on a baking sheet with parchment paper and spray the tops with cooking spray. Broil it in the oven at low or 450°F for 15 minutes, turning it halfway over through. Serve immediately and enjoy!
Hot Tip: Unsure if your chicken is finished cooking? Use an instant-read meat thermometer to ensure the internal temperature of cooked chicken should be at 165°F.
3 Tips for the Best Parmesan Crusted Chicken
A handful of helpful tips will help you get the juiciest, crispiest parmesan chicken possible.
Use freshly grated parmesan cheese for the best flavor. Instead of using pre-shredded parmesan, opt for shredding it yourself straight off the block. The pre-shredded stuff tends to be drier and less flavorful.
Cut chicken into similar-sized pieces. To ensure even-cooking, butterfly the chicken into similar-sized pieces.
Pound chicken to one even thickness all across. Another way to ensure even-cooking is to pound the chicken out until it's one, consistent thickness.
Hot Tip: If you want to make your breading a bit fresher, mix in some fresh herbs. Fresh parsley, thyme, rosemary, basil, and oregano are all great options.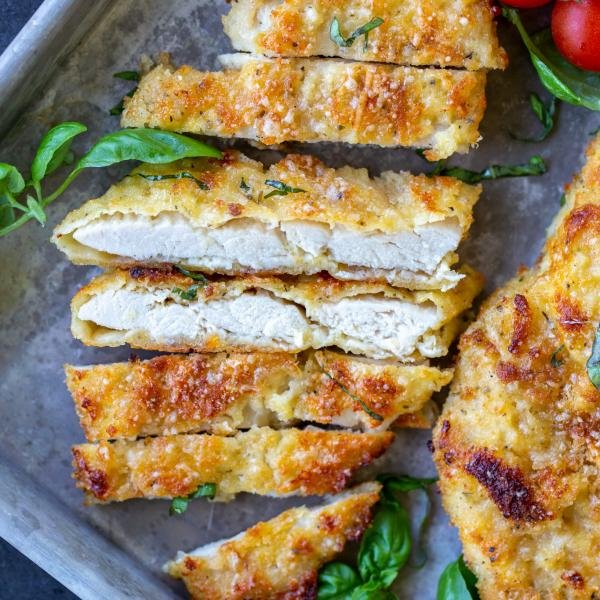 What to Serve with Parmesan Crusted Chicken
There are a million and one different ways to serve up your parmesan crusted chicken. Here, find a couple of ideas to inspire you…
Storing, Freezing & Reheating
These parmesan crusted chicken breasts are perfect for meal prep and reheating.
Storing: To keep the parmesan crusted chicken on hand for up to a week, store it in an airtight container in the fridge. This will prevent the chicken from drying out or turning soggy in storage.
Freezing: You can freeze the chicken cooked or raw. To do so, assemble it on a baking sheet lined with parchment paper (make sure it's fully cooled down if it's baked) and pop the baking sheet in the freezer for 1-2 hours. Transfer the chicken into a plastic storage bag for up to 1 month.
Reheating Tip: To reheat the chicken, pop it back in the oven until crispy and warmed through. If you're reheating frozen and raw chicken, it will likely take 5-7 minutes longer to cook.
FAQ
Can you grill parmesan crusted chicken?
It's not a good idea to grill parmesan crusted chicken. The breading will stick to the grill grates and tear off.
Can you make parmesan crusted chicken without breadcrumbs?
Yes, you can make parmesan crusted chicken without Italian breadcrumbs. Instead, you can swap in crushed crackers, panko breadcrumbs, or crushed cornflakes.
Can you cook parmesan crusted chicken in an air fryer?
Yes, you can cook parmesan crusted chicken in the air fryer. To do so, assemble the chicken pieces in a single layer in the air fryer basket and air fry it at 400°F for 5 minutes. Flip it over and air fry it for 3-5 minutes more.
Can you fry parmesan crusted chicken instead of baking it?
Yes, you can deep fry parmesan crusted chicken instead of baking it. To do so, fill a deep skillet with half an inch of canola oil and preheat it over medium heat. Add in the chicken pieces in a single layer and fry them for 3-5 minutes on each side until golden brown.
More Tasty Crispy Chicken Recipes
Recipe
This parmesan crusted chicken is super crunchy and satisfying without the need for any deep frying or splattering oil. Tender, juicy, and super versatile!
Nutrition Facts
Parmesan Crusted Chicken (Oven Baked)
Amount Per Serving
Calories 590
Calories from Fat 171
% Daily Value*
Fat 19g29%
Cholesterol 244mg81%
Sodium 1680mg70%
Potassium 985mg28%
Carbohydrates 35g12%
Protein 66g132%
Vitamin A 443IU9%
Vitamin C 4mg5%
Calcium 379mg38%
Iron 4mg22%
* Percent Daily Values are based on a 2000 calorie diet.