If you're on the hunt for a classic, no-frills scalloped potatoes recipe, you're in the right place. This one is cheesy and baked to bubbly perfection!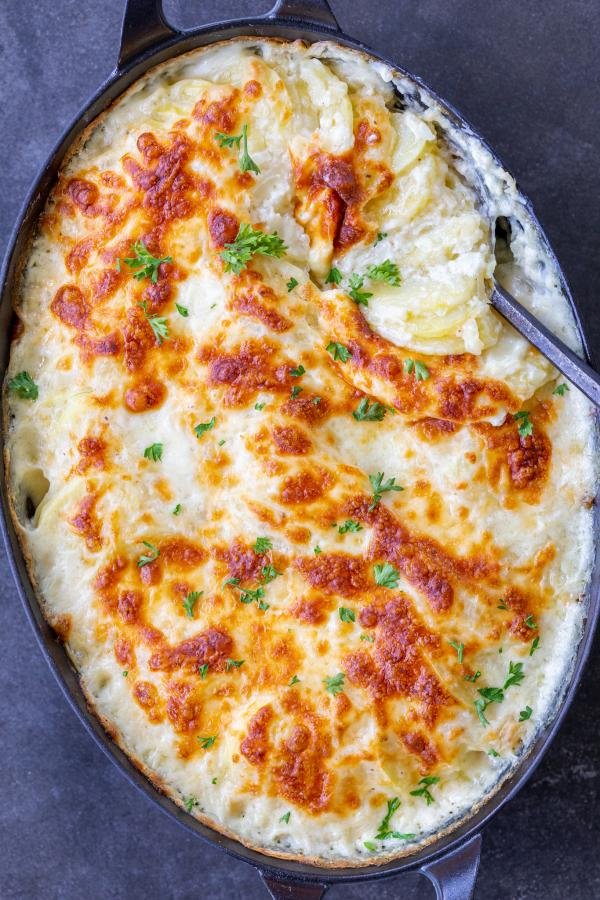 Calling all potato lovers! If you can't get enough spuds in your life, than you likely have sunk your teeth into a good, old-fashioned scalloped potatoes dish. This one doesn't take any shortcuts and is heavy on the comfort. Get ready to fall in love!
What Kind of Potatoes Work Best
Yukon gold potatoes are our absolute favorite for this recipe – they are buttery, creamy and naturally a little sweet. You'll need about 6 medium-sized potatoes which should weigh around roughly 2 pounds. Alternatively, you can use russet potatoes in a pinch!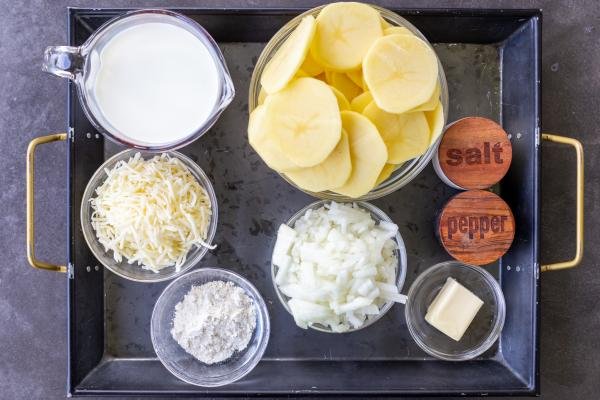 Preparing this Scalloped Potatoes Recipe
This dish only requires 8 simple ingredients and for you to make the cream sauce first (this prevents any curdling).
Sauté the Onions: In a deep pan, sauté the onion in melted butter on low heat until transluscent.
Make the Roux: Next, add in the flour and cook out the raw taste. Add in the milk and whisk until smooth. Season the cream sauce with salt and pepper and set it aside.
Peel & Assemble the Potatoes: Peel, slice and assemble the potatoes in a casserole dish. Next, pour the sauce over the potatoes.
Bake the Scalloped Potatoes: Next, sprinkle the cheese on top and cover the baking dish with a lid or foil. Bake the potatoes at 400°F for 30 minutes.
Bake the Scalloped Potatoes Uncovered: Remove the lid or foil and bake the potatoes for another 30 minutes, or until the potatoes are tender and the cheese is bubbly. Dig in and enjoy!
Hot Tip: If you're a garlic and herb lover, add 2-3 minced garlic cloves and thyme into the pan when you're sautéing the onions.
3 Tips for Making this Scalloped Potatoes Recipe
​Just a few simple, foolproof pointers will help you ensure the potatoes cook all the way through.
Use a mandoline slicer to get evenly-sized pieces. Unevenly sliced potatoes will indeed cook unevenly! To avoid this issue, enlist the help of a mandolin slicer to get perfect potato medallions.
Take the foil or lid off halfway through. To ensure that the cheese melts and bubbles up, take the foil or lid off about halfway through cooking. It's important to keep the foil on for the first half of cooking to avoid the top from overcooking!
Don't underestimate the cooking time. Although the potatoes are sliced thinly, the dish does take about an hour (sometimes even more!) to cook properly. The first time I made these for my in laws, they came out raw because I underestimated the cooking time!
Hot Tip: You can also bake scalloped potatoes in a cast-iron skillet! We love this one from Lodge.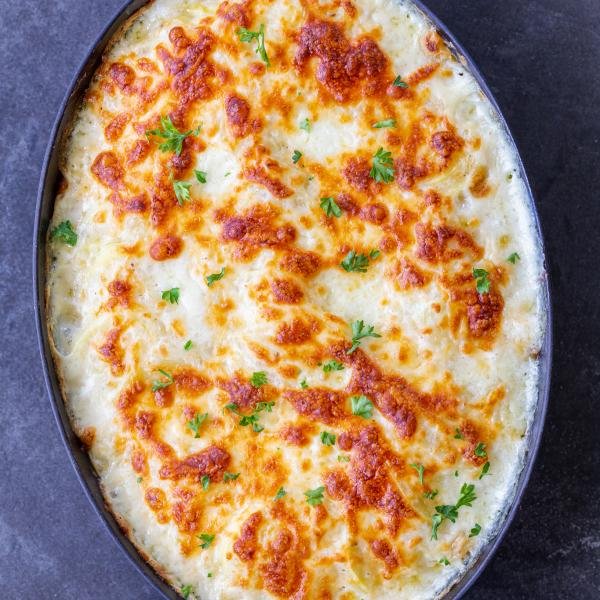 Ideas for Serving
This scalloped potatoes recipe makes for the perfect side dish to just about any protein you're craving. We like to serve it alongside cast iron ribeye steaks or spatchcock chicken. It's also a wonderful holiday dish! From Easter ham to Thanksgiving roast turkey to Christmas roast beef tenderloin, you can't go wrong.
Make-Ahead & Storage Tips
If you have any leftovers or you want to prep the potatoes a little bit ahead of time, here's all you need to know.
Make-Ahead: If you want to cut down on prep time, you can bake the scalloped potatoes halfway through a day ahead of time. Then, you can pop it back in the oven uncovered and finish baking it all the way through day-of.
Storage Tips: The best way to store the scalloped potatoes is in a baking dish with a lid or foil. They will keep up to a week when stored properly in the fridge.
Reheating Tip: To reheat leftovers, you can pop the entire casserole dish back in the oven until the cheese is melty again. To reheat individual portions, simply microwave the potatoes in a bowl.
FAQ
What is the difference between scalloped potatoes and potatoes au gratin?
Traditional au gratin potatoes features layers of Yukon or red potatoes that are sliced super thin, dredged in flour and topped with a cheese sauce of chicken broth, gruyere and parmesan cheese. On the other hand, scalloped potatoes are sliced a bit more thinly and baked in a creamy sauce and topped with shredded cheese.
Why won't your scalloped potatoes get soft?
Scalloped potatoes can be finicky and take a long time to cook and soften. Typically, one hour is more than enough. If yours are being stubborn, simply give them more time and keep checking them with a fork every 5-10 minutes.
How do you make scalloped potatoes that don't curdle?
To prevent your scalloped potatoes from curdling, make the smooth cheese sauce before putting the dish in the oven. A common mistake is adding all the ingredients into the dish instead of creating a smooth bechamel first.
Should you soak your potatoes before making scalloped potatoes?
Some people soak their spuds for scalloped potatoes to remove excess starch and keep them ultra moist during the baking process. That said, we don't find it super necessary and tend to slice the potatoes dry.
How do you thicken up watery scalloped potatoes?
A foolproof trick to thickening up watery scalloped potatoes is to add a little instant mashed potato mix to the sauce and stirring it around. It won't alter the flavor too much, but it will help to thicken the sauce nicely.
More Tasty Potato Recipes
Recipe
This tasty scalloped potatoes recipe is comfort food defined. Baked until bubbly, it features perfectly sliced potatoes topped with a creamy, cheesy sauce.
Ingredients
6

medium potatoes

1

medium onion

diced

3

tbsp

Unsalted Butter

1/4

cup

flour

2

cups

milk

1

tsp

salt

1/2

tsp

ground black pepper

1

cup

shredded cheese

Mozzarella, cheddar or Mexican
Nutrition Facts
The Best Scalloped Potatoes Recipe
Amount Per Serving
Calories 152
Calories from Fat 99
% Daily Value*
Fat 11g17%
Cholesterol 33mg11%
Sodium 441mg18%
Potassium 130mg4%
Carbohydrates 8g3%
Protein 6g12%
Vitamin A 373IU7%
Vitamin C 1mg1%
Calcium 181mg18%
Iron 1mg6%
* Percent Daily Values are based on a 2000 calorie diet.