This fresh fruit tart is the epitome of summer. Made with a rich cream cheese filling and topped with fresh fruits, it's as delicious as it is beautiful.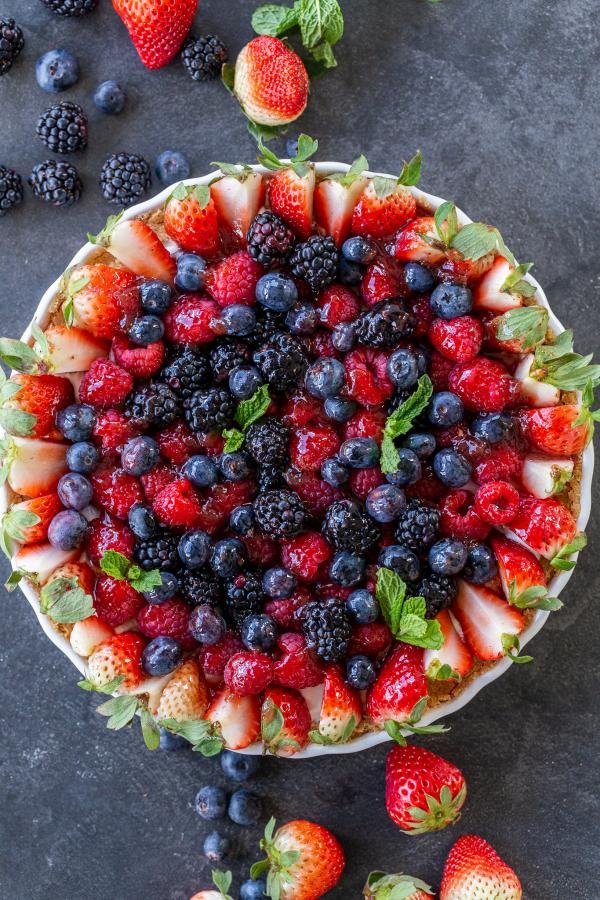 This fresh fruit tart is everything you love about summer bundled into one beautiful dessert. Piled high with fresh berries, it's so pretty to look at you'll be hesitant to slice into it. What's better? It's super simple to make and only requires the oven to be on for a short 15 minutes (goodbye hot kitchen on a hot day).
Our version of the classic fruit tart is packed with cream cheese filling, topped with berries, and finished with a light glaze of melted jam. Serve it at your next BBQ and watch your guests come pack for slice after slice.
How to Make a Fresh Fruit Tart
Despite its impressive appearance, this fresh fruit tart is super simple to make. Below, find an overview of the recipe before you dive in.
Preheat the Oven & Make the Crust Batter: Preheat the oven to 375°F. While the oven is warming up, make the batter for the crust. Using a food processor, blend sugar, flour, and butter together until the mixture clumps into a ball.
Press the Crust Batter Into the Tart Pan: Press the dough into the tart pan with your fingers. Make sure to spread the crust into the scalloped indentations around the rim. Bake until light brown. Set crust aside to cool at room temperature.
Make the Filling: With a hand mixer, beat the cream cheese, granulated sugar, and vanilla together until creamy and smooth.
Assemble the Tart: Spread the cream over the crust. Decorate with fruits. In a small saucepan, melt the jam until a bit runny. Using a pastry brush, spread the melted jam over the top of the fruit.
Refrigerate and Serve: Allow the tart to set in the refrigerator for at least 30 minutes and up to overnight. Slice, serve, and enjoy!
What is a tart pan? A tart pan has scalloped sides and a removable bottom, allowing you to slip off the outer ring without damaging the beautiful crust.
Tips for Making the Best Fresh Fruit Tart
Below, find a collection of tips to help you make the best, bakery-worthy fresh fruit tart.
Refrigerate the tart before serving. Allow the tart to set in the fridge for at least 30 minutes before you serve it. Overnight is preferred. This will make the tart more sturdy when sliced.
Use a tart pan. Tart pans come with beautiful scalloped edges and a removable bottom that takes the stress out of removing the crust.
Slice and soften the butter. Slice the butter and allow it to soften at room temperature so it blends better into the crust batter.
Press the batter into the tart pan firmly. If you want the tart to have beautiful ridged edges, you need to make sure to press the batter into them firmly.
Spread melted jam on top of the fruit for that signature shine. Fruit tarts are often finished with a sugar or jam glaze to create a beautiful sheen. The sugar also balances out the tartness of the fruit and creates a more well-rounded flavor.
Jam Tips: Use a jam that's fine versus chunky so it spreads smoothly over your fruit. We love to use apricot jam or raspberry jam for this recipe.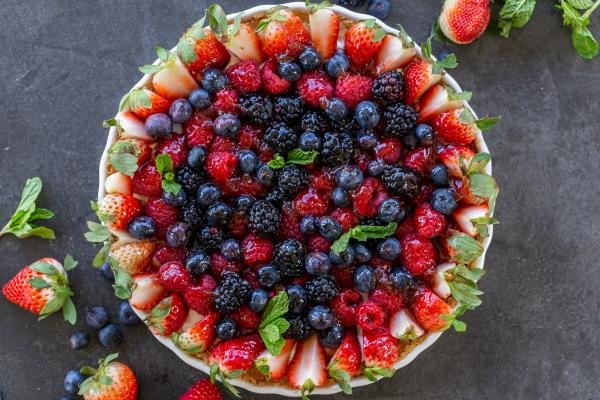 Storing a Fresh Fruit Tart
Refrigerator: Store the fruit tart in an airtight container in the refrigerator for up to three days. Use an airtight cake container if you have one.
Freezer: Not recommended. Fresh fruit tarts simply don't freeze or defrost well. They're best eaten fresh!
FAQ
How I keep the fruit tart from turning soggy?
Keep your fruit tart refrigerated up until you plan to serve it to keep it from turning soggy. The cold air will keep the cream from melting and spreading moisture into the crust.
Do you need to refrigerate a fruit tart?
You do need to refrigerate your fruit tart before and after serving it. Store it in an airtight container to prevent it from soaking up the smells in your refrigerator.
How do I make a fruit tart if I don't have a tart pan?
If you don't have a tart pan, use a pie pan. These typically come without decorative edges or a removable bottom, but can be used in a pinch. Simply press the dough into the pie pan, leaving a bit more dough on the edges. Using your fingers, pinch the dough to create scalloped edges. Bake the crust as directed. Do not attempt to remove the crust from the pan, as it will likely fall apart. Simply fill, decorate, and slice the tart straight from the pie pan.
What kinds of fruits are best for fruit tarts?
Strawberries, blueberries, raspberries, and kiwis are the most commonly used fruits for a traditional fruit tart. You can use other fruits (mangoes, pineapple, etc.), but stay away from bananas as they turn brown and slimy.
Other Sweet Summery Treats
Recipe
This fresh fruit tart is the epitome of summer. Made with a rich cream cheese based filling and topped with fresh fruits, it's as delicious as it is beautiful.
Ingredients
1/2

cup

sugar

1 1/2

cups

flour

12

tbsp

unsalted butter

softened and sliced

8

oz

cream cheese

softened

1/2

cup

granulated sugar

1

tsp

vanilla extract

3

cups

fresh fruit

berries and kiwi recommended

1/2

cup

jam

smooth versus chunky
Instructions
Crust
Preheat the oven to 375°F. In a food processor, combine sugar, flour, and butter. Blend until the mixture forms a ball.
Nutrition Facts
Fresh Fruit Tart
Amount Per Serving
Calories 543
Calories from Fat 243
% Daily Value*
Fat 27g42%
Cholesterol 74mg25%
Sodium 103mg4%
Potassium 164mg5%
Carbohydrates 72g24%
Protein 5g10%
Vitamin A 1174IU23%
Vitamin C 4mg5%
Calcium 45mg5%
Iron 2mg11%
* Percent Daily Values are based on a 2000 calorie diet.