This pepper steak stir fry features colorful bell peppers and tender flank steak tossed in a savory sauce of garlic and ginger. Simple yet so satisfying!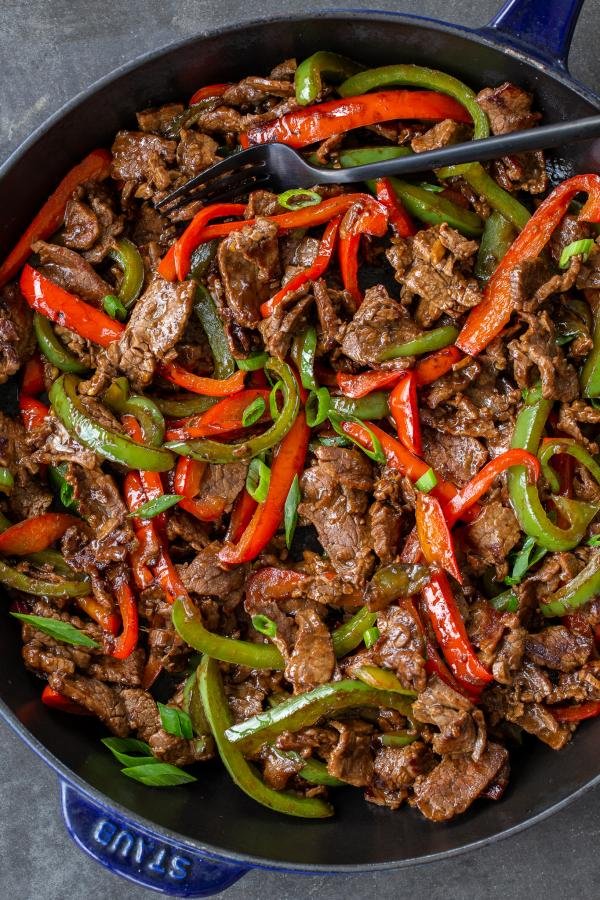 There are fewer meals that are as easy and delicious as this pepper steak stir fry. With a minimal ingredient list and some no-nonsense prep, I'm confident that you'll appreciate how crazy easy it is to pull it together in a pinch!
Best Steak Cuts for Stir Fry
When it comes to stir fry, many wonder what kind of beef is best. For this particular recipe, our choice cut of beef is flank steak. It's perfect for cooking over high heat, affordable, and easy to work with. That said, if you can't get your hands on flank several other cuts that will work just as well.
Top Sirloin Steak – Boneless, lean, and budget-friendly
Skirt Steak – Super beef-y flavor and light marbling
Sirloin Tip Steak – Boneless, lean and budget-friendly
Ribeye – Super fatty, tender, and on the pricier side (great for a "treat yourself" kind of night)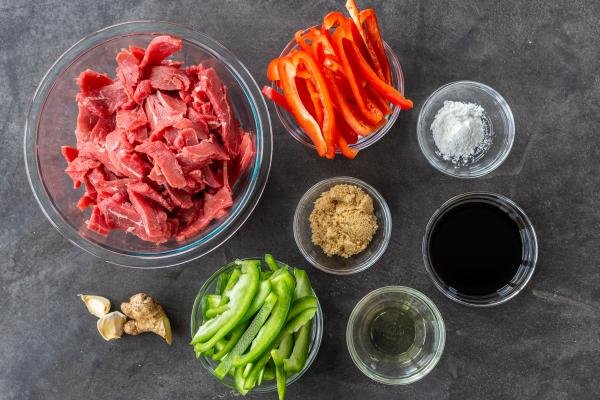 How to Make Pepper Steak Stir Fry
Making this pepper steak stir fry recipe only requires a handful of simple ingredients and a few crazy easy steps. Below, find a rundown of the recipe before you dive in.
Make the Sauce: In a small bowl, whisk the pressed garlic, grated ginger, soy sauce, brown sugar, and cornstarch together. Set the sauce aside.
Cook the Peppers: In a wok or large skillet, stir fry the bell pepper until golden brown over medium heat. Remove the peppers from the pan and set them aside.
Cook the Beef: Next, turn the heat up to medium-high heat and stir fry the beef strips until golden brown. Then, add the peppers back into the pan.
Add the Sauce: Finally, pour the sauce over the steak and veggies, stir-frying the entire mixture for a couple of more minutes. Remove from heat and enjoy!
What does cutting meat across the grain mean? When slicing beef for stir fry, you must cut it against the grain (or against the muscle fibers versus alongside them). This results in a more tender piece of meat that's volumes easier to chew.
3 Tips for Making the Tastiest Steak Stir Fry
Below, find 3 pro tips that will help you make the tastiest steak stir fry possible.
Thin out the sauce with a little water. If the sauce is a little too thick, add in a couple of tablespoons of water to thin it out.
Freeze the steak for 20 minutes before slicing it. To make it that much easier to slice your steak, pop it in the freezer for 20 minutes before slicing. This will firm up the beef and help you slice into it more smoothly.
Experiment with different vegetables. This pepper steak stir fry is super versatile, so get creative with the veggies and use whichever you like best. Broccoli florets, onions, carrots, asparagus, snow peas, snap peas, zucchini, cabbage, and baby corn all work especially well.
Obsessed with stir fry? You need solid knives! I love this set of knives and have been using it for years to slice and dice all the ingredients for my favorite stir fry recipes.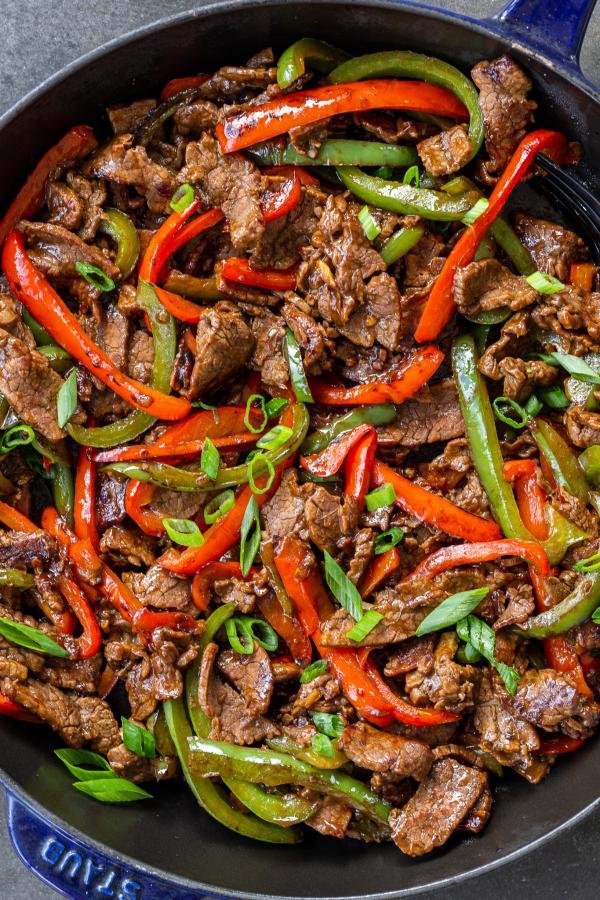 Serving Steak Stir Fry
If you're watching your carbohydrates, serve the pepper steak stir-fry as-is or on top of a bed of cauliflower rice (you can find it frozen at Trader Joe's or easily whip it up by popping cauliflower in a food processor and pan-frying it in butter or oil until lightly crisped). Otherwise, serve it atop some steamed white rice or quinoa, or tossed into your favorite rice noodles.
Best Way to Store Your Leftovers
To keep pepper steak stir fry on hand for up to 5 days, store it in an airtight container in the fridge. This will keep the beef from drying out and will also help it to continue marinating in itself – making for some pretty incredible leftovers.
Reheating Tip: Reheat leftover pepper steak stir fry in the microwave for a couple of minutes or until warmed through. Avoid reheating it in the skillet, as it's super easy to overcook the steak and turn it rubbery.
FAQ
Should you marinate beef for stir fry?
Unless you want the extra punch of flavor, there's no need to marinate the beef for your stir fry. What makes this dish so incredible is that you don't have to prep the meat ahead of time to get a delicious outcome.
How do you cut a steak for stir fry?
Always cut the steak against the grain into similar-sized thin strips for stir fry. This will promote even cooking and also yield the most tender texture.
Why is your steak tough and chewy?
Your steak turned out tough and chewy for a couple of different reasons: 1) you overcooked it, 2) you didn't slice it against the grain, and/or 3) you didn't cut the strips into similar-sized pieces.
How long does it take to cook the steak for stir fry?
It should take no more than about 5 minutes to cook the steak for stir fry. The key is to slice the steak thinly enough that it will cook quickly over high heat without losing its tenderness.
Can you freeze this steak stir fry?
It's not recommended that you freeze this pepper steak stir fry. In general, cooked veggies don't tend to thaw well and turn into mush.
More Crazy Easy Stir Fry Recipes
Recipe
This steak stir fry recipe features juicy flank steak and sweet sautéed bell peppers. Perfect over steamed rice or tossed into rice noodles!
Ingredients
1

tbsp

oil

olive, avocado or vegetable

1

large red bell pepper

cut into thin strips

1

large green bell pepper

cut into thin strips

2

lbs

flank steak

cut into thin strips
Stir Fry Sauce
2

garlic cloves

pressed

1

tbsp

fresh ginger

grated

1/3

cup

soy sauce

2

tbsp

brown sugar

1

tbsp

corn starch
Nutrition Facts
30-Minute Pepper Steak Stir Fry
Amount Per Serving
Calories 268
Calories from Fat 90
% Daily Value*
Fat 10g15%
Cholesterol 91mg30%
Sodium 803mg33%
Potassium 634mg18%
Carbohydrates 9g3%
Protein 34g68%
Vitamin A 694IU14%
Vitamin C 42mg51%
Calcium 43mg4%
Iron 3mg17%
* Percent Daily Values are based on a 2000 calorie diet.