Hunan Beef is made of thinly sliced beef, loaded with colorful veggies and tossed in a hot and spicy sauce. Not only is it addictive, it's also made in one pan!
We partnered with Beef. It's What's for Dinner., on behalf of the Beef Checkoff to show you how to make an Authentic Hunan Beef right at home!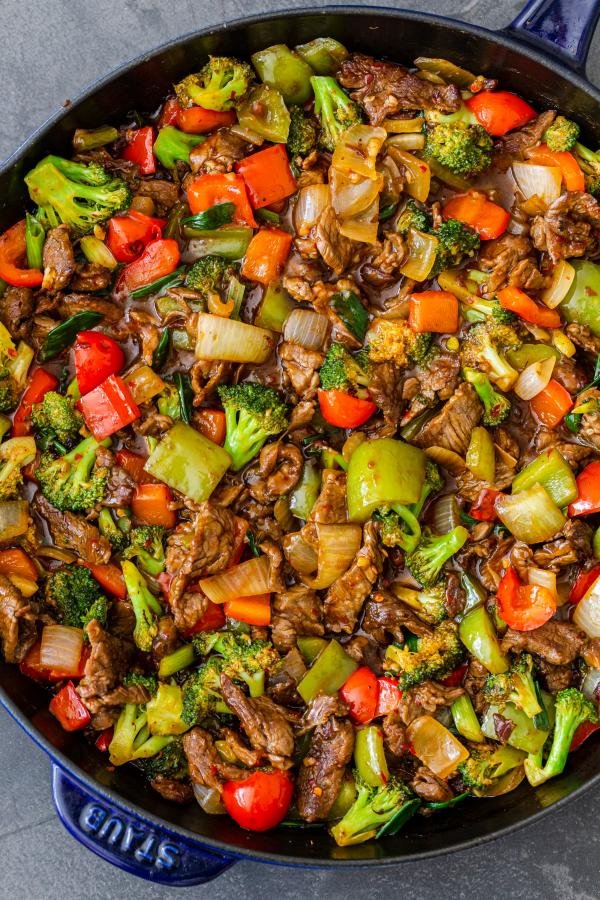 Hunan Beef might already be one of your go-to dishes when ordering Chinese takeout. If it isn't, be ready to be swept off your feet.
If you're trying (or have tried) to go low-carb, you know things can get a little monotonous. Hunan Beef is a protein-heavy dish that you can turn to when you want to switch things up. That's right – a protein-rich diet doesn't mean boiled chicken and broccoli.
Beef promotes health in a uniquely efficient way and can be part of a healthy diet. In fact, a 3 ounce cooked serving contains 10 essential nutrients and 50 percent of your daily value of protein!
What is Hunan Beef?
Hunan Beef is a hot and spicy beef dish that hails straight from the Hunan province of China. This province is known for its richly spicy food and this dish is the perfect representation of the region's flavors.
Both the Hunan and Szechuan provinces are known for their spicy food. But what's the big difference? Hunan-style cooking tends to utilize more dry chiles, resulting in a more dry and plain heat.
Szechuan, on the other hand, is made of a combination of both sweet and spicy sauces. Typically, Szechuan cooking is a teensy bit less spicy than Hunan.
Hunan Sauce
Hunan Sauce is made out of beef broth, low-sodium soy sauce, oyster sauce, sugar and chili paste. To thicken it up, you'll also add a bit of cornstarch.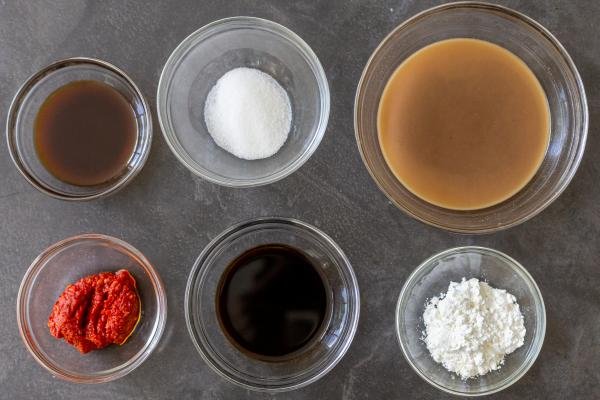 Tips for The Best Hunan Beef
Slice beef against the grain into very thin slices. Flank Steak is my preferred cut because it always comes out tender.

Hot tip: You can freeze your beef for 30 minutes beforehand for easier slicing.

Pre-slice all the ingredients ahead of time. This will make the cooking process that much easier! Stir-fry cooks extra fast, so having all your ingredients prepped and ready will help prevent burning and overcooking.
Get creative with your veggies. Switch out the ones you don't like and add more of the ones you prefer!
Cut all the vegetables in a similar size to ensure even cooking.
Use a large 11-inch pan or a wok. Avoid overcrowding the pan when you're cooking beef. You want each slice to get a nice, golden brown color and outer crust.
Adjust the spice as needed! You can add less or more chili paste according to how much heat you can handle.
More of Asian Beef Recipes
Love Hunan Beef? Try out some of our other favorite Asian-inspired beef dishes:
Beef Lo Mein – A close cousin to chow mein, lo mein is another great Chinese noodle dish to sink your teeth into.
Mongolian Beef – Saucy, pan-fried beef entreé that comes together quickly
Korean Beef Bulgogi – Sweet, salty, and spicy, this ground beef is delicious served over rice.
The Best Beef Stir Fry – One of the easiest weeknight dinners on my rotation. Put on a pot of rice and whip this one-pan stir fry up in less than 30 minutes.
One-Pan Broccoli and Beef – Nothing hits the spot quite like a steaming plate of broccoli and beef tossed in that signature sweet and savory sauce.
Easy Korean Spicy Noodles – If you have never had japchae before, this Korean noodle dish is going to become your new favorite. It's made with sweet potato glass noodles that have the perfect bite!
Recipe
Hunan Beef is made of thinly sliced beef, loaded with colorful veggies and tossed in a hot and spicy sauce. Not only is it addictive, it's also made in one pan!
Ingredients
Hunan
1

lb

Beef Flank Steak

thinly sliced

1

tbsp

vegetable oil

1

cup

broccoli florets

1

medium red bell pepper

1

medium green bell pepper

5

green onions

1

medium onion

1 1/2

tsp

minced garlic
Nutrition Facts
Hunan Beef
Amount Per Serving
Calories 248
Calories from Fat 81
% Daily Value*
Fat 9g14%
Cholesterol 68mg23%
Sodium 832mg35%
Potassium 702mg20%
Carbohydrates 13g4%
Protein 27g54%
Vitamin A 1333IU27%
Vitamin C 88mg107%
Calcium 57mg6%
Iron 3mg17%
* Percent Daily Values are based on a 2000 calorie diet.