This salmon stir-fry is a flavorful blend of fresh salmon and colorful veggies, tossed in a sweet and savory sauce. Made in under 30 minutes, this delicious dish is a go-to!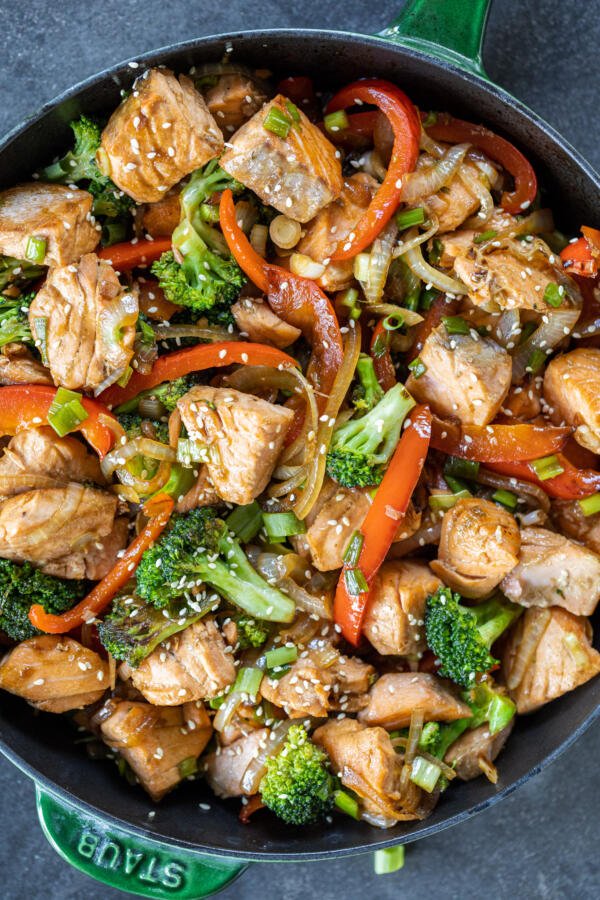 What Is Salmon Stir Fry?
Salmon stir fry combines bite-size, juicy salmon pieces and crisp, tender vegetables and is fried on the stovetop. Its ingredients are coated in a delicious, teriyaki-inspired sauce. This flavorful dish is often served over rice or noodles to make it a complete meal.
Stir fry is not only the name of this popular dish, but is also a method of cooking food. The "stir fry" method originated in China as a way to cook food quickly. Stir frying is popular worldwide because it produces deliciously crisp yet tender veggies. The stir fry ingredients are tossed in a slightly sweet and savory sauce giving the dish so much flavor!
Salmon Stir Fry Video
How To Make Salmon Stir Fry
This salmon stir fry recipe moves quickly, so prep all the ingredients before starting to cook.
Make the sauce: In a medium-sized bowl, whisk the sauce ingredients until combined.
Prepare the ingredients: Prepare the other ingredients by cutting the veggies into strips or bite-size pieces. Slice the salmon into bite-sized pieces.
Fry the veggies: In an oiled wok or large pan, fry the veggies (except the green onions) on medium-high heat until golden brown. Remove the veggies from the pan and set aside.
Cook the salmon: In the same pan, add another tablespoon of oil and cook the salmon. Flip the pieces to cook each side.
Toss together the ingredients: Return the cooked veggies and green onions back to the pan. Pour in the marinade and toss all the ingredients until evenly coated. Cook on low heat for two to four minutes or until the sauce slightly thickens.
Serve: Serve the salmon stir-fry with your favorite sides and enjoy!
Hot tip: Feel free to use salmon with the skin on or skin removed — both options are great! If keeping the skin on, make sure to thoroughly remove all the scales from the skin first!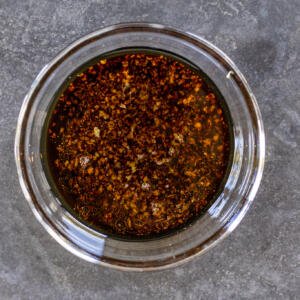 Tips for the Perfect Stir Fry
This salmon stir fry recipe is crazy easy to make. Follow these tips and you'll be the chef everyone knows for the perfect stir fry!
Avoid over-mixing and flipping the salmon: To prevent broken chunks of salmon, avoid over-mixing the salmon. Whole bite-size pieces of salmon taste best.
Preheat the pan: Be sure to preheat the pan before adding the ingredients. A hot pan sears the outside of the veggies and salmon quickly, giving a wonderful flavor.
Prep the ingredients: The veggies and salmon cook quickly, so prep the ingredients before turning on the stove.
Cut into similar size pieces: For even cooking, cut each of the veggies and salmon into similar-sized pieces..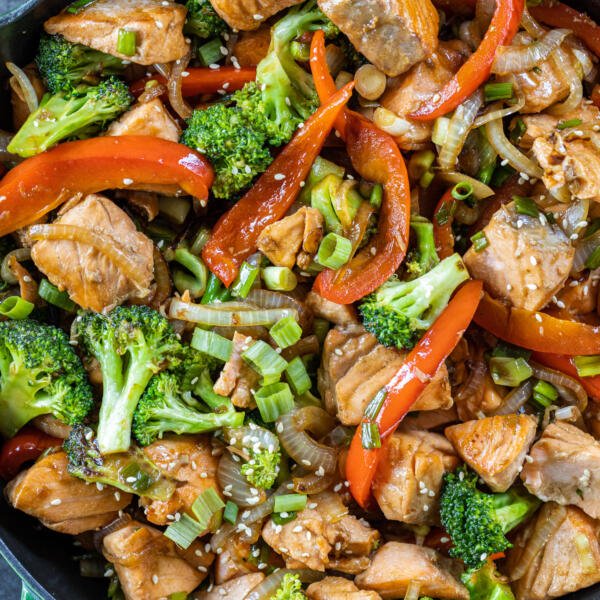 Salmon Stir Fry Variations
Feel free to swap out or add additional veggies and ingredients to customize the flavors of the salmon stir fry. This is a great way to use up any extra veggies in the fridge!
Peppers: Add heat to the dish with sliced jalapeños peppers or red pepper flakes.
Veggies: Use the veggies you have on hand to swap out or add more vegetables. Carrots, green beans, sugar snap peas, asparagus, and mushrooms are delicious options.
Nuts: Add roasted peanuts or cashews for a crunchy texture.
Garnish: Garnish the stir fry with sesame seeds, cilantro, or extra green onions to enhance the flavors and give the dish a restaurant-quality look.
Tamari sauce: Swap out the soy sauce with tamari sauce for a gluten-free option.
Hot tip: Use a store-bought bag of stir-fry veggies to save on veggie prep time.
Ways To Serve
Salmon stir fry tastes excellent on its own as a light, low-carb meal or when served over grains or noodles. Basmati rice, cilantro lime rice, or quinoa are very tasty with a serving of stir fry on top. Alternately, serve the stir fry with noodles such as udon, ramen, soba, or spaghetti. For a veggie-r and lower carb option, make cauliflower rice, zucchini noodles, or spaghetti squash. Alternatively, pair with a refreshing Asian cucumber salad, or replicate your favorite takeout restaurants salad by making this China coast dressing and serving over a salad mix.
Storage
To store leftover salmon stir fry for up to three days, place it into an airtight container in the fridge. For the best flavor, reheat the stir fry on the stovetop until warmed. Or, microwave at intervals until heated through for an uber-quick option.
FAQ
How long does it take for salmon to cook?
Bite sized pieces of salmon cook for about 4-6 minutes on medium heat. The salmon is cooked through when it easily flakes with a fork.
How do I best flip salmon when frying?
It's best to use a thin spatula to flip the salmon when frying. Wait for the salmon pieces to develop a golden-brown crust to make flipping easier.
More Stir Fry Recipes
Recipe
This salmon stir-fry is a flavorful blend of fresh salmon and colorful veggies, tossed in a sweet and savory sauce. Made in under 30 minutes, this delicious dish is a go-to!
Ingredients
2

lb

salmon fillet

1

large red bell pepper

8

oz

broccoli florets

1

medium onion

1/2

bunch

green onions

2

tbsp

oil

olive or avocado
Nutrition Facts
Quick Salmon Stir Fry Recipe
Amount Per Serving
Calories 348
Calories from Fat 171
% Daily Value*
Fat 19g29%
Cholesterol 83mg28%
Sodium 658mg27%
Potassium 1001mg29%
Carbohydrates 11g4%
Protein 33g66%
Vitamin A 937IU19%
Vitamin C 61mg74%
Calcium 51mg5%
Iron 2mg11%
* Percent Daily Values are based on a 2000 calorie diet.