A collection of steak recipes for lovers of all things beefy. From great steaks on the grill to juicy flank strips in stir fry, we've got you covered.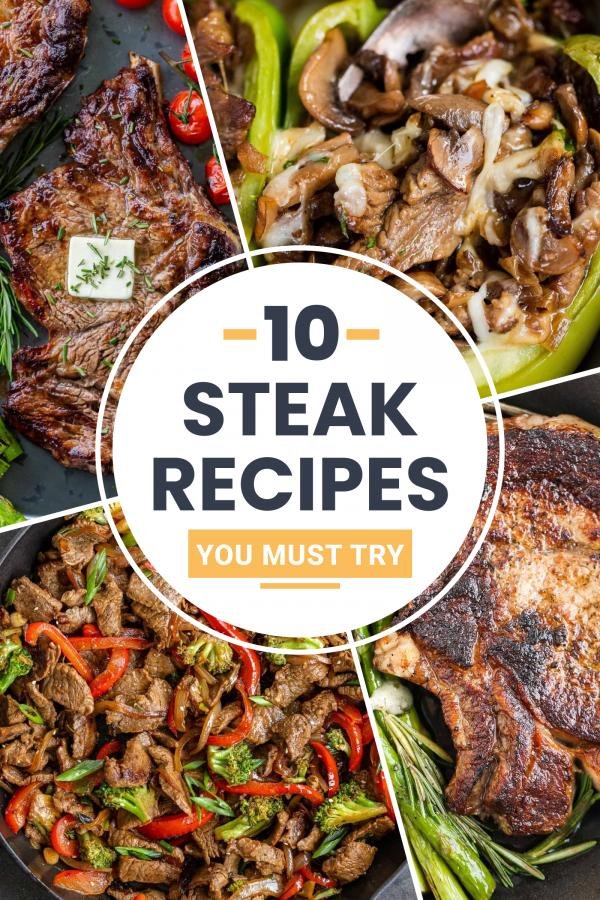 There's nothing like a good steak recipe. From ribeyes topped with blue cheese and garlic butter to beef tenderloin roasted in the oven, when you have a hankering for red meat there's no way to shake it. That's why we've gathered all of our top, most trending steak recipes all in one place. Steak lovers unite!
Different Cuts & What Steak Recipes They're Good For
Don't be intimidated by the number of cuts you see at the butcher or grocery store. With this handy guide at your side, you'll know exactly which cut is good for what.
Filet Mignon – Known as the most tender cut of steak, ultra-tender and buttery, a low fat content, best eaten as-is alongside creamy mashed potatoes and gravy.
Ribeye – A prized cut for its rich marbling and fat, packed with beefy flavor, known for its tenderness, best eaten as-is.
New York Strip Steaks – Another choice cut of steak, slightly marbled, on the leaner side, nice bite, best eaten as-is.
Porterhouse – This cut features a filet mignon and New York strip separated by a marrow-packed bone, super fancy and best eaten as-is (it's an expensive cut!).
Sirloin – A leaner, more budget-friendly steak, typically needs to be marinated and cooked medium-rare to not be too tough, great eaten as-is or in tacos or stir fry.
Skirt – A lean, long, and flat cut of beef, known for its full-flavor and not-so-much its tenderness, best when marinated, perfect for fajitas.
Hangar – Long and flat like skirt steak but has a bit more marbling and tenderness, best eaten as-is or served alongside air fryer french fries for French-style steak frites.
Flank – Long, flat and lean, versatile and flavorful, perfect for fajitas, Chinese-style stir fry, London Broil, or served Argentinian-style topped with chimichurri sauce.
Top Tips for Your Favorite Steak Recipes
When it comes to cooking steak, there are a couple of cardinal rules to live by. Put these in your back pocket and swear off tough, rubbery steak for good.
Resist the urge to over-flip. Whether your pan-searing steak in a cast-iron skillet or grilling over an open flame, avoid over-flipping your steak (steak masters aim for one, solid flip!) or you'll prevent the beef from developing that coveted crust.
Allow your steak time to rest. Unless you're making a stir fry, you must allow steak enough time to rest before slicing into it. A rest of 10-15 minutes allows the steak to develop and retain rich juices.
Always, always, always slice steak against the grain. For a perfectly tender bite, make sure to slice steak against the grain (the muscle fibers). This helps to break the sinewy fibers apart, while also making for a very attractive presentation.
Salt steak overnight before using it. For the most flavorful and tender steak, salt it generously and allow it to marinate in the fridge overnight.
Kitchen Tools Every Steak Lover Needs
When it comes to investing in the right tools for making steak, it's about quality over quantity.
A Good Set of Knives – There's nothing worse than botching a slice job and ruining the texture of your steak. Invest in a high-quality, super sharp set of knives and you won't be disappointed.
A Solid Cutting Board – Every steak lover needs a solid cutting board for slicing, dicing, and resting (our favorite is the walnut board from Boos Block).
An Instant Read Thermometer – From rare to well-done, it's far too easy to over or undercook steak. Take all the guesswork out of the process by investing in an instant-read thermometer to check internal doneness (rare: 130 to 135 °F, medium-rare: 140 °F, medium: 155 °F, medium-well: 150°F, well-done: 165°F). Our favorite is the Thermapen, but other options should be just fine.
FAQ
Why is my steak tough and chewy?
Tough and chewy steak can be attributed to overcooking. If you're a fan of well-done meat, this problem is a tad hard to avoid and a prime example of why having a good meat thermometer can make all the difference.
What are some ingredients that help to tenderize steak?
There are a million and one different ingredients you can tap to tenderize your steak. A couple of the most popular include beer, wine, vinegar, soy sauce, and coffee.
Does steak get more tender the longer you cook it?
Unlike larger cuts of beef like chuck roast, steak only gets tougher the longer you cook it.
Should you put oil on steaks before grilling?
There's no need to put oil on your steaks before grilling. In fact, the oil will drip into the open flames and cause them to flare up, resulting in steak that's burnt on the outside and undercooked on the inside.
Our List of 10 Steak Recipes You Have to Try
A comforting classic that always hits the spot. Tender bell peppers, juicy steak, and melty cheese are stuffed inside a soft roll. What else is there to say?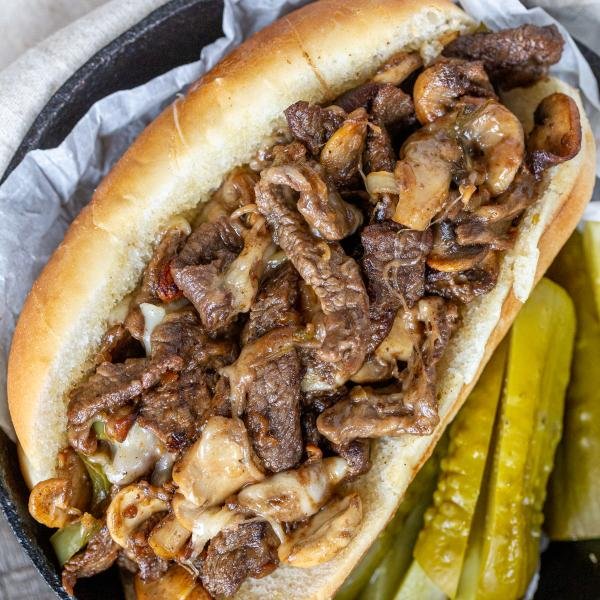 A no-frills, hit-the-spot steak sandwich. Made with your favorite cut of steak, caramelized onions, and melted havarti cheese. If you're feeling ambitious, whip up a homemade baguette for the sandwich bread.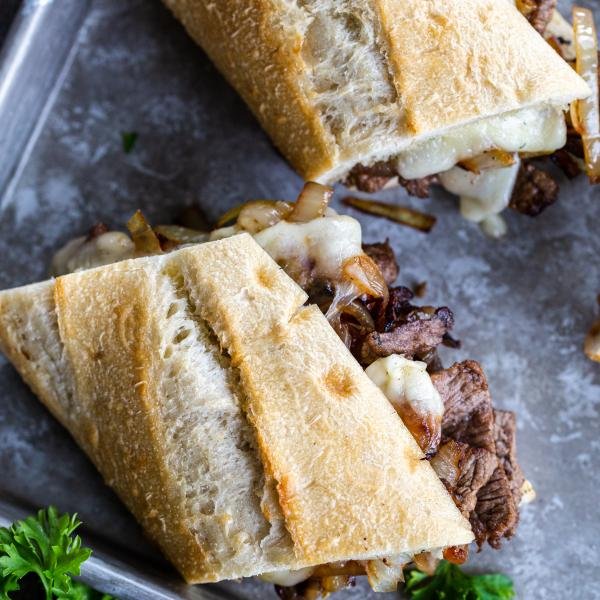 The quintessential steakhouse steak. All you need is salt, pepper, and a little oil and the flavor is out of this world. If you like it earthy, sear the steak alongside herbs. Fresh thyme or oregano works best.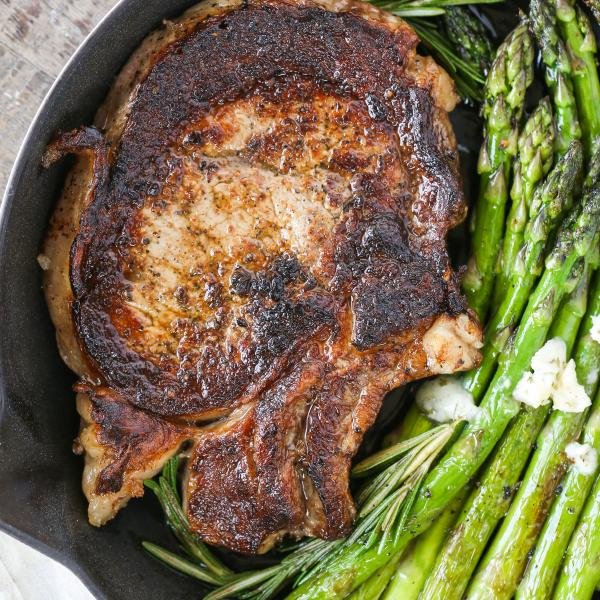 Your new favorite one-pan, 30-minute weeknight dinner. Serve the tender strips of steak and stir-fried vegetables atop a steaming bowl of white rice. What else do you really need?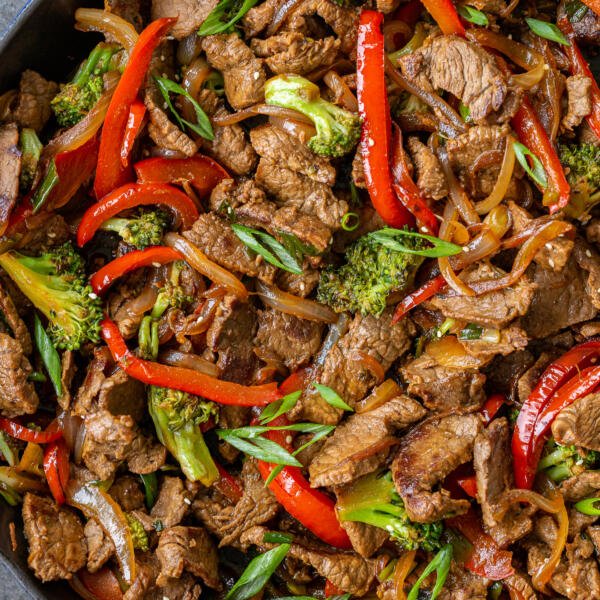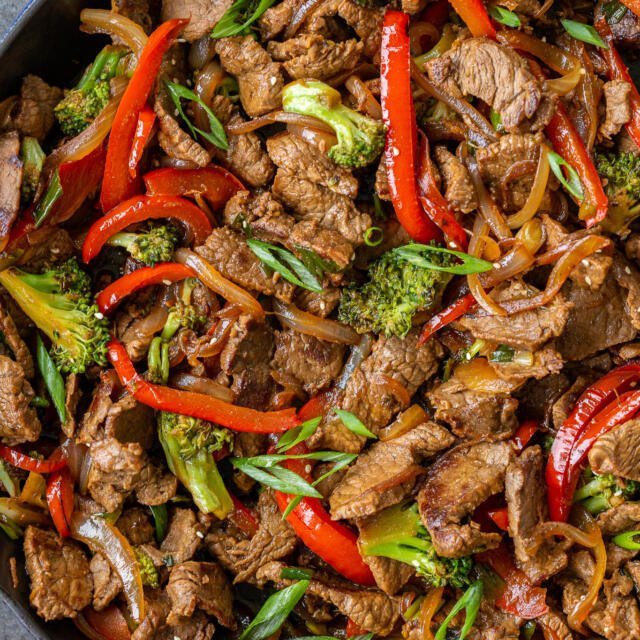 Strips of flank steak are nestled in a soft, flour tortilla alongside tomatoes, purple onion, and creamy avocado. The perfect kid-friendly meal or after-school snack.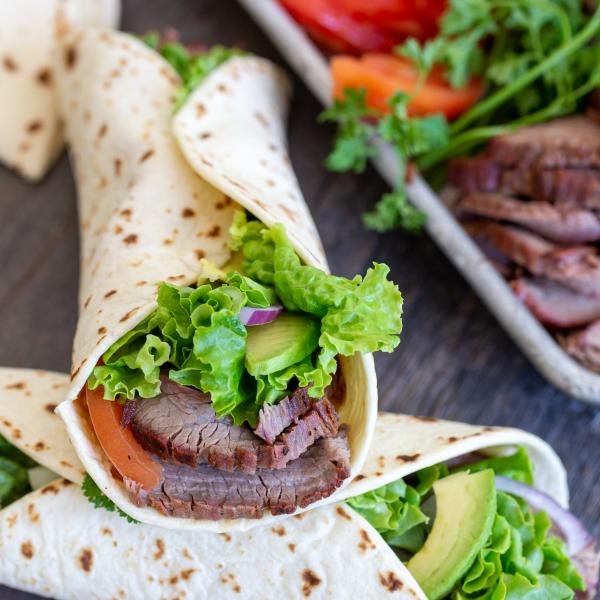 There's nothing like a juicy, fatty ribeye steak grilled over high-heat to perfection. Best cooked medium-rare and served alongside a baked sweet potato topped with butter and brown sugar.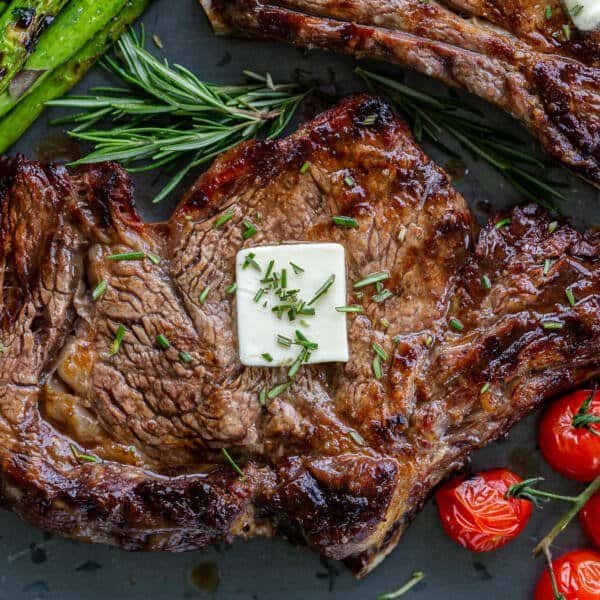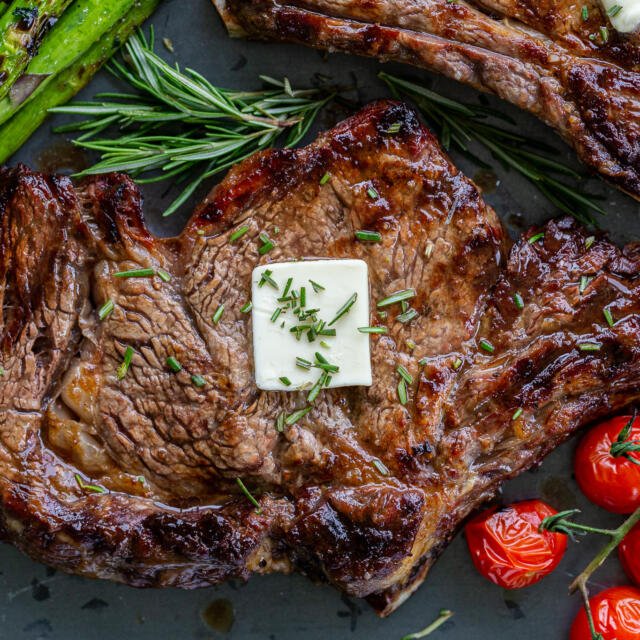 Looking for a crowd-pleasing appetizer or kid-friendly dinner? This is it. These fun mini-sandwiches are a refreshing spin on the classic sandwich.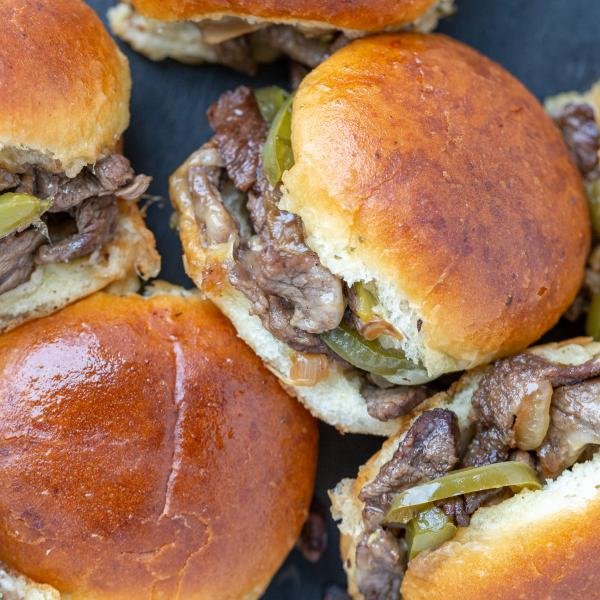 This foolproof recipe for carne asada tacos will have you swearing off your local taqueria for good. So satisfying and best smothered in your favorite homemade salsa. Hello, taco Tuesday!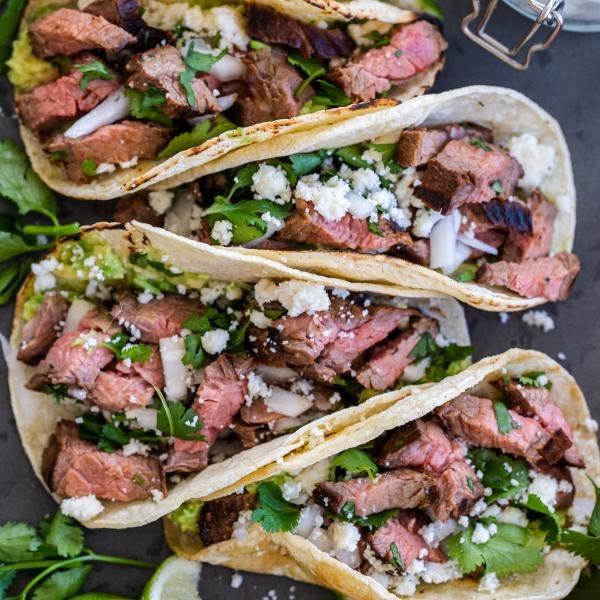 If you love a Philly cheesesteak but are trying to cut down on carbs, these tender stuffed peppers are the answer to your prayers. Perfect for meal-prepping and quick weeknight dinners.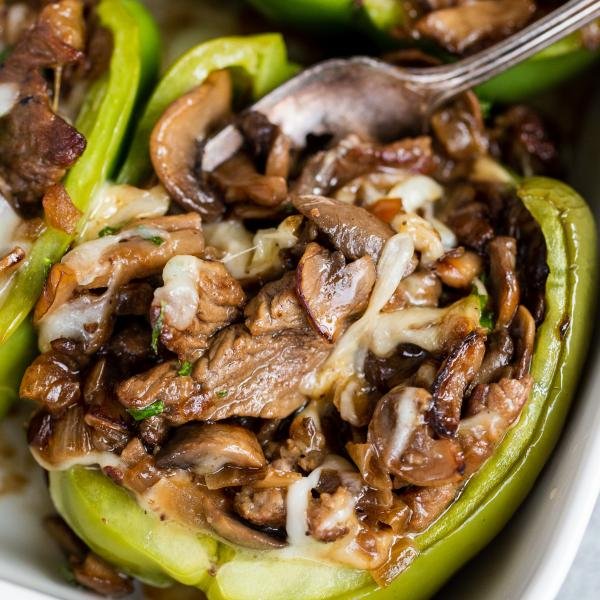 This Japanese-style noodle stir fry couldn't be more crazy easy to make. Packed with veggies and tender steak, it will keep you from dialing for delivery.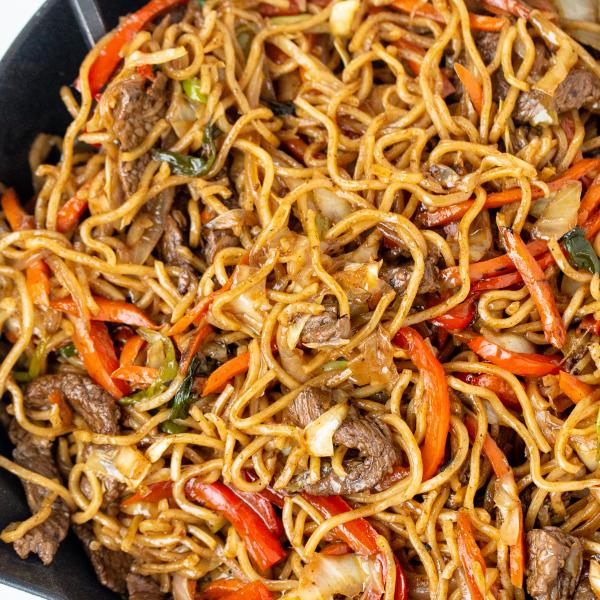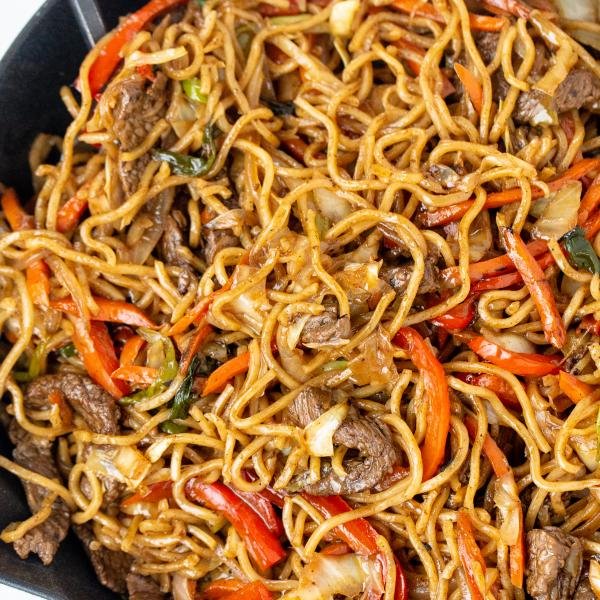 More Beefy Recipes to Try