This 30-minute Steak stir-fry recipe is filling, tasty, and brimming with veggies. Super easy to make, it's the perfect addition to your back-to-school weeknight dinner rotation.
We partnered with Beef. It's What's for Dinner., on behalf of the Beef Checkoff, to help you prepare for the back-to-school season with this protein-rich stir fry.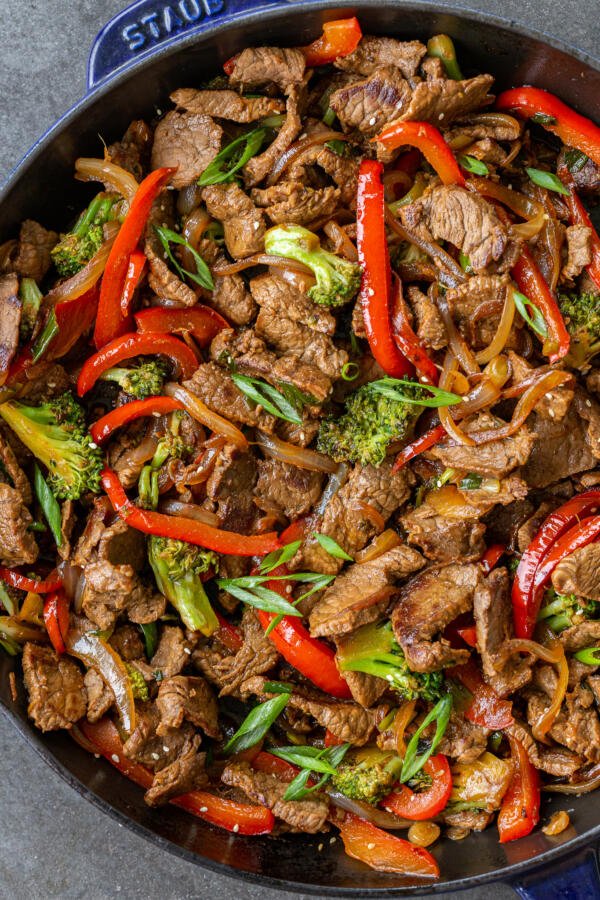 This Beef stir fry is a weeknight dinner lifesaver, especially when you're dealing with the chaos of navigating the school season. When back-to-school preparation is in high-gear, it's not just about buying new backpacks, pencils, and notebooks, shirts also a time to strategize about how you're going to get healthy food on the table in between homework, after-school activities, and other day-to-day obligations. When you're strapped for time, nothing beats a stir fry.
Teeming with Beef, this quick and easy stir fry is not only tasty, but it's also full of protein and super versatile. Whether you're packing lunches, preparing after-school snacks, or meal prepping for the week, it's a wonderful dish to help you power through the week deliciously. My family loved this recipe and I know yours will too. Let's get to it!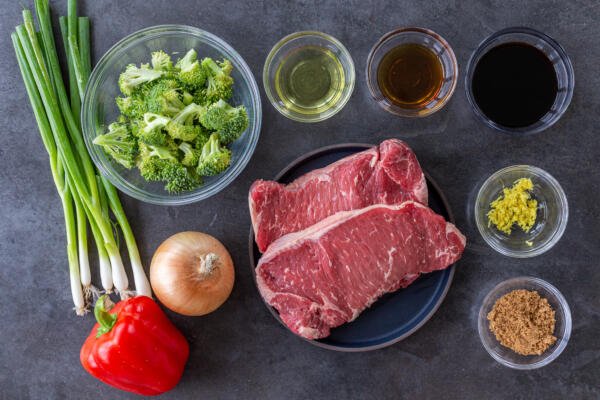 Steak Stir Fry Video
How to Make Steak Stir Fry
Making Steak stir fry only requires a couple, wholesome ingredients and a few simple steps to make. Below, find a quick hitter overview of the recipe.
Prepare the Marinade: Using a whisk, mix together the marinade ingredients. Set aside.
Chop the Veggies: Chop the bell pepper, broccoli, onion, and green onion. Set aside.
Slice the Steak: Cut the Steak against the grain into thin slices using a sharp knife.
Cook the Veggies: Over medium heat, stir fry the veggies in a wok or deep-frying pan and set aside.
Stir Fry the Beef: In the same wok or pan, add the Beef and stir fry over high heat.
What does "against the grain" mean? Slicing against the grain means slicing against the muscle fibers in your cut of Beef versus alongside them. This breaks up the tough fibers and makes the Beef more tender and easier to chew!
Tips for the Best Beef Stir Fry
Below, find a collection of tips and tricks to help you make the best Beef stir fry on the planet.
Slice the steak into similar-sized strips. By slicing your Steak into similar-sized pieces, you'll promote even cooking.
Partially freeze Steaks for easier slicing. Pop Steaks in the freezer for about 30 minutes before you slice them.
Always slice Steak against the grain. Slicing against the muscle fibers of the Steak versus alongside them will make your stir fry more tender and easier to chew.
Use Steak that is Choice or Prime grade. The better quality your Steak, the better quality your stir fry. Choice and Prime grades are superior.
Pat Steaks dry before stir-frying. To help your Steak form a nice crust, pat it dry of any excess moisture with paper towels before stir frying.
What cut of Beef should I use? Always opt for Choice or Prime cuts of Beef. For this recipe, Flank Steak works best. However, you can also use Filet or Ribeye.
Serving Steak Stir Fry
This Steak stir fry can be served as a healthy lunch or dinner. You can also pack it into work lunches or serve it after-school as a hearty snack to tide you and your kids over until dinner (perfect for nights when you're running to-and-from extracurricular activities!). For a well-rounded meal, pair it with some steamed white or brown rice, quinoa, or buckwheat.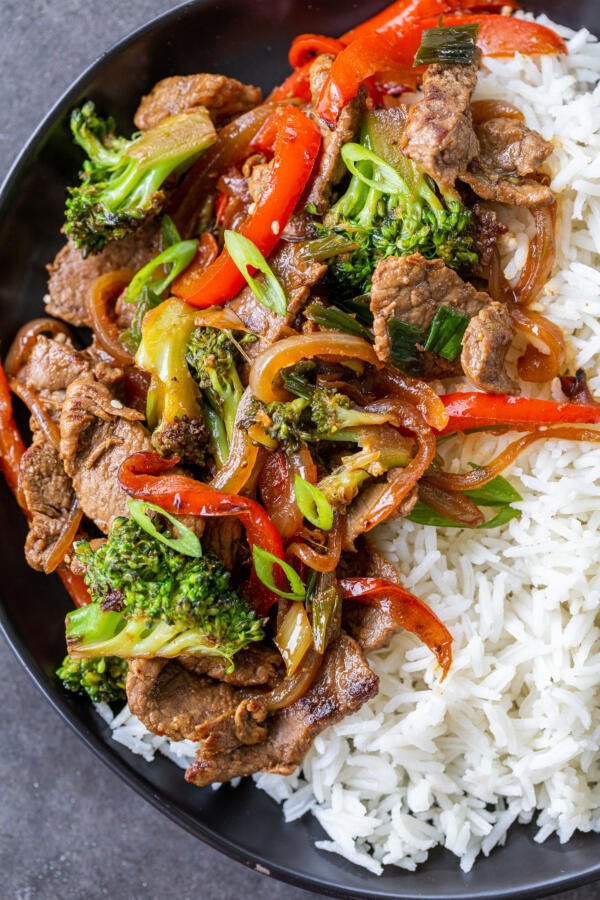 Storing Steak Stir Fry
Refrigerator: Store leftover Steak stir fry in an airtight container in the refrigerator. It will keep fresh for up to 5 days. Reheat it in the microwave or in a pan/wok with a bit of oil.
Freezer: Freeze Steak stir fry by first allowing it to cool completely. Then, transfer it to a freezer-safe plastic bag or airtight container. Reheat it in the microwave or in a pan/work with a bit of oil.
FAQ
How do I get tender Beef strips in my stir fry?
You get tender strips of Beef by cutting the Steak thinly and against the grain. By cutting through the Beef's muscle fibers versus alongside them, you get more tender strips that are easier to chew.
Should I stir fry the meat or veggies first?
Always stir fry the veggies before the meat. Since they cook faster, you'll want to set them aside until the Beef is done and add them back into the wok only when you're ready to add in the sauce.
What cut of Steak should I use for stir fry?
Flank Steak or Strip Steak is by far the best cut for stir fry. It's flavorful, readily available in grocery stores, and very affordable.
More Steak Recipes
Recipe
This 30-minute Steak stir fry recipe is filling, tasty, and brimming with veggies. It's the perfect addition to your weeknight dinners.
Ingredients
2

lbs

Beef Steak

1

red bell peppers

8

oz

broccoli

1

medium onion

1/2

bunch

green onions

2

tbsp

oil,

avocado or olive
Nutrition Facts
30-Minute Steak Stir Fry Recipe
Amount Per Serving
Calories 453
Calories from Fat 279
% Daily Value*
Fat 31g48%
Cholesterol 92mg31%
Sodium 1100mg46%
Potassium 644mg18%
Carbohydrates 10g3%
Protein 34g68%
Vitamin A 2276IU46%
Vitamin C 60mg73%
Calcium 67mg7%
Iron 4mg22%
* Percent Daily Values are based on a 2000 calorie diet.