Quick pickled cucumbers are the definition of quick and easy. In just two days time, you will have bright and fresh pickles to snack on.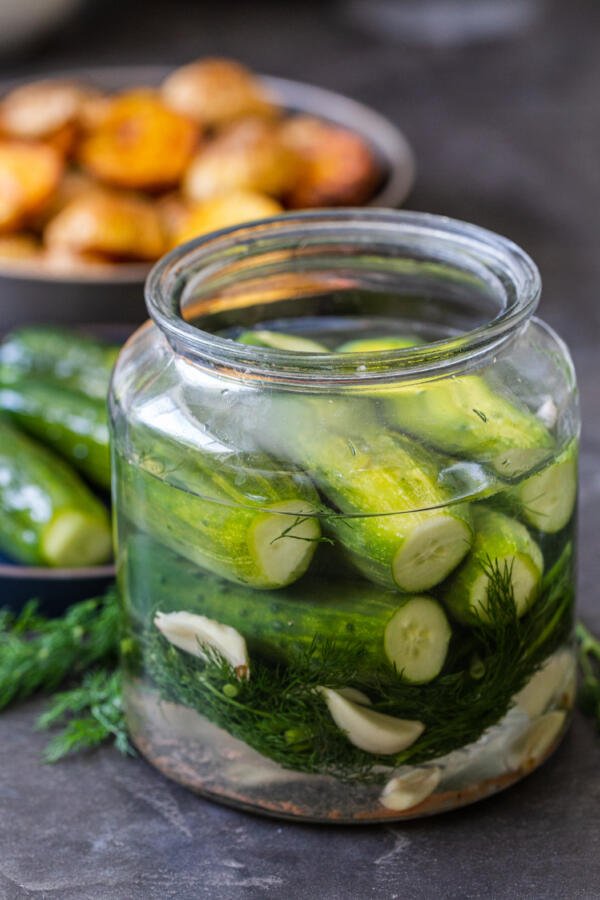 Every year during cucumber season, we prepare several jars of these quick pickled cucumbers. If you are used to canned pickles, these are slightly different. Flavorwise they are somewhere in between fresh and totally pickled.
How to Pickle Cucumbers
This quick pickle technique is much simpler than canning. Follow these easy steps to get crunchy cukes every time:
Wash and snip off the ends of your cucumbers. Rinse your dill and peel the garlic cloves.
Add salt, dill, garlic into the jar. Stuff the jar with cucumbers.
Pour water to the top of your jar.
Cover the jar with a lid and let it sit at room temperature for 48 hours. Once pickled, store in the fridge.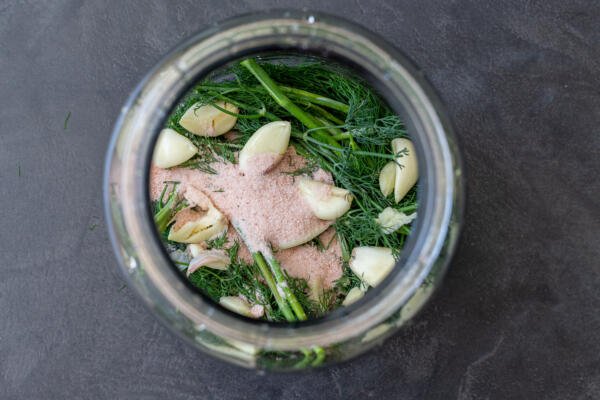 How Long Do Quick Pickles Last?
Quick pickles will last up to four months in your refrigerator. After that, they will likely start to get a bit mushy. Store them in an airtight mason jar to really stretch out their shelf life. Make sure to twist the lid back tight after every use!
What Kind of Pickles Are Best For Pickling?
All pickles are delicious, but not all are created equal when it comes to pickling. Medium-to-small-sized kirby cucumbers are the prime choice for turning into pickles. Their skin remains crunchy and keeps that signature snap even when refrigerated in pickling juice for long periods of time.
Pass over thin-skinned cucumbers like English hothouse cucumbers. They won't stand up well to the pickling liquid and will likely become soggy and break apart easily.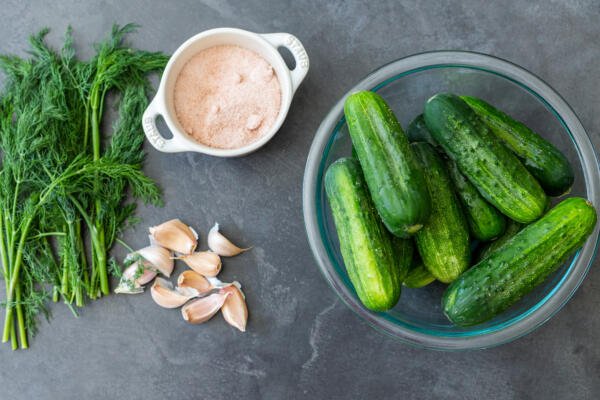 Hot tip: Try to always get your pickling cucumbers from a farmer's market. Not only will they taste better than most store-bought cucumbers, they will also come without the wax coating that most farm-to-supermarket growers place on them for protection during shipping.
Can I Make Quick Pickles Ahead of Time?
Making pickles ahead of time is not only smart, it's recommended! You need to wait at least two days before you start chowing down on your pickles. However, if you can wait a week, they will be even more brine-y and crunchy.
Other Seasoning to Add to Your Pickling Jar
Want to pump up the flavor of your dill pickles? Here's a couple extra ingredients you can throw into the jar to spice things up:
Red pepper flakes will add a nice punch of heat. Add a tablespoon if you like it hot.
Mustard seeds don't only look pretty in your mason jar, they bring a mellow sweet and spicy flavor.
Coriander adds a lemony and floral flavor to the mix. Add about two tablespoons if you like.
Other Pickled Veggies to Try:
If you love this pickled cucumber recipe, try these other great tasting pickled vegetable recipes:
Pickled Mushrooms – These are the perfect addition to your next charcuterie board.
Pickled Beets – Whether you are making a pickled beet and goat cheese salad or eating these straight from the jar, they are the perfect balance of puckery and sweet.
Easy Pickled Onions Recipe – Add a handful to a steak sandwich or on top of a street taco.
Pickled Beets and Pate Smørrebrød – These traditional, open-faced Scandanavian toasts are great to serve as appetizers or for a light, summertime lunch.
Recipe
Quick pickled cucumbers are the definition of quick and easy. In just two days time, you will have bright and fresh pickles to snack on.
Ingredients
2

lb

kirby cucumbers

6

sprigs of fresh dill

1

qt

lukewarm water

3

tbsp

salt

10

garlic cloves
Nutrition Facts
Quick Pickled Cucumber Recipe
Amount Per Serving
Calories 15
% Daily Value*
Sodium 2095mg87%
Potassium 139mg4%
Carbohydrates 2g1%
Vitamin A 110IU2%
Vitamin C 4.4mg5%
Calcium 21mg2%
Iron 0.3mg2%
* Percent Daily Values are based on a 2000 calorie diet.