Easy Instant Pot Chili tastes like it's been slow cooking all day, but takes a fraction of the time. Made with healthy ingredients, it reheats amazing and is made in under 30 minutes.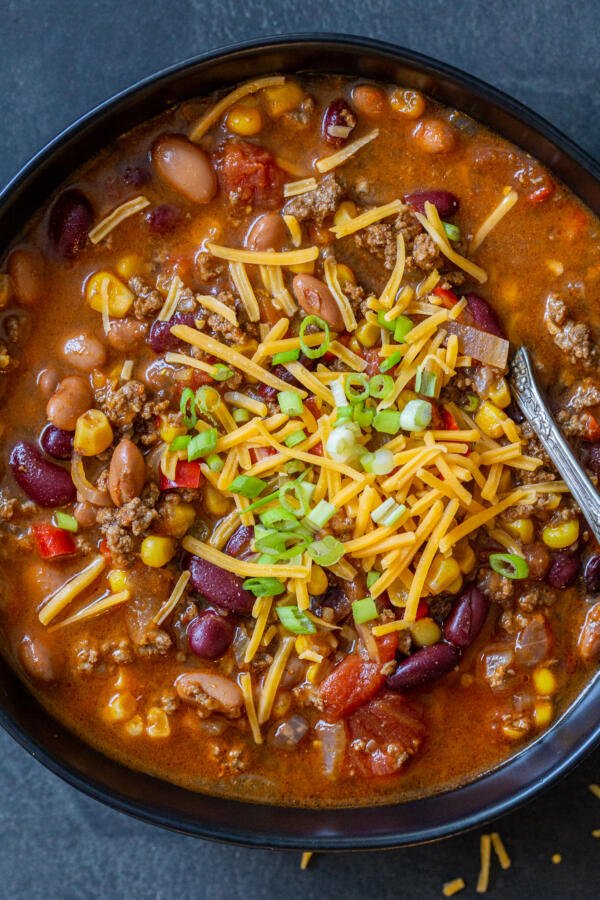 Chili in an instant pot comes together so quickly and achieves exact same result as if it was simmering for hours. You will only need one pot (your Instant Pot) for this whole entire recipe.
How To Make Instant Pot Chili Recipe
Gather all your ingredients.
Saute ground beef in the Instant Pot. Add in bell pepper and onion and cook until softened.
Rinse beans and drain corn. Add in the remaining ingredients and season with salt.
Set the timer to 25 minutes. Allow the Instant Pot to come to pressure and cook. Once it beeps, do a Quick Release. For serving, top it with some grated cheese and fresh green onions.
What to Serve with Chili
In terms of toppings, load it up with all the usual suspects. Green onions, a dollop of sour cream, and a healthy handful of shredded extra sharp cheddar are a must.
Chili is perfectly fine served all on its on, but is the perfect side kick to the potato. Smother it over Air Fryer French Fries or over Easy Air Fryer Baked Potatoes. Smother both with cheese, because…why not?
Hot Tip: Leftover chili makes the best toppings for hot dogs! Grill up some classic franks and dose them in chili, shredded cheddar, chopped white onions, and a drizzle of mustard. Yum!
Storing Instant Pot Chili
I can't harp on chili leftovers enough. They are the best. In my opinion, they get better and better as the chili marinates in itself in the fridge. Follow the instructions below for best storage practices:
Refrigerating – Store leftover chili in an airtight container in the fridge. When sealed properly, your chili will last up to five days. Hello, easy weeknight lunches and dinners!
Freezing – Store leftover chili in an airtight container or freezer friendly plastic bag. When kept this way, chili will keep for up to two months. Let the chili thaw overnight in the fridge the day before you want to eat it. Reheat in the microwave or in a pot until warmed through.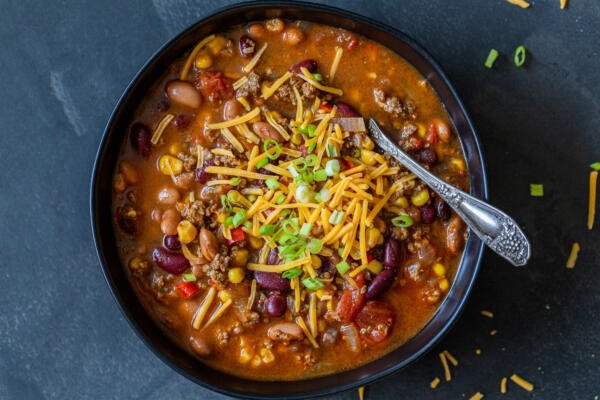 Frequently Asked Questions
Why Did My Chili Burn in the Instant Pot?
The wonderful part about the Instant Pot is that it sends you a "BURN" warning when the pot gets too hot. At this point, it will automatically turn off the plate and cut the heat. If this happens, you must still immediately "Instant Release" the pressure. However, the contents may still burn if you don't "Instant Release" soon enough.
How do You Thicken Chili in Instant Pot?
Thicken your chili by adding a little corn starch. Make sure to whisk the corn starch and water in a separate bowl before slowly adding it to your chili. This will ensure it doesn't get lumpy and incorporates well.
Can I Use Ground Turkey Instead?
You definitely can! This will lighten up the chili a bit, but the flavor will still be kicking. You can also substitute ground chicken, or use 50 percent pork in combination with any of the above.
How Long is the Chili Setting on the Instant Pot?
The Chili setting on the Instant Pot defaults to 30 minutes of high pressure cooking. If you toggle to the "More" pressure setting, you will tack on an extra 10 minutes and increase the setting to 40 minutes. If you toggle to the "Less" pressure setting, you will take off 5 minutes and reduce the setting to 25 minutes..
More Soup Recipes
White Chicken Chili – This chili is sooooo comforting. Make it on a cold winter day.
Beet Borscht – This classic Ukrainian soup is a staple during the cold months.
Minestrone Soup – This copy cat recipe of Olive Garden's will have you never stepping foot in the restaurant again.
Cabbage Soup – This light soup is satisfying and filling. Make a big batch and eat it during a week you feel like eating light.
Recipe
This chili is not only made with healthy ingredients, it reheats amazing and it's made under 30 minutes.
Nutrition Facts
Instant Pot Chili
Amount Per Serving
Calories 278
Calories from Fat 117
% Daily Value*
Fat 13g20%
Cholesterol 41mg14%
Sodium 806mg34%
Potassium 658mg19%
Carbohydrates 23g8%
Protein 18g36%
Vitamin A 1085IU22%
Vitamin C 32.1mg39%
Calcium 182mg18%
Iron 3.3mg18%
* Percent Daily Values are based on a 2000 calorie diet.