This round-up of our best potato recipes is for you starch lovers out there. From roasted potatoes to pierogies stuffed with mash, we've got you covered.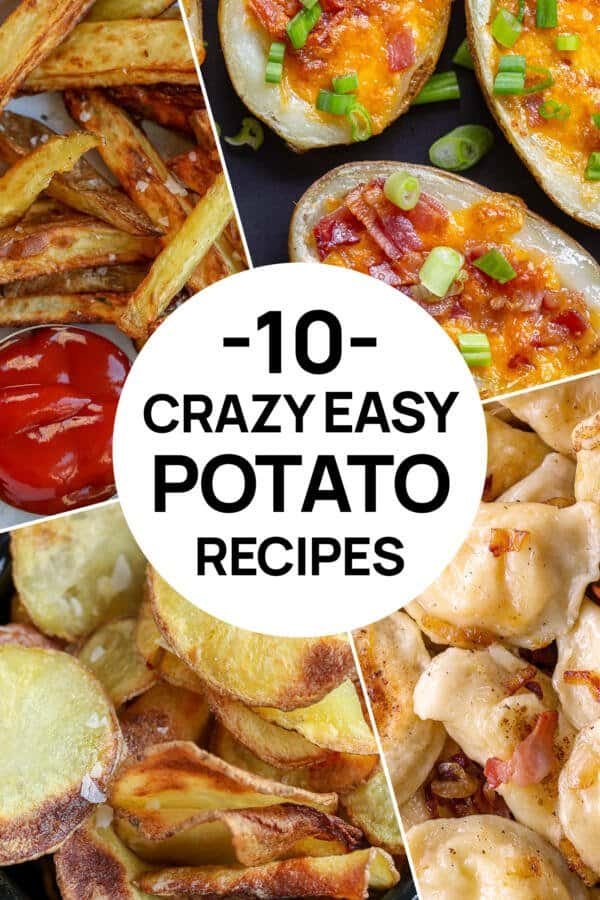 Potatoes are by and far one of the most versatile vegetables on the planet. What's better? They're dirt cheap, super filling, and always a crowd-pleaser. If your inspiration well has run dry and you're looking for new and exciting ways to use spuds, you're in the right place. Potato lovers unite!
What Makes These Potato Recipes Crazy Easy
The common thread between all of these recipes is that they come with short ingredients lists and don't require any technical skill to make. Whether you're trying to find the perfect side dish or on the hunt for an easy sheet pan meal, there is bound to be a recipe that fits your specific needs and palate.
Different Kinds of Potatoes and What They're Good For
Before we dive into the recipes, let's cover off on all the different kinds of potatoes out there and what they're best used for.
Russet Potatoes (dark brown, large, starchy, and firm) – Perfect for baked potatoes, french fries, and mashed potatoes
Yukon Gold Potatoes (golden hue, cross between starchy and waxy) – Naturally sweet and buttery, a true "all-purpose potato" that can be used for everything from roasting to boiling to making potato salad or potato chowder
Fingerling Potatoes (come in all colors, waxy) – Have a lightly pink speckled flesh, great for roasting and braising
New Potatoes (ultra-waxy, come in all colors, thin-skinned) – New potatoes are potatoes that have been rooted before they're ripe, making them sweeter and waxier than other potatoes, wonderful for roasting, boiling, and making crispy smashed potatoes
Red Potatoes (waxy, tender flesh) – Red potatoes tout a naturally sweet flesh, great for roasting or making casseroles or au gratin
Purple Potatoes (bright purple skin and flesh) – Purple potatoes are slightly sweet and rich in antioxidants, best used for roasting
Sweet Potatoes (bright yellow or orange flesh/skin) – Sweet potatoes are exactly that – sweet! They're wonderful for mashed potatoes, roasting, or making french fries
A Guide to Picking the Perfect Potato
Ever stand in front of the potato aisle at the grocery store and wonder how you're supposed to pick the perfect potatoes? If so, here you'll find top tips and signs to help you find the best spuds possible.
Watch out for eyes. If you can, avoid picking potatoes that have a ton of eyes (aka dark spots). If you can't get your hands on potatoes without them, don't panic. You can easily slice the eyes off with a paring knife.
Look out for wrinkled skins. Wrinkly skin means that the potato is close to turning and rotting. More so, these skins are notoriously hard to get crispy.
Avoid potatoes with dark, soft spots. If a potato has a mushy, dark, and soft spot, it's gone bad.
Skip over green potatoes. Potatoes with green spots aren't quite ripe yet. More so, they're too firm and lacking in flavor.
FAQ
Can you freeze potatoes?
While it's always recommended that you start with fresh potatoes, freezing them for later use is an option. To do so, slice them in your desired style and parboil them to remove some of the starch (make sure you pull them out while they still have plenty of bite). Next, allow them to cool completely before placing them in a freezer-safe bag for up to 3 months.
How long do potatoes stay fresh?
Depending on the style of the potato, a spud can last anywhere from 1 week to a month. Typically, russets have the longest shelf life while new potatoes and fingerlings turn a bit quicker.
What's the best way to store potatoes?
To keep your potatoes fresh for as long as possible, store them at room temperature in a cool place. A great option is the bottom shelf of your pantry.
Why do you people soak potatoes before cooking them?
People soak potatoes before cooking them to extract excess starch. This is most useful when making french fries since pulling out the starch will make them extra crispy.
Are potatoes healthier for you than white rice?
Potatoes are healthier for you than rice for two reasons: 1) they're vegetables versus a processed grain and 2) they're full of potassium.
10 Crazy Easy Potato Recipes
A healthy, no-guilt alternative to bagged potato chips. With the help of a mandolin slicer and 3 simple ingredients, they couldn't be any easier to make. Dip them in light ranch dressing for a healthy snack or pack them in school lunches. If you're looking for a solid air fryer recommendation, we are obsessed with this model.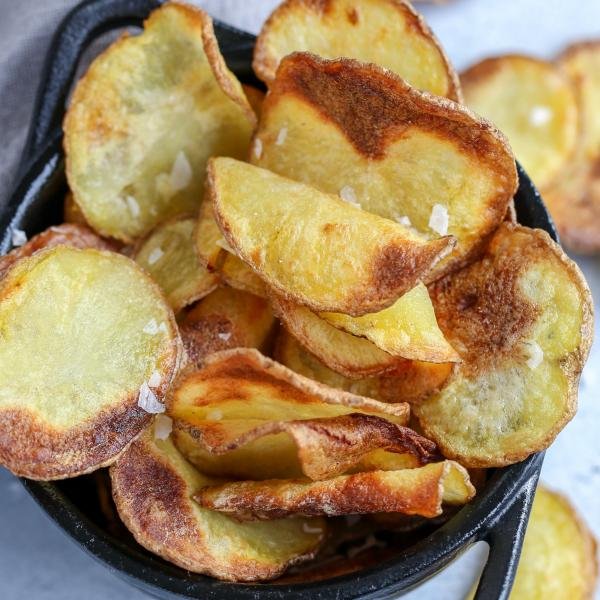 Whip them up for your next cheeseburger sliders night and watch them disappear off the plate quicker than you can make them. What's better? There's no need for any splattering oil like the deep-fried variety.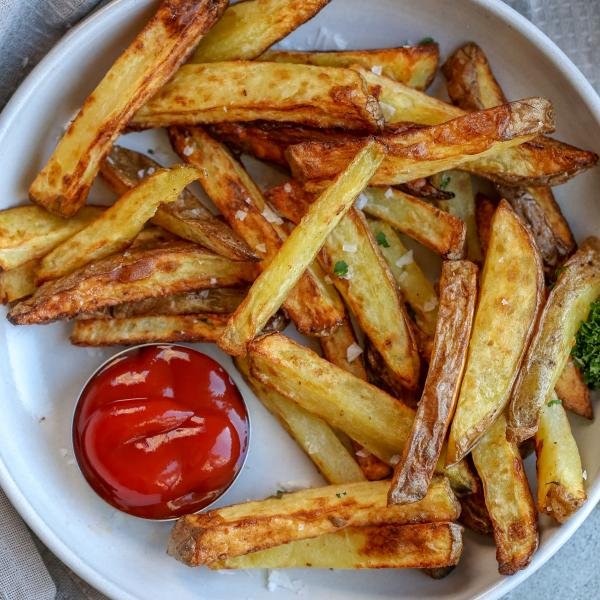 The perfect recipe for using up those leftover mashed potatoes hanging out in your fridge! These classic Slavic dumplings feature tender, boiled dough stuffed with mash and cheddar cheese and tossed with crispy bacon.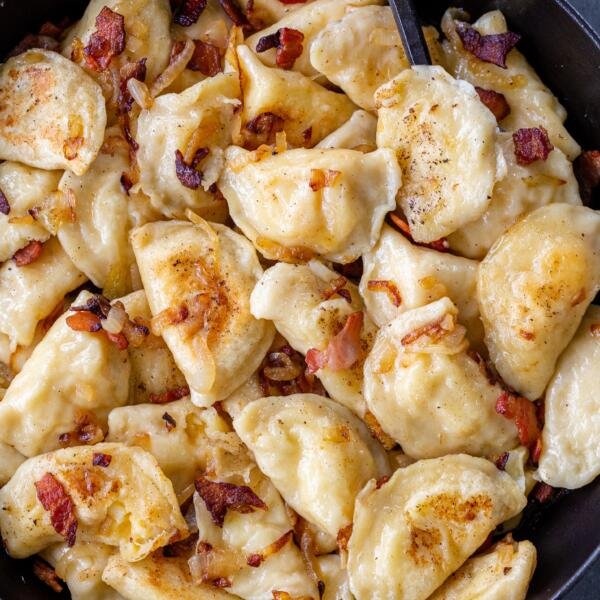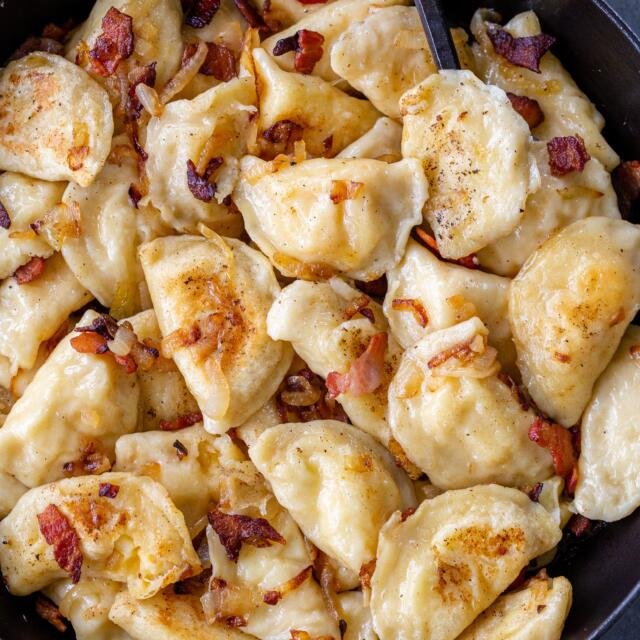 A diner favorite made much healthier. Just like classic potato skins, these are stuffed with cheese, sour cream, bacon, and green onions. Make them for your next family movie night or casual dinner party.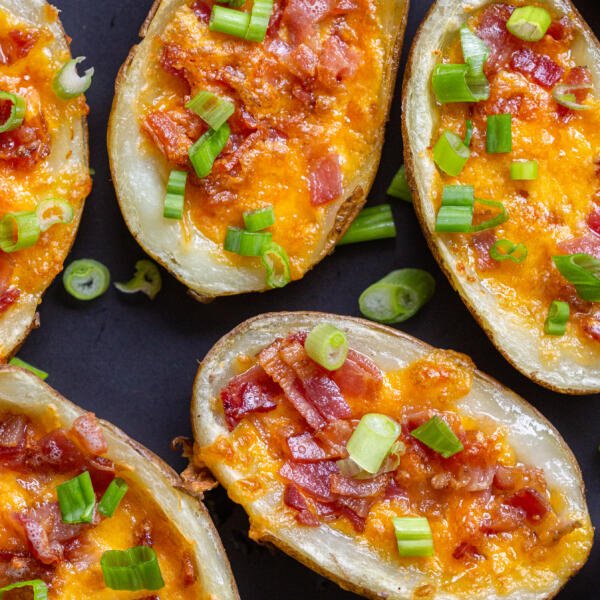 Comfort food at its finest. This one-pot meal of tender, melt-in-your-mouth braised beef is made that much more filling with the addition of spuds. Serve the dish as-is or with a buttery slice of baguette. P.S. This is a GREAT option for meal prep!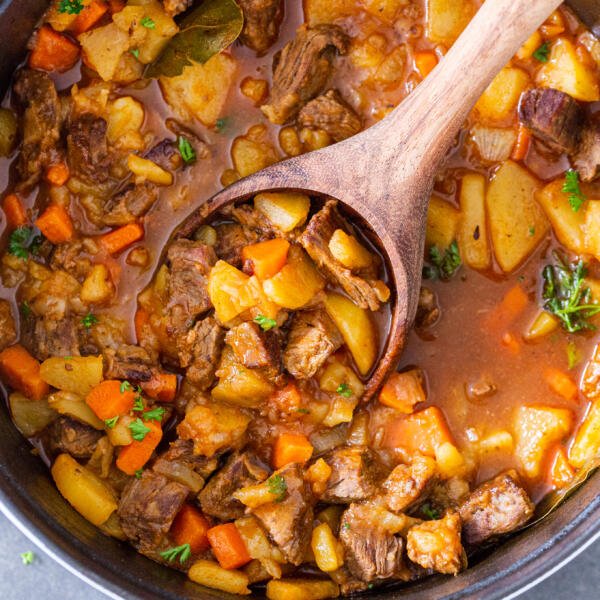 Love twice-baked potatoes? Well, then you're going to adore this soup. It has all the same creamy components and couldn't be simpler to put together. Serve it alongside an air fryer grilled cheese for a "curl up on the couch" kind of meal.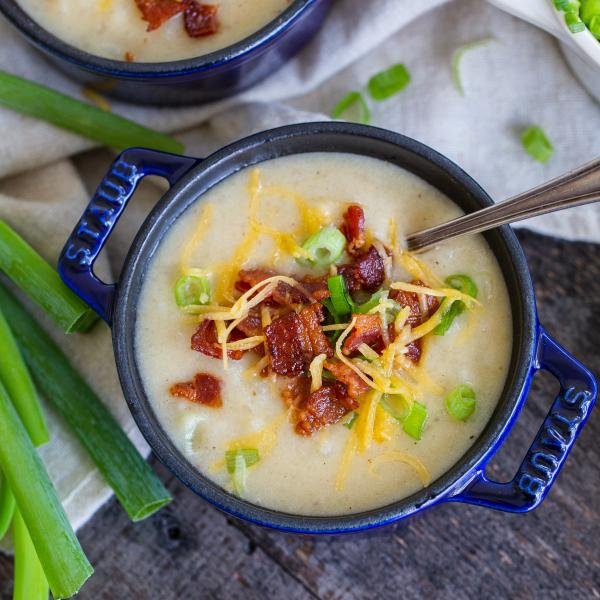 There's nothing quite like an all-in-one sheet pan meal. This dish is perfect for those weeknights when you can't muster up the energy to do much more than assemble the ingredients on the pan and pop them in the oven. Hot tip: Toss the chicken and potatoes in your favorite herbs to elevate this dish (rosemary, parsley, and thyme are all great options).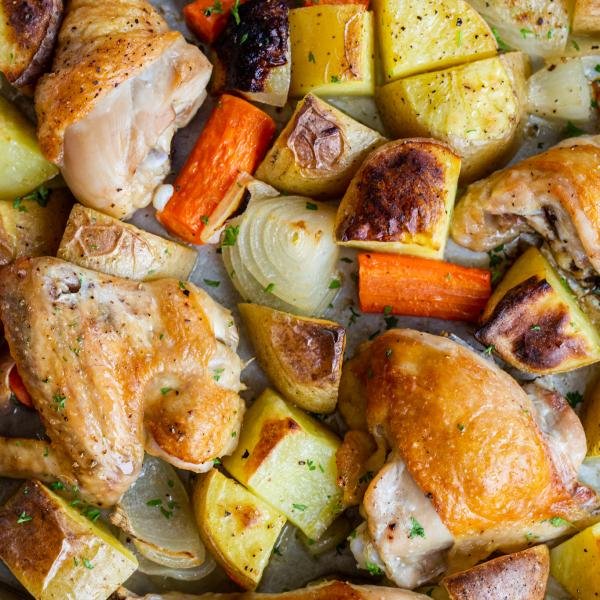 In Slavic culture, it doesn't get much more comforting than tender boiled pierogi stuffed with a tender inside of mash, ground meat, and simple spices. Did we mention that these are finished with a toss of sweet caramelized onions? YUM!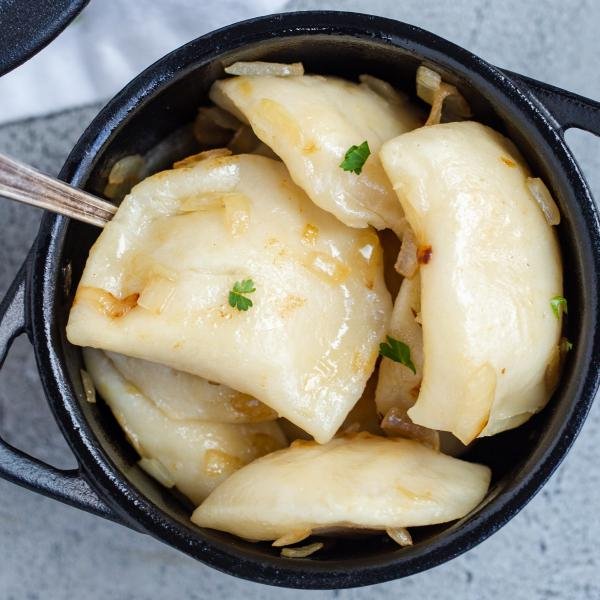 Baked or fried Slavic piroshki – just like the way grandma made them. More so, these little handheld morsels are nearly impossible not to binge eat and are super kid-friendly. While you're at it, double or triple the batch and freeze some for later (you won't regret it).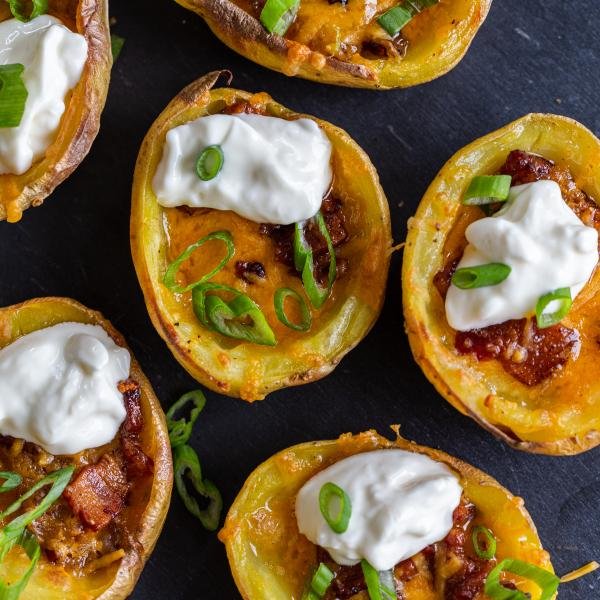 One of the most comforting potato dishes EVER. It features boiled potatoes tossed with a creamy sauce of carrots and mushrooms and a simple seasoning of salt and pepper. Pair them with a cast-iron ribeye steak or air fryer pork chops for a fancy weeknight meal.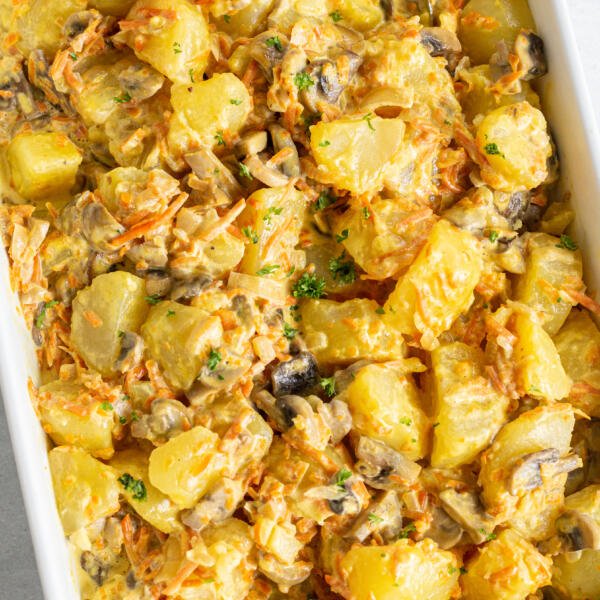 A Couple More Potato Recipes