This split pea and lentil soup is the epitome of comfort food. The tender pork chops will melt in your mouth and the broth is best sopped up with crusty bread!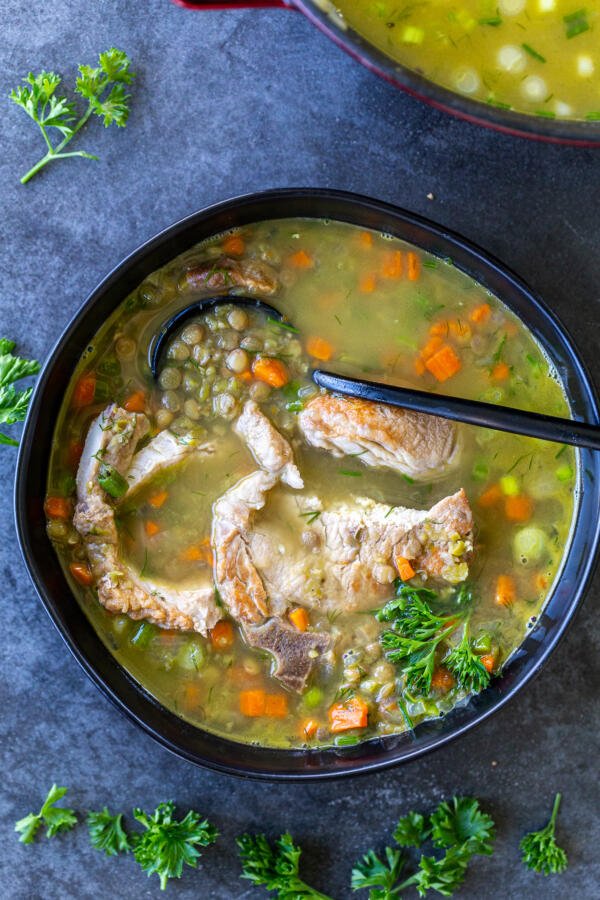 Split pea and lentil soup with pork chops will warm your soul from the inside out. It's packed with veggies and filling fiber, making it a soup that can stand on its own as an entire meal. My mother used to make this recipe for us when we were kids and we would come back for bowl after bowl.
Perhaps the best part of this soup is that it's so perfect for meal-prepping. As it sits in the fridge, the flavors continue to deepen and get more robust making for some pretty killer leftovers. Make a huge pot on Sunday and have it on hand during the hectic week for quick lunches and dinners…
More Pork Chops: For an easy crockpot meal, try these slow cooked pork chops cooked in a mushroom, onion broth!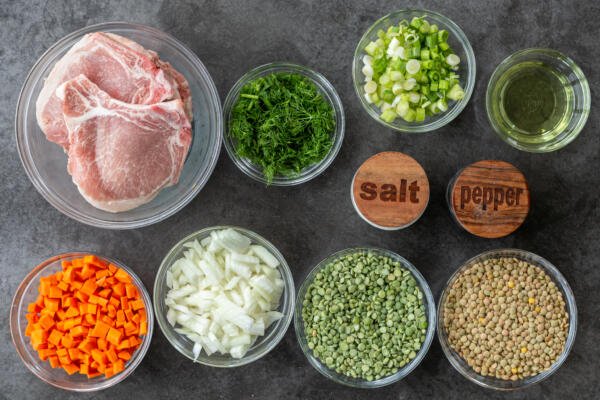 So, are Split Peas and Lentils the Same Thing?
Although lentils and split peas are similar and both a part of the legume family, they are not the same. Split peas are actual field peas that have been dried and split down the center for quicker cooking, while lentils are the seed of an annual plant that grows mostly in Canada and India. Oftentimes, you will see them used interchangeably for their similar cooking times and textures.
How to Make Split Pea and Lentil Soup with Pork Chops
This soup only requires a handful of simple ingredients and a few simple steps. Below, find a quick overview of the recipe before you dive in.
Brown the Pork Chops: In a preheated soup pot or Dutch oven with oil, brown each side of the pork chops using tongs.
Add in the Veggies: Add in the chopped carrots and onions, cooking them until they brown slightly and begin to soften.
Add Water and Legumes: Add in the water, split peas, and lentils and bring to a boil. Next, reduce the heat to low and simmer for 45 minutes stirring occasionally. Finally, season the soup to taste with salt and pepper.
Add Fresh Herbs and Serve: Remove the soup from heat, add the fresh herbs and dill, and enjoy!
Tips and Tricks
Below, find a collection of pro tips and tricks to help you make the best lentil and split pea soup with pork chops on the planet.
Add water to thin your soup out. If your soup starts to thicken too much, add an extra cup of water to thin it out. Of note, make sure to adjust the seasoning as you add more liquid.
Play around with the seasoning. Feel free to add seasonings to fit your particular palate. This soup is extremely versatile, so adding few shakes of red pepper flakes for heat or a couple of bay leaves for depth of flavor are welcome additions.
Use vegetable or chicken broth. For an even more flavorful soup, you can swap out the water for a chicken or vegetable broth.
Reheat the soup to thin it out. As a heads up, the soup will thicken as it sits in the refrigerator. But don't fret! It will thin out as you reheat it and you can always doctor it up with a bit of water if it's still too thick.
Use bone-in cuts. Bone-in pork chops bring a ton of collagen and marrow to the soup, resulting in such a hearty flavor. If you're going to stray away from them, it's highly recommended to use another bone-in cut for a similar effect. If you don't care for the bone, use ham or bacon.
Instant Pot Hack: If you're in a "set it and forget it" kind of mood or want to speed up the cooking process, feel free to make this soup in your pressure cooker. Just be sure to brown the pork ribs and sauté the veggies on Sauté Mode before adding all the ingredients.
Serving Lentil and Split Pea Soup
While this soup can be served as a filling meal all on its own, there are a couple of classic sides to pair it with for a more well-rounded meal. If you're in the mood for the tried and true soup and salad combination, whip up a homemade caesar salad or a beet garlic salad. Also, you can't go wrong with baking a fresh baguette or loaf of honey wheat to soak up the rich broth with.
Storing Lentil and Split Pea Soup
Refrigerator: Store leftover soup in an airtight container in the fridge. It should keep for up to a week, getting increasingly flavorful as it marinates in itself. Hello, tasty leftovers!
Freezer: Freeze leftover soup by letting it first cool down completely. Next, pop the soup into a freezer-safe bag or airtight container and store it in the freezer for up to 3 months.
Reheating Tip: The best way to reheat soup is in a saucepan over low heat. Stirring every so often, simply heat the soup until it's warmed through.
FAQ
Which is healthier for you, split peas or lentils?
Lentils are slightly healthier for you than split peas. By just a couple of grams, lentils have more protein and fiber. That being said, both are great additions to any low-cholesterol, high-fiber diet.
Can I use split peas and lentils interchangeably?
In most cases, you can use split peas and lentils interchangeably. They have very cooking times and textures.
Do split peas have to be soaked before cooking?
Split peas do not have to be soaked before cooking. Unlike most beans, they cook quite quickly and soaking them overnight is unnecessary.
What happens if you don't rinse split peas and lentils before cooking?
Not rinsing your split peas and lentils before cooking puts you at risk of incorporating excess starch and debris into your food. As a general rule of thumb, it's always best to rinse any dried legumes before you cook with them.
What can I use besides pork chops?
You can use any other bone-in cut of pork instead of pork chops. Ham hock is a great option!
More Tasty Soup Recipes
Recipe
This split pea and lentil soup is the epitome of comfort food. The tender pork chops will melt in your mouth and the broth is best sopped up with crusty bread!
Ingredients
1

tbsp

oil

avocado or olive

1

lb

pork chops

bone-in

1

medium onion

chopped

2

medium carrots

chopped

3

tbsp

dill

chopped

1/2

cup

green onions

chopped

2

tbsp

salt

adjust to taste

1

tap

ground black pepper

adjust to taste

3

qt

water

1

cup

lentils

yellow

1

cup

split peas

green
Nutrition Facts
Split Pea and Lentil Soup Recipe with Pork Chops
Amount Per Serving
Calories 286
Calories from Fat 54
% Daily Value*
Fat 6g9%
Cholesterol 38mg13%
Sodium 1812mg76%
Potassium 772mg22%
Carbohydrates 33g11%
Protein 25g50%
Vitamin A 2671IU53%
Vitamin C 5mg6%
Calcium 60mg6%
Iron 3mg17%
* Percent Daily Values are based on a 2000 calorie diet.