This tomato lentil soup with tender turkey meatballs is healthy comfort in a bowl. Packed with protein and fiber, it will keep you full for hours and hours.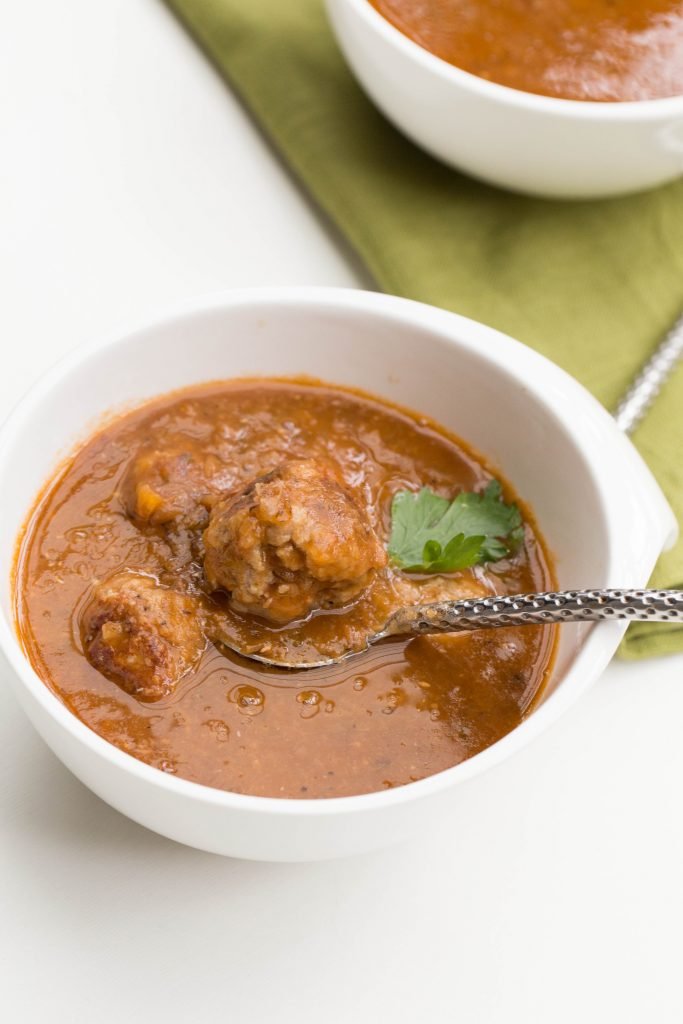 Typically the words "creamy" and "low-calorie" don't hang out together, but in this tomato lentil soup they most certainly do. Instead of using heavy cream to get a decadent, silky broth, the healthy lentils release a starch that thickens up the broth so wonderfully. So go ahead and have that second bowl without guilt, friend…
The Best Kind of Lentils to Use
For this soup, we love using brown lentils. They have a mild, earthy flavor and tend to cook much faster than red lentils and green lentils. That said, they are prone to turning mushy if they are overcooked – so keep a close eye on them as the soup cooks.
Putting Together this Simple Tomato Lentil Soup
To make this tomato lentil soup, you'll need to grab a big soup pot and whip up some quick homemade meatballs.
Cook the Lentils: In a large pot or large Dutch oven, bring the water and lentils to a boil. Reduce the heat to low and simmer.
Form the Meatballs: In a large bowl, combine the ground turkey, breadcrumbs, minced garlic cloves, half of the diced onion, salt, and pepper. Work the ingredients with your hands until well-combined and form equal-sized meatballs out of the meat mixture.
Brown the Meatballs: In a skillet preheated with light olive oil, brown the meatballs on all sides. Remove them from the pan and set them aside.
Build the Soup: In the same skillet, sauté the other half of the diced onion with the diced scallions. Next, stir the canned diced tomatoes into the skillet, allowing the mixture to come together for a couple of minutes. Add the tomato mixture into the pot with the lentils. Let the soup simmer for 10 minutes.
Blend the Soup: Using a standard blender or immersion blender, blend the soup until creamy, add it back into the pot, and pop in the meatballs.
Simmer the Soup: Let the soup simmer on low heat for 10 minutes. Bon appetit!
Dutch Oven Recommendation: Making soups in the Dutch oven is such a game changer. If you're looking for a solid recco, try this Staub Dutch oven (it never leaves my stove top).
Pro Tips & Tricks
A couple handy tips and tricks will help you get the most out of this tomato lentil soup.
If you don't like spice, use regular diced tomatoes. While I would suggest using diced and fire roasted tomatoes with green chiles for the extra kick of spice (you can find a great variety at Trader Joe's), you can easily use standard crushed tomatoes if you don't like heat.
Shake the meatballs instead of flipping them. To turn meatballs, lift up the skillet and shake it from side to side instead of flipping each meatball one by one. Not only does this save you time, it also helps the meatballs keep their round shape.
Play around with different seasonings. Feel free to get creative and add in your favorite seasonings to this soup – it's so versatile! A couple of great options include cumin, curry powder, bay leaf, and smoked paprika.
Add in some sneaky vegetables. Since this soup gets blended, it's the perfect dish to hide some more veggies into a picky eater's diet. Toss in some celery, cauliflower, or carrots while the lentils are boiling and no one will ever know!
Note: If you don't want to use beef broth base, feel free to use chicken broth or vegetable broth instead.
Different Side Dishes for Tomato Lentil Soup
This soup is definitely filling enough to be eaten as-is – the lentils and meatballs really pack a punch! However, if you want a classic soup, salad, and bread combination, serve a bowl alongside some homemade focaccia bread or cheesy bread and a homemade caesar salad.
Storage Best Practices
To keep the soup on hand for up to a week, store it in an airtight container in the fridge. The best part? It will continue to develop it's flavors at it marinates in storage, making for some really killer leftovers.
Reheating Tip: To reheat tomato lentil soup, pop it back into a large soup pot or sauce pan (depending on how much you are reheating) and cook it over medium heat until warmed through.
FAQ
Do you need to soak the lentils before making tomato lentil soup?
No, you do not need to soak lentils before using them to make tomato lentil soup. Unlike other legumes, brown lentils cook pretty quickly and don't require an overnight soak to soften the proteins.
How do you thicken tomato lentil soup?
If you want an extra thick tomato lentil soup, you can always add more lentils. However, once you blend the soup, more starches will be released and the broth will thicken naturally.
What can you do if your tomato lentil soup tastes a bit bland?
If your tomato lentil soup tastes a bit bland, add in some more salt to taste or another tablespoon of broth concentrate. If you don't want to add more sodium, you can add in a squeeze of lemon juice to help bring out the flavors.
Can you freeze tomato lentil soup?
Yes, you can freeze tomato lentil soup for up to 3 months. To do so, let it first cool down completely. Next, transfer it to a freezer safe storage bag or airtight container. To thaw it, allow it to sit in the refrigerator overnight.
More Hearty & Filling Soups to Try
Recipe
This rich and creamy tomato lentil soup with juicy meatballs is packed with protein and is oh-so-satisfying. Serve it alongside your favorite crusty bread!
Ingredients
1

lb

ground turkey

1/2

cup

breadcrumbs

1

onion

3

garlic cloves

salt & pepper

to taste

2

tbsp

light olive oil

3

qt

water

1

cup

lentils

1

tbsp

Better Than Bullion Beef Base

1/2

bn

green onions

14

oz

diced & fire roasted tomatoes with green chiles
Nutrition Facts
Tomato Lentil Soup with Meatballs
Amount Per Serving
Calories 148
Calories from Fat 36
% Daily Value*
Fat 4g6%
Cholesterol 21mg7%
Sodium 69mg3%
Potassium 352mg10%
Carbohydrates 15g5%
Protein 14g28%
Vitamin A 55IU1%
Vitamin C 4.7mg6%
Calcium 39mg4%
Iron 2.1mg12%
* Percent Daily Values are based on a 2000 calorie diet.