This recipe for Russian beet salad is garlicky, sweet, and creamy. It makes a great, refreshing side dish to compliment a meal!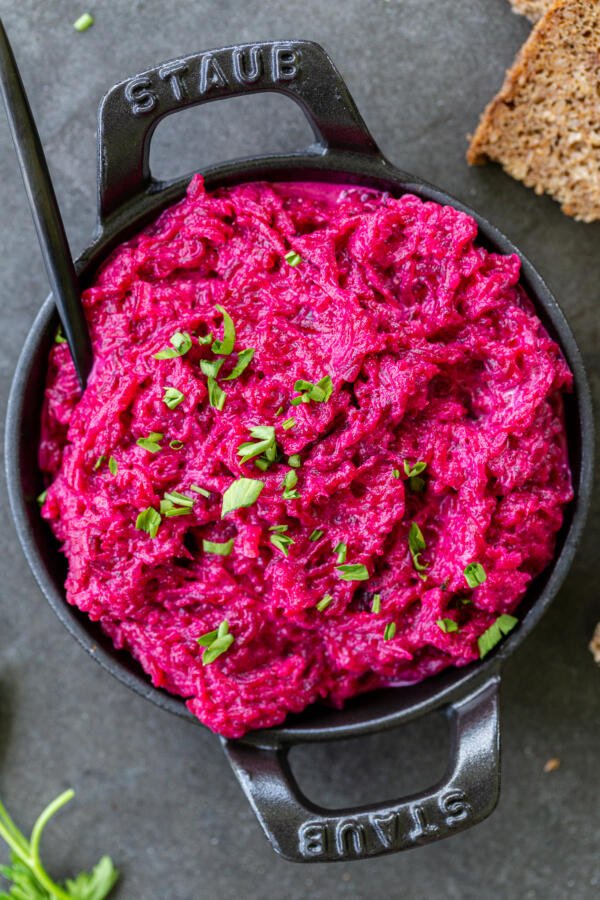 Russian beet salad is a bright and refreshing side dish that can be served anywhere you would have American coleslaw. It's packed with grated boiled beets, a ton of garlic (8 cloves), and tossed in creamy mayonnaise. If you love beets, you're going to love this recipe!
This salad is a staple in many Slavic homes. Why? It contains two ingredients – beets and mayonnaise. If you're looking for an interesting departure from your usual rotation of slaws and salads, look no further.
If you really want to break free from traditional American coleslaw and potato salad at your next BBQ, you could also whip up a batch of our great recipe for Russian potato salad.
How to Make Beet Salad
Making classic Russian beet salad only requires a few easy steps and 5 ingredients. Below, find a quick hitter overview of the recipe before you dive in.
Boil and Cool the Beets: In a large pot, boil the beets until you can pierce them with a fork. Drain the beets in a colander and set them aside to cool at room temperature.
Grate the Beets and Garlic: Using a cheese grater, grate the boiled beets and garlic gloves into a large bowl.
Did you know? In the United States, we refer to the root part of the beet plant as "beets". In the UK, it's referred to as "beet root".
Tips for Making the Best Beet Salad
Below, find some pro tips to help you make the best Russian beet salad on the planet.
Boil and Skin the Beets: In other cases, you can totally eat beet skin. It's full of fiber and nutrients! However, for this recipe, it's best to take it off. Skinless beets make the texture of the salad so silky and creamy.
Grate the Beets and Garlic. For the best texture, use a cheese grater to grate the beets and garlic.
Adjust the garlic. This recipe calls for a lot of garlic! If you aren't as garlic-obsessed, reduce the number of cloves you use by half.
Serve the salad chilled. If you're in the mood for something refreshing, let the salad chill in the refrigerator for a couple of hours before digging in.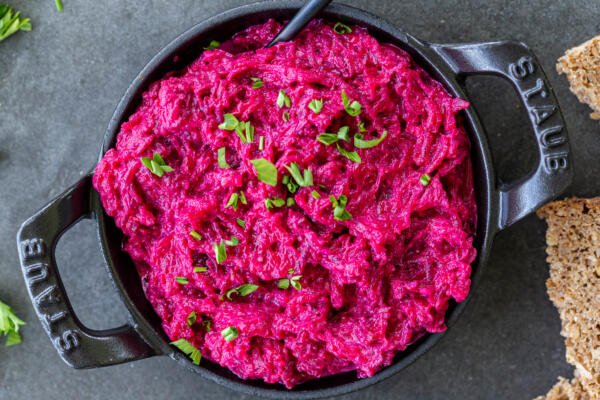 Serving Beet Salad
There are so many different ways to serve traditional Russian beet salad. It's the perfect side dish for savory Slavic entrees like classic pierogi (potatoes and cheese), homemade kielbasa, or turkey necks. You could also use it as a colorful spread for fresh baguette or crackers on your next charcuterie board.
Storing Beet Salad
Refrigerator: Store leftover beet salad in an airtight container in the fridge. It should keep for up to a week and get more and more flavorful as it marinates in itself, making for some awesome leftovers.
Freezer: Not recommended. Boiled beets don't thaw well and tend to turn to mush.
FAQ
How do I peel beets easily?
After boiling, beets will peel super easily. All you have to do is rub the skins off with your fingers or a paper towel.
Could this salad be made with garlic powder instead?
You could use garlic powder, but the flavor won't be the same. Fresh garlic really elevates the dish.
How long does Russian beet salad keep in the fridge?
Russian beet salad will keep for up to a week when stored in an airtight container in the fridge.
Should I boil the beets whole?
Yes, you should boil the beets whole. This makes it even easier to peel the skin off.
Why are beets so healthy?
Beets are packed with nutrients and vitamins. Specifically, they contain a great amount of fiber, folate (vitamin B9), manganese, potassium, iron, and vitamin C.
More Yummy Beet Salads
Recipe
This recipe for Russian beet salad is garlicky, sweet, and creamy. It makes a great, refreshing side dish to compliment a meal!
Ingredients
3

large beets

8

garlic cloves

2

tbsp

mayonnaise

adjust to taste

1/2

tbsp

salt

adjust to taste
Nutrition Facts
Russian Beet Salad (with Garlic)
Amount Per Serving
Calories 55
Calories from Fat 36
% Daily Value*
Fat 4g6%
Cholesterol 2mg1%
Sodium 644mg27%
Potassium 150mg4%
Carbohydrates 5g2%
Protein 1g2%
Vitamin A 17IU0%
Vitamin C 3mg4%
Calcium 15mg2%
Iron 1mg6%
* Percent Daily Values are based on a 2000 calorie diet.