Homemade kielbasa is surprisingly simple to prepare. With just a few ingredients, you will have fresh sausage on the table in no time!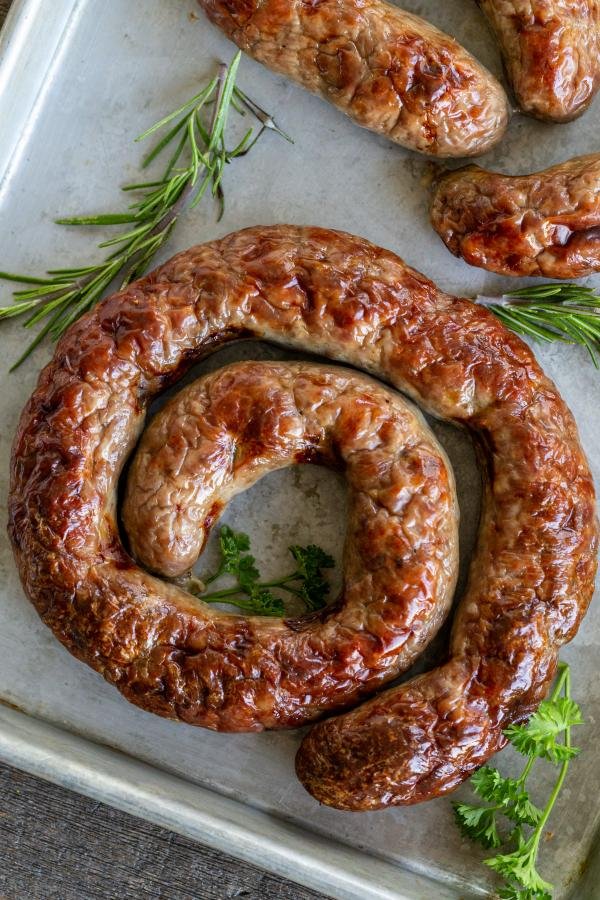 Homemade kielbasa was a tradition in my childhood home on Easter and Christmas. My father would butcher a pig and my mother would hand case the meat all day long. The process I will share with you below is much simpler, without skimping on flavor!
With the help of modern day tools like a meat grinder and sausage stuffing attachment for a KitchenAid mixer, you will be able to case your own sausages in a fraction of the time. Praise be to the future!
Kielbasa
Although Kielbasa originated in Poland, it has become a very common and popular sausage across all of Europe. Kielbasa is most commonly made with ground pork, but it can also be made with any mixture of beef, turkey, veal, chicken or lamb. It can be fresh or smoked and it is typically seasoned with onions, cloves, mustard seeds, bay leaf, salt and pepper. You can find it in a "u-shape" ring or in a traditional link.
Growing up in Ukraine, I ate kielbasa several times a week! Like many Easten European foods, kielbasa was created as an affordable and practical way to use up all parts of a butchered animal (or two… or a few!). Today, it is a great food to prep ahead of time, freeze and have on hand for busy weeknight meals.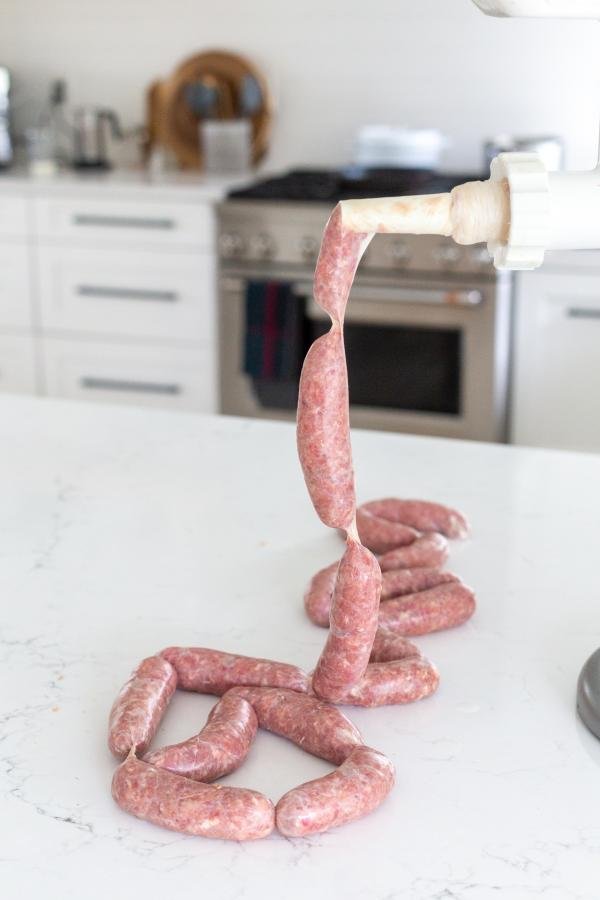 How to Cook Kielbasa
There are two ways to cook kielbasa: baked from fresh in the oven or smoked. Both ways are awesome, it just comes to what you're in the mood for! Baked kielbasa will have a nice, crispy casing when removed from the oven, while smoked kielbasa will have a BBQ-like flavor and a beautiful red hue.
Bake Fresh Kielbasa in the Oven
After you case your sausages, preheat your oven to 350°F. Poke tiny holes in each sausage with a toothpick. This will allow some liquid to release from the casing during baking, preventing your sausages from ripping. Bake for 30 minutes or until golden brown.
Smoke Fresh Kielbasa
Preheat your electric smoker to 130°F. Place raw kielbasa in the smoker by either laying them on the racks or hanging them on the hooks. After about 4 hours (increase the smoker temperature by 20 degrees each hour), take them out and put them in a hot water bath that has the water pre-heated to 165°F. Let them simmer in the hot water bath (not boil!) for 45 minutes. Then, immediately dunk the kielbasa in an ice water bath to halt cooking. Remove them and hang them to dry and lock in their flavors.
Best Way to Serve Homemade Kielbasa
Potatoes and Kielbasa
Serve kielbasa with a side of roasted potatoes or mashed potatoes. This classic combination reminds me of the tastiest parts of my childhood.
Buttery, braised cabbage is the perfect sidekick for kielbasa.
Kielbasa with Marinated Veggies
Marinated Mushrooms, Marinated Tomatoes or Marinated Peppers go wonderfully with kielbasa. Their vinegar-y flavor is the perfect complement to the savoriness of the sausage.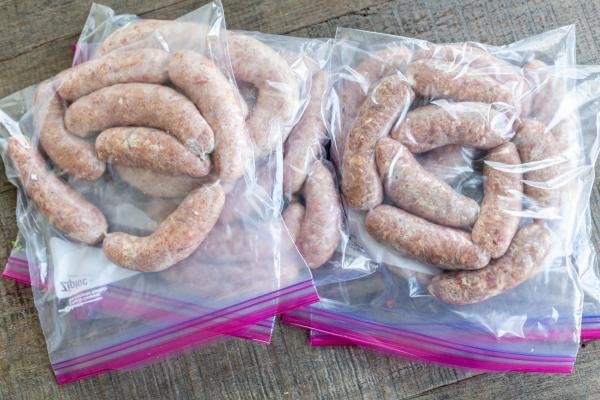 How to Store Homemade Kielbasa
Raw kielbasa can be refrigerated in an airtight container for only a few days. If you cook the kielbasa completely, it can keep in your fridge for up to two weeks.
Freezing a portion of your kielbasa for later use is the way to go. Eat some of it straight away and put the rest in a Ziploc bag and freeze it. It will keep in the freezer for several months. Allow it to fully thaw in the fridge before you cook it.
Recipe
Homemade kielbasa is surprisingly simple to prepare. With just a few ingredients, you will have fresh sausage on the table in no time!
Ingredients
5

lb

ground meat

(beef, chicken, pork or turkey)

1

large onion

grated

5

garlic cloves

grated

1

tbsp

chopped bay leaves

2

tbsp

yellow mustard seeds

1

tbsp

salt

to taste

1

tbsp

ground pepper

to taste
Nutrition Facts
Homemade Kielbasa Sausage Recipe
Amount Per Serving
Calories 596
Calories from Fat 414
% Daily Value*
Fat 46g71%
Cholesterol 161mg54%
Sodium 851mg35%
Potassium 659mg19%
Carbohydrates 3g1%
Protein 40g80%
Vitamin A 12IU0%
Vitamin C 2mg2%
Calcium 56mg6%
Iron 5mg28%
* Percent Daily Values are based on a 2000 calorie diet.