This homemade kielbasa is surprisingly simple to prepare. With just a few ingredients and the help of a sausage stuffing attachment, you will have fresh kielbasa on the table in no time!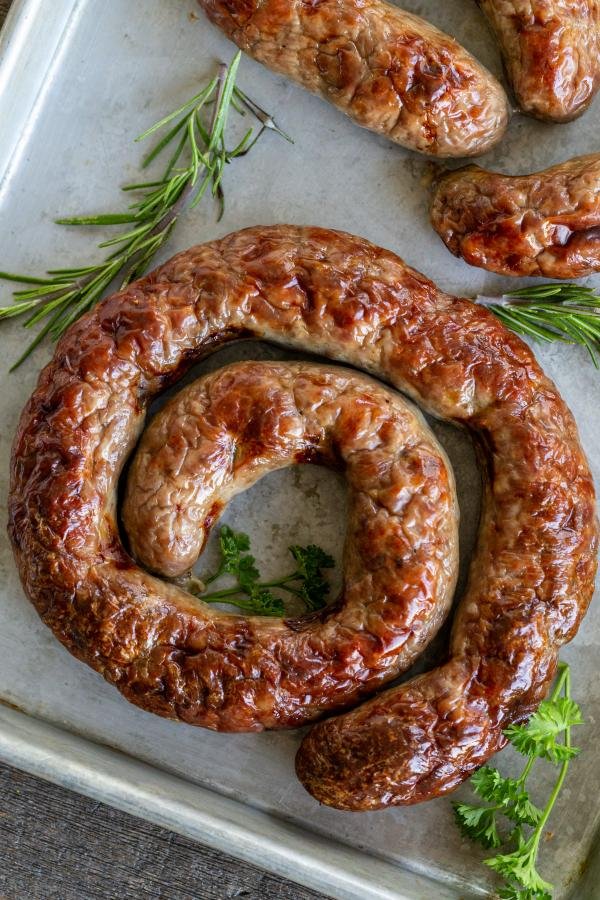 Homemade kielbasa was a tradition in my childhood home on Easter and Christmas. My father would butcher a pig and my mother would hand case the meat all day long. The process I will share with you below is much simpler, without skimping on any of the homemade flavors!
With the help of modern-day tools like a meat grinder and sausage stuffing attachment for a KitchenAid mixer, you will be able to case your own sausages in a fraction of the time. Yay future!
What is Kielbasa?
Although Kielbasa originated in Poland, it has become a very common and popular sausage across all of Europe. Kielbasa is most commonly made with ground pork, but it can also be made with any mixture of beef, turkey, veal, chicken, or lamb. It can be fresh or smoked and it is typically seasoned with onions, cloves, mustard seeds, bay leaf, salt, and pepper. You can find it in a "u-shape", ring, or in a traditional link.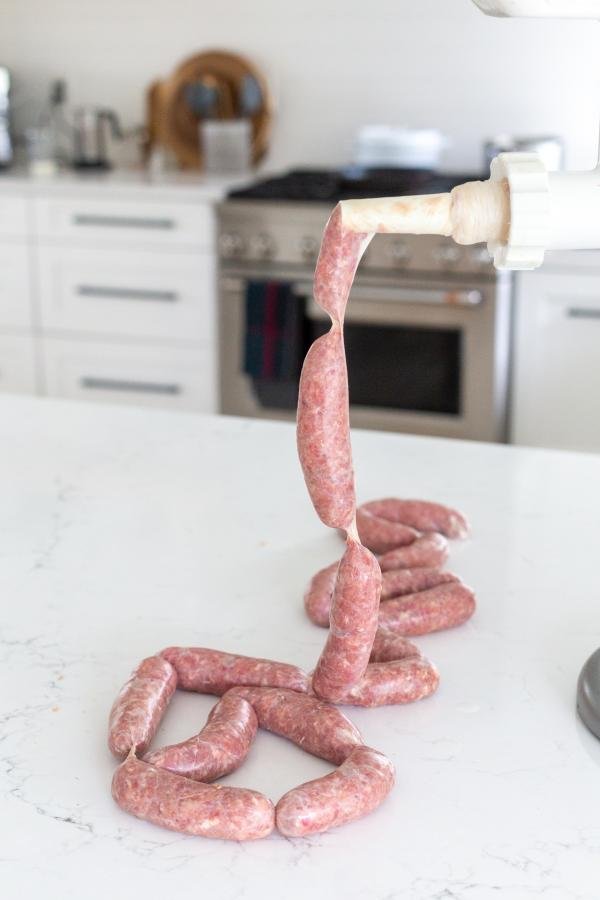 How to Make Homemade Kielbasa
With the help of a sausage stuffing attachment on your stand mixer, making homemade kielbasa is quite simple. Below, find an overview of the process before you dive in.
Hand Mix the Filling: Using your hands, combine the ground meat with all the seasoning.
Clean the Casings: Run cool water through the casings to rinse off excess salt and make them easier to attach to the stuffer.
Prepare the Stuffing Attachment: Remove the blade from the grinder and attach the stuffer. Slide the casing completely up the piping piece.
Stuff the Casing: Place the meat mixture into the grinder. Holing the casing in one hand and the plunger in the other, slowly plunge the meat through the grinder and fill up the casing.
Tie and Twist the Casing: Pull the casing off of the stuffer once it's full. Tie one loose end with a knot. If you're making links, twist the casing in between each link. Secure the other end of the casing with a knot. If you're making a sausage spiral, secure both ends with a knot and twist the casing into a spiral shape.
How to Cook Kielbasa
There are two ways to cook kielbasa: baked in the oven or smoked. Both ways are awesome, it just comes to what you're in the mood for. Baked kielbasa will have a nice, crispy casing when removed from the oven, while smoked kielbasa will have a BBQ-like flavor and a beautiful red hue.
Bake Fresh Kielbasa in the Oven
After you case your sausages, preheat your oven to 350°F. Poke tiny holes in each sausage with a toothpick. This will allow some liquid to release from the casing during baking, preventing your sausages from ripping. Bake for 30 minutes or until golden brown.
Smoke Fresh Kielbasa
Preheat your electric smoker to 130°F. Place raw kielbasa in the smoker by either laying them on the racks or hanging them on the hooks. After about 4 hours (increase the smoker temperature by 20 degrees each hour), take them out and put them in a hot water bath that has the water pre-heated to 165°F. Let them simmer in the hot water bath for 45 minutes. Then, dunk the kielbasa in an ice water bath to halt cooking. Remove them from the ice water and hang them to dry.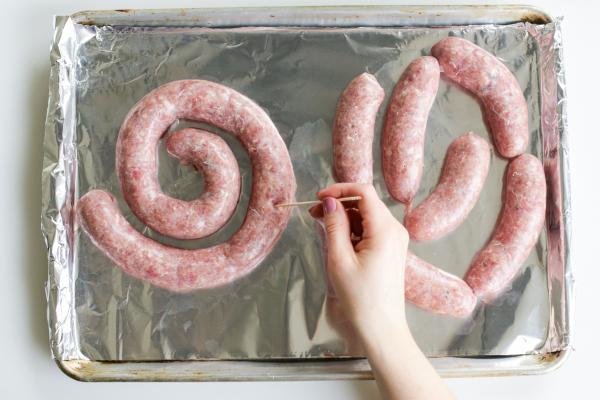 Tips for Making the Best Homemade Sausage
Below, find a collection of tips and tricks for making the best homemade kielbasa sausage.
Rinse the casings before stuffing them. Sausage casings tend to come in a very salty brine. Rinse them with cold water to remove any excess salt. This also makes them easier to slide on the stuffing attachment.
Make sure to generously salt the meat mixture. Since you won't be able to taste-test the raw meat mixture, make sure to add a generous amount of salt to it before stuffing. Once the meat mixture is in the casing, there is no taking it out!
Make sure to poke holes in the sausage before baking. When the sausage bakes, liquid and pressure build-up within the casing. To make sure your casing doesn't break, poke holes in the sausage to create tiny pressure vents.
Serving Homemade Kielbasa
Serve kielbasa with a side of roasted potatoes, mashed potatoes, or braised cabbage for a hearty meal. For an amazing one-pan meal, this classic kielbasa and sauerkraut entree will not disappoint. If you're looking for a lighter meal, marinated mushrooms, tomatoes or peppers are a great choice. Their vinegary flavor is the perfect complement to the savoriness of the sausage. You can also go classic and sandwich a BBQ kielbasa between a hot dog bun. Just don't forget the mustard, relish, and onions…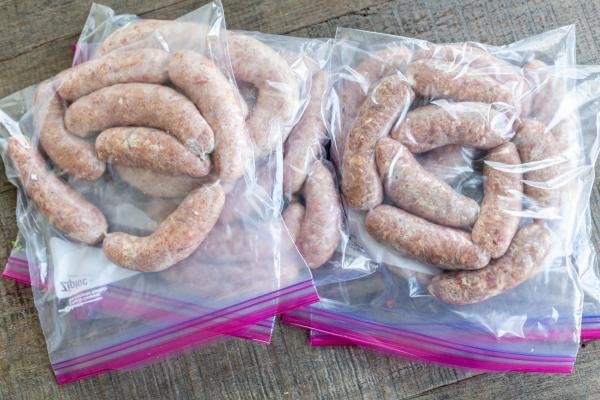 Storing Homemade Kielbasa
Refrigerator: Raw kielbasa can be refrigerated in an airtight container for 2-3 days. Cooked kielbasa will stay fresh for up to a week.
Freezer: Place raw kielbasa in a freezer-safe plastic bag. Remove any excess air and store it in the freezer for up to three months.
FAQ
Can I boil kielbasa?
Yes, you can boil raw kielbasa. Fill a large pot with cold water. Place the kielbasa in the water. Bring to a boil and cook for 10 minutes. Allow the kielbasa to rest in the hot water for five additional minutes.
Do I need to clean the casings before stuffing?
Yes, you need to clean the casings before stuffing them. Casings tend to come very salty. Running cold water through them will rid them of excess salt and make them easier to slide onto the stuffing attachment.
What kind of casings should I buy?
Natural pork casings work best. Whole Foods has a great option at their butcher department.
Can I substitute powdered onion and garlic for fresh?
You can use 1/2 tbsp of garlic powder and 1 tbsp of onion powder as a substitute. However, nothing beats fresh garlic and onions in terms of flavor. The raw onion also adds nice juiciness to the sausage.
Other Yummy Sausage Recipes
Recipe
This homemade kielbasa is surprisingly simple to prepare. You will have fresh kielbasa on the table in no time!
Ingredients
5

lbs

ground meat

(beef, chicken, pork or turkey)

1

large onion

grated

5

garlic cloves

grated

1

tbsp

chopped bay leaves

2

tbsp

yellow mustard seeds

1

tbsp

salt

adjust to taste

1

tbsp

ground pepper

adjust to taste
Nutrition Facts
Homemade Kielbasa Sausage Recipe
Amount Per Serving
Calories 596
Calories from Fat 414
% Daily Value*
Fat 46g71%
Cholesterol 161mg54%
Sodium 851mg35%
Potassium 660mg19%
Carbohydrates 3g1%
Protein 40g80%
Vitamin A 17IU0%
Vitamin C 2mg2%
Calcium 57mg6%
Iron 5mg28%
* Percent Daily Values are based on a 2000 calorie diet.