This kielbasa and sauerkraut recipe is your new fav one-pan meal. A Polish classic that will warm your soul & surely become a part of your meal rotation!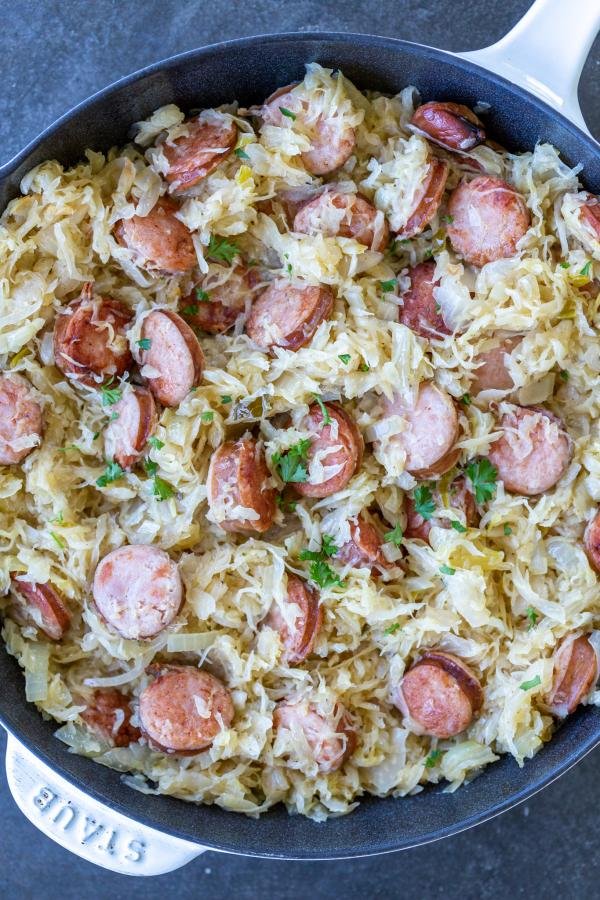 While kielbasa and sauerkraut is a traditional Polish dish, we ate a ton of it growing up on the Western border of Ukraine. You'll love the balance of subtle sweetness from the onions and the savoriness of the sausage. The minimal clean-up isn't bad either…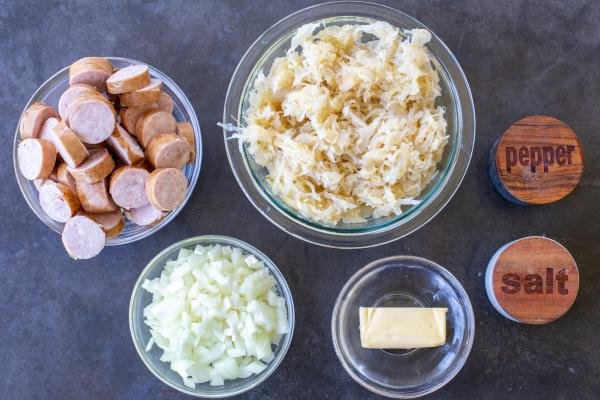 Preparing One-Pan Kielbasa and Sauerkraut
The key to nailing kielbasa and sauerkraut is to cook the ingredients in heats versus all at the same time. This ensures in no one ingredient overcooks or undercooks before they are all tossed together!
Brown the Sausage: In a deep skillet over medium heat, sauté the kielbasa in the butter until golden brown. Set it aside.
Sauté the Onions: Next, add the diced onion and sauté it until translucent.
Drain the Sauerkraut: Drain the sauerkraut from the brine and add to the pan. Stir to combine.
Add the Kielbasa Back In: Toss the kielbasa back into the skillet and cook it for 5 more minutes.
Season the Kielbasa: Remove the pan from the heat and season the dish to taste with salt and pepper. Dig in and enjoy!
Did you know? Kielbasa and sauerkraut is a naturally low-carb and keto dish (make sure the sausage you pick up is sugar-free) and packed with filling protein.
5 Tips for Making Classic Kielbasa and Sauerkraut
To make polish the classic way, follow these foolproof pointers to help you along the way.
Opt for high-quality kielbasa and sauerkraut. Remember that all the flavor comes from the kielbasa and sauerkraut you use, so opt for the good stuff at the grocery store. Better yet, head to a local German or Eastern European butcher or deli!
Slice the sausage into similar-sized medallions. To ensure that the kielbasa cooks evenly, slice it into similar-sized pieces. You want each piece to be nice and golden brown and juicy in the center.
Drain the sauerkraut completely. To avoid adding too much moisture to the pan, make sure to drain the sauerkraut of as much liquid as possible. Some are packed in brines that can alter the flavor of the dish too much.
Use butter over oil. Butter is almost non-negotiable in this recipe. It adds such a nice base of creaminess to the dish that oil simply can't match. If you can opt for Kerrygold or Plugra – two amazing European-style kinds of butter.
Adjust the salt and pepper to taste. When you're putting the final touches on your kielbasa and sauerkraut, make sure to add salt and pepper to taste. Depending on the ingredients you use, you might need more or less. This is why we always do salt and pepper at the end!
What Goes Well with Kielbasa and Sauerkraut
While kielbasa and sauerkraut are delicious eaten as-is, there are several different sides you can serve alongside the dish for a complete meal. Scalloped potatoes, creamy mashed potatoes, or a Russian beet salad with garlic.
Storing & Reheating Best Practices
To keep leftover kielbasa and sauerkraut on hand for up to 5 days, store them in an airtight container in the refrigerator. As it sits, the flavors will continue to deepen and develop, making for delicious leftovers.
Reheating Tip: To reheat the dish, pop it back into a buttered large skillet over medium-high heat just until warmed through. You can also zap it in the microwave for a minute or two.
FAQ
Can you freeze kielbasa and sauerkraut?
While kielbasa and sauerkraut is best eaten fresh, you can freeze it for later. To do so, portion it into individual plastic storage bags after it's fully cooled down. Pop it in the freezer for up to 1 month.
How to make kielbasa and sauerkraut in a Crock Pot?
Yes, you can make kielbasa and sauerkraut in a Crock Pot. To do so, first, brown the sauerkraut in butter in a skillet over medium heat and saute the onions until translucent. Next, toss all the ingredients in the slow cooker for 2-3 hours on high heat.
What other ingredients can you add to kielbasa and sauerkraut?
There are a couple of other ingredients you can add to kielbasa and sauerkraut to spruce it up. Common additions include caraway seeds, beets, dill, granny smith apples, bell peppers, bacon, and fennel.
How can you bake kielbasa and sauerkraut in the oven?
Yes, you can bake kielbasa and sauerkraut in the oven. To do so, spread sauerkraut and sautéed onions on the bottom of a baking dish. Next, lay the kielbasa on top and cover the dish with foil. Bake the dish in an oven at 350°F for about 30 minutes, turning the sausage every 10 or so minutes.
More Sausage Recipes to Try
Recipe
This kielbasa and sauerkraut recipe is a Polish classic that is so simple to make. All it requires is one pan and makes for the perfect weeknight dinner!
Ingredients
1

lb

kielbasa

sliced into medallions

4

tbsp

unsalted butter

1

large onion

diced

2

lbs

sauerkraut

1

tsp

salt

adjust to taste

1

tsp

ground black pepper

adjust to taste
Nutrition Facts
Classic Kielbasa and Sauerkraut (One-Pan Meal)
Amount Per Serving
Calories 350
Calories from Fat 270
% Daily Value*
Fat 30g46%
Cholesterol 73mg24%
Sodium 2051mg85%
Potassium 468mg13%
Carbohydrates 10g3%
Protein 12g24%
Vitamin A 262IU5%
Vitamin C 24mg29%
Calcium 62mg6%
Iron 3mg17%
* Percent Daily Values are based on a 2000 calorie diet.