You'll fall in love with this NYC-inspired pastrami sandwich. It's made with toasted rye bread, warm pastrami, tangy sauerkraut, and Dijon mustard. Simply delicious!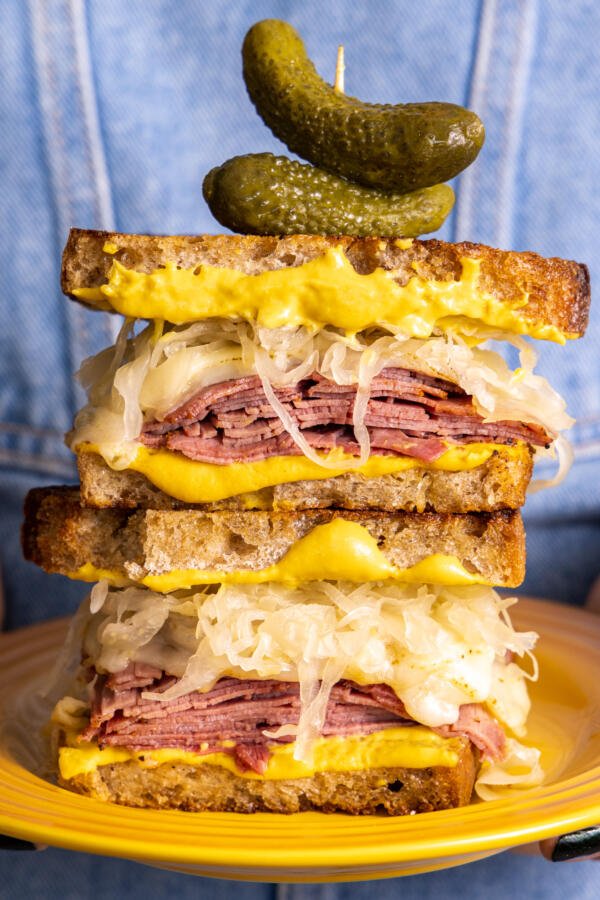 If you have been to New York City (NYC), you have probably tried the famous NYC pastrami sandwich. Our family discovered them on one of our trips and we've been hooked ever since. After many attempts at recreating it at home, our pastrami sandwich is not quite like the NYC version, but it's so close. It has a slightly different taste, but is still very delicious!
What is a Pastrami Sandwich?
A pastrami sandwich, also called "pastrami on rye", is a sandwich made with slices of rye bread, pastrami meat, mustard, and sauerkraut. Pastrami is a type of deli meat made from different cuts of beef. It is brined, dried, seasoned with various spices, then smoked and boiled/steamed. The flavor tastes similar to roast beef and sausage. Pastrami is not to be confused with corned beef, which is only boiled and used to make a reuben sandwich.
The classic pastrami sandwich originates back to New York City. It was made famous by a butcher named Sussman Volk. Volk was friends with a Romanian immigrant who stored meat in the icebox at Volk's butcher shop. In exchange for the help, the Romanian immigrant gave Volk the recipe for pastrami, eventually leading to Volk creating the famous pastrami sandwich.
Ingredients For The Best Pastrami Sandwich
The best pastrami sandwich starts with the ingredients. For the best flavors, pick good, quality ingredients.
Bread: The classic pastrami sandwich is made with rye bread. However, other types of sandwich bread are good alternatives.
Pastrami: The pastrami is the foundation of a good tasting sandwich. To get the tastiest pastrami, ask the butcher at your grocery store or local deli for a good recommendation.
Cheese: Not all pastrami sandwiches have cheese, but those that do use Swiss cheese. In a pinch, provolone cheese works well, too. Feel free to use any other white mild cheese you love for a slightly different taste.
Mustard: For a slightly spicy kick, use dijon mustard for the sauce. We love this Grey Poupon dijon mustard. Regular spicy mustard is a good alternative, but avoid using simple yellow mustard as the taste is too different.
Sauerkraut: We love the tangy, sour taste of sauerkraut in this sandwich. Make your own homemade sauerkraut or overnight sauerkraut. Or, use coleslaw instead.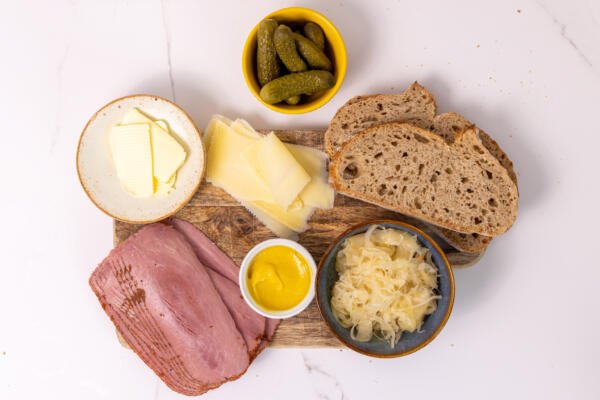 Making a Pastrami Sandwich
You'll be surprised how easy it is to make this delicious NYC-inspired sandwich. All you need are the ingredients and a pan — that's it!
Toast the bread: Preheat a frying pan with a bit of butter, then toast each slice of bread on one side. Set aside.
Warm the pastrami: In the same pan, warm the sliced pastrami over medium heat. Top with a piece of cheese.
Spread the mustard: Spread the mustard on the inside of the bread, then top with the warmed pastrami and melted cheese.
Top with sauerkraut: Add the sauerkraut to the sandwich, then top with the second slice of bread. Enjoy the best hot pastrami sandwich!
Tips from the Kitchen
We don't believe in keeping secrets! Follow these tips for the best pastrami sandwich at home.
Don't skip the toasting: Toasting the pieces of bread with butter gives the best flavor. Alternatively, toast the bread in a toaster — however, it won't have the same buttery taste.
Remember to heat the pastrami: The sandwich tastes totally different when the pastrami is heated. There's something about warm meat and melty cheese that is absolutely swoon-worthy.
Add more cheese: For the cheese-lovers, add more cheese!
Heat the sauerkraut (optional): If preferred, heat the sauerkraut too. We love it cold with warmed cheese and pastrami, but warmed sauerkraut tastes good too.
Avoid regular sandwich components: Avoid the temptation to add the typical sandwich ingredients such as lettuce, tomato, relish, ketchup, or mayo. This is not your typical sandwich — it's better!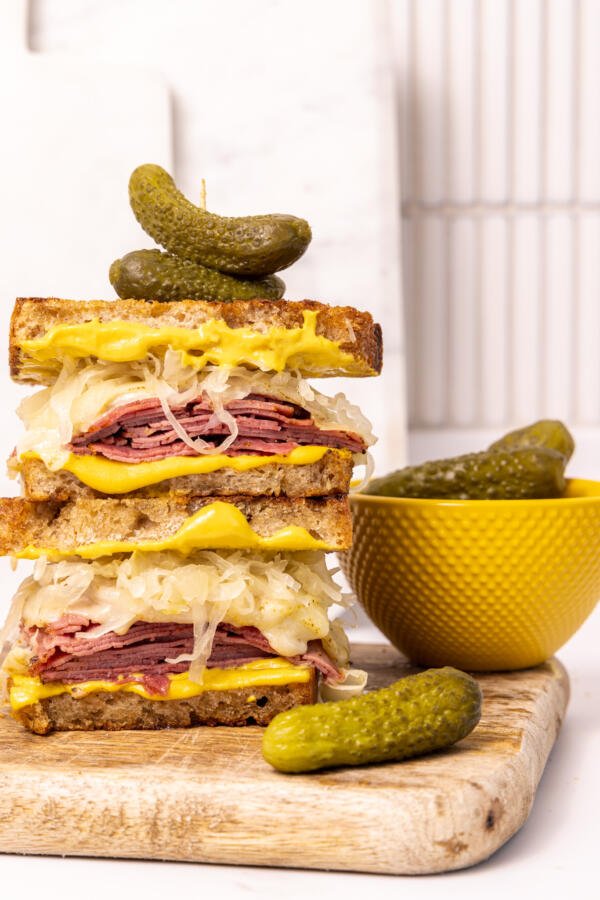 Ways to Serve
Pastrami sandwiches are a great lunch or dinner entree idea. Traditionally, they are served either hot or cold (with warmed pastrami) alongside a side of dill pickle slices. The sandwich is just as tasty with canned sweet spicy pickles, quick pickled cucumbers, or any of your other favorite pickles.
For more side ideas, take out your air fryer and make air fryer french fries or air fryer potato chips. Or, add a side of Italian pasta salad made with salami or berry spinach salad for a little bit of fruitiness. Make a soup and sandwich combo with a bowl of chicken noodle soup.
Storing the Sandwich
Pastrami sandwiches are best enjoyed fresh — with the meat still warm and the cheese melty. In the event of any leftovers, wrap the sandwich tightly in plastic wrap and place it into the refrigerator for a maximum of 24 hours. The refrigerated sandwich won't have the same texture and taste as when freshly made, but it'll still be an enjoyable leftover snack!
FAQ
Are condiments needed on a pastrami sandwich?
The typical sandwich condiments like mayo and ketchup are not usually put on a pastrami sandwich — however, a spicy or Dijon mustard is a must!
What's the difference between a pastrami sandwich and a Reuben sandwich?
A pastrami sandwich is made with pastrami meat whereas a Reuben sandwich is made with corned beef. Pastrami is brined, dried, seasoned with various spices, then smoked and boiled/steamed whereas corned beef is only boiled.
More Yummy Sandwiches
Recipe
You'll fall in love with this NYC-inspired pastrami sandwich. It's made with toasted rye bread, warm pastrami, tangy sauerkraut, and Dijon mustard. Simply delicious!
Ingredients
2

tbsp

butter

8

slices

rye bread

2

lbs

pastrami

sliced

8

slices

Swiss cheese

1/4

cup

Dijon mustard

8

oz

sauerkraut

drained
Nutrition Facts
The Best Pastrami Sandwich
Amount Per Serving
Calories 585
Calories from Fat 198
% Daily Value*
Fat 22g34%
Cholesterol 153mg51%
Sodium 3330mg139%
Potassium 769mg22%
Carbohydrates 38g13%
Protein 60g120%
Vitamin A 483IU10%
Vitamin C 87mg105%
Calcium 398mg40%
Iron 9mg50%
* Percent Daily Values are based on a 2000 calorie diet.