This pickled cabbage is mixed with carrots, onions, and peppers in a sweet and tangy brine. You'll never be in a pickle with this crazy easy recipe!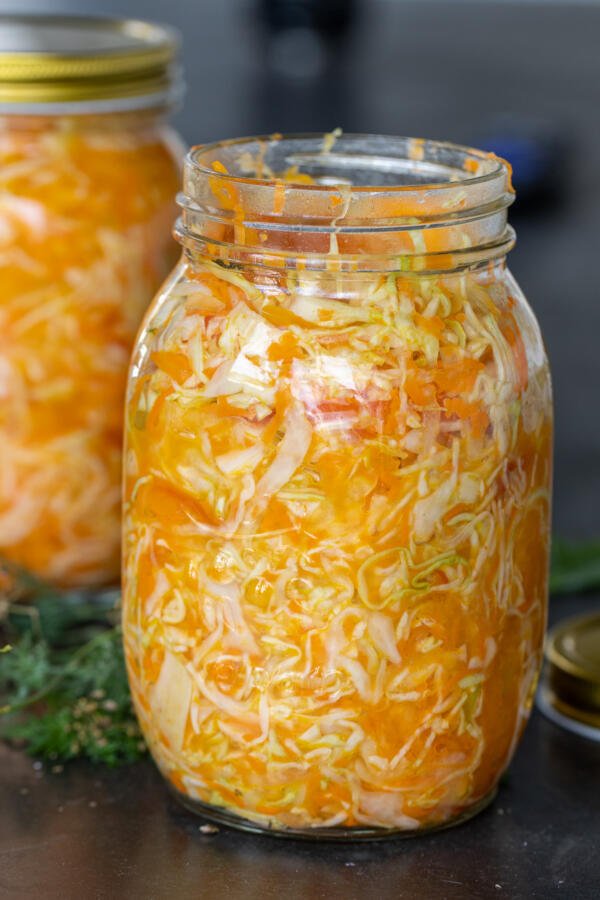 What Is Pickled Cabbage?
Pickled cabbage is a sweet and slightly tangy dish consisting of sliced cabbage, carrots, bell peppers, and onions soaked in an oil and vinegar-based pickling liquid. The pickling liquid soaks into the veggies during the 12-hour stint in the refrigerator, imparting delicious flavor into them. It's like a salad, but pickled! Plus, there's no need to boil anything or stand over the hot stove for this one!
This pickled cabbage recipe is influenced by Eastern European cuisine. It's often served as an easy, but delicious side at weddings or holiday celebrations. Growing up, we always had some sort of pickled veggies on the table and this pickled cabbage was the most frequent one.
Hot tip: Use green, red, purple, or savoy cabbage for this recipe. You'll love the vibrant color of pickled red cabbage!
Pickled Cabbage vs Sauerkraut
Are pickled cabbage and sauerkraut the same thing? Not quite! Although they're similar, these two dishes differ in the type of brine they're soaked in and their taste and texture.
Brine: Sauerkraut is made of fermented cabbage brined in a salt mixture, whereas pickled cabbage uses a vinegar pickling liquid.
Taste/texture: Sauerkraut tends to have a slightly sour flavor and softer texture, whereas pickled cabbage is more vinegar-y and crispy.
Pickled Cabbage Video
How To Make Pickled Cabbage
Imagine a recipe that takes only 10 minutes to make from start to finish. Well — no need to imagine here — this quick-pickled cabbage recipe is it!
Prep the vegetables: Slice the veggies into thin strips by hand or with a mandoline slicer.
Massage the veggies: Place all the cut veggies into a large bowl, then massage them lightly with your hands. This helps break down the fibers in the veggies, making it easier for the pickling liquid to infuse in.
Add the seasoning: Add the salt and sugar and pour the vinegar and oil into the large bowl. Stir everything together to season evenly.
Pack into jars: Pack the cabbage mixture tightly into jars. Cover the jars with a lid and refrigerate overnight. The cabbage will be ready to eat the next day!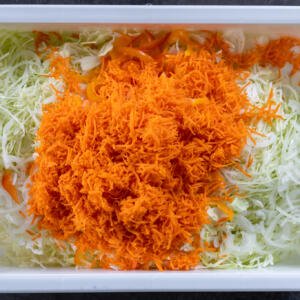 Tips for Top-Notch Pickled Cabbage
How do you ensure your pickled cabbage comes out first-rate? Follow these tips and you'll have absolutely no problem.
Cut the veggies uniformly: For the best, most uniform flavor, cut all the veggies into even size pieces. A sharp knife or mandoline slicer is of utmost importance here!
Allow the cabbage to marinate: Pickled cabbage gets better the longer it marinates — so give it at least 12 hours in the fridge. It stays good for several weeks!
Adjust the veggies: Feel free to remove or adjust the amount of peppers, onions, and carrots. But trust us, try this recipe as-is at least one time! Add in a few garlic cloves for extra oomph, too!
Change up the vinegar: The type of vinegar doesn't matter too much in terms of the pickling process, but it does change the taste. White vinegar is the most typical and safest choice, but red wine vinegar, rice vinegar, and apple cider vinegar are also great options. Remember — the flavor of the pickled cabbage will change depending on the vinegar used.
Change Up The Pickling Liquid Flavor
We love tailoring recipes to make it our own. Check out a couple ideas below for inspiration on how to make this pickled cabbage your new personal favorite.
Spices: If you love strong, spiced flavors, add your favorite spices to the mixture. More sugar adds a sweeter flavor, while red pepper flakes add a bit of heat. Allspice, black peppercorns, bay leaves, whole cloves, and mustard seeds are great additions, too!
Herbs: For more herby flavor, add in parsley, dill, basil, or oregano.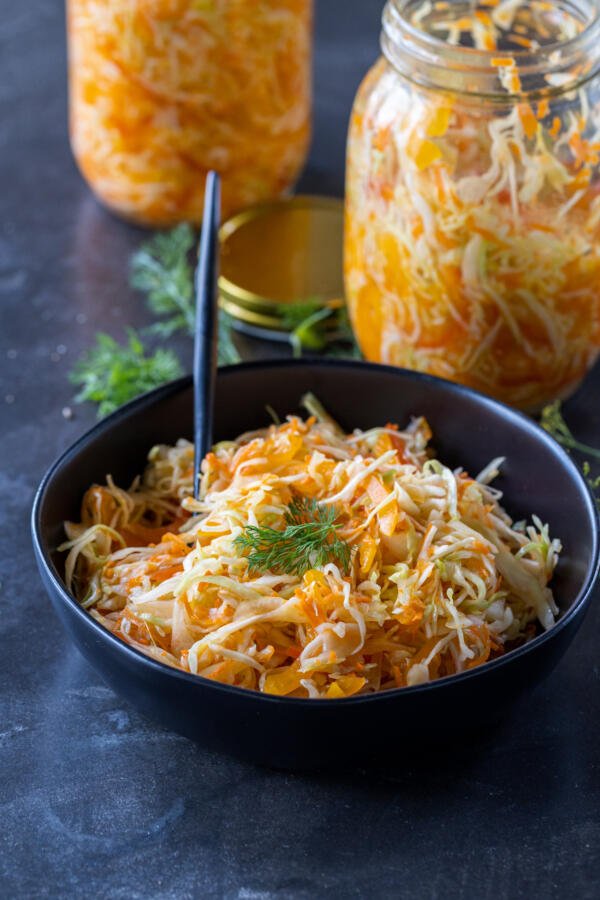 Serving Pickled Cabbage
Pickled cabbage is an amazingly versatile side dish or topping. It pairs perfectly with protein dishes like baked chicken legs or a carb-y side like baked potatoes. Alternatively, pair with a hearty lamb stew or braised potatoes. Serve it on top of beef tacos or stuffed into spring rolls. Or, layer it in a pastrami sandwich or a burger. It's also an easy and colorful addition to a crudités platter (veggie charcuterie board).
Storing Pickled Cabbage
Storing pickled cabbage is equally as easy as making it. Put it in a airtight container and/or jar, place it in the fridge, and it'll stay delicious for up to 3-4 weeks.
More Quick-Pickled Vegetables
Recipe
This pickled cabbage is mixed with carrots, onions, and peppers in a sweet and tangy brine. You'll never be in a pickle with this crazy easy recipe!
Makes about 2 liters of Pickled Cabbage.
Nutrition Facts
Pickled Cabbage Recipe (Crazy Easy)
Amount Per Serving
Calories 114
Calories from Fat 45
% Daily Value*
Fat 5g8%
Sodium 617mg26%
Potassium 321mg9%
Carbohydrates 17g6%
Protein 2g4%
Vitamin A 3861IU77%
Vitamin C 68mg82%
Calcium 58mg6%
Iron 1mg6%
* Percent Daily Values are based on a 2000 calorie diet.