This easy whole wheat baguette is rich in flavor, loaded with fiber and so darn delicious. Made with wholesome ingredients you will have zero guilt going for that second slice.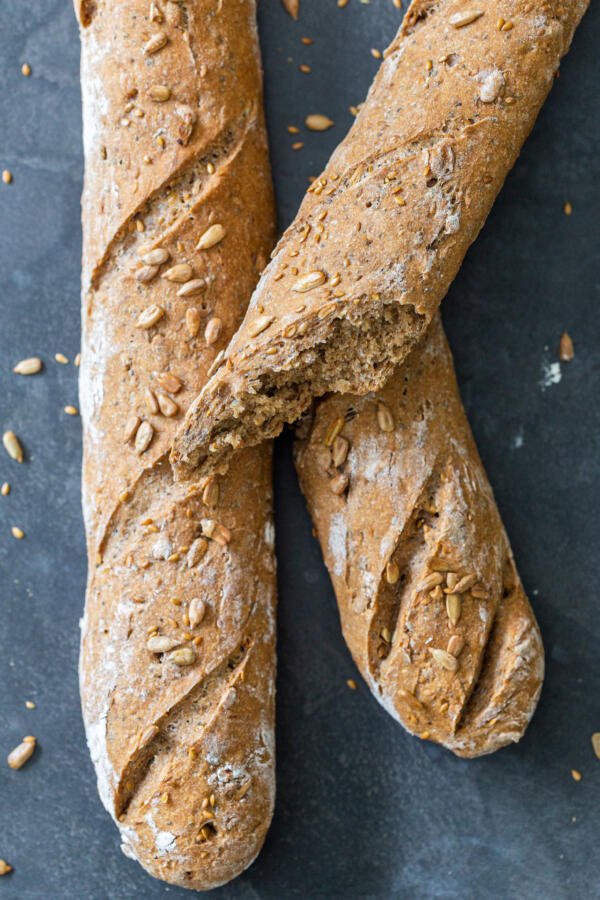 Wheat baguettes might look complicated to make, but this recipe is actually quite simple. It doesn't even require any kneading! The most time consuming aspect of this recipe is allowing for the rise times.
Whole wheat baguette makes for the perfect addition to just about any meal. Serve it with a bowl of Zuppa Toscana or Russian Borscht. You could even use it as a base for Bruschetta.
How to Make Whole Wheat Baguette
Baking doesn't have to be intimidating. Follow these easy steps to get a bakery-worthy baguette:
Mix your ingredients to make your dough. Cover with plastic wrap and let sit for 12-20 hours on the counter top. Use a stand mixer or give it a good old-fashioned stir.
The next day, your dough should be wet, sticky and bubbly. Generously flour your hands and a baking sheet. Form the dough into a loaf shape.
Sprinkle it with flour and cover with a towel. Let dough rise in a warm place for 1-2 hours.
Hot tip: It's important to let your dough rise in a warm, moist place because that is the best temperature for fermentation to occur.
Preheat your oven to 450 ℉. Place two cups of hot boiled water in a deep baking dish. Place on the lower level of the oven. Place your bread loaves on the top rack. Remove the baking dish with water from the oven after 10 minutes. Keep on baking bread for another 30 minutes or until golden brown.
The Best Yeast for Whole Wheat Baguettes
Active dry yeast is the best bet for making whole wheat baguettes. It's slow to get going but provides more growth than other yeast types. This is perfect for baking with wheat flour, which requires long and steady rising times.
What Seeds Can You Add to Bread?
Adding seeds to whole wheat bread is a great way to passively up the nutritional benefits of your loaf. It also makes each slice that much more filling. That's a win-win! Read on for some options to choose from:
Pumpkin seeds – You can use raw or roasted depending on your preference.
Sesame Seeds – These are best for dusting the top of your loaf with. Not only do they look pretty, they add a lovely nutty flavor.
Sunflower Seeds – Raw or roasted work well here too.
Poppy seeds – Mix poppy seeds directly into your dough. The little speckles make your loaf look bakery-worthy.
Flax Seeds – If you are really upping the health content, these seeds are high in protein and low in cholesterol.
Chia Seeds – Chia seeds aren't just for smoothies or acai bowls! They are perfect to bake with.
Storing Whole Wheat Baguettes
If you love to have a couple of loaves on deck for a rainy day, don't be afraid to double or triple the recipe. Here's how to store your bread for later use:
Refrigerate: Pop your loaves in the fridge to keep them fresh for longer. Bread will last one to two weeks when refrigerated. Refrain from slicing your bread until you need it to keep it moist for longer.
Freeze: After baking, allow your loaf to cool down completely to room temperature. Wrap it tightly in plastic wrap and store in a freezer-safe bag. Freeze for up to three months. When you are ready to eat a loaf, take it out and allow it to thaw on the counter. Heat it up by baking it in the oven for five minutes at 350 ℉.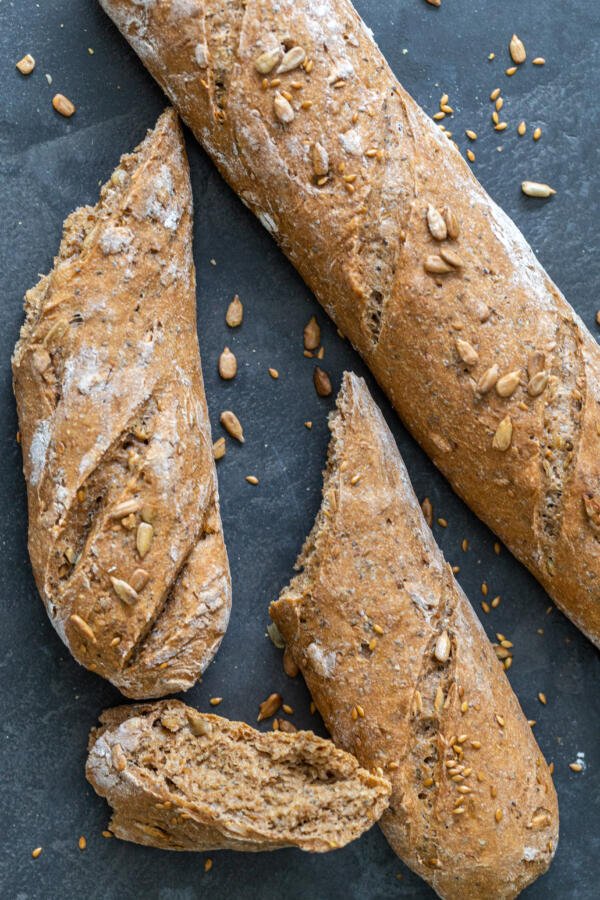 Other Whole Wheat Recipes
If you love cooking with whole wheat flour, we have a few more recipes for you:
Whole Wheat Banana Bread – There is truly no better way to use those overripe bananas hanging out on your counter. When made with whole wheat flour, banana bread is much more filling and perfect for a breakfast on the go.
5 Minute Wheat Bread – This dough round is perfect for hosting. It's impressive and perfect for pairing with a spinach artichoke dip.
Oatmeal Wheat Bread – Oatmeal isn't just for breakfast, it's perfect to add into your favorite baked goods. This bread pairs well with high-quality butter and raspberry jam.
Recipe
This easy whole wheat baguette is rich in flavor, loaded with fiber and so darn delicious. Made with wholesome ingredients you will have zero guilt going for that second slice.
Nutrition Facts
Easy Whole Wheat Baguette
Amount Per Serving
Calories 212
Calories from Fat 54
% Daily Value*
Fat 6g9%
Sodium 471mg20%
Potassium 195mg6%
Carbohydrates 34g11%
Protein 7g14%
Calcium 45mg5%
Iron 2mg11%
* Percent Daily Values are based on a 2000 calorie diet.