Classic bruschetta is the perfect appetizer during those hot summer months. It's best served on top of toasted garlic bread slices and eaten fresh!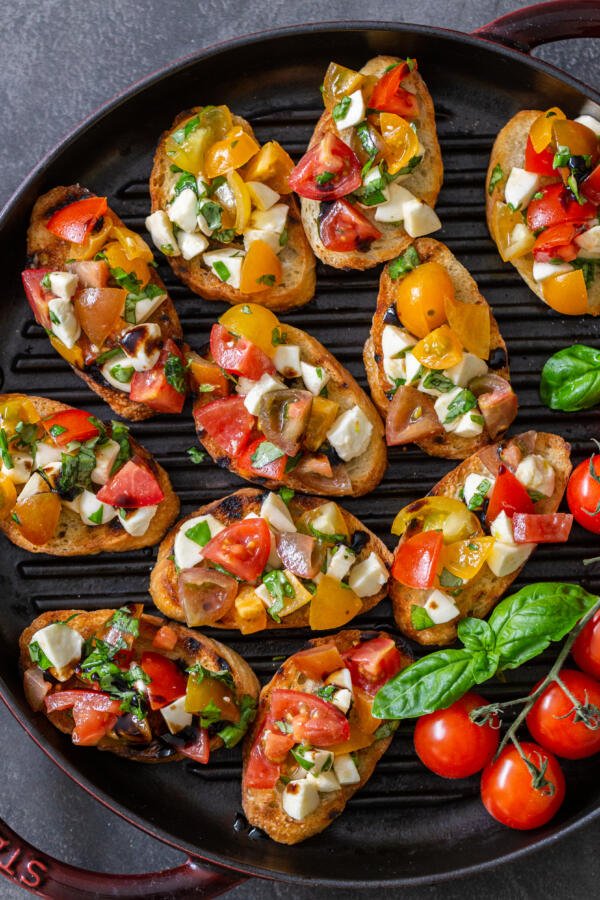 Bruschetta is a staple when we are hosting friends and family. I love to prepare it the night before a party so it can marinate in the fridge overnight.
Put those farmer's market tomatoes to good use and make a big batch of this classic Italian appetizer. Since the dish is so simple, use the freshest ingredients to make the flavors really pop!
What is Bruschetta?
While many people believe that "bruschetta" is the marinated tomato mixture itself, it actually refers to the preparation of the bread. By definition, bruschetta refers to an antipasto that has a base of toasted bread that has been rubbed with raw garlic and drizzled with olive oil. The toppings are actually endless! In America, we have just grown to associate bruschetta with the marinated tomato variety.
Bruschetta can be served hot or cold. Typically, I like to serve the cold, marinated tomatoes on top of a hot piece of garlic toast. However, feel free to serve your bruschetta as you please! If you want your marinated tomato topping hot, simply heat it in a saucepan until warmed through.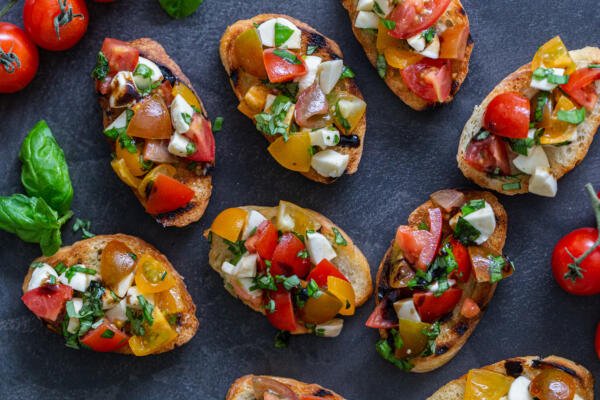 Tips for the Best Bruschetta
Use the freshest ingredients possible. Fresh basil and garlic are an absolute MUST! Also, the brighter and juicier your tomatoes, the more vibrant your bruschetta will taste.
Don't skimp on the cheese. Use a high quality mozzarella or parmesan cheese. You can also skip the cheese all together if you wish!
Invest in good olive oil. It's a shame, but a lot of olive oil on the market is mixed with water or cheaper oils like canola or vegetables. Invest in a great bottle for your bruschetta! You will totally notice the difference.
Cut your tomatoes small enough. You want your mixture to spread easily and evenly, so don't chop your tomato chunks too big.
Put your leftovers to good use. Leftover marinated tomatoes can be used as a topping for salad or chicken. Whatever you do, don't let them go to waste!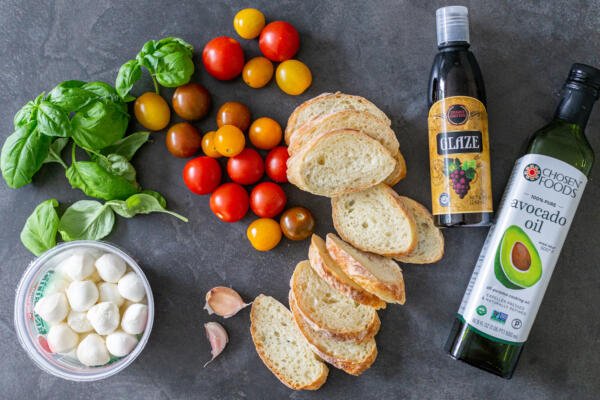 How to Make the Tastiest Bruschetta
Making bruschetta couldn't be any easier. Follow these quick steps and have the perfect appetizer in no time:
Toast the bread either on your grill or on the broil setting of your oven
Rub a fresh garlic clove onto your bread slices
Cut tomatoes, mozzarella and basil. Toss the ingredients together with high-quality olive oil. Season with salt and pepper to taste.
Top each bread toast with the mixture.
Drizzle with a bit of balsamic vinegar. Enjoy!
What Bread is Best for Bruschetta?
French, yeast and sourdough bread are all great options. Whatever you do, just make sure to choose a loaf that is large enough to hold a healthy dollop of marinated tomatoes. You want your bruschetta to be easy to pick up and bite!
Making Bruschetta Ahead of Time
To prevent your bread from getting mushy, only add the tomato mixture right before you plan on serving.
Hot tip: If you are making bruschetta for a large party, serve it on a charcuterie tray unassembled and allow your guests to make their own! This will prevent your bruschetta from sitting out too long and becoming soggy.
More Amazing Appetizers
Recipe
Classic bruschetta is the perfect appetizer during those hot summer months. It's best served on top of toasted garlic bread slices and eaten fresh!
Nutrition Facts
Bruschetta Sandwich
Amount Per Serving
Calories 132
Calories from Fat 63
% Daily Value*
Fat 7g11%
Sodium 133mg6%
Potassium 262mg7%
Carbohydrates 16g5%
Protein 3g6%
Vitamin A 170IU3%
Vitamin C 11mg13%
Calcium 27mg3%
Iron 1mg6%
* Percent Daily Values are based on a 2000 calorie diet.