Classic bruschetta is made with crusty garlic bread topped with tomatoes, mozzarella, and basil. It's the perfect you've been waiting for.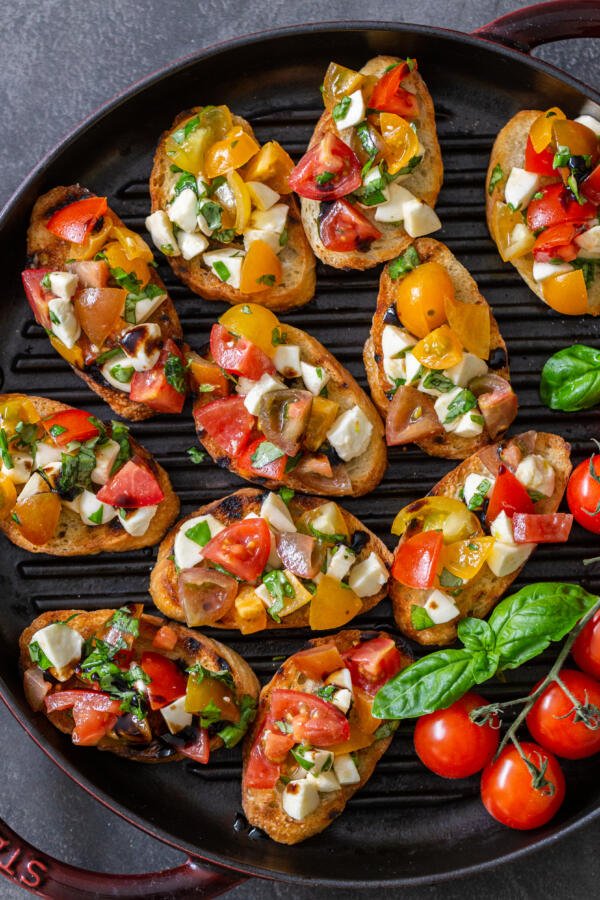 What Is Bruschetta?
While many people believe "bruschetta" is the marinated tomato mixture itself, it actually refers to the preparation of the bread. By definition, bruschetta refers to an antipasto that has a base of toasted bread rubbed with raw garlic and drizzled with olive oil. The topping choices are actually endless (like our mushroom bruschetta)! The most popular and known topping is with marinated tomatoes though.
Bruschetta originated in Italy, but quickly spread throughout the world. It's thought to have started with an olive grower who wanted to test the quality of their olive oil by putting it on a slice of bread. No matter who or where it started, it's absolutely delicious and we're very thankful it exists!
Hot tip: Not sure how to pronounce bruschetta? It's pronounced "broo-skeh-tuh."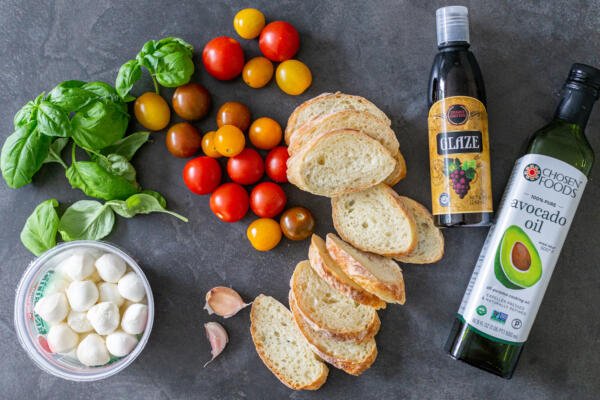 How To Make Bruschetta
This tomato bruschetta recipe is a staple when hosting friends and family. For the best flavor, prepare the veggie mixture the night before and allow it to marinate in the fridge. Follow these quick steps and you'll have the perfect appetizer in no time.
Toast the bread slices: Slice a baguette into slices, then place them on a baking sheet. Spray the slices with olive oil and a sprinkle of sea salt. Broil each side for a few minutes until golden.
Rub with garlic: Remove the toast from the oven and rub each side with garlic cloves.
Make the topping: Toss the tomatoes, fresh mozzarella, basil, and olive oil together in a medium size bowl, then season with salt and pepper.
Place topping on the bread: Top each bread piece with the veggie mixture and add a drizzle of balsamic glaze. Serve right away.
Hot tip: If making bruschetta for a large party, serve it on a charcuterie tray unassembled and allow your guests to make their own! This will prevent your bruschetta from sitting out too long and becoming soggy.
What Is The Best Bread for Bruschetta?
French bread, no-knead yeast bread, baguette bread, and sourdough bread are all great options for bruschetta. Whatever you do, choose a loaf large enough to hold a healthy dollop of marinated tomatoes. The bruschetta should be easy to pick up and bite!
Substitutions & Additions
Bruschetta toppings are virtually endless. If you're sticking with a tomato-based flavor, consider these ingredient additions and/or alternatives.
Tomatoes: Roma tomatoes, cherry tomatoes, and plum tomatoes are all great varieties to use for the best flavor — but any type you have at home works too!
Onion: Add in diced red onions to the veggie mixture for a hint of spice.
Balsamic vinegar: Instead of using only balsamic glaze, consider adding a splash of balsamic vinegar into the tomato mixture for even more flavor explosion.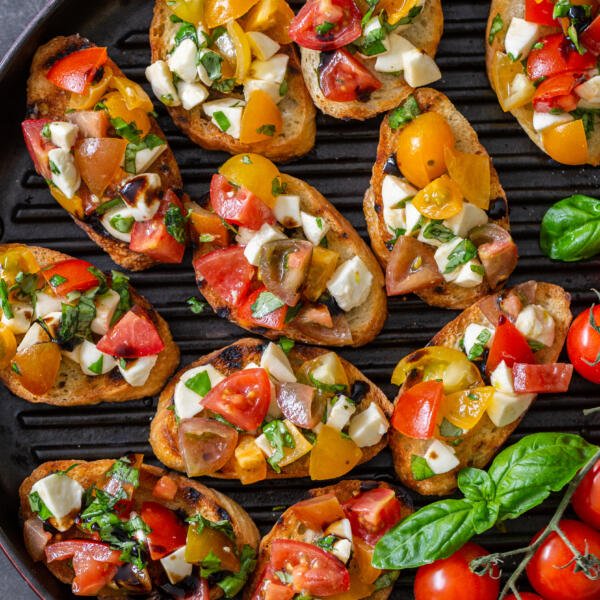 Tips for the Best Bruschetta
Bruschetta is known for its light, fresh flavors. For the easiest prep and best taste, heed these tips.
Use fresh ingredients: Fresh basil leaves and garlic are an absolute must! Opt for bright and juicy fresh tomatoes for a more vibrant taste.
Avoid skimping on the cheese: Use a high quality mozzarella or parmesan cheese. Or, skip the cheese all together if you wish!
Invest in a good quality olive oil: It's a shame, but a lot of olive oil on the market is mixed with water or cheaper oils like canola or vegetable. Invest in a great bottle of extra virgin olive oil for your bruschetta! You will definitely notice the difference.
Cut the tomatoes small: The bruschetta topping should be easy to spread evenly. Chop the tomatoes into small pieces to make it easier to load. There is nothing worse than a dull knife when chopping tomatoes- sharpen those knives with our favorite knife sharpener!
Watch the toast: Avoid letting the toast go too long under the broiler! Toast quickly goes from perfectly crispy to burnt under the broiler.
Hot tip: Leftover marinated tomatoes are great to use as a topping for salad or chicken. Whatever you do, don't let them go to waste!
Making Ahead & Storing
One of the things that makes a recipe a favorite of ours is if it's easy to make and if it can be made ahead of time. Luckily, this bruschetta recipe hits all the marks!
Make-ahead: Prep the bruschetta ahead of time by toasting the bread and mixing the tomato topping. Keep the toasted bread uncovered at room temperature, but refrigerate the topping. Assemble the bruschetta right before serving in order to avoid a mushy appetizer.
Storing: Store the toasted bread at room temperature and the tomato mixture in the fridge for up to five days.
Reheating: It is not necessary to reheat any portion of the bruschetta since it is often served cold. However, if you want your marinated tomato topping hot, heat it in a saucepan until warmed through.
Ways To Serve
Bruschetta is a highly versatile snack or appetizer, served before a larger lunch or dinner meal, or as a simple and easy breakfast option. Serve it either hot or cold. We like to serve the cold, marinated tomatoes on top of a hot piece of garlic toast, but it's completely up to you!
For breakfast, pair it with an easy breakfast quiche or breakfast mushroom and potatoes. For a fancy table spread, serve it on a breakfast charcuterie board with other breakfast staples. If serving the bruschetta for a party and you need more appetizers, vary the spread with the addition of more hors d'oeuvres like roasted eggplant and tomato rings and chicken bacon canapes.
FAQ
What does bruschetta mean in Italian?
Bruschetta comes from the Italian word "bruscare" which means "to roast over coals." The bread on bruschetta is toasted in a similar was as roasting.
Is bruschetta the bread or the topping?
Bruschetta refers to the bread. The toppings can be almost anything.
How do you keep bruschetta from getting soggy?
To prevent bruschetta from getting soggy, only put the topping on the crispy bread slices right before serving. Otherwise, the topping softens the bread.
What is the difference between crostini and bruschetta?
Bruschetta and crostini are both appetizers made with crusty bread topped with veggies or meat — however, crostini is made from smaller, thinner bread slices whereas bruschetta is made from thicker slices of softer bread.
More Amazing Appetizers
Recipe
Classic bruschetta is the perfect appetizer during those hot summer months. It's best served on top of toasted garlic bread slices and eaten fresh!
Nutrition Facts
Bruschetta Sandwich
Amount Per Serving
Calories 132
Calories from Fat 63
% Daily Value*
Fat 7g11%
Sodium 133mg6%
Potassium 262mg7%
Carbohydrates 16g5%
Protein 3g6%
Vitamin A 170IU3%
Vitamin C 11mg13%
Calcium 27mg3%
Iron 1mg6%
* Percent Daily Values are based on a 2000 calorie diet.