These adorable mushroom cookies are baked until golden brown and stuffed with dulce de leche. A classic Slavic cookie and must-try!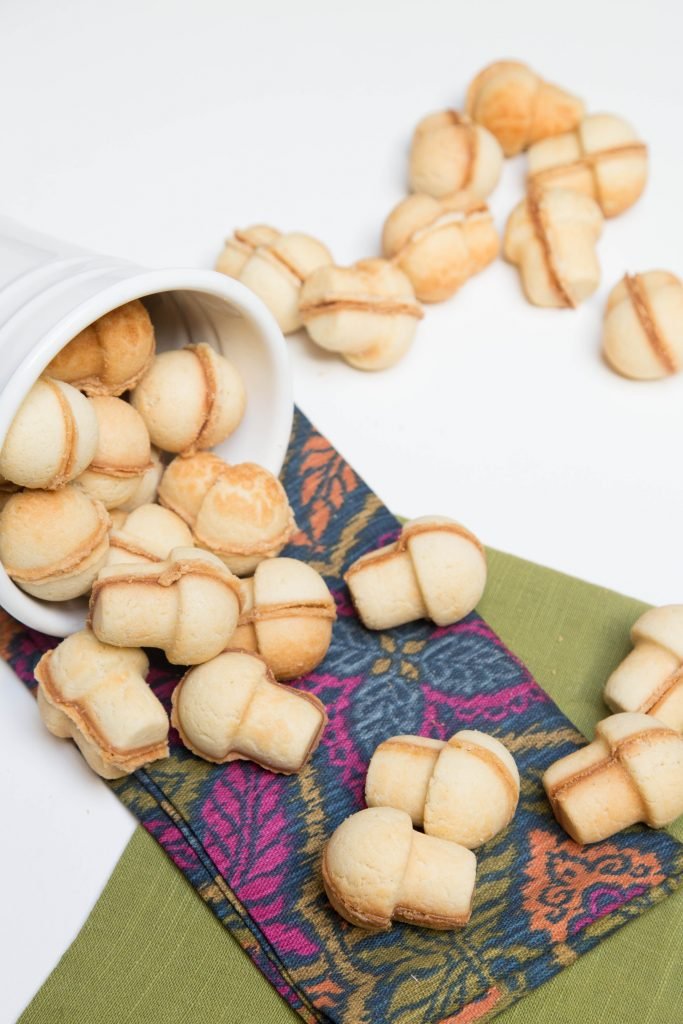 Mushroom cookies, filled with dulce de leche cream, are one of the Slavic classic cookie recipes. As far as I could remember, these cookies have always been around. Over the years, people became creative by adding roasted nuts into the filling, dipping tops into the chocolate or dipping stems into chocolate and poppy seeds. For now, I am sharing the easiest way of creating these, but please share your favorite finishing methods, in comments below.
Electric mold Oreshnitsa makes the job so quick and easy. I was able to fill each one with dough, close the mold and forget about it until the light turns on. It made me think how lucky we are to live in this time and being able to possess all of these wonderful kitchen tools.
P.S. If you are looking for mold, give this oreshnitsa a try.
Other Similar Cookies:
Recipe
Instructions
Combine flour together with sugar.

Rub the butter and margarine into the flour mixture, until it looks like fine bread crumbs.

Make a well in the middle of flour, place mayonnaise, eggs and baking powder. Combine it using a mixer or by hand.

Using an Orshnitsa maker, place small pieces of dough inside each metal form. Press the mold to close together, cook until each cookie is golden brown.

Break out the sides of each cookie.

Turn those broken off sides of the cookies, into crumbs.

For the filling, beat butter together with dulce de leche. Add crumbs into the cream and stir to combine.

Fill each side with the filling mixture and join the two cookies together to form a whole.
Nutrition Facts
Mushroom Cookies Recipe
Amount Per Serving
Calories 135
Calories from Fat 72
% Daily Value*
Fat 8g12%
Cholesterol 25mg8%
Sodium 57mg2%
Potassium 38mg1%
Carbohydrates 13g4%
Protein 1g2%
Vitamin A 285IU6%
Calcium 14mg1%
Iron 0.6mg3%
* Percent Daily Values are based on a 2000 calorie diet.