Sochniki are sweet farmer's cheese cookies. They are crumbly shortbread cookies that are crispy on the outside, filled with a creamy cheese filling. These traditional Ukrainian cookies are a family favorite.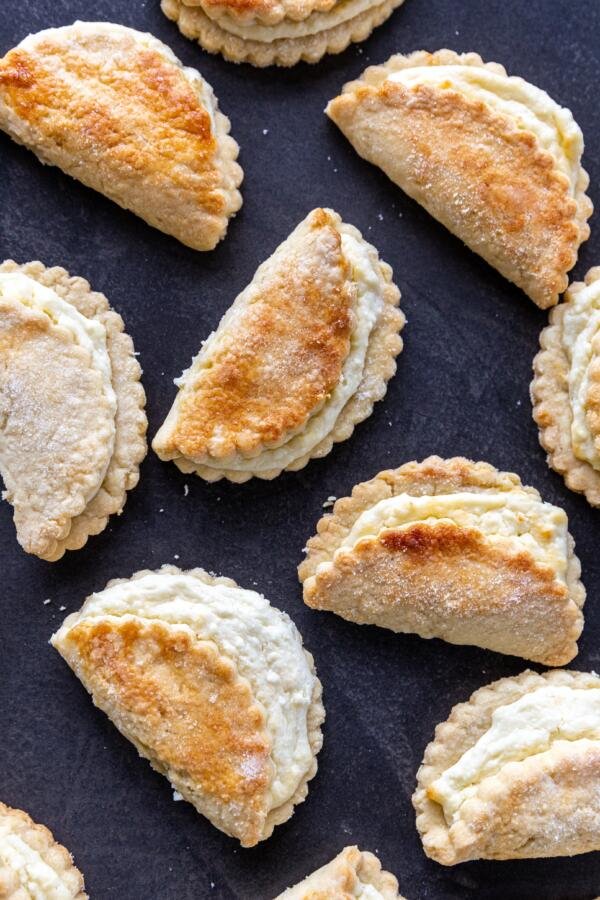 What are Sochniki
These Sweet Cheese Cookies are inspired by the traditional Sochniki. Sochniki are a classic Russian or Ukrainian pastry that are very common. Traditionally they were very large and filled with a farmer's cheese filling.
Sochniki started in Russia with the dough which was originally made into scones. Eventually Russians started stuffing the dough with a cheese mixture. They were widely produced in the USSR as they were cheap and simple to make. Sochniki are still extremely popular in Russia and can be found in most grocery stores, but making them from scratch is so much better.
These sweet cheese cookies are the perfect combination of crispy and creamy. Assembling the cookies is similar to making dumplings, as you form delicious filled cookie pockets.
How to Make Sochniki
Making Sochniki is so easy and you can get the kids involved for the assembly. Start by making the creamy cheese filling and simple cookie dough. Assemble the cookies, bake, and enjoy!
Make the Filling – Mix together the cream cheese, farmer's cheese, egg, and sugar until creamy and combined.
Make the Cookie Dough – Whisk together the butter, eggs, and sugar. Whisk in part of the flour, baking powder, and salt. Finally, slowly mix in the remaining flour until the dough forms.
Form Sochniki – Roll the cookie dough to ¼ inch thick pieces. Cut into circles — about 3 inches in diameter. Add a dollop of the cheese filling to one side of the dough circles, and fold the dough over the filling.
Bake Sochniki – Brush the tops of the sochniki with the whisked egg, and sprinkle them with sugar. Bake in the preheated oven for about 15 minutes or until the cookies are crispy.
Cheese For Sochniki
The best filling for Sochniki is when you combine cream cheese with farmer's cheese. You can also use ricotta or cottage cheese. If you use cottage cheese, you may need to remove some of the excess liquid.
You can find the farmer's cheese in most European markets or you can make your own farmer's cheese. It's so easy to make!
Making Sochniki in Advance
This Sochniki recipe makes about 80 cookies, so you may have some leftovers. Here are the best ways to store them:
Room Temperature – store the leftover sweet cheese cookies in an airtight container. They will keep fresh for up to 5 days at room temperature.
Freezer – the leftover sweet cheese cookies can also be frozen. You can freeze them in an airtight container or freezer bag. The frozen cookies will stay fresh for up to 3 months in the freezer. The frozen cookies can be thawed at room temperature.
FAQ
Do cookies made with cream cheese need to be refrigerated?
Cookies made with cream cheese do not need to be refrigerated. Since the cream cheese is baked with the cookies, refrigeration isn't needed.
Does cream cheese need to be at a room temperature for the filling?
The cream cheese does need to be at room temperature. Having the cream cheese softened makes it easier to combine with the farmer's cheese. Room temperature is key to getting that creamy smooth texture.
What can I substitute for cream cheese in cookies?
As a substitute for cream cheese, you can use farmer's cheese or ricotta cheese. All options are great for cookie filling.
More Cookies to Try
Sugar Cookies – This is the perfect cutout sugar cookie recipe. No chilling needed and the cookies still keep their shape.
Meringue Cookies – These light and airy cookies are so simple to make and they have a long shelf life too.
Russian Pryaniki – A popular Russian tea cookie that is great on a holiday cookie tray. They're soft on the inside but topped with a crispy glaze.
Palmiers Recipe – Only two ingredients and 10 minutes of baking time are needed to make these beautiful and flaky cookies.
Recipe
Sochniki are sweet farmer's cheese cookies. They are crumbly shortbread cookies that are crispy on the outside, filled with a creamy cheese filling. These traditional Ukrainian cookies are a family favorite.
Ingredients
16

oz

cream cheese

room temperature

2

lb

farmers cheese

1

egg

1

cup

sugar

2

cups

Unsalted Butter

room temperature

3

eggs

1/2

cup

sugar

6

cups

flour

(depending on the brand you may need less or more flour)

1

tbsp

baking powder

1

tsp

salt

1

egg

topping

1/2

cup

sugar

topping
Nutrition Facts
Sweet Cheese Cookies
Amount Per Serving
Calories 138
Calories from Fat 63
% Daily Value*
Fat 7g11%
Cholesterol 32mg11%
Sodium 137mg6%
Potassium 39mg1%
Carbohydrates 13g4%
Protein 3g6%
Vitamin A 235IU5%
Calcium 17mg2%
Iron 0.6mg3%
* Percent Daily Values are based on a 2000 calorie diet.