These raspberry thumbprint cookies are made with a nutty dough and loaded with tart raspberry jam. Perfect everything from a holiday cookie tray to summer BBQ!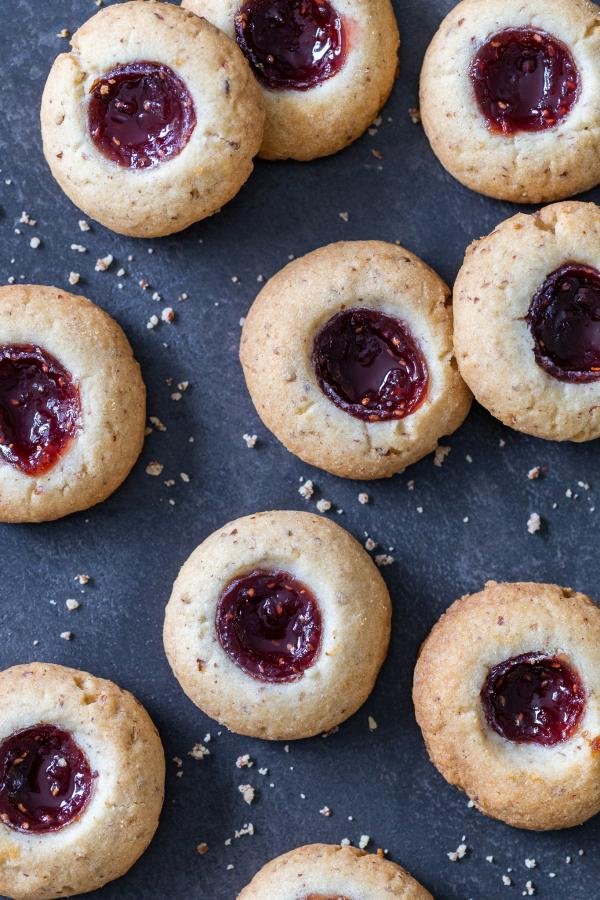 Raspberry thumbprint cookies are festive enough for the holidays, yet neutral enough to be eaten year round. I love making them for everything from BBQs to Christmas parties. You'll love the way each bite just crumbles and melts in your mouth…
While this recipes calls for raspberry jam, feel free to use whatever jam you love. You can even get super creative and mix a few! Whatever you do, good luck eating just one…
How to Make Raspberry Thumbprint Cookies
Making raspberry thumbprint cookies only requires under 10 ingredients and a few simple steps. Below, find a quick hitter overview of the recipe before you dive in.
Make the Dough: Using a stand mixer or hand mixer, cream the softened butter and sugar together. Next, add the egg yolk and vanilla extract. Finally, add in the flour, salt, and chopped pecans and stir until well-combined.
Form the Cookies: Using a cookie scooper, portion out the cookie dough into little mounds and place them on a baking sheet lined with parchment paper. Using your thumb, press a well into the center of the dough and fill it with raspberry jam.
Bake the Cookies: Bake the cookies at 350°F for about 30 minutes or until they turn golden brown. Serve right away or allow the cookies to cool completely and enjoy them at room temperature.
Tips & Tricks
Below, find a couple of pro tips and tricks to help you make the best thumbprint cookies.
Use softened butter. To make the cookie batter easier to mix, allow the butter to soften at room temperature for 30 minutes before you get to baking.
Use a cookie scoop to portion out the dough. Evenly portioned cookies will bake evenly. It's as simple as that!
Experiment with different jams. This recipe is super forgiving, so feel free to use any jam you love. Strawberry, apricot, and mixed berry are a few great options.
Storing Thumbprint Cookies
There are a couple different ways you can store you thumbprint cookies. From keeping them at room temperature to storing the dough in the freezer for later, find the instructions you need below.
Room Temperature: If you plan to eat the cookies within a week, store them on the counter in an airtight container.
Refrigerator: If you'd like to increase the shelf life of the thumbprints, pop them in the fridge in an airtight container for up to two weeks.
Freezer (Baked Cookies): You can freeze baked thumbprints for up to three months. To do so, pop the cooled cookies on a baking sheet lined with parchment paper and pop the baking sheet in the freezer uncovered. Once completely frozen, transfer the cookies to a freezer-safe bag. To thaw, place them on the counter for a couple of hours.
Freezer (Cookie Dough): If you'd like to prep the thumbprint dough and bake later, you can freeze the dough for up to 3 months. To do so, place the dough on a large piece of plastic wrap and roll it into a tightly wrapped log. To thaw it, place it in the refrigerator overnight.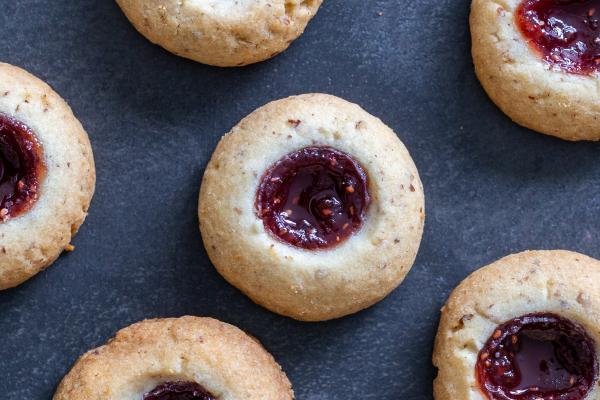 FAQ
Do I fill thumbprint cookies before or after baking?
You should fill your thumbprints with jam before baking. This will allow the sugars in the jam to caramelize and seep into the dough. Yum!
Why did my thumbprint cookies go flat?
To prevent your thumbprint cookies from turning out flat, make sure you properly measure your flour. If you go too light on the flour, the butter will take over and your cookies won't get that signature thumbprint shape.
How do I stop my thumbprint cookies from spreading?
Prevent your thumbprint cookie dough from spreading by baking it on a silicone mat or a parchment lined baking sheet. There's no need to grease the baking sheet with butter or cooking spray, as they will only make the cookies spread.
Do cookies with jelly need to be refrigerated?
Jelly-filled cookies do not need to be refrigerated unless you want to increase the shelf life. They will stay fresh for up to week when stored in an airtight container on the counter.
Can I freeze jam-filled thumbprint cookies?
Yes, you can freeze jam-filled thumbprint cookies for up to 3 months.
Other Tasty Cookies To Try
Recipe
These raspberry thumbprint cookies are made with a nutty dough and loaded with raspberry jam. Perfect everything from a holiday cookie tray to summer BBQ!
Nutrition Facts
Pecan Raspberry Thumbprint Cookies
Amount Per Serving
Calories 129
Calories from Fat 63
% Daily Value*
Fat 7g11%
Cholesterol 19mg6%
Sodium 63mg3%
Potassium 24mg1%
Carbohydrates 15g5%
Protein 1g2%
Vitamin A 176IU4%
Vitamin C 1mg1%
Calcium 6mg1%
Iron 1mg6%
* Percent Daily Values are based on a 2000 calorie diet.