This Italian sausage kale soup is packed with leafy kale, savory Italian sausage, and tender white beans. A light, yet filling weeknight soup!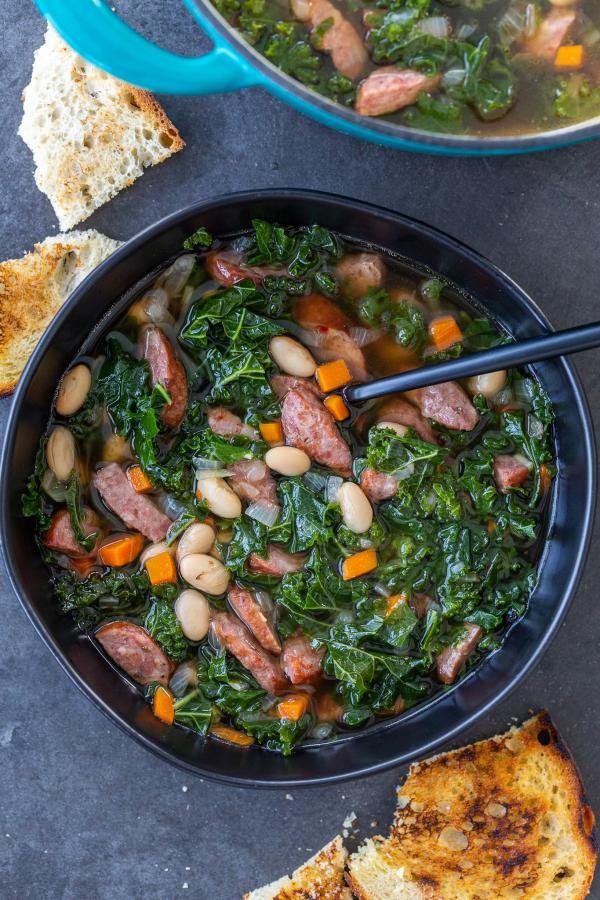 This Italian sausage kale soup is one of my favorite bowls to warm up to. Although it's hearty and filling, it's also super light and healthy. I love that I can have a couple of bowls without feeling weighed down…
What's better is that this soup is made with fully cooked sausage. That means it's quick to assemble and perfect for a hectic weeknight dinner on the fly. It also freezes super well, making it a perfect candidate for meal-prepping.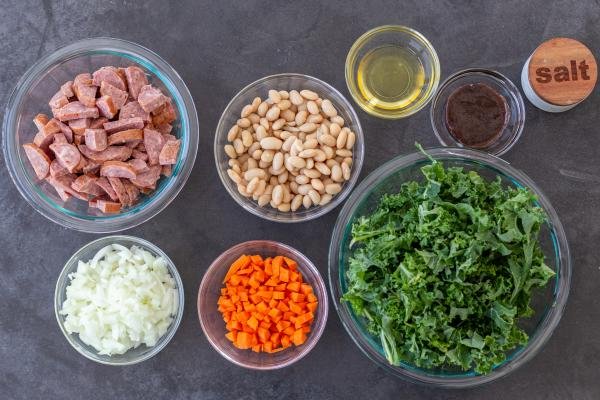 Sausage Kale Soup Video
How to Make Sausage Kale Soup
Making sausage kale soup is so simple you can hardly call it a recipe. Below, find a quick overview of the recipe before you dive in.
Prep the Veggies: Using a sharp knife, dice the onion. Next, grate the carrots on the largest slot of a standard cheese grater. In a large soup pot or Dutch oven, caramelize the carrots in a bit of oil and then add in the grated carrots.
Add the Beans & Broth: Rinse the beans in a colander and add them into the soup pot. Next, pour in the hot water and add the broth base.
Add the Kale & Sausage: Chop the kale into bite-sized pieces and add it to the soup pot, followed by the sausage. Allow the soup to simmer for 5 minutes, stirring it frequently with a wooden spoon until the kale has softened. Remove it from heat and enjoy!
Tips & Tricks
Below, find a handful of tips and tricks to help you make the best possible sausage kale soup.
Brown the sausage slightly first. For an extra bit of texture and flavor, brown the sausage in a skillet before adding it to the soup.
Rinse the beans before adding them. Canned beans are stored in a thick, bland brine to keep them preserved. Make sure to rinse the beans in a colander before adding them to the soup.
Chop the kale into similar-sized pieces. To prevent getting large, hard-to-eat slices of kale, slice the leafy green into similar bite-sized pieces.
Tweak the broth to your liking. If you want a kick of heat, add a couple of shakes of red pepper flakes or cracks of coarse black pepper. If you're a garlic addict, press a garlic clove into the sautéed veggies. Additionally, you can make the soup herby by adding a tablespoon of Italian seasoning.
Hot Tip: Better than Bouillon broth base is such a game-changer. Instead of dealing with bulky cans or boxes, one jar can fit snugly in your fridge and be used for so many different soup recipes. For this soup, use the chicken broth base if you want a more delicate broth, and use the beef broth base if you want it more hearty.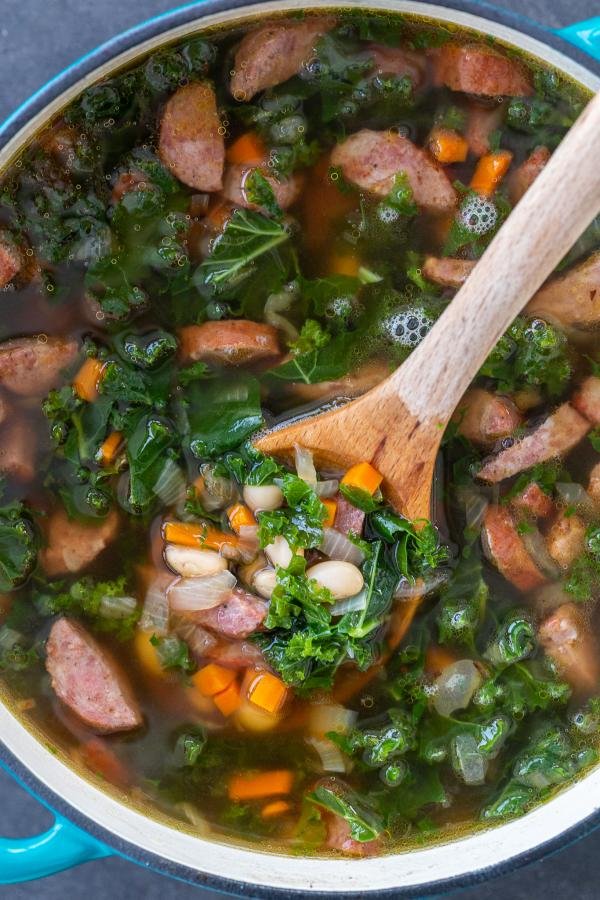 What Goes Well With Sausage Kale Soup?
Sausage kale soup is hearty enough to be eaten all on its own. However, if you're looking for a more well-rounded meal, pair it with a chunk of crusty baguette and a homemade caesar salad. You can also serve the soup as an appetizer before a full-blown Italian feast of shrimp fettuccine alfredo and focaccia bread.
Storing Leftovers
Refrigerator: Store leftover soup in an airtight container in the fridge. It should keep for up to a week and get more flavorful as it marinates.
Freezer: Freeze leftover soup by first letting it cool down completely. Next, transfer the soup to a freezer-safe bag and store it for up to a week.
Reheating Tip: Reheat leftover soup in a saucepan over medium-heat until warmed through. Alternatively, you can zap it in the microwave for a couple of minutes.
FAQ
Can I make this soup without the beans?
Yes, you can skip the beans entirely and double up on the sausage and kale. Or, you can add yellow or red potatoes.
Can I use any different types of sausage?
Yes, you can use kielbasa, andouille, or bratwurst instead of Italian sausage.
Is sausage kale soup keto-friendly?
If you omit the white beans, this soup will be keto-friendly.
Can I substitute the kale for spinach?
Yes, you can substitute the kale for spinach. However, you'll want to use double the amount of spinach, as the leafy green cooks down significantly in the broth.
Can I freeze sausage kale soup?
Yes, you can freeze sausage kale soup. It's a wonderful candidate for meal-prepping and reheats very well.
Other Kale Soups to Try
Recipe
This Italian sausage kale soup is packed with leafy kale, savory Italian sausage, and tender white beans. A light, yet filling weeknight soup!
Ingredients
1

lb

sausage

1

medium onion

1

large carrot

16

oz

canned white beans

1

bunch

kale

1

tbsp

Better than Bouillon

chicken or beef base

1

tsp

oil

for frying

1

tsp

salt

adjust to taste
Nutrition Facts
Italian Sausage Kale Soup Recipe
Amount Per Serving
Calories 164
Calories from Fat 90
% Daily Value*
Fat 10g15%
Cholesterol 27mg9%
Sodium 246mg10%
Potassium 295mg8%
Carbohydrates 9g3%
Protein 9g18%
Vitamin A 885IU18%
Vitamin C 1.3mg2%
Calcium 35mg4%
Iron 1.6mg9%
* Percent Daily Values are based on a 2000 calorie diet.