These healthy popsicles are 100% kid-friendly and parent-approved. Touting a fruity flavor and a sneaky serving of veggies, they are a no-guilt treat!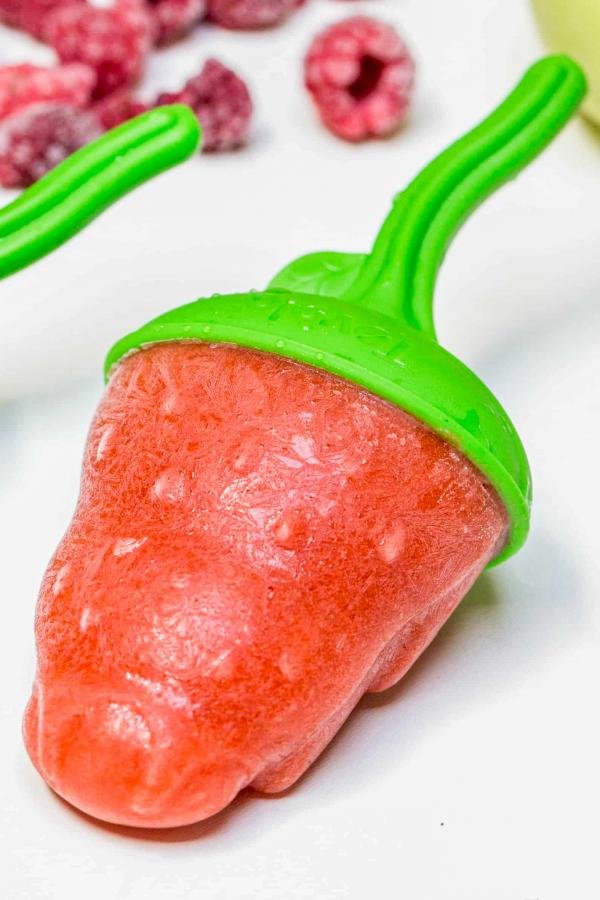 Making healthy homemade popsicles is such a game-changer throughout the summer. Not only is it a super easy process, but it also allows you to control all the ingredients. This means skipping out on processed sweeteners like high fructose corn syrup, weird dyes, and other nasty preservatives! The result? A healthy mid-day treat, snack, or dessert that you feel good about serving to your entire family.
What Makes These Popsicles Healthy
So what exactly makes these popsicles "healthy"? First off, they are 100% whole food popsicles (except with a little agave syrup to balance the flavors from the fresh fruit). Secondly, we mask fresh carrots and spinach underneath the fruit to sneak in some fresh veggies! If you have a kid in your life that is veggie-adverse, this is a great way to get some vitamins and nutrients in their diet.
Tools You Need to Make Healthy Popsicles
To make this healthy popsicle recipe, you need to enlist the help of a trusty blender, popsicle mold, and potentially some wooden popsicle sticks. Here are our favorite brands for each…
ZWILLING Enfinigy Blender – This powerhouse blender is so great for smoothies and popsicle-making. It's also lasted us for years and we can't live without it!
BPA-Free Popsicle Molds – We love these dishwasher-safe, BPA-free popsicle molds. So easy to clean and they don't take up a ton of space in storage!
Wooden Popsicle Sticks – If you have an old-school popsicle mold that doesn't come with reusable popsicle sticks, this bulk bag will get you through the summer.
Preparing Healthy Popsicles from Scratch
Making these healthy popsicles is as simple as throwing all the ingredients in a blender, giving them a whirl, and filling up the molds. Then, all you have to do is let the freezer work its magic!
Juice the Carrots: If you own a juicer, juice the two large carrots or use 1/4 cup of store-bought carrot juice instead.
Blend the Ingredients: Next, place the pitted apricots, blackberries, spinach, honey, and carrot juice into a blender and pulse until smooth.
Freeze the Popsicles: Next, pour the smoothie mixture into the popsicle mold and freeze the popsicles. Enjoy!
Hot Tip: Every popsicle mold is different, so make sure to read the package instructions and follow them closely. There's nothing worse than pulling a partially frozen popsicle out of your mold!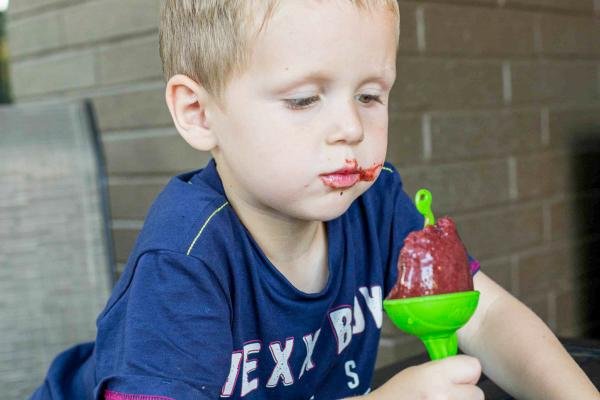 3 Tips for Customizing Your Healthy Popsicles
Making these popsicles is pretty straightforward, but we thought we'd share a couple of tips on how you can customize them to make them your own!
Transform them into creamy popsicles. For a creamier popsicle with a little added protein and healthy fat, add 1/4 cup of Greek yogurt or dairy dairy-free yogurt.
Add a coconut twist. If you love coconut, swap the carrot juice out for equal parts full-fat coconut milk or coconut water instead.
Opt for natural sweeteners. If you don't like honey, use agave syrup or maple syrup instead. You can even use date syrup or coconut sugar.
Different Flavor Combinations
Another way to make these popsicles your very own is to swap in different fruit and fruit juice (note: for each combo, we keep the spinach the same). Here are a couple of ideas to get your creative juices flowing…
Classic Strawberry & Banana Popsicles – Fresh apple juice, frozen ripe bananas, & strawberries
Tropical Fruit Popsicles – Fresh orange juice, mango, & pineapple
Green Smoothie Popsicles – Ripe bananas, apple, & avocado
Watermelon Popsicles – Watermelon, blueberry, & peach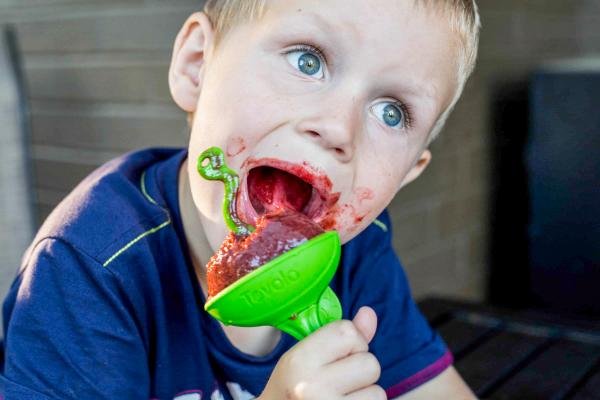 Storage Tips
There are 3 different ways you can store your homemade popsicles in the freezer.
Leave them in the mold. If you plan to eat your popsicles within a day or two, keep them in the mold and pull them out one by one. We recommend you only do this for short-term storage, as they are prone to soaking up smalls in the freezer and getting freezer burn.
Transfer them into an airtight container. If you plan to eat your popsicles within a week, pull them out of the mold and lay them in a single layer on a baking sheet lined with parchment paper. Pop the baking sheet back in the freezer and refreeze the popsicles for 30 minutes. Next, place the popsicles in an airtight container, with layers of parchment paper in between to prevent sticking.
Wrap them individually. If you're prepping popsicles to have on hand for a month, wrap each popsicle in plastic wrap and store them in an airtight container.
FAQ
How long do homemade healthy popsicles keep in the freezer?
Homemade popsicles can last up to a month when stored properly in the freezer. They must be wrapped and stored in an airtight container to prevent freezer burn.
Are popsicles healthier than ice cream?
Popsicles tend to be healthier than ice cream, as they don't contain fat from heavy cream and milk. That said, they can be just as high in sugar, so you must check the package before you purchase or make your own homemade for quality control.
Are popsicles healthy?
Not all popsicles are healthy. However, they are really easy to make wholesome when fruits and veggies are used and minimal additives and sweeteners are thrown into the mix. To air on the safe side, make your own homemade and sweeten them naturally with honey, agave, or maple syrup.
Will popsicles keep you hydrated?
While popsicles are refreshing, they shouldn't be considered a substitute for water. If you're trying to stay hydrated, the clear stuff is what you need – no questions about it!
More Tasty Kid-Friendly Recipes
Recipe
This simple recipe for healthy popsicles masks a serving of carrots and spinach underneath fresh fruit. The perfect snack for picky kiddos and so tasty!
Ingredients
2

carrots

or 1/4 cup carrot juice

3

apricots

1

cup

spinach

2

cups

blackberries

1

tbsp

honey

adjust to taste
Nutrition Facts
Homemade Healthy Popsicles (Kid-Approved)
Amount Per Serving
Calories 37
Calories from Fat 3
% Daily Value*
Fat 0.3g0%
Monounsaturated Fat 0.04g
Sodium 14mg1%
Potassium 163mg5%
Carbohydrates 9g3%
Protein 1g2%
Vitamin A 3229IU65%
Vitamin C 11mg13%
Calcium 21mg2%
Iron 0.4mg2%
* Percent Daily Values are based on a 2000 calorie diet.