This homemade cheese recipe only calls for 4 simple ingredients. It's super versatile, can be used for everything from grilled cheeses to charcuterie boards.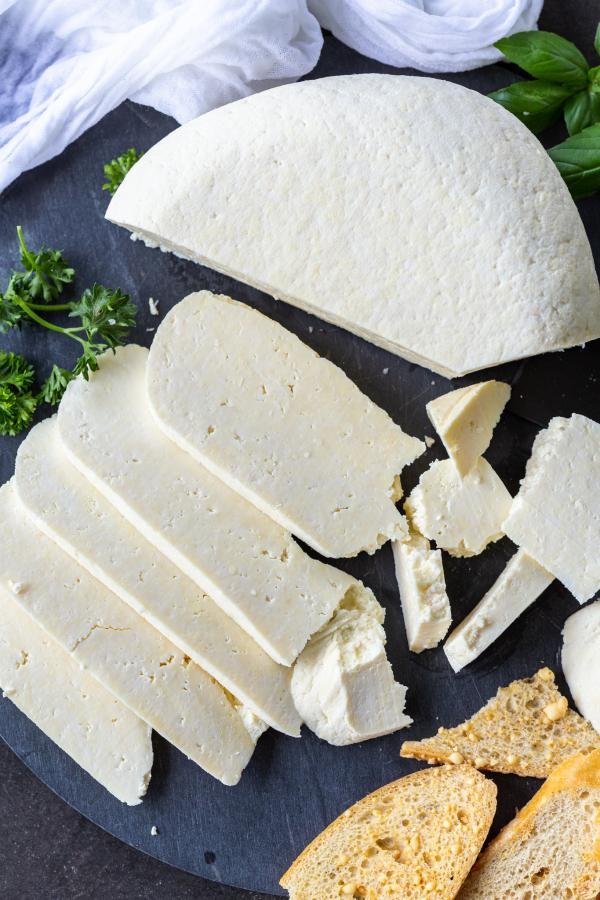 Who knew cheesemaking could be so easy? This old-world recipe is so simple to put together, you'll get addicted to having a cheese wheel in your fridge at all times. Similar in taste to paneer cheese from India, it's simple, ultra creamy, and slightly firm. What's better? You get to skip out on all the preservatives that come in store-bought varieties.
4 Simple Ingredients for Homemade Cheese
All you need to make this simple cheese is four ingredients you likely already have hanging out in your fridge. No need for any special enzymes, starter cultures, rennet, or a cheese making kit!
Whole Milk: Full-fat, traditional pasteurized whole milk will do the trick
Eggs: Eggs might seem a little out of left field, but my family has been making cheese this way for decades.
Sour Cream: Sour cream provides the necessary bacteria to help coagulate the milk and curdle it.
Salt: A little salt goes along way in making this homemade cheese have an irresistible flavor.
Making Homemade Cheese from Scratch
Preparing homemade cheese only takes about an hour. However, you'll need to let it set for around five hours – so make sure to account for that!
Bring the Milk to a Boil: First, bring the milk to a slow boil in a large pot over medium heat, stirring it every so often with a spatula or wooden spoon to prevent sticking.
Prepare the Coagulant: Next, whisk the eggs with the salt in a large bowl, followed by the sour cream.
Coagulate the Milk: Next, pour the egg mixture into the boiling milk. Let the mixture cook for seven minutes, stirring it every so often as the curdling takes place.
Strain the Cheese Out: Next, line a colander with cheesecloth. Pour the mixture through and strain out the liquid.
Squeeze the Whey Out: Gather the cheesecloth around the cheese and ring out the whey.
Press the Cheese: Place the cheesecloth-wrapped cheese on a plate and weigh it down with something heavy at room temperature for several hours.
Refrigerate the Cheese: Refrigerate the cheese until you're ready to use it. Enjoy!
Hot Tip: Add in spices like fresh ground black pepper or red pepper flakes or fresh herbs like chives, dill, or basil into the cheese curds before your press them for extra flavor.
3 Helpful Tips for Making Your Own Cheese
A couple of helpful tips will help you make homemade cheese like a pro.
Opt for whole milk. Pasteurized whole milk is your best bet for making homemade cheese. It yields the most creaminess, while also containing the least amount of harmful bacteria.
Drain out as much of the whey as humanly possible. To get the best possible texture, strain out as much of the whey from the cheese curds as possible. Ring the cheese cloth several times with all your might!
Press the cheese for at least 5 hours. For the firmest wheel of cheese possible, press the curds for at least five hours with something heavy. We love using a Dutch oven!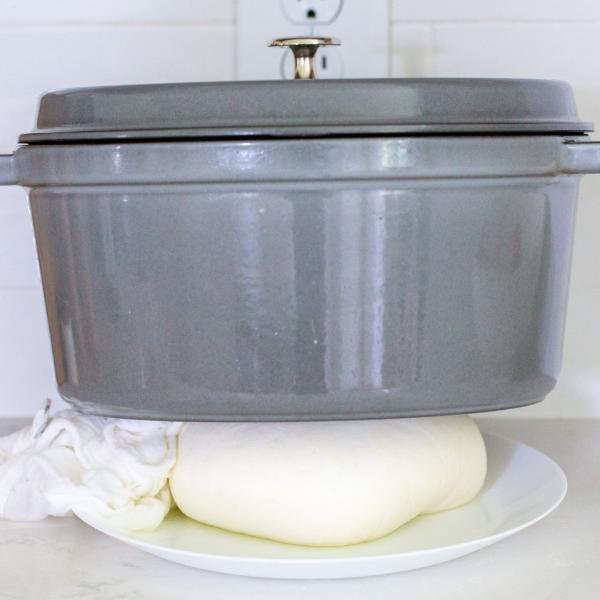 Different Ways to Use Homemade Cheese
There are a million and one different ways to use homemade cheese. Here you'll find a couple of ideas to inspire you…
Storing & Freezing Homemade Cheese
Whether you have some leftovers to stow away or you'd like to freeze an entire wheel for later, find best practices for storing your homemade cheese here.
Storing: To keep the cheese on hand for up to a week, store it in an airtight container in the refrigerator. This will keep the cheese fresh and will prevent it from drying out.
Freezing: To freeze the cheese, wrap it in plastic wrap and pop it into a plastic storage bag. Next, pop it in the freezer for up to 2 months. To thaw, place it in the fridge overnight.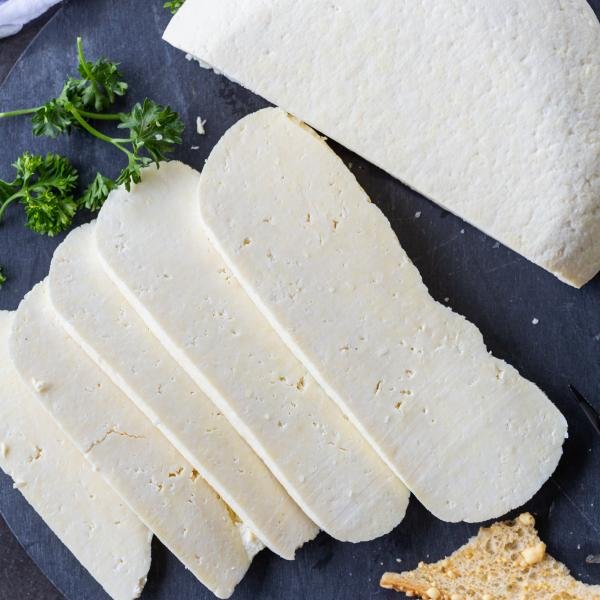 FAQ
Is homemade cheese less unhealthy than store-bought?
Homemade cheese is less unhealthy than store-bought cheese because it doesn't have the same level of preservatives and additives. That said, it will spoil more quickly, so only make as much as you can eat in 5 days.
Can you use non-fat milk to make homemade cheese?
You can use non-fat milk to make homemade cheese, but it won't be anywhere as creamy as it would if you used whole milk. You'll also get less cheese in general since there will be less fat to coagulate.
How do you make the milk coagulate for homemade cheese without rennet?
There are several different coagulant options that you have to make homemade cheese in lieu of rennet. These include lemon juice, white vinegar, and, in this case, sour cream.
Is homemade cheese safe?
Yes, making homemade cheese is perfectly safe. So long as you follow the instructions and refrigerate the cheese properly, you'll be golden.
Why is it important that you heat the milk when making homemade cheese?
It's important that you bring the milk to a slow boil as the first step in the process of making homemade cheese. This sets the stage for the bacteria to be able to thrive and curdle once you add in the sour cream.
Can you use the leftover whey from homemade cheese for anything?
You can use the leftover whey from homemade cheese as the base for homemade bread recipes instead of water. That said, it adds a very particular, tangy flavor so it's not for everyone.
More Fun Things to Make Homemade
Recipe
This homemade cheese couldn't be any easier to whip up in your kitchen. With just four simple ingredients, you'll get an irresistibly tasty wheel of cheese!
Nutrition Facts
Homemade Cheese Recipe (4 Ingredients)
Amount Per Serving
Calories 123
Calories from Fat 90
% Daily Value*
Fat 10g15%
Cholesterol 74mg25%
Sodium 1050mg44%
Potassium 159mg5%
Carbohydrates 5g2%
Protein 5g10%
Vitamin A 379IU8%
Vitamin C 0.3mg0%
Calcium 124mg12%
Iron 0.3mg2%
* Percent Daily Values are based on a 2000 calorie diet.