Liege Belgian Waffles are chewy on the inside and crispy on the outside. Not only is this the perfect breakfast, it also serves as an awesome dessert!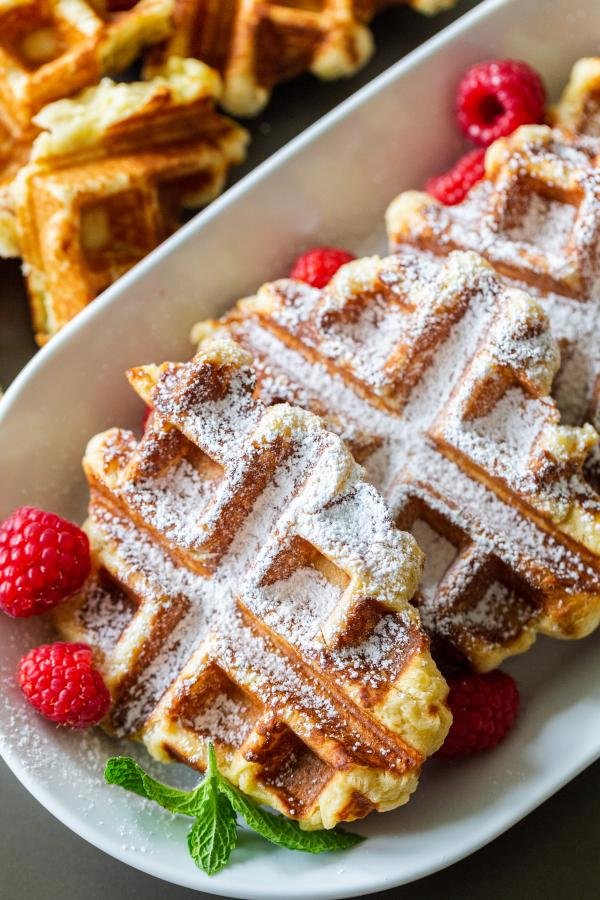 Liege waffles will change the way you think of waffles forever. The yeast dough takes them to another level. They have a beautiful, light and fluffy appearance that's perfect for hosting a fancy weekend brunch.
These waffles can pass for breakfast or dessert. Serve them with jam, syrup, butter, Nutella or sweetened condensed milk — or all of the above, no one is judging!
How To Make Liege Belgian Waffles
What's a Liege Waffle?
Liege waffles (or pearl sugar waffles) hail straight from Belgium. But don't confuse them with "Belgian waffles"! The difference between Belgian waffles is that they are made with yeast-leavened batter, making them crispier and lighter. Typically, they are rectangular and have defined edges.
Liege waffles, on the other hand, are made with a thicker batter that is reminiscent of bread dough. Pearl sugar is then mixed into the dough and carmelizes beautifully as the waffle cooks. Appearance-wise, Liege waffles look more rustic, with open edges and a messier look. In my opinion, they are much more delicious than traditional Belgian waffles!
Tips for the best Liege Waffles
Follow these tips to nail liege waffles every time:
Make sure your milk is the right temperature. Milk should be warm at 110 ℉ to activate the yeast and make your waffles super fluffy.
Be patient with rising time. Fluffiness is the signature quality of these waffles. Don't skimp on the rising time!
No need to spray. Typically, I spray the waffle maker between each waffle. But, Liege waffles are special because the dough already has a ton of butter — don't bother greasing!
Use a flat beater. A flat beater attachment makes kneading that much easier.
Using pearl sugar. This might be the first time you use this ingredient. It's the most authentic approach to making liege waffles, as it helps create that crunchy and caramelized texture.
Hot Tip: Pearl sugar pieces add a nice touch to the dough, but don't stress out if you can't find a bag in the store. The waffles come out just as amazing without the sugar pieces!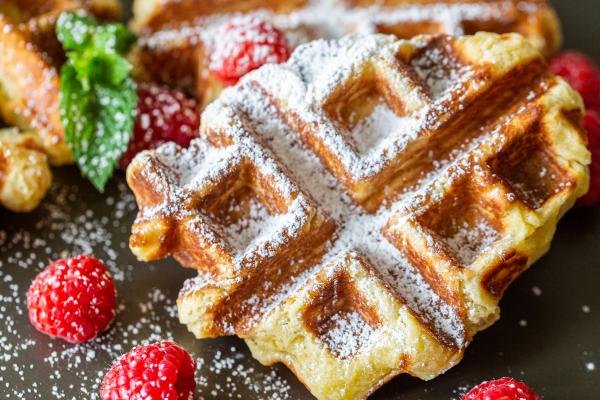 Freezing Waffles
If you're going to make a big batch of waffles and freeze some for a rainy day, you're on the right track. Allow the waffles to completely cool to room temperature and then place them in a sealed airtight container or Ziploc. You can easily reheat them either in a microwave or a toaster.
Tools to Make the Waffles
I wanted to highlight a few of our favorite tools that come in handy to make this recipe. Check them out:
KitchenAid Mixer – I have been using this mixer for over 10 years and it's still going strong. It's a bit of an investment, but if you are an avid baker, it's so useful!
Waffle Maker – This waffle maker is so LOYAL. We have been using it forever and I couldn't imagine using another.
Scoop – Use an ice cream scoop to ensure that you are using about the same dough for each waffle. It makes the process so much easier!
Other Waffles you Will Love
Okay, Brunch Master, here are all the waffle recipes you could EVER need:
Recipe
Belgian Liege Waffles are chewy on the inside and crispy on the outside. Not only is this the perfect breakfast, it also serves as an awesome dessert!
Nutrition Facts
Liege Belgian Waffles
Amount Per Serving
Calories 341
Calories from Fat 180
% Daily Value*
Fat 20g31%
Cholesterol 99mg33%
Sodium 301mg13%
Potassium 70mg2%
Carbohydrates 34g11%
Protein 5g10%
Vitamin A 652IU13%
Calcium 27mg3%
Iron 2mg11%
* Percent Daily Values are based on a 2000 calorie diet.