These quick buttermilk waffles are melt-in-your mouth delicious. Fluffy, airy and so crispy on the outside, this classic breakfast treat has never been more perfect.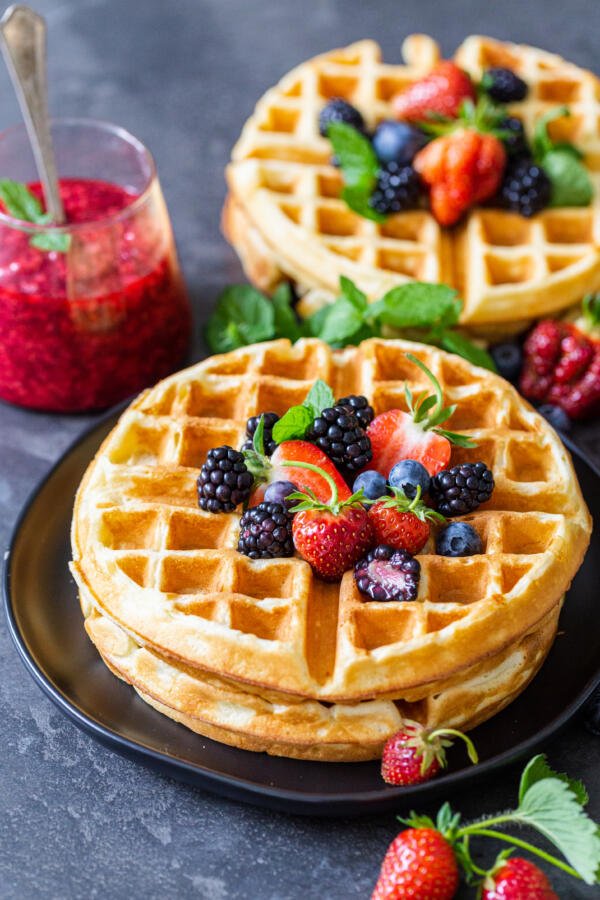 Buttermilk waffles don't have to be a huge mess to make. These come together in 15 minutes in just one bowl. I call this my "no mess" method!
Nothing brings family and friends together quite like a golden brown waffle party on a lazy Sunday. Lay out a bunch of toppings and syrups, fire up the waffle iron and prepare your sweet tooth!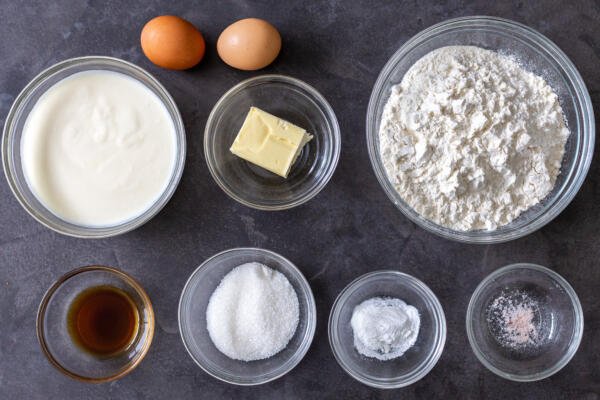 What Are Buttermilk Waffles?
Classic buttermilk waffles only differ from classic waffles in one key way — that luscious buttermilk. It gives these waffles a nice, sour flavor while also reacting with the baking soda to create a light and springy texture.
How To Make The Best Buttermilk Waffles
Buttermilk waffles don't need to be stressful. Just follow these easy steps to make them perfect each and every time:
Preheat your waffle iron. To get the crispiest outer edges, you want to make sure the iron is nice and hot before adding the batter.
Prepare all the ingredients. Measure all your ingredients for easy preparation.
Combine all wet ingredients and dry ingredients separately. In order to get the smoothest texture, combine wet and dry ingredients separately. Then, add them together, making sure to whisk out any lumps.
Make those waffles! Prepare your waffles according to your waffle maker's specific instructions. Serve immediately with your favorite toppings!
How Do You Keep Waffles Crispy?
Nothing is worse than a soggy waffle. Have leftover waffles or making a batch for a huge party? Here's how to keep them nice and crispy:
Let them rest on a cooling rack right when they come out of the waffle maker.
To revive a soggy waffle, place it directly on the oven rack and reheat at 200 ℉ for a couple of minutes.
You can also pop them in the toaster for a few minutes to reheat. They taste just as fresh as right off the iron.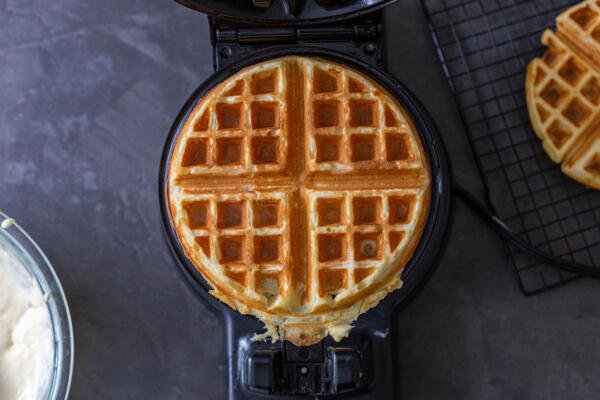 Buttermilk Substitute for Waffles
If you're in a pinch and you don't have buttermilk, there's a solution! Grab one cup of 2% or whole milk and add in one tablespoon of vinegar or lemon juice. Allow the mixture to sit for about five minutes. Just like that, you have a viable buttermilk substitute!
Best Waffle Toppings
The only thing I love more than waffles is all the toppings you can use! Here are some of my absolute favorites:
Easy Raspberry Jam – This jam is puckery and sweet and only requires three ingredients to make. It's my sons' absolute favorite on waffles!
Berry/Maple Syrups – Syrup is a must. Maple is a classic, but I love a good, fruit-flavored syrup!
Dulce de Leche – This caramel syrup is so decadent on a waffle. Add a drizzle with some spiced stewed apples. YUM!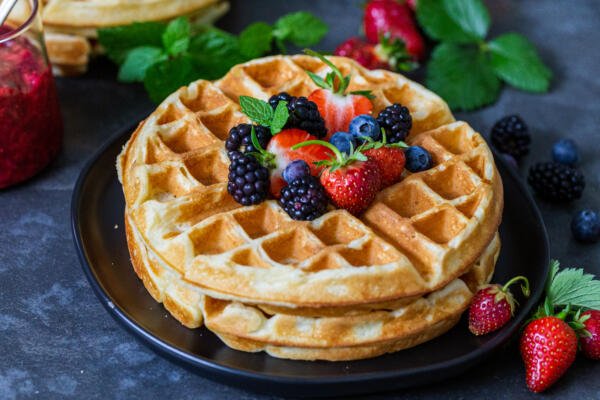 More Classic Breakfast Foods
Air Fryer Bacon – I've said it once and I'll say it again — I love air fryer bacon! It gets so darn crispy with little to no mess.
Breakfast Quiche – Who doesn't like a breakfast pie? This quiche recipe is one of my go-tos when hosting a brunch.
Cottage Cheese Pancakes – Cottage cheese makes pancakes sooooo crispy and creamy. If this dish sounds a little weird, you're in for a great surprise!
Recipe
These quick buttermilk waffles are melt-in-your mouth delicious. Fluffy, airy and so crispy on the outside, this classic breakfast treat has never been more perfect.
Nutrition Facts
Quick Buttermilk Waffles
Amount Per Serving
Calories 271
Calories from Fat 108
% Daily Value*
Fat 12g18%
Cholesterol 70mg23%
Sodium 302mg13%
Potassium 281mg8%
Carbohydrates 34g11%
Protein 7g14%
Vitamin A 425IU9%
Calcium 147mg15%
Iron 1.8mg10%
* Percent Daily Values are based on a 2000 calorie diet.