These buttermilk waffles are lightly sweetened with mashed bananas. They're soft and fluffy on the inside and crispy on the outside — a perfect breakfast treat!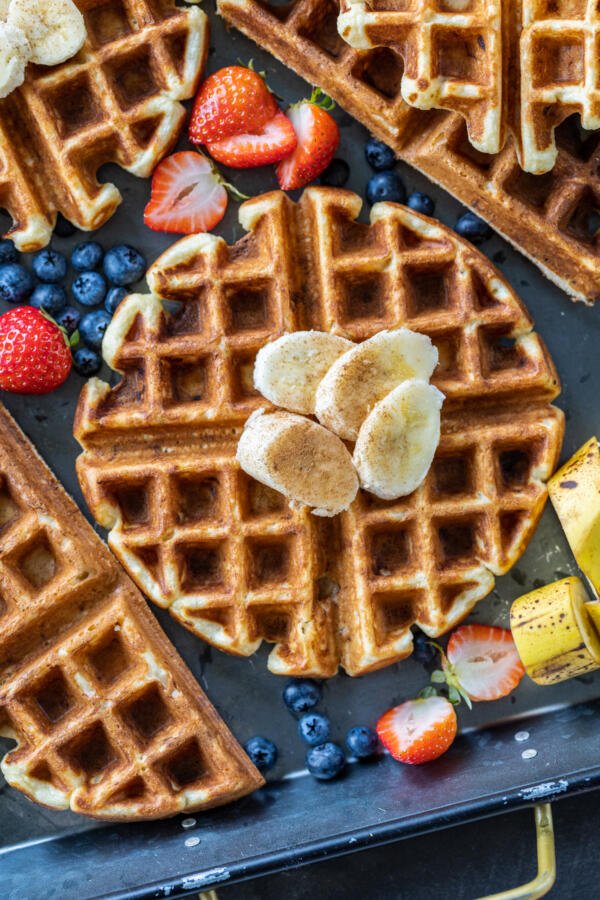 What Are Banana Waffles?
Banana waffles are regular waffles with the addition of mashed bananas. The bananas add a moist texture and sweet flavor. These waffles are perfectly crisp on the outside and extra fluffy on the inside due to the secret ingredient: buttermilk. We can't think of a better way to use up overripe bananas for breakfast!
How To Make Banana Waffles
There's a reason why we call these "easy" banana waffles. All it takes is a mix of the batter and then your waffle iron does the rest.
Make the batter: Combine the dry ingredients in a medium bowl. In a large bowl, whisk together the wet ingredients and mashed bananas, then fold in the dry ingredients.
Fry the waffles: Preheat your waffle iron. Once the indicator light turns on, pour the batter onto the iron and cook until the waffles are golden brown. Enjoy!
Hot tip: Substitute the flour with whole wheat flour or a gluten-free flour blend to suit your dietary preferences.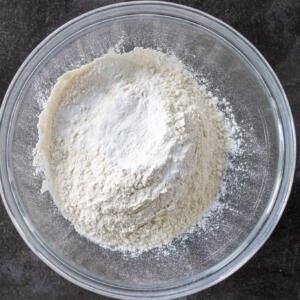 Waffle Mix-ins
Do you need to add mix-ins to banana waffles? Definitely not. But are they a fun and tasty surprise? That's a yes!
Chocolate chips: Stir in a handful of mini chocolate chips for an indulgent chocolate-y treat.
Cinnamon: Add a sprinkle of cinnamon for a subtle warmth and sweet flavor.
Berries: Toss in fresh blueberries, raspberries, or blackberries for a fruity pop.
Tips For the Best Banana Waffles
Banana waffles are pretty straightforward. Nonetheless, we have a few tips to help you enjoy an unforgettable waffle experience.
Use overripe bananas. Brown, spotty bananas may look off-putting, but they are the best for baking. Ripe bananas have the sweetest, most intense banana flavor.
Add buttermilk. Buttermilk is a must for fluffy waffles — it reacts with the baking powder to create a bubbly and light batter.
Mash the bananas well. Chunky mashed bananas are great for banana bread, but a smooth mash is better for waffles because it ensures banana flavor in each bite. Take the time to mash the bananas thoroughly.
Mix the batter gently. Fold the dry ingredients in with care to avoid overmixing. Overmixing can create tough and dense waffles.
Keep the waffles warm in the oven. For crispy, fresh waffles, transfer them straight off the iron to a cooling rack. Place the rack in a 175°F oven until you are ready to serve the waffles. This is a great way to keep the cooked waffles warm as you finish cooking the rest.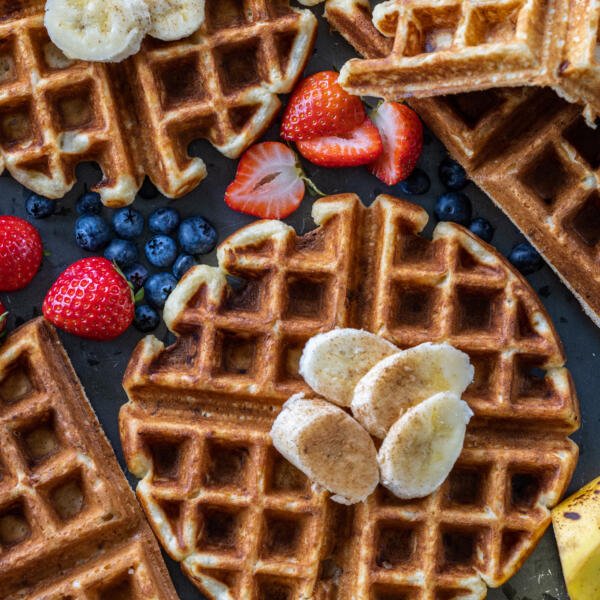 Troubleshooting Banana Waffles
If at first you don't succeed, try, try again. Let's address the most common issues you may encounter with waffles to set you on the path to success.
Soggy: Waffles may turn out soggy because of a poorly preheated waffle iron or improper cooling techniques. Make sure the waffle iron is hot and steaming before you pour the batter in. Then, place the cooked waffles immediately on a wire rack to preserve their crisp.
Dense: An aerated batter is key to a light waffle texture. Use buttermilk and baking powder to produce gas (or bubbles) in the batter, which enables the waffles to rise and fluff as they cook.
Falling apart: Waffles may fall apart and stick to the iron because of a faulty waffle iron or a lack of cooking spray. Use a quality waffle iron like this one that consistently produces good results, and grease the iron with cooking spray in between each batch to ensure your waffles come off cleanly. We love the coconut oil spray from Trader Joe's or this one.
Ways To Serve
Is there anything more inviting than homemade banana waffles for breakfast/brunch? Serve them as part of a breakfast charcuterie board with plenty of toppings like maple syrup, peanut butter, chocolate chips, berries, and raspberry jam. Make it a complete meal by serving smoked salmon toast, crustless quiche, and a hashbrown breakfast casserole with the waffles.
Storage & Reheating
You're unlikely to have any leftover banana waffles — yes, they're that good! In case you got lucky, here are a few pointers for storing and reheating your leftovers.
Refrigerator: To store for up to three days, transfer the leftover waffles to an airtight container or bag and refrigerate.
Freezer: To store for up to four months, place the leftover waffles in a freezer-safe container or bag and freeze. Separate the waffles with layers of wax paper or parchment paper to prevent them from sticking together.
Reheating: For the best crisp, reheat leftover waffles in a 350°F oven for 5-10 minutes. Place them in a single layer on a baking sheet to ensure each waffle warms evenly. If you're short on time or only want to reheat one or two waffles, pop them in the toaster.
FAQ
What is the secret ingredient in waffles?
The secret ingredient in waffles is a hotly contested question, but most believe it is in the buttermilk. Buttermilk acts as a catalyst for the leavening power of baking powder, producing an aerated batter and extra fluffy waffles.
How do you make crispy waffles?
To make crispy waffles, use buttermilk and baking powder. The chemical reaction between these two ingredients creates a light batter, which results a crispy texture. To preserve the crisp in your waffles, transfer them to a wire rack to cool immediately after they're done cooking.
What is the difference between waffle and pancake batter?
Waffle batter and pancake batter consist of the same basic ingredients, but the main difference is the proportions. Waffles have more butter and eggs to create a sturdier batter, while pancakes have more baking powder to help them rise.
Why are my waffles soggy?
Soggy waffles could be a result of a poorly preheated waffle iron or not using a wire rack to cool the waffles after cooking. Make sure your waffle iron is hot before pouring the batter into it and transfer cooked waffles immediately to a wire rack to cool.
More Waffle Recipes
Recipe
These buttermilk waffles are lightly sweetened with mashed bananas. They're soft and fluffy on the inside and crispy on the outside — a perfect breakfast treat!
Nutrition Facts
Easy Banana Waffles Recipe
Amount Per Serving
Calories 253
Calories from Fat 99
% Daily Value*
Fat 11g17%
Cholesterol 67mg22%
Sodium 196mg8%
Potassium 350mg10%
Carbohydrates 33g11%
Protein 6g12%
Vitamin A 390IU8%
Vitamin C 3mg4%
Calcium 114mg11%
Iron 2mg11%
* Percent Daily Values are based on a 2000 calorie diet.