These chocolate waffles are crispy on the outside and so soft and fluffy on the inside. Perfect for a lazy weekend breakfast or dessert!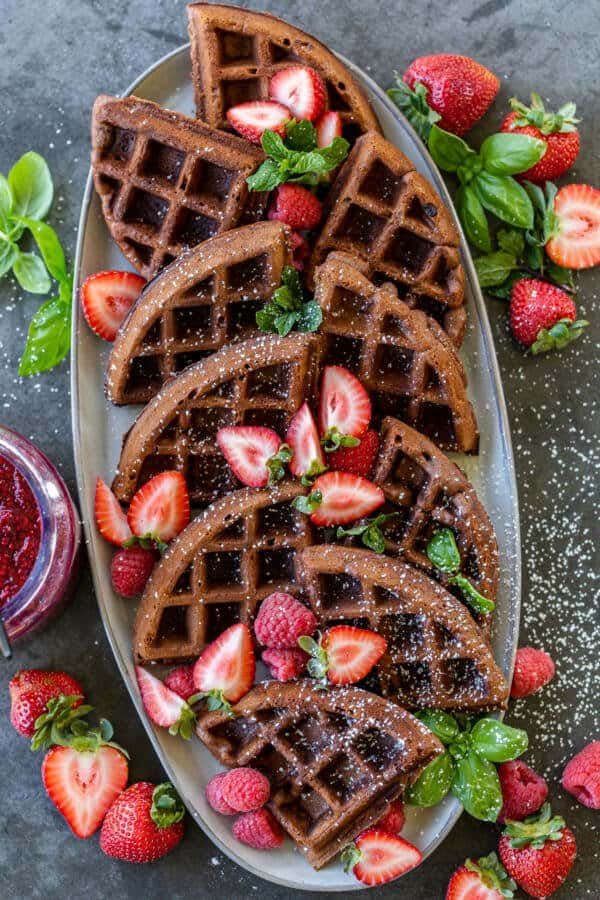 I often serve waffles for breakfast or dessert because they're easy to make and customizable with so many different toppings. These chocolate waffles are one of my favorite recipes because they make me feel like I'm having cake for breakfast! On a lazy weekend, I love to make them for my family so we can all indulge together in our pajamas. If you prefer a more neutral waffle, give these oatmeal cottage cheese waffles a try!
These chocolate waffles have a rich chocolatey flavor that's contrasted with perfect light and fluffy texture. When topped with fresh berries or prune jam, they taste like chocolate covered fruit!
What's better? These waffles freeze well and are perfect for meal prepping. Say goodbye to processed, store-bought waffles for good…
How to Make Chocolate Waffles
Making chocolate waffles only requires a couple simple ingredients and steps. Below, find a quick hitter overview of the recipe before you dive in.
Mix the Wet Ingredients: Melt chocolate and butter over low heat in a heavy bottom pan. Once melted, stir in the sugar and set aside. In a large bowl, whisk the eggs, milk, and vanilla extract together. Slowly, add the chocolate mixture to the milk mixture. Stir to combine and set aside.
Mix the Dry Ingredients: In a small bowl, combine the flour, cacao powder, and baking powder. In small portions, add the flour mixture into the wet ingredients.
Make the Waffles: Spoon the batter into the waffle maker. Cook for 4-6 minutes, or until the outer edges turn crispy. Serve with your favorite toppings for breakfast or dessert!
Tips for Making the Best Chocolate Waffles
Below, find some pro tips to help you make the best chocolate waffles.
Sift the dry ingredients to remove any lumps. For a perfectly consistent waffle texture, use a flour sifter to remove any lumps from the flour, cocoa powder, and baking powder.
Use whole milk. Whole milk provides the richest flavor and texture. While you can get away with non-fat or 2%, nothing beats whole!
Cook the waffles until slightly crispy. Make sure to cook the waffles long enough to form a nice, outer crisp. Nothing is worse than a soggy waffle!
Serving Chocolate Waffles
You can serve chocolate waffles as a decadent breakfast item topped with fresh fruit, raspberry jam, maple syrup, or chocolate syrup. They are also super tasty topped with peanut butter and bananas. If you're serving them for dessert, top them with a huge scoop of vanilla ice cream and a drizzle of chocolate syrup.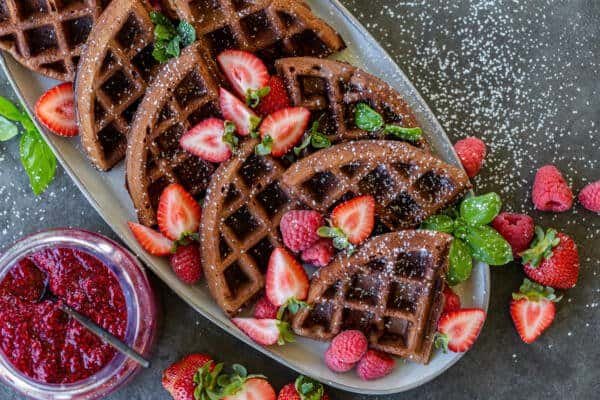 Storing Waffles
Refrigerator: Store leftover waffles in an airtight container in the refrigerator. They should keep for up to a week.
Freezer: Freeze leftover waffles by placing them in a single layer on a baking sheet lined with parchment paper. Pop the baking sheet into the freezer for a couple of hours, or until the waffles are completely frozen. Store in a freezer-safe bag for up to 3 months.
Reheating Tip: The best way to reheat refrigerated or frozen waffles is in a toaster. They will get so crispy again!
FAQ
How do I reheat frozen chocolate waffles?
Reheat frozen chocolate waffles by popping them in a toaster. If you don't have a toaster, you can reheat them in the oven.
Can I make this recipe without the cocoa for classic waffles?
Yes, you can make this recipe without the cocoa if you prefer classic waffles. They will be just as tasty!
How long should I cook chocolate waffles in the waffle maker?
Waffles take anywhere from 4-6 minutes to make in a commercial waffle maker.
What type of flour should I use for chocolate waffles?
Regular, all-purpose flour works perfectly for chocolate waffles. Try using a higher quality brand like Bob's Red Mill for best results.
Should waffles be crispy or soft?
A great waffle will be crispy on the outside and soft on the inside.
Other Sweet Breakfast Recipes
Recipe
These chocolate waffles are crispy on the outside and so soft and fluffy on the inside. Perfect for a lazy weekend breakfast or dessert!
Nutrition Facts
Chocolate Waffles Recipe (Light & Fluffy)
Amount Per Serving
Calories 232
Calories from Fat 126
% Daily Value*
Fat 14g22%
Cholesterol 59mg20%
Sodium 101mg4%
Potassium 195mg6%
Carbohydrates 23g8%
Protein 4g8%
Vitamin A 356IU7%
Calcium 65mg7%
Iron 2mg11%
* Percent Daily Values are based on a 2000 calorie diet.