These high-protein waffles are made with cottage cheese, eggs, and rolled oats. Cottage cheese waffles are a delicious and nutritious way to start your day!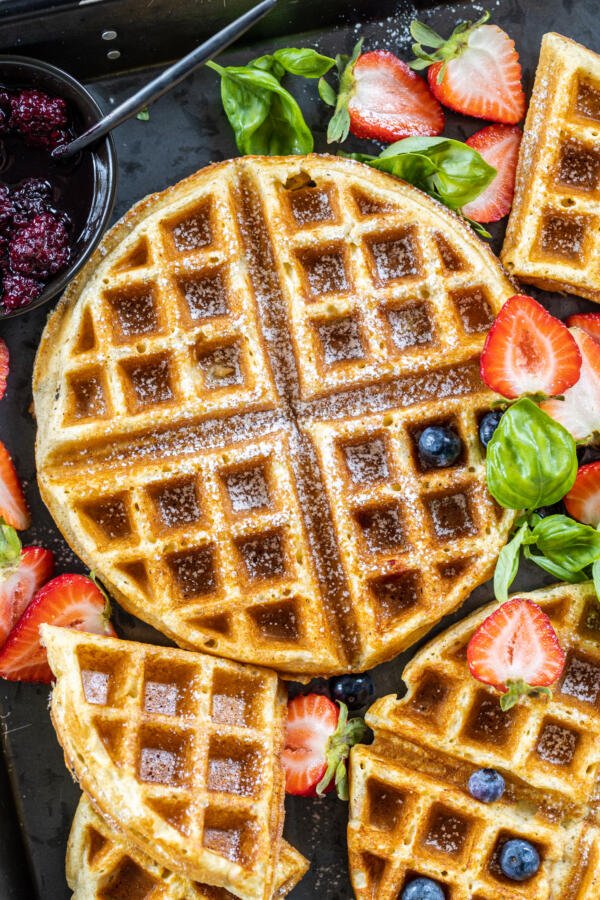 What Are Oatmeal Cottage Cheese Waffles?
Cottage cheese waffles are a healthier version of traditional waffles. These waffles are made with cottage cheese instead of the usual milk or buttermilk, but no one will know the difference! With the addition of eggs and rolled oats, the waffles become even more protein-rich and nutrient-dense. Not only are they delicious, but they provide a wholesome breakfast, keeping you satiated longer.
How to Make Oatmeal Cottage Cheese Waffles
These waffles come together quickly in a few easy steps. Make sure to have your blender and waffle maker ready.
Blend the ingredients: Blend all the ingredients in the blender or food processor until the mixture is perfectly smooth. Let the batter sit for about five minutes to thicken while the waffle maker is preheating.
Cook the batter: Pour the batter onto the oiled waffle maker. Cook until pancakes are light and golden in color. The cooking time will depend on your waffle maker.
Serve the pancakes: Serve right away with your favorite toppings.
Hot tip: To prevent sticking, apply cooking spray or brush the waffle iron with coconut oil between cooking each waffle.
Choosing Ingredients
Cottage cheese and oats come in a few different varieties. Follow this guide for optimal flavor and nutrition.
Rolled oats vs. quick oats: Quick or rolled oats both work well in this recipe. However, for more nutrient dense waffles, use rolled oats.
Low-fat vs. full-fat cottage cheese: Full-fat cottage cheese produces optimal flavor and results because no butter or oil is used in this recipe. However, low-fat cottage cheese will work well also.
Small vs. large curd size: For the mildest cottage cheese flavor, opt for large curds. These will be slightly less acidic compared to small curd cottage cheese. However, since the cottage cheese is blended in the recipe, both types are good choices.
Tips for the Crispiest Waffles
Everyone loves soft, yet crispy waffles. A few simple tips will ensure the most perfect results.
Use a hot waffle iron: Cooking on a hot waffle iron achieves a crisp exterior. Wait until your waffle iron has indicated it is fully heated and ready to use. Here is our waffle maker of choice!
Avoid stacking the waffles: Waffles remain crispier when they are not stacked. Stacked waffles prevent the steam from escaping, resulting in a limp, soggy texture. No one likes soggy waffles!
Rest the waffles on a cooling rack: Place a cooling rack on top of a baking pan, then transfer both to the oven. Set the oven to "warm" or the lowest setting. As the waffles cook, transfer them onto the cooling rack. The hot air in the oven will circulate around the waffles, keeping them crisp while you cook the rest.
Mix-ins and Variations
This waffle batter can be customized with a variety of flavors. From savory to sweet, the options are limitless!
Sweet: Add two tablespoons of sugar and one tablespoon of vanilla extract to the batter for a sweeter, less savory waffle.
Savory: Enhance the savory flavor further by adding a teaspoon of salt to the batter.
Fruity: Add 1/4th of a cup of your favorite fruit to the batter. Chopped blueberries, bananas, or strawberries taste delicious in waffles.
Chocolatey: Add chocolate chips or cacao nibs for a special chocolatey treat.
Protein-filled: Add a scoop of your favorite protein powder for a protein-packed waffle.
Serving Options
The mild, savory flavor of cottage cheese waffles is perfect for serving with savory or sweet toppings. These waffles pair perfectly with your choice of breakfast protein and veggies. Prefer something sweet for breakfast? Sweeten the waffles with whatever satisfies your sweet tooth! Whether savory, sweet, or plain, these waffles are a hit.
Savory Toppings
Smoked salmon: Top the waffles with cold smoked salmon and cream cheese (or crème fraîche). It's the perfect blend of lox sandwich and waffles.
Bacon: Bacon adds a delicious, salty crunch. Top with lettuce and tomato for a BLT-inspired waffle.
Egg: Make it into a breakfast egg sandwich by adding sausage, egg, and cheese.
Sweet Toppings
Maple syrup: Pour on maple syrup for the classic waffle taste.
Honey: Drizzle on honey for a yummy, healthy way to sweeten up the savory waffles.
Nut butter: Looking for a protein-rich topping? Slather on your favorite nut butter, such as peanut butter or almond butter.
Fruit: Add sliced fresh fruit or a fruit jam like this delicious raspberry jam or homemade strawberry jam for a tasty way to add more nutrients.
Nutella: Spread on Nutella to satisfy that chocolatey, hazelnut craving.
Cinnamon butter: Add melted butter on top of the waffle, then sprinkle cinnamon powder. You'll have a deliciously elevated buttery waffle.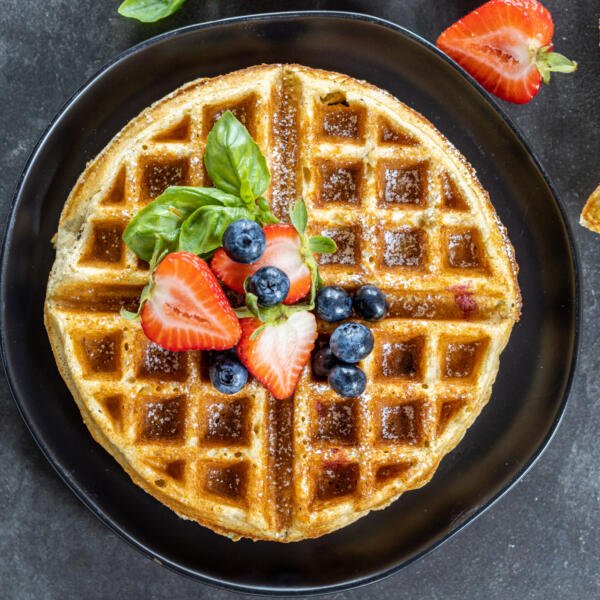 Storage and Reheating
Protein-rich waffles are so convenient to have on hand. These waffles are great for breakfast and perfect for snacks or school lunches. They refrigerate, freeze, and reheat so easily.
Storage
Batter: To store the batter for up to four days, pour it into an airtight container and keep it in the fridge
Short-term storage: To store for up to a week, place leftover waffles in an airtight container in the fridge.
Long term storage: To store waffles for up to three months, keep them in the freezer. It's best to first freeze the waffles in a single layer on a baking sheet, then stack them into a freezer-friendly ziplock bag.
Reheating
Toaster: Pop frozen or refrigerated waffles into the toaster. Toast until warmed through for a crispy waffle.
Microwave: Place frozen or refrigerated waffles in the microwave and heat until warmed through. Keep in mind that microwaved waffles are softer and less crisp.
Air-fryer: Place frozen or refrigerated waffles into an air fryer set at 360°F. Arrange the waffles in a single layer. The reheating time will vary depending on your air fryer, so check the waffles every few minutes until they are crispy on the outside and heated through.
FAQ
Why is my waffle rubbery?
Waffles turn rubbery when they are stacked hot, trapping the moisture from the steam. If you're not eating the waffles right away, keep them on a cooling rack in the oven to allow the hot air to circulate and wick away excess moisture.
Why are my waffles dry?
Waffles may be dry if they are overcooked. The longer the waffles are cooked, the more moisture evaporates. Avoid overcooking the waffles.
Why are my homemade waffles not crispy?
The waffles may not be crispy because the batter was overmixed or the waffle iron was not hot enough when cooking. Avoid overmixing the batter, and wait until the waffle iron is hot to begin cooking the waffles.
Should you let waffle batter rest?
If time permits, let the waffle batter rest for 30 minutes. This allows the liquid to be better absorbed, resulting in an airy and crispy waffle.
More Savory Breakfast Recipes
Recipe
These high-protein waffles are made with cottage cheese, eggs, and rolled oats. Cottage cheese waffles are a delicious and nutritious way to start your day!
Instructions
Place all ingredients in a blender. Blend until perfectly smooth. Let the batter sit for about 5 minutes, while your waffle iron is preheating.

Brush waffle iron with oil. Pour batter into the waffle maker and cook until waffles are golden brown, the cooking time will depend on your waffle iron.
Nutrition Facts
Oatmeal Cottage Cheese Waffles
Amount Per Serving
Calories 282
Calories from Fat 99
% Daily Value*
Fat 11g17%
Cholesterol 182mg61%
Sodium 396mg17%
Potassium 381mg11%
Carbohydrates 25g8%
Protein 21g42%
Vitamin A 385IU8%
Calcium 171mg17%
Iron 2mg11%
* Percent Daily Values are based on a 2000 calorie diet.